A good friend recently told me that "You never remember the trips where nothing bad happens" I guess that's why Cindy and I always have such memorable Road Trips.
We were in the process of doing our annual pilgrimage of shooting the Rock Bottom Chuck Wagon Races in Arkansas.
Before we left, I had brought the ol' Ford in and had our local mechanic change out our fuel filters, changed my oil filter, installed new shocks, new brakes and brake lines and even had new tires installed. Not that we did this just for the races, the truck was in need of some basic maintenance and we wanted to make sure it was all done before a 2000+ mile road trip.
Once on the road, the truck was running like a champ and we were both enjoying the good ol' days of sitting behind the wheel sharing long conversations about the most random of things and laughing at how the dogs think this adventure was all about them. Honey, the spaztic mutt will hold her head out the window at 70mph and do it for hours straight! One day she held her head out the window for at least 5 hours of the 6 we drove.
Once we hit the hilly terrain, I noticed the truck was blowing a little smoke. We had just topped the tank off with diesel and Cindy's first thought was we got some bad fuel.
I pulled over and got some Diesel Additive to see if it would clear up the issue. Nope, it just got worse.
We decided to call it a night, limping into a motel fumigating the Mississippi town of Olive Branch and ridding them of any bugs with a nice blanket of thick white/bluish diesel smoke from our coughing, sputtering truck.
I spent the night in the hotel room researching symptoms on the internet wondering what we were going to do come morning? Nothing I found was going to be a quick fix. There wasn't a magic pill I could give the truck to get it going again or at least nothing any diesel forum could teach me.
The next morning we drove to an auto parts store so I could buy a new air filter thinking that my current one was clogged and it was starving for air. Again, just praying that something easy would fix this newest set-back. Each post I had read about excessive smoke mentioned the air filter and that it should be the first item changed.
While I was under the hood swearing and sweating, Cindy called our good buddy Trev, you know him from our Stand Up Paddling adventures with his wife Anne. Trev works as a diesel mechanic in Atlanta.
Cindy explained the symptoms and he rattled off a few things to check that were above what I knew or could accomplish with my limited skills. I'm a photographer and can help you take a great photo, I'm a really good bartender and can mix some amazing drinks, but taking apart anything under the hood is more than likely just going to make it worse.
After awhile of talking, he asked our location. Cindy told him "Just outside Memphis."
He says "That's a 6 hour drive for me! Before I load up some tools, let me call a friend who is a fellow diesel mechanic in Memphis and see if he can help." WAIT WHAT!!! I told him I'd go buy a new truck before I'd allow him to drive 6 hours to help me!! Damn, that's a good friend!
But the stars were aligned at this moment in our adventure as the friend, Patrick Tarpley, that Trev contacted quickly replied back to him "The best PowerStroke guy in the world is Chris Burleson! He's about 15 minutes south of Memphis. Burleson's Auto & Diesel Repair"
I look him up and as astonished as you can imagine, the GPS tells me we are 13 minutes from his shop! How amazing is that!?!?
We drive over to this shop just praying that he'll be able to help us.
Pulling up, I was comforted to see a bunch of jacked up, pimped out F-Series Trucks and bays loaded with trucks and Mustangs in various states of repair. This was a good sign as it wasn't some roadside shop that the guy would try and rip me off or I'd be nervous with leaving my truck there.
The very nice woman behind the counter listened to my story and said "Let me go get Chris and have him get you back on the road."
Chris comes into the lobby, we introduce ourselves, I explain my situation and he grabs his laptop and says "Let's go diagnose the problem."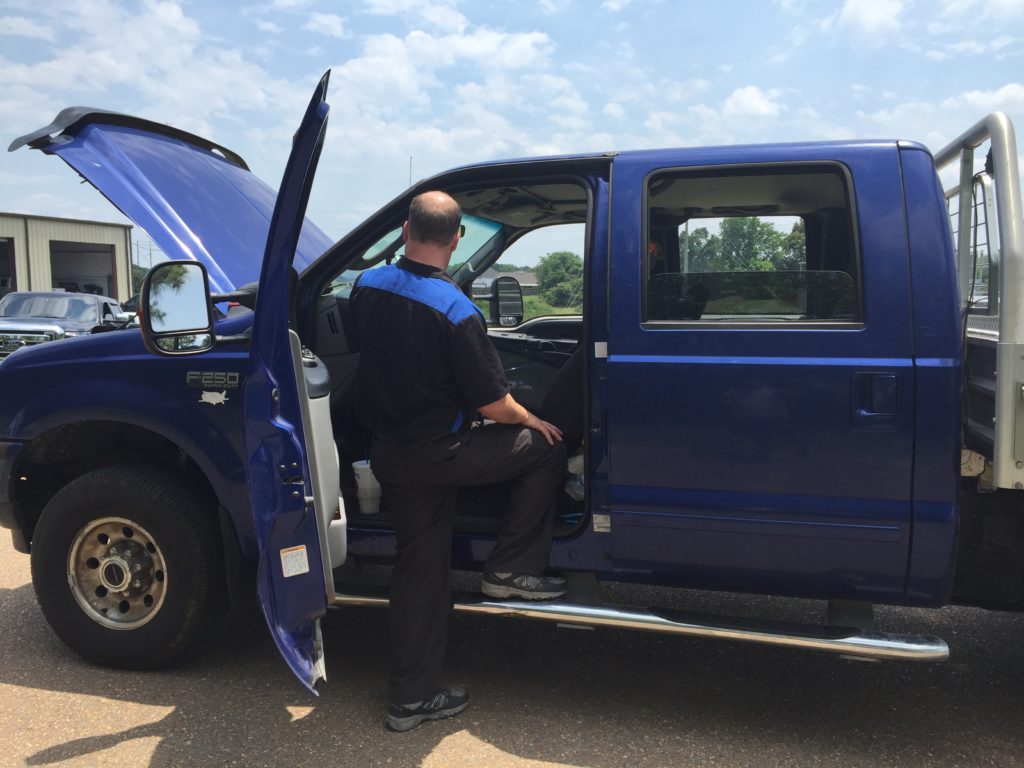 A few minutes later he looks at me and says "Well you have 3 bad injectors and your glow plug module is not working."
Cindy's first words out of her mouth are "Do you have a different truck you can sell us? I don't want this one anymore!"
We all sit around in the mid-afternoon heat talking back and forth for awhile, with me thinking the whole time that this is going to be a $7-10,000 repair that will take a month or so to complete. (this is why Cindy was asking if we could just buy a different truck)
The last time a dealer told us we had one injector that was failing, their estimate was $8000 to repair it and they told us they'd have the truck for close to a month. My 2nd quote from a different dealer was right around the same price with equal amount of time needed to complete. A good friend of ours had the same repair done on his 6.0L Diesel and said by the time he got his back a month later, the bill was closer to $10,000 with all the side items that got added in.
Chris says give me a minute to tally up some prices on what the parts will cost and I'll let you know. He leaves Cindy and I leaning on the fenders of the truck looking at one another wondering how we're going to buy a new truck with our current model loaded with a months worth of supplies. We can't back out of the rodeo at this point as it's just a few days away and we're supposed to be their event photographers.
Chris walks back out and says "It'll be around $1900 and if everything goes as planned we'll have you out of here this afternoon. And that includes the glow plug system that isn't working and all 4 injectors on that side since it just makes sense to replace that 4th one while we're in there."
Cindy and I just sat there looking at one another wondering how this could happen? How could we break down a few states from home, just happen to be only a few miles from a well renowned PowerStroke Mechanic, and he says he can get it repaired in a few hours!?!?!?
I don't think I said anything, but Cindy blurted out "OK! What are we standing around for! Let's get this started!" I think she wanted to get it going before Chris could change his mind.
Imagine pulling up to a Ford Dealer with just an oil change request and being done in a few hours?? It's not going to happen! And we just pulled in at 2pm in the afternoon without an appointment!!!!
We unhooked our trailer right there in the entrance drive and proceeded to camp out in the shade for the rest of the afternoon in front of their workshop. The dogs slept in the soft grass, chased birds and got petted by all the delivery guys that came and went every few minutes.

Later in the afternoon the shop manager came out and said "Ok folks, some of the parts haven't shown up yet and we're closing up for the day. We have a car you can use to stay in a hotel and we're going to have guys come in early to make sure we get you out of here early tomorrow morning."
They kept apologizing profusely about the parts not showing up, but at this point, I could care less that we were going to have to stay another night. I was still in shock that they had the truck tore down in a matter of minutes and were claiming they were going to have it done in under a month.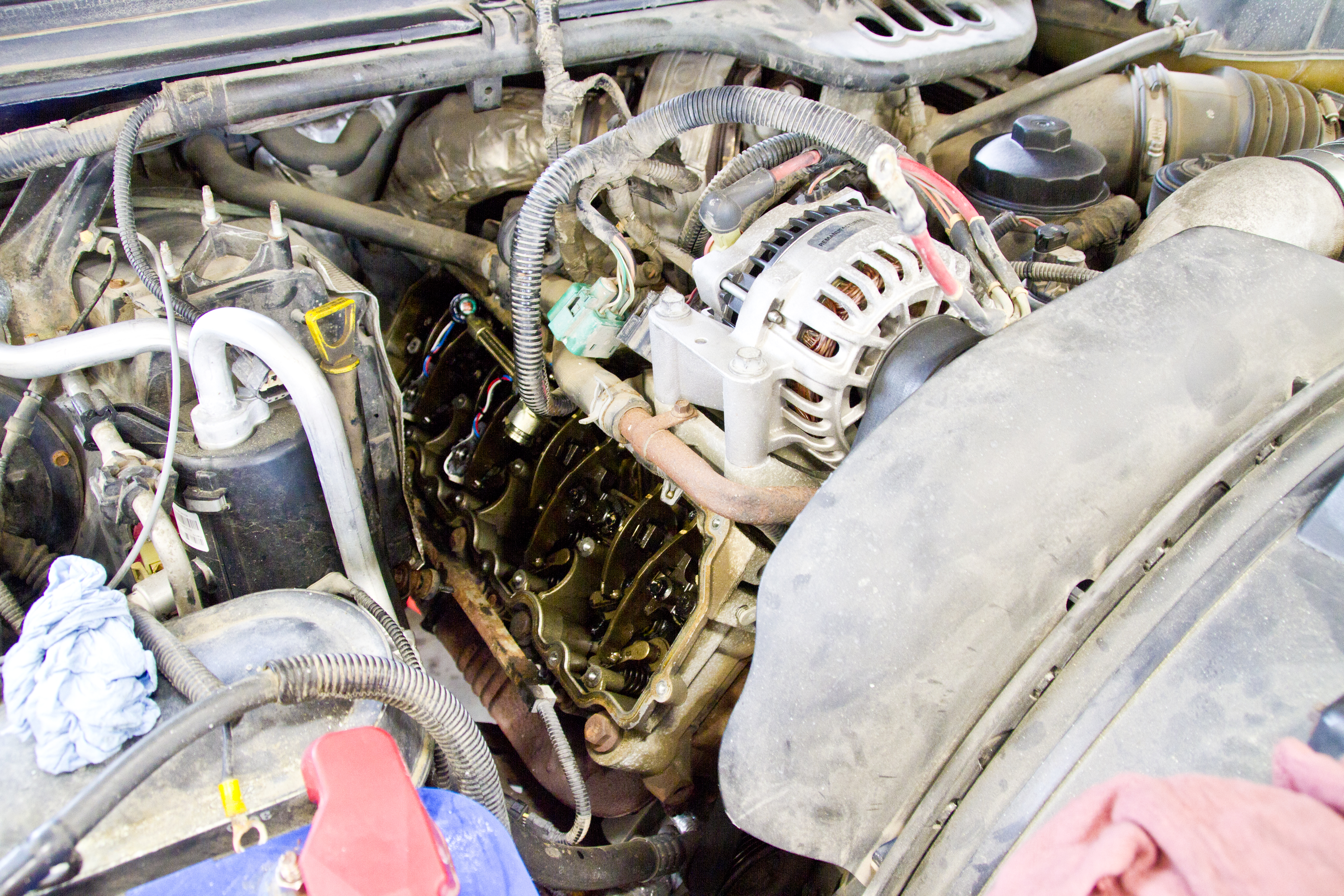 Checking back into the same pet friendly hotel we had stayed at the night before, a Candlewood Suites that was really nice, we both pretty much just chilled out and went to bed. I think we were exhausted from the stress of the day and sitting out in the afternoon heat worrying about getting to the Rodeo. If there was a guardian angel watching over us, they knew what they were doing today. Not only were we getting the deal of a lifetime with the best customer service ever, but as we laid in bed watching the evening news, all the local channels were reporting on the damaging tornadoes that were just north of where we were and the flash flooding that was taking place. Basically if we hadn't broken down, we'd have driven into these storms and who knows what would have happened. The big news was a young boy had been swept away from the flash flooding and there were major search parties looking for him. We both said some prayers for him and his family and thanked our angels for looking out for us.
The next morning, before we'd normally even be checking out, they called and said the truck had been put back together, had been road tested and was waiting for us to come pick it up.
When Chris came out to go over what he had did to the truck, he said "The total came out to a bit more than I originally quoted you!" Cindy looked at me like "Oh No, here comes the bait and switch!"
He started listing the items they had replaced and why the total was more than originally quoted. He says….."We went ahead and replaced your fuel filters in case it was bad fuel that caused the injectors to fail. We changed the oil, replaced the oil filter, changed out the glow plug module, replaced the 4 injectors, and I went ahead and replaced that coolant overflow reservoir we had found leaking."
While Chris and I had been first looking under the hood, I had mentioned that I had put coolant dye in the radiator before we left because I could smell coolant leaking, but the truck hadn't been overheating? While we were looking around, he pointed out that the top of one of the rocker covers had dye on it and when he put his hand under the reservoir, he found the leak.
I was beyond impressed! I shook his hand, thanked him profusely and we were on the road running a little late, but both thanking our guardian angles for the delay.
Few people would look at a set-back like this and think of it as a positive one, but we actually saved money by having the work done by Chris rather than having it done in Florida at a Ford Dealer. Oh, and that little boy that had been swept away during last nights storm, they found him the next morning alive!! He only had some cuts and bruises and was shaken up, but still alive!
If you ever need work done on a Ford Diesel Motor, I cant think of anyone more qualified than Burleson's Auto Repair in Olive Branch Mississippi. Anyone that would take in a couple just passing through, have their truck repaired and have them on the road in no more than a few hours is utterly amazing!!
Thank you Trev, Thank you Trev's friend Patrick and thank you Chris Burleson!!!