Back To Life, Back to Reality
Our last day on the boat was a day of total relaxation.  We left the room only to feed ourselves at the buffet's a few different times, I finished the book I had been reading and got half way through another one Heath had recommended.  All the camera gear was taken apart and cleaned thoroughly and a few naps were thrown in for good measure.
Heath and Jolie finally called late in the afternoon and said "I hope you don't mind, but today was just a day of rest for us!"  We told them that we were worried that they might think we were avoiding them but taking a day to do nothing but lay low was exactly what we wanted to do.  So it worked out perfect for both of us.
We had one last dinner in the main dinning room and called it an early night knowing that tomorrow we'd be back in Tampa and soon enough, we'd all be back at work.  It's weird how your body works as I'd been getting some amazing sleep this entire week.  Hitting the pillow hard and not turning or tossing till late in the morning.  Tonight, with so much on my mind about getting back to Cedar Key and all the loose ends we have to tie up before Season officially starts, I barely slept a wink.
In the morning, Jolie said the same thing while we were at breakfast.  She told us that she had so much stuff on her mind about getting back to work that she barely slept.  I guess  we both must think alike because Heath and Cindy laughed saying they slept just fine.
Soon enough, we had our luggage loaded and were headed home to Cedar Key.
Once home, we got to the task of unloading a weeks worth of gear and putting it away in the proper places.  Our house doesn't have that much storage, so suitcases and duffle bags need to be stored up in the attic.  I basically wheeled my bag up to the washing machine and unloaded everything right into it.  From the washer and dryer, I dumped everything into a cart we use and within an hour, all my clothes were washed, dried and hung back in the closet.  I'm fast like that.  Cindy would probably live out of her suitcase for the rest of the week if I didn't stay on her to get it out of the bedroom.
While we on the ride home from Tampa, I started reading through emails on my phone.  We had never had cell service the entire time on the boat, so there were a bunch to cull through.  I'll browse stuff on my phone, but I never try and respond to any of it because of spelling errors and how hard it is to link things or add things to a response.  One of the emails that really caught my attention was one from a young couple Drew and Danielle.  Here is what the email said –
– We were shown your travel blog by a friend, Aldous Gitles, that we met in Orlando! My girlfriend, Danielle, and I have been on the road for three months now, doing something similar to what you two have done in the past, and we find your story really inspiring! We are recent University graduates from Nova Scotia, and we decided to do this road trip as a graduation gift to ourselves, and it has been incredible so far. We are travelling in a 1960 Land Rover and a 1976 vintage Boler camper. We have a travel blog ourselves ( The Wild Rovers ) and are currently in the Tampa area, planning to spend the next three months travelling towards the Mississippi to visit New Orleans, Memphis, Nashville, and then heading back north through the Appalachians. We're planning on getting a night at the Low-Key Hideaway in ten days or so and would really love to meet up for a yarn. –
That sounded really interesting and I couldn't wait to get home and check out their blog.  Well while I was putting my clothes away in the closet, I heard the doorbell ring.  I heard Cindy talking with a couple of people and heard her call me to come up front.
I walked into the office to see Cindy walking out the front door. In the parking lot was a little yellow Boler Camper being towed by a vintage Land Rover.  Drew and Danielle had arrived sooner than we thought.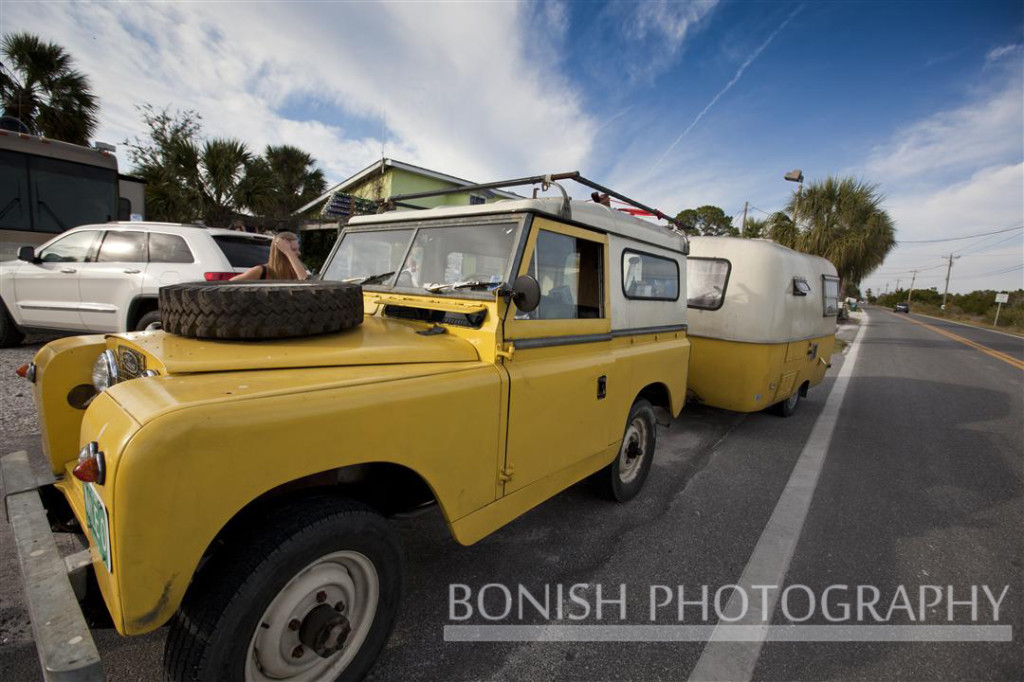 Introductions were made and we all sat around talking while they showed us their rolling home on wheels.  They told us they had no plans, but said they had just dropped by on a whim to check out Cedar Key.  Since we hadn't planned on opening the tiki bar tonight, we told them they'd have to stay for two nights so we'd have time to actually sit around and chat.  Our RV campground was full, but we told them we'd be happy to let them stay in a room which would give them a big bed to stretch out in.  The king sized bed in the room we had was larger than their camper was, so I'm sure this would be a nice treat for these two young explorers.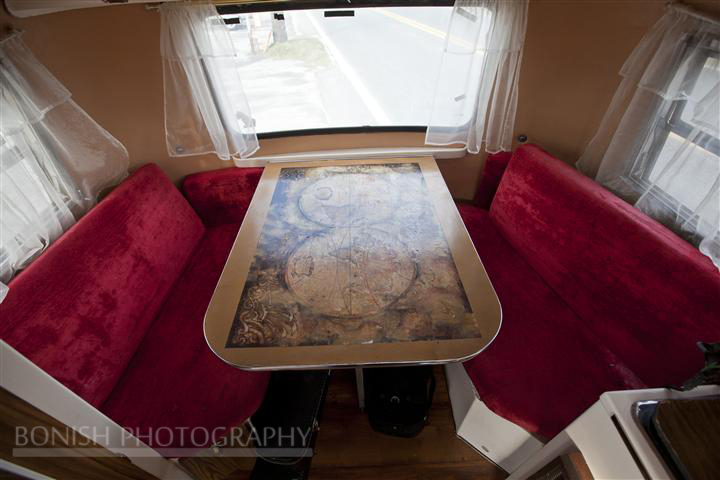 The next day was spent getting back into the swing of things and we had numerous people stopping by to make sure the tiki bar was going to be opened this evening. Even though we had planned on keeping it closed for a few days to put some epoxy on the bar top, we had so many complaints from it being closed for a week, I figured we might as well open it up and postpone the epoxy job.
Sitting out at the tiki bar with Drew and Danielle and hearing stories of their adventure so far was very eye opening and gives me such a warm feeling about people in general.  People always walk into the tiki bar and instantly start talking to the person beside them…whether they know them or not.  I think one of the cool things about a funky little bar is that folks who come in don't care who is sitting beside them or what their status is.  It would be different if we were sitting in a fancy restaurant or at a high end martini bar per-say.
But walk into a dingy little tiki bar and it doesn't matter if you're a millionaire or a deadbeat who is going to have to borrow money for your 2nd drink, more thank likely, you'll leave with some new found friends and have heard or told some really great stories.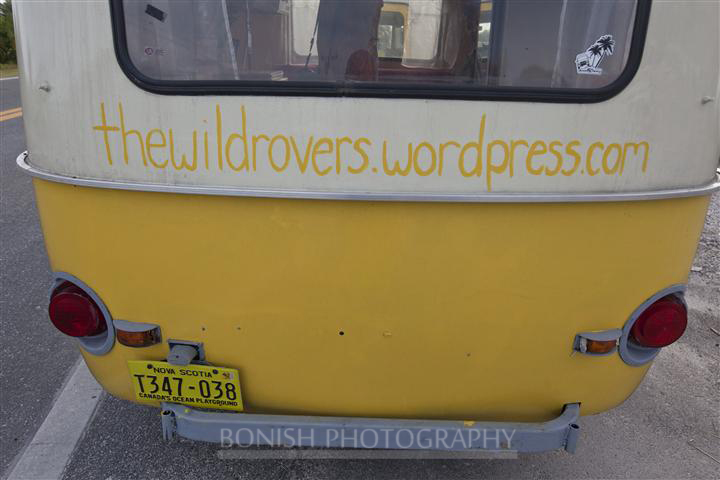 Once people found out about Drew and Danielle's story, they'd usually start asking a dozen questions before they'd say "Hey, if you're headed in this direction, check out this spot, or give this person a call and they'll hook you up with a spot to crash if you need it."  Danielle had so many suggestions to new routes, free places to stay and people to hook up with, she had two full pages in her notebook filled by the end of the night.  And who couldn't fall in love with these two kids story?  I mean haven't we all dreamt of graduating college at a young age, jumping in a vintage Land Rover that you've rebuilt yourself and hook up to a tiny, little camper that you've also fixed up yourself, to go wander this beautiful country of ours for 6 months!  Many do this sort of trip and it isn't all that new, but most that are doing it are doing it with a brand new truck, a brand new camper and outfitted with the utmost of new gear and gadgets.  Like Katie & Jessie's boat adventure, Drew and Danielle were doing it on a bare bones budget and with equipment that is older than they are even if you were to add their ages of 23 together.
Ever person that met Drew and Danielle congratulated them for having the balls to do what they were doing, encouraged them with their travels and offered to pay for their entire tab.  That's what makes me feel so good about people.  People see someone doing something that they approve of and they instantly feel invigorated even if that story doesn't have anything to do with them.  It was impossible to hear their story and not smile from ear to ear with approval.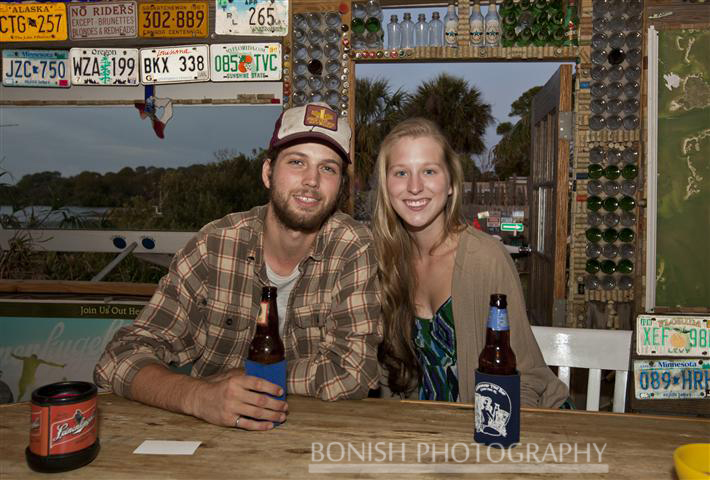 By the end of the night, dozens of couples had come and gone and I was as excited for Drew and Danielle as I think they were invigorated with all their new places to stop and see.  I think their story touches so many people the same way Jessie and Katie's does. So often these days we get discouraged with our youth and their lack of drive.  So when you see and hear about very young people throwing caution to the wind and just going out there, the same way our forefathers did it, you get a renewed sense that maybe there are some pioneers or game changers in our younger generation.
I hope that Drew and Danielle will hold this trip close to their heart for the rest of their lives and know they're learning more in these 6 months on the road than any college education could possible teach them.