Cedar Lakes Woods & Gardens
The world we live in, who would think there could be places that no one has yet found? This is what I kept thinking as I wandered the gardens at Cedar Lakes Woods & Gardens!
Some good friends had stopped by the Tiki Bar a few weeks back to tell me about this place and suggested we visit there to try and capture it's beauty with our cameras. I kept thinking to myself…."For real, how have I never heard about this place and it's only a few towns over??" I'll be sure and thank Janice the next time I see her for her recommendation!
The story on this amazing, hidden magical gem goes like this. Back in the early 90's, Ray Webber, the owner of this property was visiting Devil's Den Spring in Williston, which is along the same road where Cedar Lakes Woods & Gardens is now located. Ray was an active Scuba Diver and had come to Devils Den to dive the hidden springs. While visiting that day, he saw a For Sale Sign on a large tract of what looked like Farm Land that turned out to be an abandoned Limestone Quarry.
He bought the land, kept it to himself for the last 25 years and with the help of good friends and family members, has turned 50 some odd acres into a magical dreamscape and a gardeners paradise. The botanical gardens were only opened to the public in January of 2015, which is why you have probably never heard of this attraction.
Walking into the grounds, it honestly is like stepping into a movie set for some Lost World where you would not be surprised one bit if elves or fairy's came floating past you at any point. With the sounds of numerous waterfalls, an almost constant breeze probably due to the various rock tiers and layers upon layers of tropical plants dripping from the limestone walls, this is a gardeners, photographers or basically anyone who enjoys beautiful places dream come true.
For a nominal $12 per person entrance fee, you get a fantastic introduction from Jenna who welcomed us, filled us with more information than I could remember (I wish I would have taken notes) and to add to the fairytale like atmosphere, explained all of this with two exotic birds on her shoulder she had rescued from a pet store. She told us the pet store closed down and a friend who had went in to clean it out said the birds were just left there along with various other items! Who does crap like that?
So we're in this place that you literally have to keep pinching yourself to be sure you're not dreaming, and the pretty maiden guiding us and explaining the surroundings has exotic birds sitting on her shoulder the entire time……I literally had to pinch myself to be sure this was real.
After she told us about the history of the property and pointed us in the direction to start the self guided walk, it didn't take long before Cindy and I had both gone our separate ways and did not see one another for over an hour. There are narrow trails leading in all sorts of directions. Numerous times would I be following a trail only to end up back at a spot I had already been to. I crossed a suspension bridge over a waterfall. Had huge swans swim under me while I was taking photos from another bridge. Heard Cindy call to me from high above a towering waterfall where she had climbed up a stone staircase and was sitting on the owners backporch looking down into the labyrinth of gardens and ponds.
When we finally did meet back up, I was sitting in a hand-hewn rocking chair under a gazebo letting the cool breeze chill me down. She sat beside me in a matching rocking chair and neither of us spoke a word for some time. We both just knew we had found a place that was magical.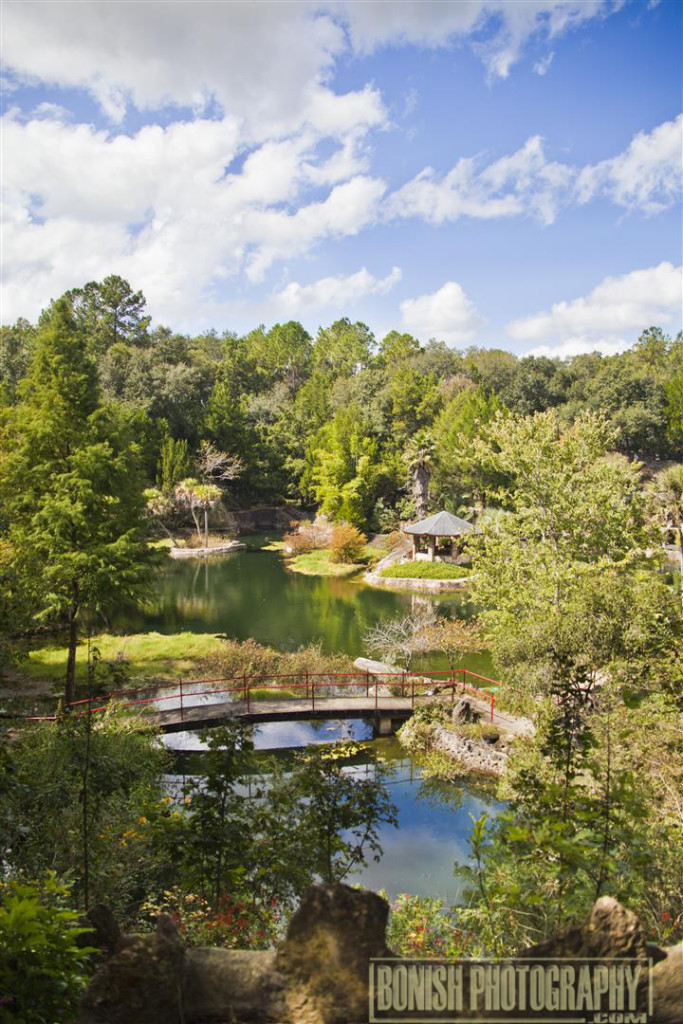 What an amazing person this Ray Webber must be to have spent 20 some-odd years grooming this property, then to realize it was selfish to keep it all to himself. He did all of this with his own money too. Jenna had told us if we saw an older man working the gardens, it would be Ray as he lives on property and tends to the gardens daily. Unfortunately we never did see him, but we both plan to visit this numerous times a year depending on what is blooming. I honestly could spend hours upon hours in these gardens just taking photos of it's enchanted beauty.
There are some places you visit and leave saying "I'm glad I saw that, but there is really no reason to visit again." This is NOT one of them. I'll happily spend my money here to make sure this stays open, much like the E.A.R.S. Sanctuary, there are people out there who just do good things simply to help others.
On the Cedar Lakes Woods & Gardens Mission Statement, it says this = We are currently seeking donations to assist in the ongoing improvements of the Gardens. As a 501.(c) (3) all contributions are 100% tax deductible. Your contributions are used for such projects as hand railings, restroom construction, picnic area development, future gardens, wheel chair ramps, maintenance and feeding the swan, wild birds, fish and all the other wonderful creatures we are blessed to offer a home to
If you're planning a visit, the Cedar Lakes Woods & Gardens has ample parking for big rigs or RV's. Just be forewarned that the entrance road is a bit rough. It's very doable as we made it fine towing our Travel Trailer and once at the grass parking lot, you have a giant cow pasture to turn around in, so dont be fooled by the narrow entrance and steep approach angles.
Near-By Attractions and Accomodations
If you wanted to stay close by, Devils Den Spring has RV Hook-ups and a nice, quiet campground and is located just down the street. There is also Williston Crossings RV Resort just a few miles up the road. Williston itself is about an hours drive from Cedar Key, Ocala or Gainesville and a nice scenic drive down two lane country roads the whole way. It makes for a perfect day trip if visiting Cedar Key, Gainesville or the Ocala areas. Williston also has a few restaurants that are very good. The Ivy House which is a fantastic restaurant situated in a historic home and the Green Shutter, which is a nice roadside diner that serves home-cooked meals.