Crystal River & the Plantation Inn
Its hard for Cindy and I to take a vacation these days. The motel and tiki bar seem to always keep us pretty busy, but if you work non-stop, you tend to allow the work to take over, and before you know it, you're not performing 100%. So every now and then, we have to just shut down, and take a few days off. This time of year, we're in the heart of Hurricane Season, so we like to stay close to home, just in case one of those named storms pops up on the radar we could be back to button things up within a days notice.
When looking around for places to go, Crystal River is almost always on the top of our list for the benefits it offers. Fresh Water boating, quick access back out into the Gulf if you want that, restaurants you can pull up to on the boat, crystal clear springs to swim in and take photos with the Underwater Camera, and only an hours drive from our location in Cedar Key.
With July being the height of Scallop Season, we didn't even think of how busy it would be this time of year. I mean it's one thing when we come down here during the winter months and you have all the snowbirds visiting to swim with the manatees, but this time of year, it's even busier and it's all Florida residents vacationing on the water to fill their coolers with fresh scallops. We'll just have to remember that for our next vacation, because if there was one complaint, it was the amount of screaming kids running around the hotel and the grounds. It just meant we spent more time out on the water.
It's funny to see the look on peoples faces when they ask us where we're going fishing, or where we're going scalloping, and Cindy and I both just say "Oh we don't fish, we're strictly going out to enjoy a day on the water." I'm probably the only person in Florida who owns a boat, and has never had a fishing rod on their boat.
While packing our gear up before heading down to Crystal River, Cindy and I were talking about Stand Up Paddle Boards or SUP. After trying them down in the Keys when we vacationed with Katie & Jessie and went out with Mellow Ventures, we've both talked about getting them for ourselves. Cindy's idea was to rent one on this vacation and see if we enjoyed it enough to warrant the purchase of one.
The night before we were set to leave, we had a young couple staying with us who had 2 paddle boards in the bed of their truck. I was talking to her out in the tiki bar about paddle boarding and asked how she liked her board. She was telling me that it was more of a beginners board, and now that she's had it for over a year, she's wanting to sell it so she can move up to a faster, more streamlined board like her husband has. My ears perked up and I ask how much she's wanting to get for it? I've looked around, and most boards range from the $700 to $1500 depending on what you get.
She thinks about it for a minute and finally says "Oh, I'd have to get at least $300 for it because it has some scratches on it from loading it in and out of the truck so much, but that would include my adjustable paddle that I paid $150 for."
I could barely run into the house quick enough to grab the money, and when I handed her the $300, she just looked at me and said "Wow, I'm not even sure if I want to sell it yet?"
I told her "You said you were going out to dinner. Think it over, and if you want to, then just load it into my boat, if you don't, then give me back the money when you get back to the Tiki Bar."
Needless to say, we're proud new owners of a Triple X Longboard. Cindy saw them loading it onto our boat that night and asked "What are those people putting on our boat!?!" I just smiled and said "You said you wanted a SUP, so your wish has been granted!" She just laughed and said "Isnt  it funny the way those things always tend to work themselves out."
The next morning, I went down to the hardware store and bought $20 worth of 2″ SCH40 PVC pieces to make a carrier so the board could ride on the side of the boat. It's too big to leave sitting on the deck of the boat as it takes up quite a bit of room, but hanging off the side, it rides nicely and out of the way. Yet you can grab it, throw it in the water and be paddling within a minute of dropping the anchor.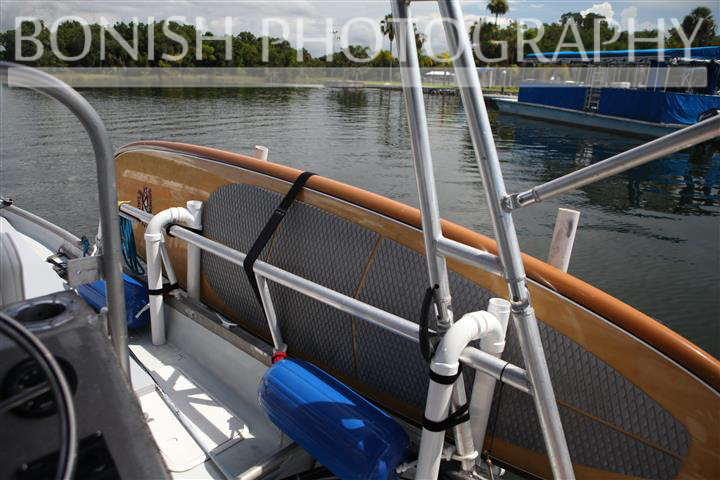 On my next visit to Troy over at Williston Marine Metals, I'll have him fab up a custom hanger out of aluminum that can drop into some slots on the side of the boat for when we're bringing the SUP out with us. That way it'll be a little more sturdy and hold the board tighter while underway. Cindy just laughed at me when she saw me making the PVC holder, but once in Crystal River, it took about 10 minutes on the water before we had every boat we passed asking us about it and where we got the hanger.
Over the course of the 4 days we spent there, I cant count the amount of people that floated past our boat taking pictures of the SUP Hanger or stopped to ask about it. We both paddled around the springs, out in the open water and got comfortable on the board to the point that each morning we'd wake up with sore shoulders and hips from using muscles we're not normally used to. It's a great workout and we're looking forward to using it more in our boating trips
The Plantation Inn was perfect for what we wanted. We were able to tie our boat up to the seawall just outside our room, leave the cooler and the SUP board right on the boat without having to worry about loading them or unloading them each night. We could come and go as we pleased, order room service or dine in the restaurant so we never had to leave the property if we felt lazy, like we did most of the time. They had fuel and ice right at the Dive Shop, so the boat was topped off each morning before heading out on the water, and the room was comfy with ice cold air for when we came back exhausted from all the swimming and Paddle Boarding.
It was a nice vacation which resulted in both of us catching up on much needed down time, and time spent together, which is always something working couples need. Spending time with one another when work or waiting on someone else isn't part of your daily chores. The clouds and storms we got to watch was worth the cost in itself.
Each afternoon, the summer time humidity would build up these huge thunderheads inland, and it made for some amazing cloud patterns and evening storms as we would float back to the Plantation Inn.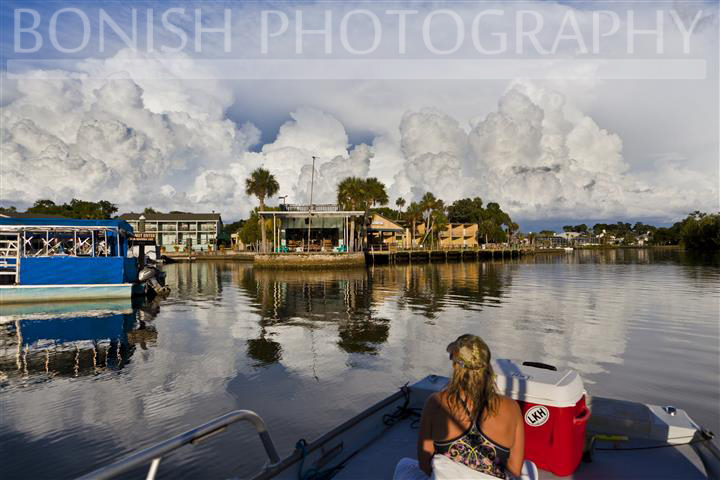 A couple of hints and tips we learned on this trip. 3 Sisters Spring is packed at all times of the day and they've passed a new law where you are not allowed to have open containers (alcohol) while in that area. This is a very good law I think as the spring area anchorage wasn't the wild party it normally was. Since many of the visitors are renting boats, kayaks or with the tour groups, the place will be packed full for most of the day. Its only open from Dawn till Dusk, so Cindy and I would usually wait till after 6pm to head over to that area to take underwater photos. This time of year, the sun isn't setting till 8:30ish, so we still had plenty of light to use, and we had the springs all to ourselves at that point.
We pulled up one evening around 5:30, and watched about 10 boats load up with screaming kids and adults. We simply sat on the deck of our boat in the shade and ate some snacks while waiting for them all to leave. By 6pm, we were the only boat there, and swam into the clearest most calm I've ever seen 3 Sisters. It was beautiful and very cool to have them all to yourself. So hit them real early, or later in the evening if you're wanting underwater photography and calm water.
Another tip we learned the hard way is DO NOT swim up to the back of a paddle board someone else is standing on, and grab the back of the board. I was swimming with my underwater camera for about an hour, which weighs in at about 20lbs. My arm was dead tired from holding this thing above the water trying to get split shots where you're framing the photo with half the dome above, and have of it under the surface. I was having Cindy paddle past me so I could use her as a foreground subject and once past me, I went to throw the camera up onto the back of the board so I could rest my arm.
She was going pretty fast, and I grabbed the board which brought her to a halt. I had already thrown the camera up onto the SUP, and she fell backwards landing her butt right on the big, hard camera. I caught her at the same time and we both sat there in the water looking at one another. Needless to say, it was 100% my fault, and she now has a hematoma on her butt that is the size of a softball and looks really bad! So the big tip of the day, DO NOT stop someone that is moving fast on the paddle board without wanting them to slam down hard on the board itself. Sorry Honey!