January 10th – Day 5 – Mahagony Bay, Roatan, Honduras
We woke up early this morning to find that we were already in port and safely tied off to the pier in Roatan. It looked like it was going to be an amazing day with calm waters, a bright blue sky and a nice, warm breeze in the tropical air. The sun was just coming up when Jolie, Cindy and I headed up to breakfast at the buffet.  Heath doesn't like to eat at Buffet's so you either have to go sit down at the formal dining room or eat room service.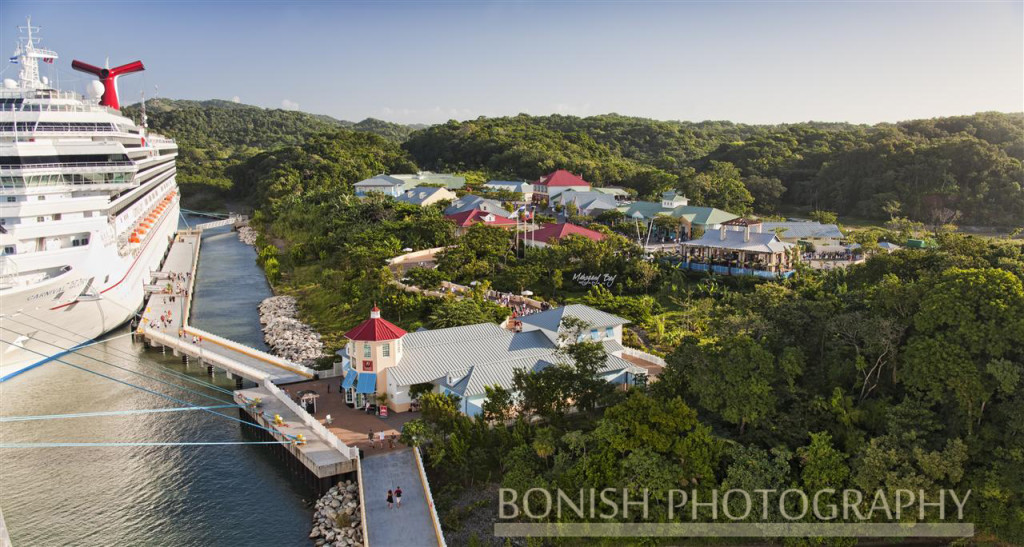 I don't care for room service as the food is usually cold by the time it reaches the room and I'd rather make my own meal from the numerous choices they have at the multiple buffet stations and then be able to leave my dirty dishes up there rather than have the room smell of food for the rest of the day.  To each their own I guess.
We all got a full plate of food knowing we'd have a big day ahead of us. We were scheduled to hire a private driver and take a tour of the island at our leisure.  He'd bring us by the Monkey Park so we could see them, then we'd go snorkeling in the crystal blue waters this island is known for.  I couldn't wait for this!!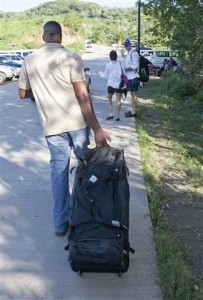 We got the gear packed up, something that was already 99% done since I never unpacked any of it from yesterday when we were supposed to go out snorkeling in Costa Maya, Mexico.  We all exited the ship and lugged our gear up and out of the port to the private driver we had hired online.  They reserve the area right outside the cruise ship for Carnival's Tour Operators, so if you hire a private tour company, you have to walk a ways further to where they're lined up.
Many of the trips and excursions we've been doing were recommended by our good friends Patrice and John who had recently taken this exact cruise a few months back.  Patrice had told us she had a friend who had also taken the same cruise at a different time so they sat down one day comparing notes.  Patrice took the time to put together an itinerary for us that included the contact info to all the drivers they had hired and who to contact in advance so nothing would be left to chance when pulling into a port.  So far, her itinerary was perfect and was a big help.  Thanks Patrice for all the info!!
We met our driver from Bodden Tours who was named Frankie. He loaded our bags into his little Suzuki Van and we all climbed in.  The vehicles they have down in Central America are so different than our big, gas hogs we have back in the states.  Their roads are also a lot narrower than ours, so a smaller, narrower vehicle is much better suited for island driving.
Frankie took us around the island explaining various sections and what life was like here in the tropics.  The heavy smell of vegetation hung in the air like it does in Florida in Mid-Summer.  Not a bad smell by any means, but you knew you were in a very thick tropical climate almost comparable to a rain forest.  Everything was a bright green with flowers and neon blooms on most of the foliage.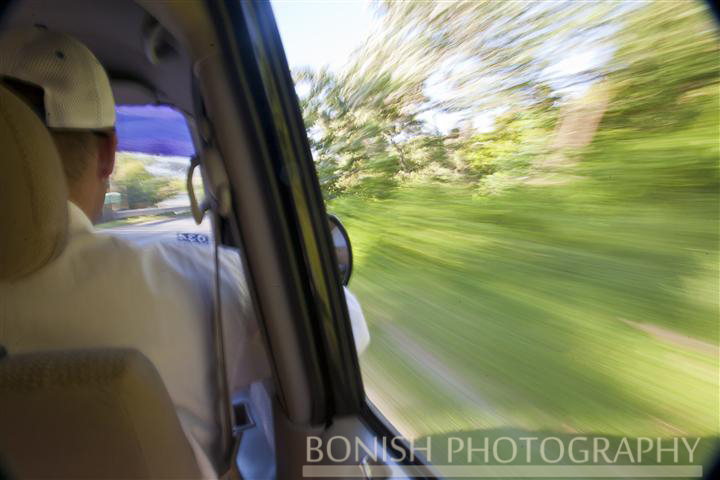 Our first stop would be the Monkey La-La Park.  I wasn't sure what to expect, but it was recommended by a few different friends who had visited Roatan, so we added it to our visit.
For $5 per person, you get a personal tour guide that brings you through a series of wooden enclosures that house a pair of monkeys in each enclosure.  You get to go inside while the monkeys jump and climb all over you which was hysterically funny.  If the guide is to give someone next to you a few sunflower seeds, the monkey is no longer interested in you and will jump from your shoulder or head, depending on where it was perched and land on the new person that has the sunflower seeds.  Sunflower seeds must be like Crack to the monkeys as excited as they get over the small treats.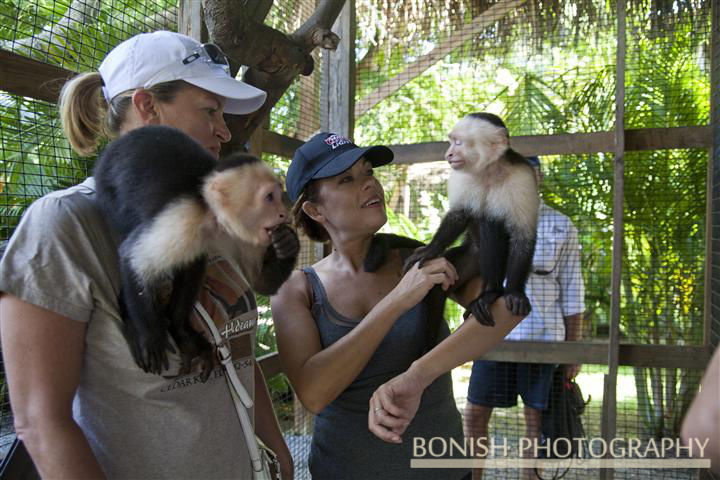 This was great fun for Cindy, Jolie and I who all took turns having the monkeys jump from shoulder to shoulder while we all laughed hysterically.  Heath was too much of a pussy to come inside the enclosure saying "I don't want no dirty monkey jumping on my head!"  So he sat outside the enclosure and just watched in disgust.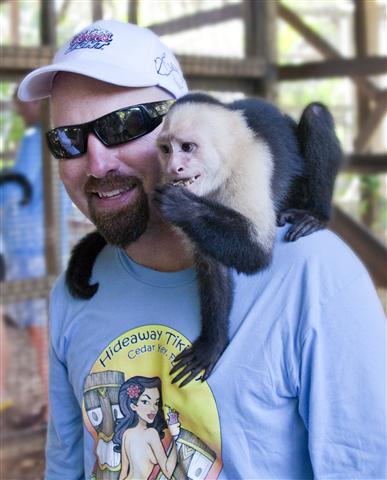 At one point while we were all standing outside the enclosures looking at some Tucan Birds, a Spider Monkey reached out and grabbed a hold of Heath's shoulder.  You would have thought that he had just be electrocuted he jumped and screamed so loud lunging away from the enclosure.   OMG we laughed so hard I almost pee'd myself.
After some time spent laughing and telling too many Monkey Spanking Jokes, we left the Monkey Jungle and headed to the coastline where we were all eager to get into the water.  There is just something about this color blue that lures you to it like a drug.  It begs me to dive in and I was reminded to the last time Cindy and I visited the Caribbean.  Her exact words to me were "I don't ever want to come back here because the next time I do, I won't leave!"  That was a vacation to the Virgin Islands before we had left on the EMAM adventure.  Our original plans were to go travel for a year or so before we'd retire to the Caribbean, so this was a gamble to bring her here, but I knew on a cruise, she'd have to get back on the boat.
Frankie dropped us off at a dock where a small center console boat was floating in crystal clear water.  It was all I could do to not dive in right off the dock.  We loaded our gear and the Captain motored us out maybe a quarter mile to a big reef that was easily viewable from above the surface.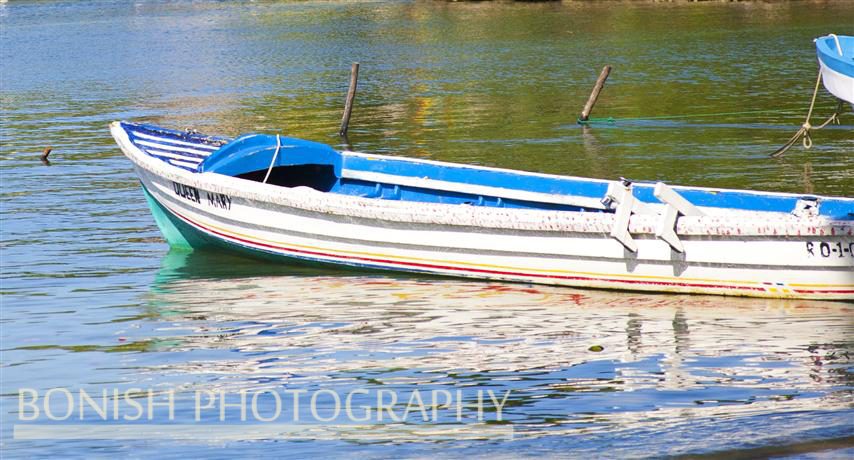 Heath and I were the first ones in the water and I was in shock from the first second I went below the surface.  We're talking almost unlimited visibility.  We were anchored in maybe 12' of water, but just in front of the boat was a shelf that dropped maybe 30 or more feet and you could have read the fine print on a document if had been sitting on the bottom.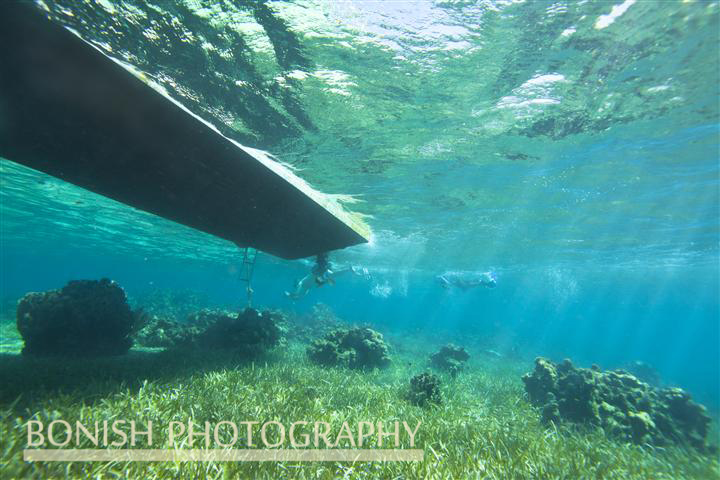 I had to remind myself that we needed to wait for Cindy and Jolie because like typical women, they were taking their time to get in the water.  Once finally in, the four of us were swimming away through the caverns that cut their way through the deep reef.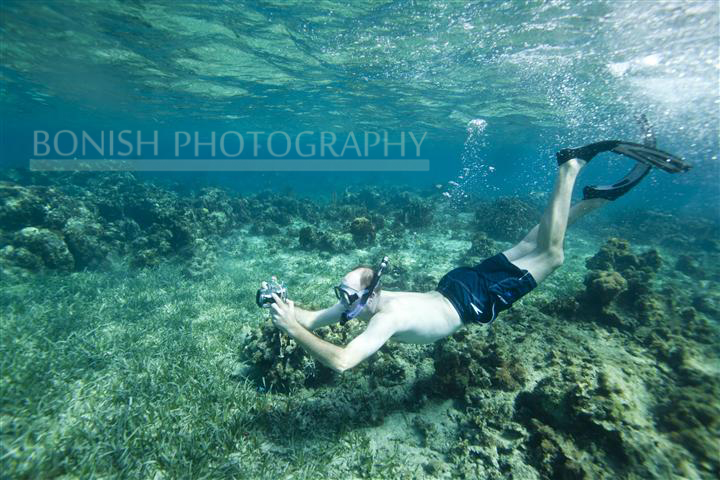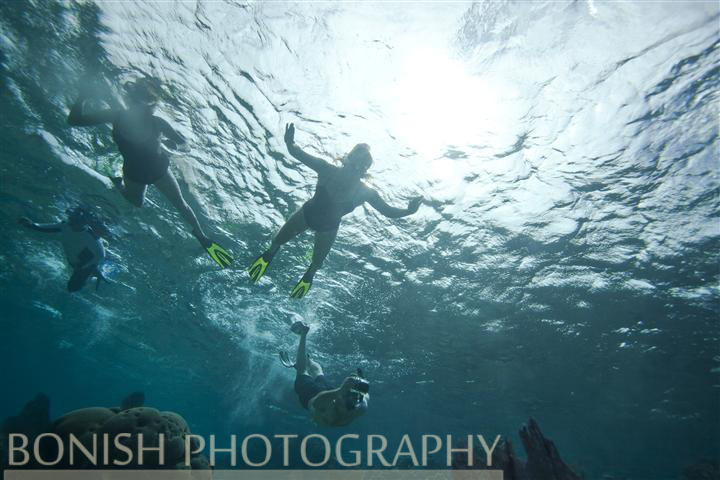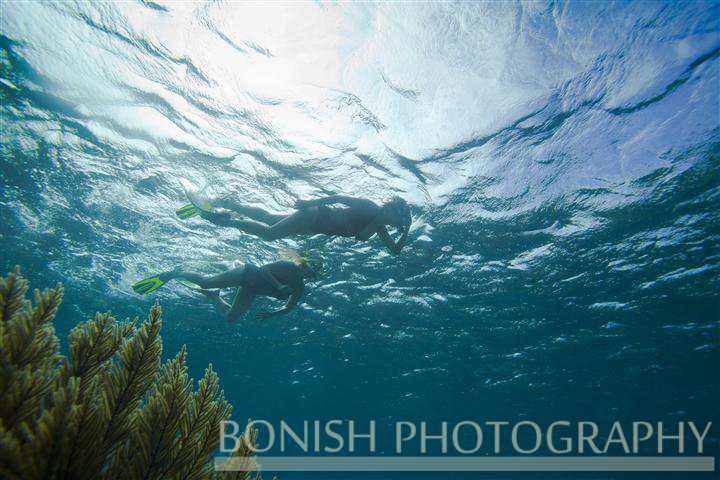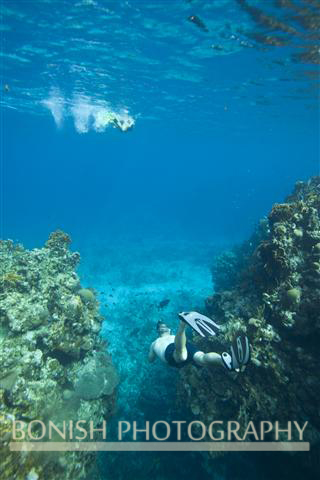 You'll have to remember that Cindy likes to claim that she's afraid of going under water.  Now this is coming from a girl that can swim just fine, has snorkeled all around the world, yet will act like it's her first time every time?????  It drives me insane that I have to go through the hassle of begging her to get in the water while she goes through her typical panic attacks until she finally remembers that she loves it.  Once she's calmed down enough to pay attention to what's around her, she has a great time.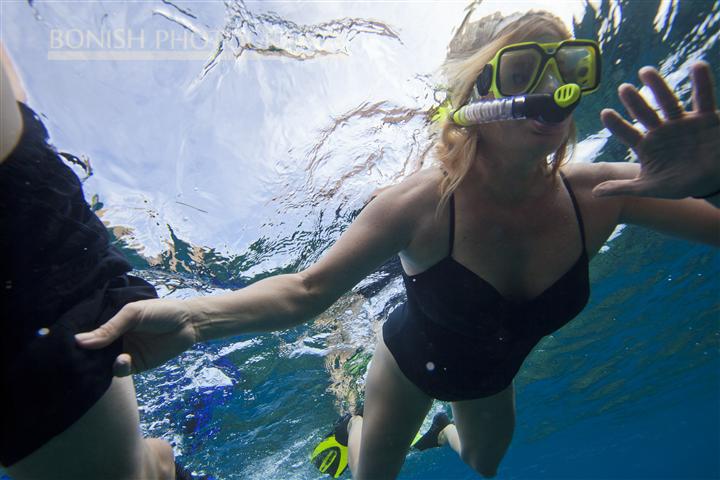 Cindy and I have snorkeled many places, but I'd have to say that Roatan is now on the top of the list.  The coral was soo alive and there were soo many fish.  It was hard to decide which direction to point the camera.  This would be my first time really using the big Ikelite housing, so I was trying to review each shot and pay attention to the way the images were turning out.
I learned real quick that anywhere near the surface I'd get a bunch of Backscatter, which is debris in the water that is being lit from the sun.  The deeper I dove, the clearer the images were.  If I aimed the camera towards the sun at all, I'd get way too much light in the image.  So I had to pay attention to keep the sun behind me and try and dive a few feet below the surface aiming back up with the sunlight on my back.  These images turned out the best.
It also helped if I could get Jolie or Heath to dive in front of me so you'd be able to have a comparison when seeing either how deep the caverns were or how large the coral was.  I asked Cindy to do this a few times, but she just swung her fist at me claiming that she was going to drown at any second.  I tried my hardest to keep my distance from her without letting her know I was avoiding her.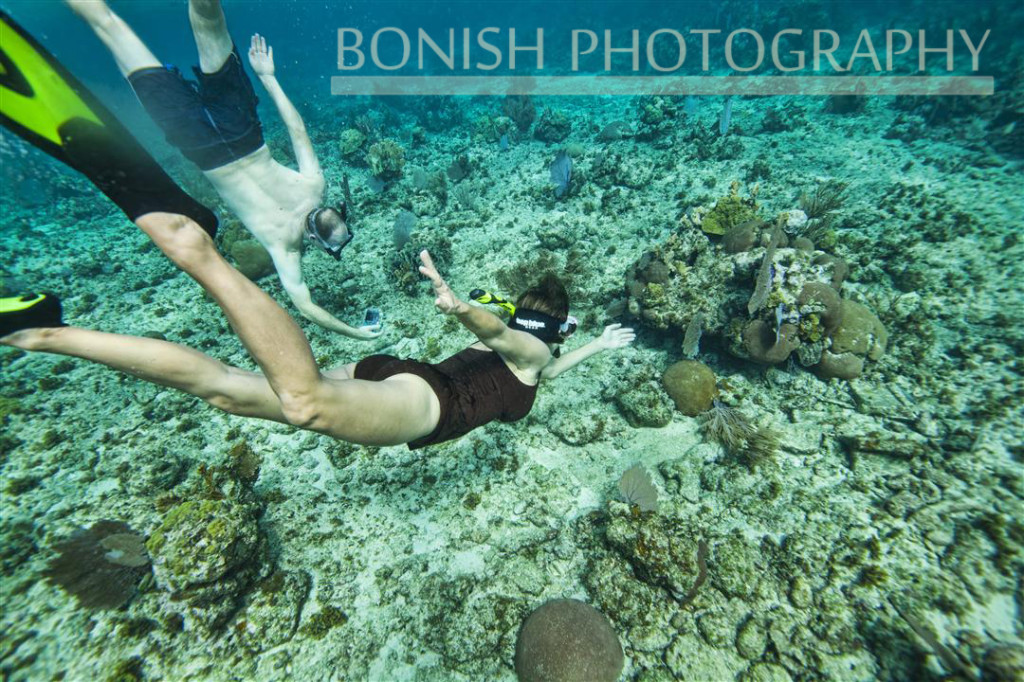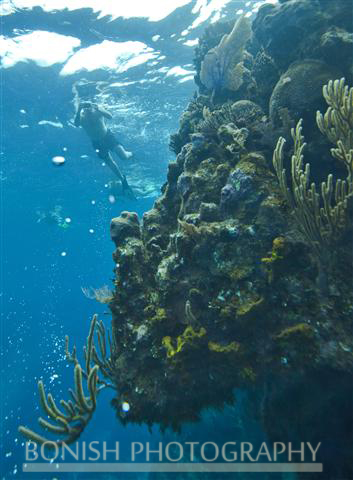 If I swam within an arm's reach of her, she'd grab a hold of my shorts and stop kicking telling me she was too scared to swim and that I needed to pull her along.  Problem was she'd grab a hold of the back of my shorts which meant she was behind me, so if I kicked my fins, I'd be kicking her legs or mid-section. She didn't seem to mind and would just hold on until I'd dive down and she'd either have to let go or come into the deeper depths with me.
This was comical from my viewpoint, but she was getting herself all worked up like she was going to drown at any second.  All she had to do was calm down and actually swim and she'd have enjoyed herself tremendously, but she chose to have a panic attack in one of the most beautiful, calming, most serene places I've ever been in my life.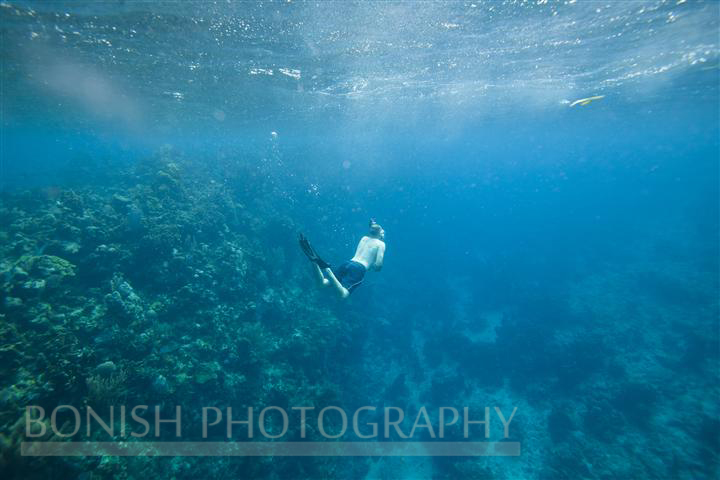 We probably snorkeled for over an hour and every second was as exhilarating as the next!  I was in heaven the entire time.  People often ask what I think Heaven will be like and I usually ask if they've ever snorkeled in the Caribbean?  A reef like this one in Roatan is my idea of heaven.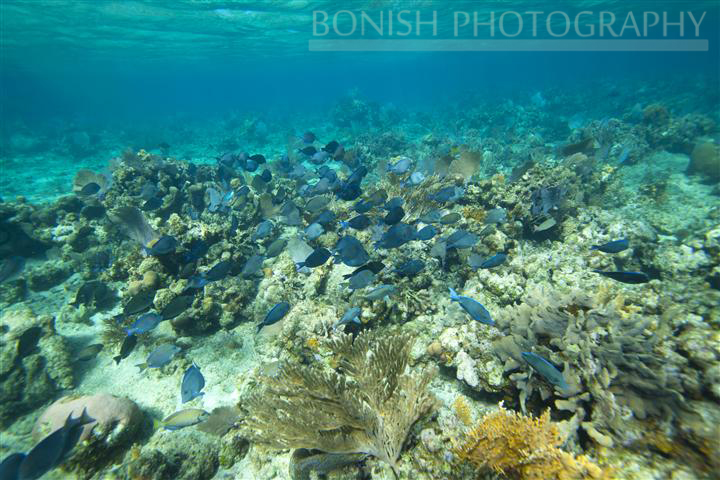 When the guide finally signaled to me that we needed to get back in the boat, I reluctantly climbed up the ladder.  Cindy and Jolie were dried off and fully dressed?  What the heck is wrong with these girls?  We travel half way around the world to go snorkeling and they're back in the boat without being told they have to get out of the water! I could have stayed out there till my back was covered in blisters from 3rd degree sunburn and I wouldn't have complained one second.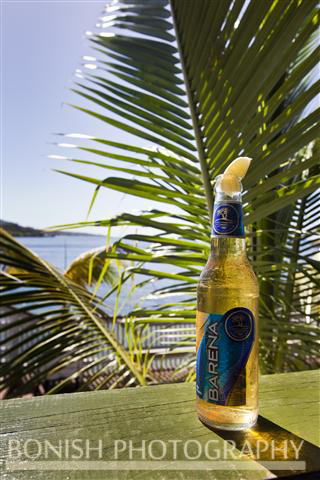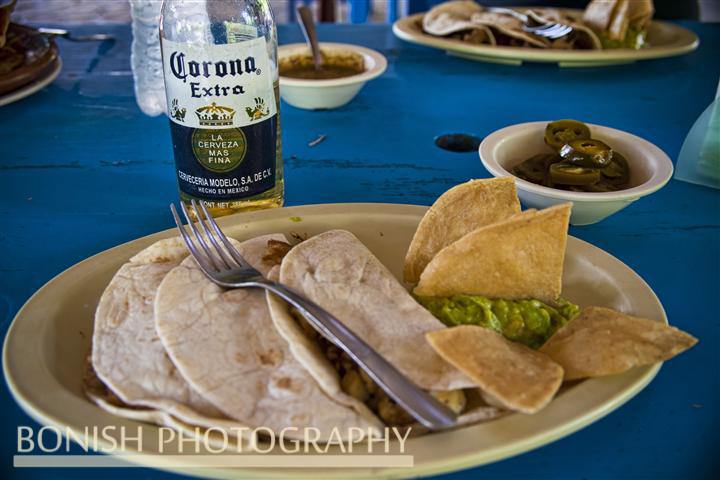 The captain brought us back to the shore and dropped us off at a restaurant where we all sat around reliving the last hour in that floating Heaven.  Sitting in a bar drinking some local beer while filling my stomach with some mouth watering Fish Tacos was just icing on the cake.  The world could have ended at this moment and I'd be content!
Leaving the restaurant, we walked along the little business district that fronted the beach till we found Frankie's van.  He had wandered down the beach to the restaurant looking for us as we had exited out onto the street looking for him.
We loaded back into the van and headed for the Port.  Jolie had asked if we could stop at a pharmacy so we could pick up some Peroxide to get the water out of her ears.  As we were climbing out of the little beach front community we heard an alarming noise coming from under the van.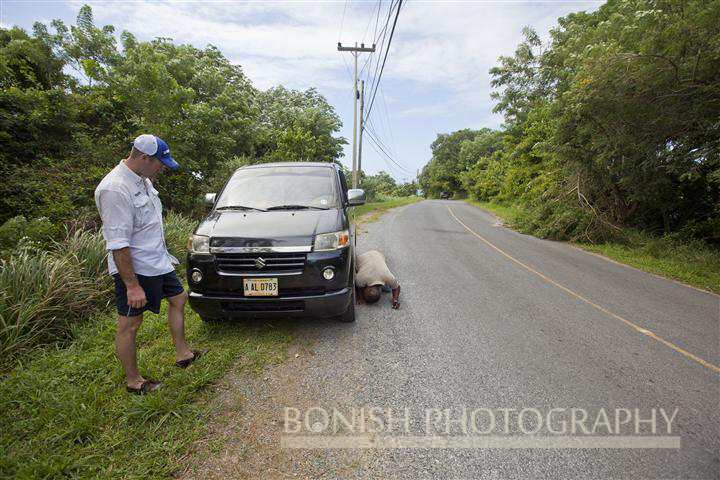 Frankie pulled over to the side of the road to let us know he had just blown a fan belt on the motor.  He called his boss who said they'd have another car there immediately as there is no way you can miss the ship leaving port.
We all sat around waiting, which only took maybe 10 minutes before another van showed up.  Frankie said he had to wait with his van and we thanked him for his services as we got into our new taxi.
This new driver, I never got his name, but man, you'd have thought we were in the Indy 500.  The ride back to the boat was all out scary with him swerving around people in the roads and driving faster than I'd have ever thought about.  At one point, I thought Cindy was going to jump out of her skin she was clenching her fists so tight in fear.  This had Jolie laughing so hard she was crying.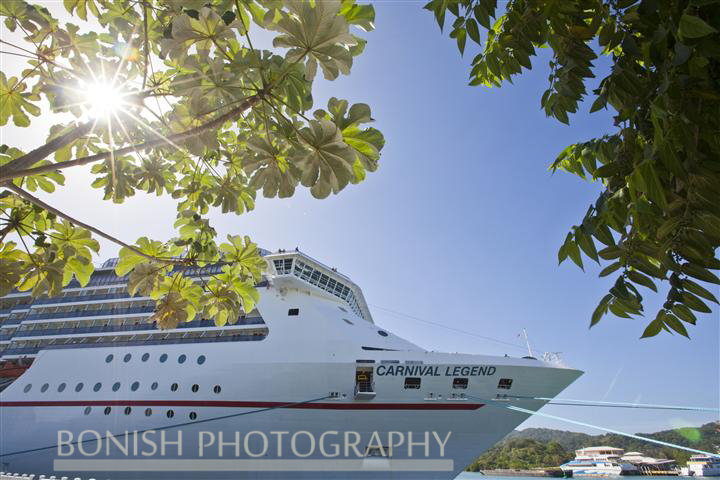 We made it back to the boat in time thanks to our Honduran version of Mario Andretti.  We went through the usual ritual of getting loaded back onto the ship.  Showers were all taken and gear was unpacked and washed down.  Drinks were mixed as we sat out on our balcony leaving Roatan heading for Grand Cayman.  Tomorrow would be another day of Snorkeling and being out on the water.  But tonight would be more partying and fun while we were still on vacation.