January 9th – Day 4 – Another Cruise Day…Unexpectantly
First thing I'd like to do is wish my Mother a Very Happy Birthday!  Sorry I couldn't see you today Mom.
Waking up very well rested this morning, we both questioned whether we'd be able to even go out this morning due to how rough the seas were. Cindy and I were lying in bed with the curtains open getting jostled back and forth with the big waves we were cruising through, when we saw a big bolt of lightning hit the water.  We both sort of laughed and thought " OK, there is no way we're going out on a boat to go snorkeling this morning."
I had all the camera gear packed up in the underwater housings along with all the batteries charged and the memory cards cleaned ready for a big day of snorkeling and being in the water.   I was as ready as I could get.
Before we were going to leave for breakfast, I ran down to the guest services to have them look at a big piece of luggage that had gotten broken while they were bringing it on the ship.  The handle that is supposed to extend so you can roll it is now broken, so you can only hold onto a nylon handle which makes it uncomfortable to handle and keeps the bag to close to the back of your legs.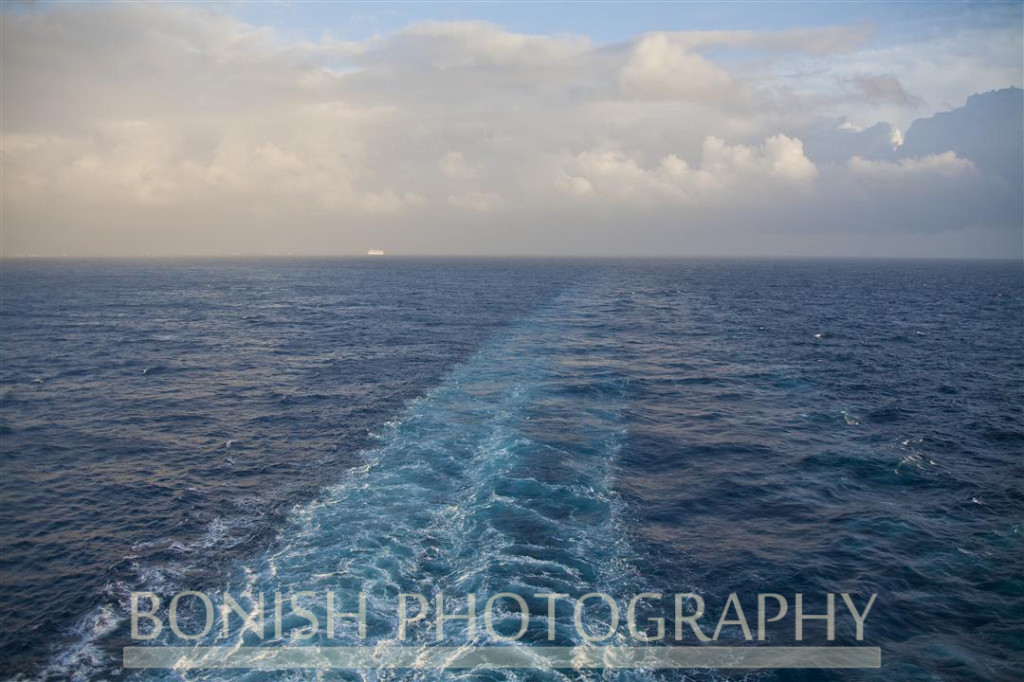 While I was talking with the Guest Services guy about the luggage, I heard another Guest Services woman answer the phone and tell the caller that the Captain had just cancelled our day in Costa Maya due to not being able to pull into port because of the rough seas we were experiencing.  This sort of sucked because as we were loading onto the ship back in the Port of Tampa, we were given a notice that we were not going to be stopping in Belize and Carnival had instead scheduled a stop in Costa Maya.
I was disappointed in this because we had made reservations in Belize to do the Underground Cave Tubing Excursion and I was really looking forward to that experience.  I guess that Carnival has pulled over 10 port calls in Belize due to that Port Authority allowing more ships to call on it's port than Carnival thinks is safe.  Good to know that they're looking out for their guests that way, but I was disappointed none-the-less. Now due to weather, we were going to miss Costa Maya where we had planned another excursion where we would be snorkeling for most of the day.
Back in our suite, I relayed the news to Cindy, Heath and Jolie.  We knew that meant that the Serenity Deck would be packed with everyone trying to get out in the sun as much as possible. We had to keep remembering that most of these guests were vacationing from Canada, the Mid-West or the North East where they were locked in a nasty winter wonderland.  For us, we were just trying to escape one island paradise to go visit another.  We all changed into swimsuits, me a skimpy Speedo, and headed up with our reading material grabbing some chairs on the Serenity Deck.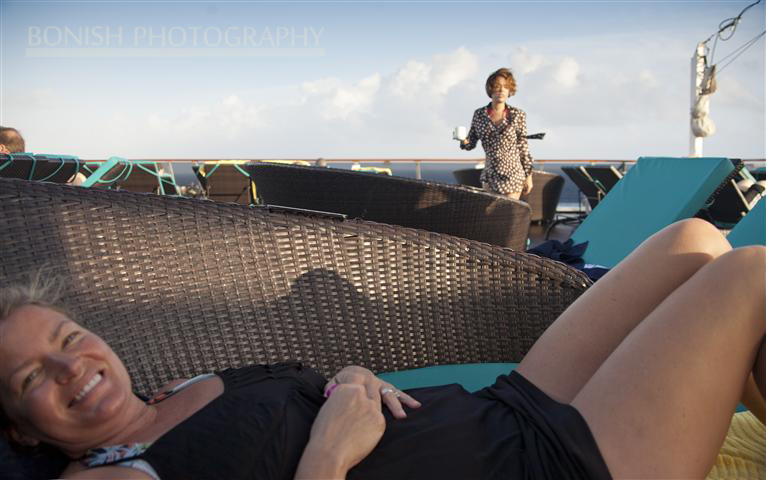 Luckily we did this very early as we watched numerous guests come wandering in later once the Captain had made the official announcement that we were going to skip today's port.
Hours were spent just lounging and catching up on reading.  A nap was thrown in just in case our long hours of rest last night weren't enough.  I'm not sure if it's the rocking of the boat or the warm tropical temperatures that make me so sleepy, but I rarely sleep more than 6 hours per night, and I almost never take a nap.  This vacation, we've been sleeping a minimum of 8 hours and taking at least one nap each day.  If anything, we'll get home and be ready for the next few months of non-stop work, which was why we booked this trip when we did.  Our last few months have been very busy from the Thanksgiving holiday straight through to the Christmas and New Year's celebrations we had at the Tiki Bar.
The first few weeks of January is when everyone lays low and gets their New Year's Resolutions in order.  By the 3rd week of January, we start seeing the winter migration of Snow Birds Trickle in and by February, it's in full swing and doesn't let up till June once the schools let out for summer break.
This cruise was a chance to give us a small break before the storm of migrating snow birds lands in Cedar Key for the winter.
We took full advantage of the time we had today.  From laying out in the sun all morning, a nice lunch down in the dining room, a long nap before we all got dressed up and headed to the Steak House for dinner.
Dinner is provided in the dining room each night, but for a small added fee, you can make reservations at the much higher end Steak House.  To get up to the Steak House which is on the 12th floor of the ship, you have to walk up the staircase which is glass and gives you a cool view some 12 flights down if you chose to look below your feet while climbing the stairs.
When we had gone up to make reservations earlier today, it was fun to watch not only the girls, but Heath have trouble walking up the stairs because of the effect it gives you.
Especially today with the boat rocking the way it was.  Just trying to walk down the hallways was a chore.  You notice it most in the narrow hallways when you realize you're bouncing from side to side with the rocking of the boat. Watching people in the dining rooms carrying big trays full of food or the stage performers who are dancing and jumping atop small props all while the boat is pitching and rolling really shows you how talented the staff is.  Today was the only day that Cindy and I both had to take extra Dramamine due to how rough the seas were.  It was a non-stop roller coaster with 8-10′ waves and a 35mph headwind hitting the ship.
The four of us agreed that tonight's dinner was the best we've had, and I'd say it was safe to say probably one of the best meals I've ever eaten in my life.  Whether it be the appetizer of portabello mushrooms with a sweet caviar sauce, to the tender 9oz filet that could be cut with the side of my fork.  There wasn't a single plate left on the table that needed to be washed due to how clean we left them.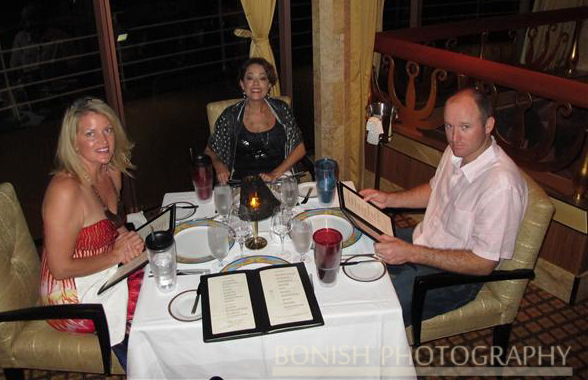 The staff up in the Steak House was practically beside our table the entire time telling us about the food, the boat or where they were from.  Drinks were refilled the second they were close to being emptied and the attention to detail was equivalent of a 5 star restaurant.  This was by far the best place to eat on the boat and we all agreed that we'd need to give this restaurant another try before we return home to the Port of Tampa.
After dinner, I was so stuffed, I told Cindy there was no way I could just go back to the room and lie down with all that rich food on my stomach.  She agreed, so we said Good-Night to Heath and Jolie who both said they were retiring to their suite. We changed our clothes into some shorts and our running shoes and went back up on the top deck to walk off our dinner.
The wind was blowing around 35mph tonight and the boat was rolling something awful.  It was a chore to try and walk around the top deck, but it felt invigorating having the warm tropical wind blast you in the face while you fought to remain upright.
The boat is over 900' long, so circling the circumference of the ship on the top deck is a nice little walk.  Cindy and I walked and talked about the trip so far and recounted our highlights and what we liked about it most.  After a few laps, we both felt better and decided it was time to head inside and hit the bed.
The seas tonight were crazy and there were numerous times we had cabinets open only to slam back shut.  You'd hear the boat slam into a big wave and could hear the glasses on the counter shutter with the force of the wave.  Crazy part was, it's somewhat cool to be lying in a big comfy bed while feeling the boat roll and pitch like that.  It reminded me of sleeping in a hammock on a windy night, only the bed was much more comfortable than a little hammock.
Being in the safety of the bed was much better than trying to struggle to walk down the narrow hallways.  Plus, my seasickness feeling went away completely if I was laying in bed.  But Cindy, Jolie and I have all mentioned that we've been having super weird dreams that last few nights.  I mean dreams so strange and weird that I wouldn't even talk about what mine were.  The girls both tried to describe a few of theirs, but I stopped them saying "I don't want to hear something that isn't true, never happened and doesn't even make sense to you!"
We cant figure it out if the weird dreams have to do with the rocking of the boat, the new environment or the Dramamine?  Normally taking Dramamine would make me really sleepy.  But I was doing some reading about it before we left on the cruise and found out that one pill will stay in your system for 24 hours.  Cindy and I both started taking it a few days before we left on the cruise.  We would take it at night right before we'd go to bed.  This way the majority of the sleepiness would just keep us sleeping really good and by the time we'd normally wake up in the morning, you'd feel normal.
With it in our system for two days before the cruise, we have yet to feel the sleepiness that most complain of.  We've continued to keep taking one pill each before we go to bed each night.  So far so good.  Today was the only day that we both took an extra pill mid-way through the daytime.