Meat & Tater come for a Swim
There are some people that come into your life that at the time, you don't realize they'll be lifelong friends, but years later, they're still there no matter how long you've been apart, or how much distance there is between your homes.
Flash back to Michigan, early 2000's. Cindy and I were running the Red Dog Saloon and in walks this giant kid, and I'm not lying when I say 'Kid' who is looking for a job. I think Nick was about 15 at the time. I know he didn't even have his drivers license yet, and when I ask him how he's going to get to work, he explains that he'll have his drivers license soon, and he'll be sure and find a ride to and from work from someone else on the Football team.
Nick was the same age as our daughter who was going through the same issues of working, school and trying to save money to buy her first vehicle. We ended up giving Nick a job, and who would guess that it would turn into a lifelong friendship? He started as a dishwasher, moved up to cook, moved up to barback and ended up getting fired by Cindy when he was a full fledged bartender. Cindy always treated Nick as her son, was hard as hell on him when it came to him talking back or giving lip, and to this day, they still razz one another about it. If he got good grades, we gave him praise and a bonus, if his grades dropped, we grounded him and gave him crappy shifts. We basically treated him like our own son.
Nick went on to become a high volume bartender in bigger nightclubs and still to this day is an expert in the profession. There are few people that can make a lifelong career out of bartending. You either have it, or you dont. When you have it, you know it, as do your employers and you'll be good no matter where you're working.
In case you're wondering about the title 'Meat & Tater', Nick always had the nickname of MEAT, because of how big and muscle bound he was. One night at our Tiki Bar as Cindy introduces him as 'Meat', one of the locals looks over at Kailey and said "So you must be Tater"……and just like that, a new nickname was born.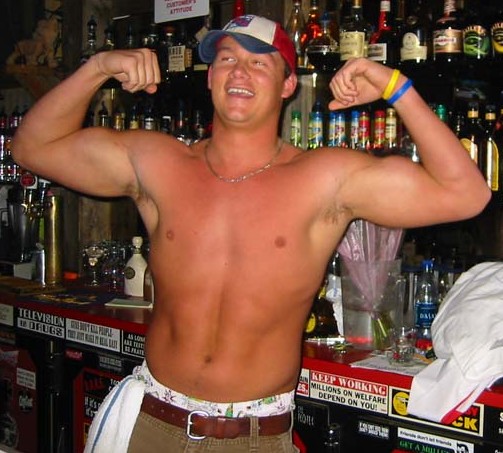 Nick moved to Las Vegas shortly after we sold the Red Dog and you might remember I visited him and his then, new girlfriend Kailey, crashing on their couch when I rode my motorcycle out there from San Diego to cover the Endurocross Finals. Fast forward a few years, and Nick and Kailey are getting married back in Michigan, and who is their wedding photographer??? Yep, you guessed it.
Just to show you how small this little ol' world of ours is, both Cindy and Kailey are now Beach Body Coaches and talk to one another on a daily basis for workout planning, meal planning and encouragement when it comes to their workout goals. So when Nick and Kailey talked about taking a few days off from their busy life, they planned a get-away here in Cedar Key.
Flying into Gainesville Airport, they were only 45 minutes from us and within an hour or so of them landing, we were out on the boat toasting to good friends and old times.
There visit was a blast. Between boating, drinking, snorkeling, drinking, eating, drinking, eating, photography, drinking, eating, drinking and hanging out at the Tiki Bar, I think Cindy and Kailey have their work cut out for them when it comes to sticking to their workout goals. Needless to say, we did not follow any goals other than having a good time, eating like Kings and Queens and throwing back copious amounts of brew.
Since Cindy is spoiled and always acts as my model, sometimes willingly, sometimes forced to do so much to her demise, during this visit, she told me to use Kailey as my model for all my photos, so you'll notice a different model with this round of images. I think I'm getting the hang of this underwater photography thing, so if you're interested in a Underwater Photoshoot, give me a shout and we can work out the details. It would really add to a portfolio, and just ask Cindy, they make for amazing images hung on a wall very large.
Thank you Kailey for being my model and putting up with all my demands of "Swim Here!", "Dive Here", "Paddle Here!"- I think the images speak for themselves that it was worth it