The past few days have been very busy around the LKH. With season getting into full swing, there is a constant flow of new visitors stopping by to say 'Hello', hang out at the tiki bar and just enjoy our fine weather we're having. It's crazy because some days it'll climb up into the high 60's and low 70's, while other days we might have the wind blowing with a major chill in the air.
Such is the weather in Central Florida during the winter time.
I've been busy working on a new Bottle Wall, and almost have it finished. I'll be sure and post some photos once it's 100% complete, but here is a teaser picture to peek your interest.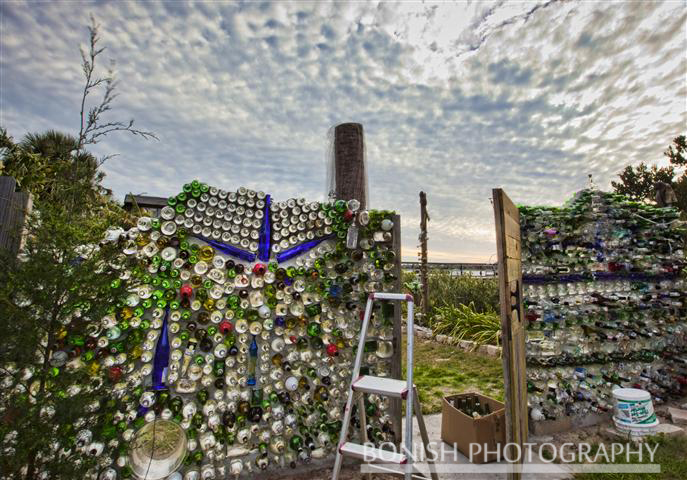 While working on the bottle wall the other afternoon, we had some super cool clouds blow through that gave me a chance to snag some cool photos. Every now and then I've seen Altocumulus Undulatus clouds form over the Cedar Keys and each time I've been blown away at how cool they look. Luckily each time, I've had a camera close by so I've been able to snag some great photos. That is the key to always getting good photos, have a camera close by at all times.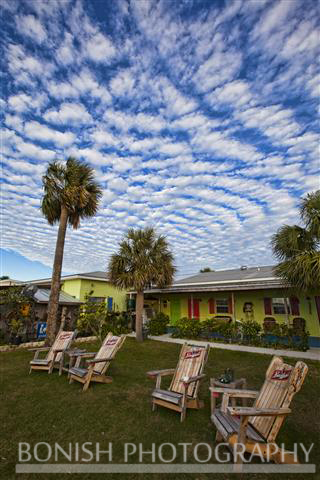 All clouds with 'undulatus' in their name have wave-like features to them. The name is derived from unda, the Latin word for a wave. Sometimes, they are in the form of a continuous layer with an undulating surface. Other times, they are like lines of clouds with gaps in between. It is the way the winds vary with altitude that tends to cause these formations. When blowing at different speeds above and below the cloud layer, the wind can cause the cloud to bunch up into ridges, which curve, join and divide, like the lines on your finger. (I'm not this smart…I found this info HERE)
The clouds made for some super cool shots!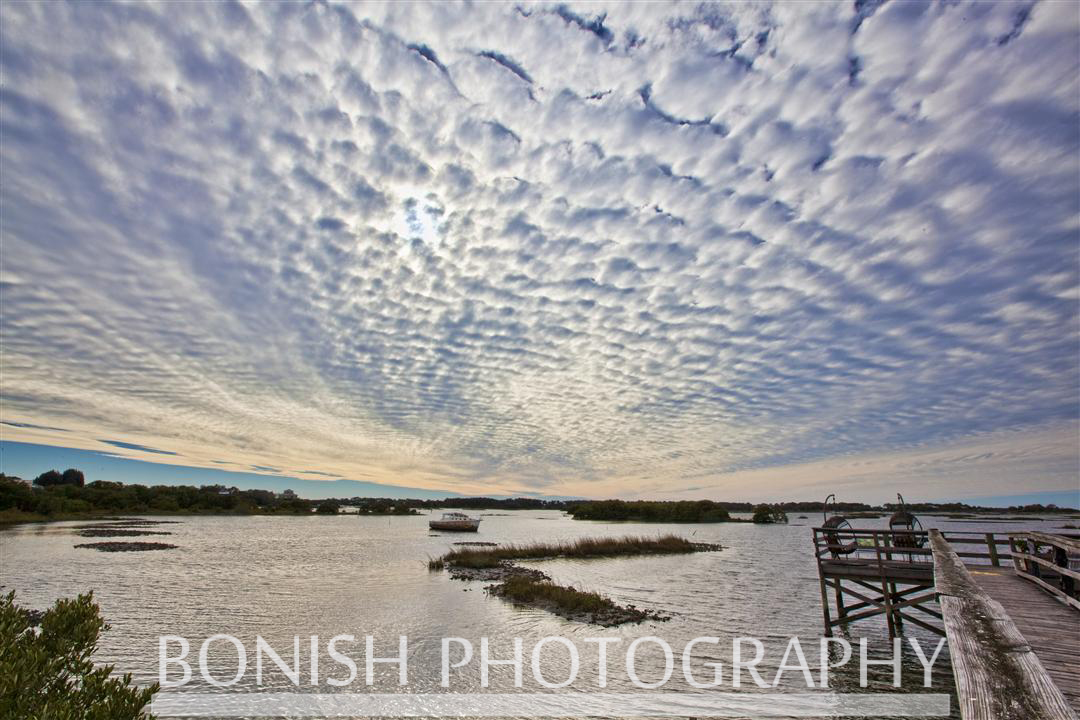 Thursday night was another party at the Tiki Bar for Jay Golien who was turning the big Five O.  Jay is full-timing in his RV and has decided to stick around Cedar Key for the winter and is even going to be bartending at the tiki bar a few nights each week to help us out.  The bar was packed with fellow RV'ers and locals all coming by to say Happy Birthday and listen to the live blue grass music.  Russ from Krusin' Krepes catered the party and brought Hot Wings, Pulled Pork, Cajun Slaw and more food than an army could have eaten. It was much fun for everyone who attended and the food was fantastic. Thanks Russ for the Food, and Thanks Jay for sharing your big day with us.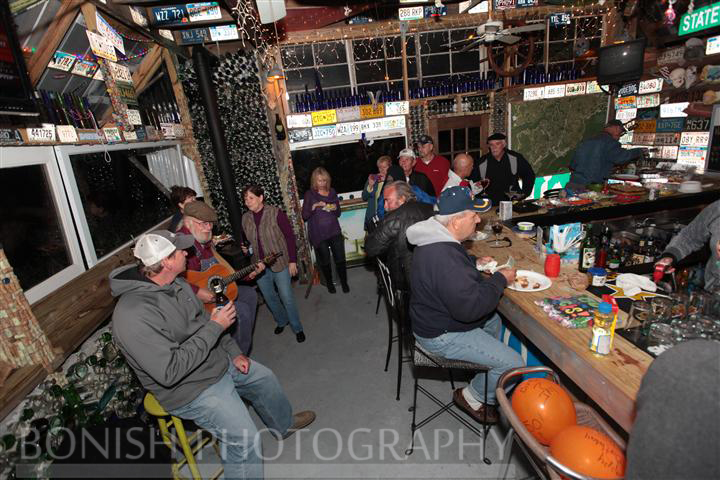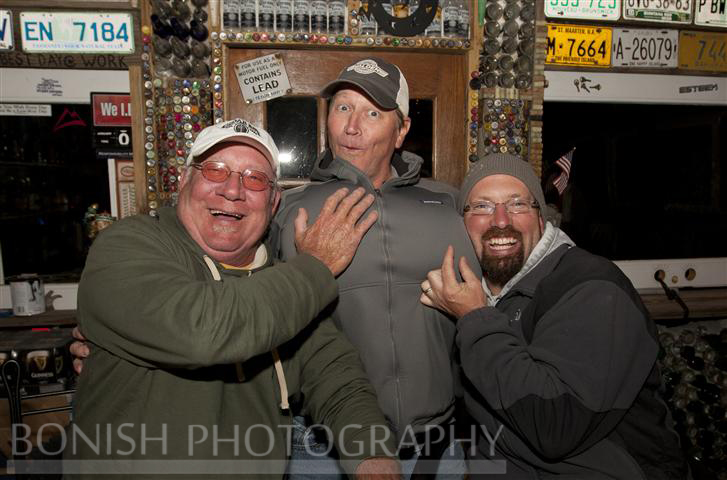 Jay had his Happy Birthday Balloons stuffed in his shirt and Ron and I couldn't help but nuzzle up to them puppies! It was a lot of fun as you can see by this photo. By the end of the party, I was dead tired and went inside to go to bed. With the help of a bottle of Appleton's Rum, I was sleeping very soundly and had no idea that Cindy had tried to wake me up numerous times to help tend to her head.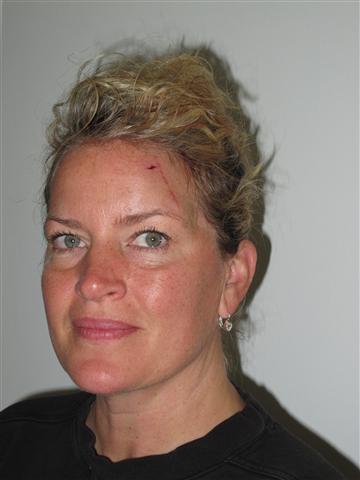 Yep, you know my wife, the klutz that is either knocking out her two front teeth while riding a bike or scraping up her chin as she falls while walking the dogs. I guess after I had gone to bed, Cindy was stocking the beers and wines at the tiki bar after she had closed it down and while bending down to get a case of wine from under the bar, she smacked her head on the corner of the stainless steel ice bin.
I wake up bright and early, stumble into the bathroom to perform my morning rituals and reel back in horror when I see blood all over the toilet, blood all over the sink and the top of the counter.
I come running back into the bedroom to ask what the hell happened in the bathroom to see Cindy roll over with her hand over her head. She pulls it away to show me a huge lump, a swollen eye and a big scrape down her forehead. She goes on to tell me about smacking her head, running into the house with it bleeding and while she's trying to get it to stop bleeding, she's yelling to me who is dead asleep with the two dogs snoring louder than a fright train, so I never even stirred.
She told me she had tried to clean up her mess, but her head was throbbing to bad so she came to bed with an ice pack on it and ended up falling asleep.
The next morning I'm teasing her about her clumsiness while I'm looking for the keys to the truck.  When asking her where they are, she questions "Why is it my fault that you cant find the keys?"
I explain that she was the last one to drive the truck, so I'm sure, knowing her, that they're probably still in the ignition. I then point out that her shirt is on backwards as she hands me my morning cup of coffee. What is wrong with this woman!?! She just laughs and says "It must be because I hit my head so hard."
I carry my box I'm mailing out to the truck and as I'm putting it in the bed of the truck, what do I find? Yep, the keys. She was the last one who drove it and I'm sure while unloading what ever it was she had picked up, she laid them down so she could use both hands to lift. Yes, I know my wife too well.
That was two days ago.  It has now turned all black and blue and is even more swollen than it is in this photo. Poor girl, I think we might go get her fitted for a nice helmet with a mouth guard.