Lots of fellow travelers pass through Cedar Key. Some stop for just a quick hello, others stay a few nights while some seem to fall in love and return time after time while others like us, give up the fulltime gig and plant some roots.
Linda Jones is a woman I'd met while in Arizona at the Overland EXPO Show back in 2010. She had come over to my camper to introduce herself and finally put a name with a face. There are a bunch of us adventure seekers who visit various travel and photography forums and many of us cross reference one another or follow along with trip journals while seeking information about specific trips being planned.
Linda is one of those people that seems to always be mentioned while others are describing their trip journal. She's a single woman who travels solo in a pretty cool Provan Tiger Truck. Solo travel always peeks my interest simply because I have never done it, and I cant even imagine being a single woman doing it.  Linda's trip reports always drive home the notion that it can be done and one shouldn't worry as much as the media and general public likes to make us think.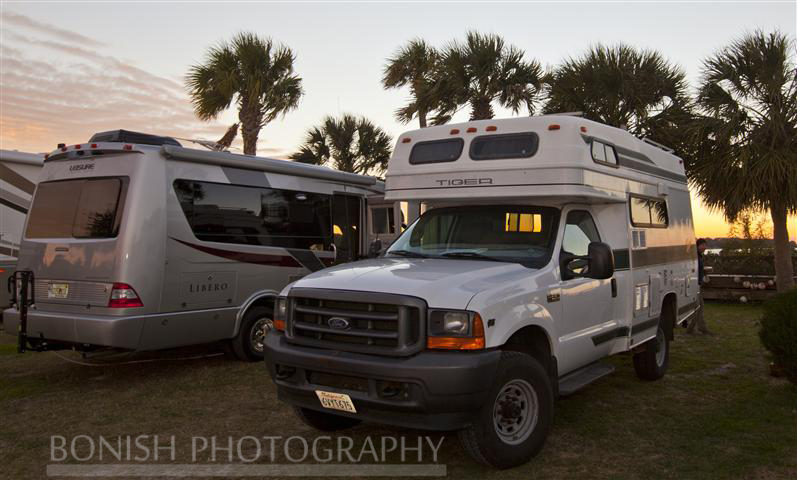 A few weeks back, she had contacted me saying that she was going to be passing through our section of the East Coast and wanted to see if we had any availability. She explained that if this little town could get the two of us adventure seekers to stop traveling, she wanted to see what the appeal was all about. We just so happened to have had a cancellation for a few nights, so I booked her in that campsite right away.
Her first day, she toured the little town of Cedar Key, took the plane ride with Marvin and just so happened to be visiting on one of the 6 times a year the Seahorse Key Lightstation happened to be open for visits. Talk about a win-win for her.
I was too busy on Saturday to get out on the water with her, but asked if she'd be interested in going out for a sunrise boat tour Sunday morning on our boat? Of course she said yes, so early this morning we were loading up gear onto the boat before the sky had even started to lighten.
From our dock, we headed through the inside channels out into the open water between Dock Street and Atsenia Otie Key. The sky was ablaze with deep reds and bright yellows as the day was just getting ready to dawn.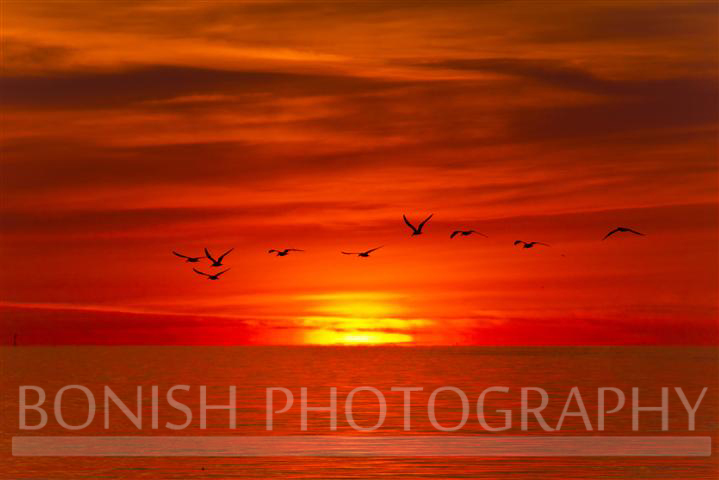 We both sat talking and sharing various travel stories as we waited for the sun to emerge while watching the birds pass by and the dolphins fish on the horizon. These are the kinds of mornings that remind me why I live here in Cedar Key. It seems without new visitors, I've grown accustomed to it and need to be reminded from time to time.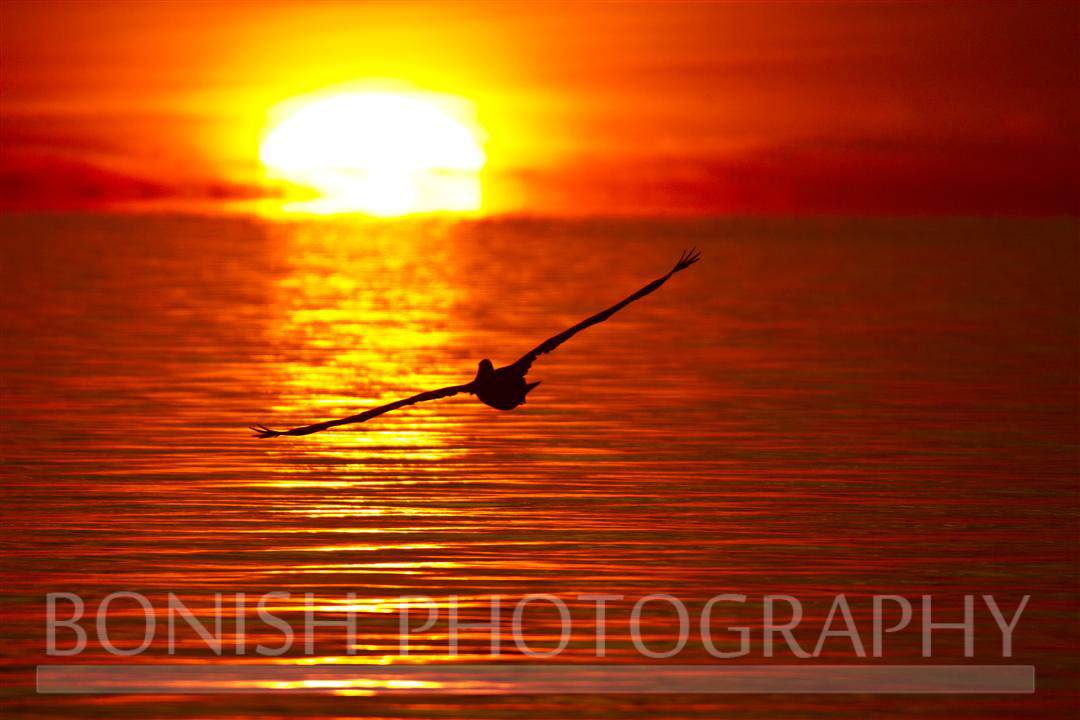 Once the sun was up, we started motoring around trying to get some images of the white pelicans. They weren't too interested in us this morning, but while we were floated over to another island, we spotted some more dolphins playing.
I joke with people we have on the boat that if you see dolphin, and you create a good wake for them, it's like showing a needle to a junkie, they cant resist the urge.
Sure enough, we had a few of them jumping in our wake right away. Poor Linda was just about to start firing off that Nikon of hers when I hear her say "Oh God! You've got to be kidding me!"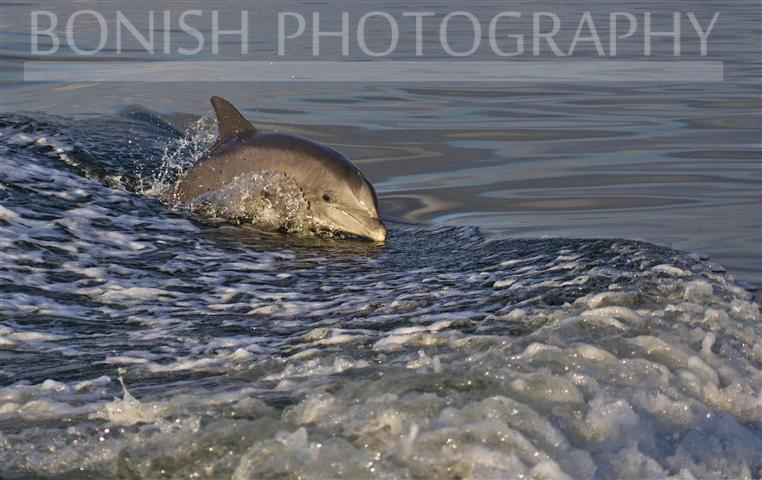 She runs to her camera bag on the front of the boat to grab a fresh battery as we watch the two dolphin jump in our wake a few times before heading off in another direction.
You could tell she was bummed, but I assured her we'd find more. A few minutes later, we see more dolphin than we can shake a stick at and slow the boat down this time just to watch them play.
Some were fishing, some were just jumping around and some were coming right up to the boat to inspect us. Awhile back I had seen a shot another photographer snagged of a dolphin and a Gull fighting over a fish the dolphin had just caught that was still in its mouth. This has now become my 'Holy Grail' shot and one I'm always hoping to be able to add to my collection.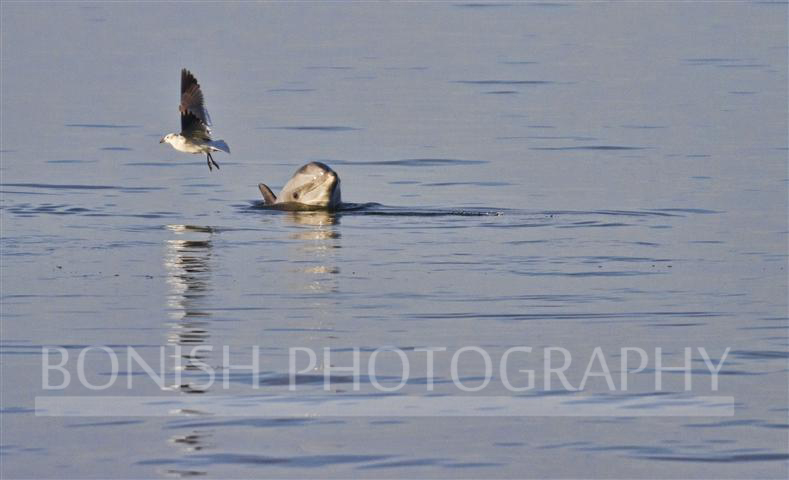 I thought I was going to be able to get one this morning as the gulls were chasing the dolphins around and dive bombing the fish right beside them. The schools of fish must have been very plentiful for there to be this many dolphin and this many gulls all in the same spot. I never got the shot I was after…this was my closet to it. All the more reason to be out on the water in search of my 'Holy Grail'.
With the tide retreating and the morning leaving us, we needed to get back to the LKH so we would have enough water to float in on. As I started up the boat and took off, we built a wake behind us as we left the dolphin, soon enough, we had one of the dolphin following us on our way home.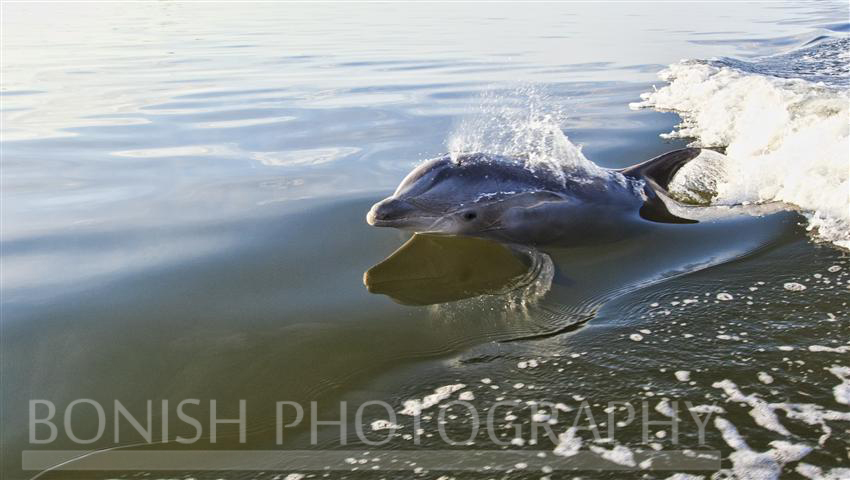 This one played with us for some time and Linda was able to snag some killer shots of it jumping literally right behind the boat. I was glad she got the chance to see them playing so close and glad she grabbed a couple of Wake Shots for her Image Collection.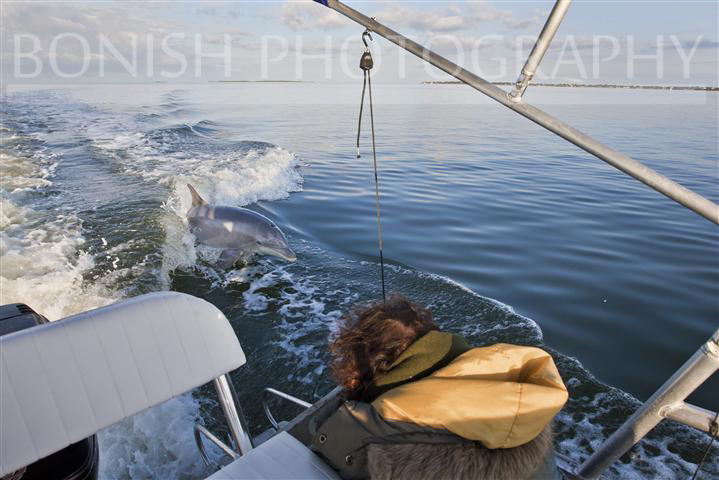 Not bad for a few hours work. We made it back to the LKH with a few inches of water to spare and were home before people even started checking out so I could go to work and get ready for the Super Bowl Party tonight at the Tiki Bar.