The More You Travel, The More You Love Home
There are multiple ways to travel or explore, I talked about this in a earlier Blog Post titled 'Do you Travel, or Prefer to Be Traveled'. Cindy and I take a few vacations each year, and we try to mix them up between us being out there exploring, and those kick-back, sit around and relax type vacations.
You never realize how much you love your home country, your home town or your fellow Americans until you spend time in a foreign country. Cindy and I recently spent 4 full days visiting the Dominican Republic, and don't take my last sentence as an indication that we didn't enjoy ourselves. We recharged the batteries, took some much needed 'Down Time' and just kicked back the entire time, but not being able to speak the local language, not having the amenities of America, the luxuries so many of us take for granted, really showed the both of us how lucky, and spoiled we really are.
This vacation was simply one where we planned on doing very little of anything. Sleeping in late, drinking and eating more than we should, and the most exercise we'd probably get would be getting up from our chaise lounge to swim across the pool to the swim-up bar. This was a vacation where we were 'Being Traveled'.
We have a vacation planned this fall for Maine that will be the complete opposite. We'll land in Boston with a few pages of notes and destinations scribbled in the notebook, have the ThinkTank Backpack stuffed with camera gear and a change of clothes, rent a car, and the rest of the trip will be figured out dependent on the weather and the views through our camera lenses. Those are the types of adventures I truly enjoy. I don't mind roughing it if we end up finding some dive motel along the side of the road because we ended up staying out past sunset to capture the afterglow. I've found that we put up with some uncomfortable situations better when we have zero plans, because you had zero expectations leading into the adventure.
This Dominican Republic trip was different, simply because I knew we would be staying at a 5 Star Resort that touted every amenity under the sun.
Flying out of Tampa, we spent the night before our departure with friends who know the area very well. Amy and Adam acted as wonderful tour guides and showed us their beautiful city and their favorite places they like to hang out. I never even knew Downtown St. Pete was as beautiful as it was, and Cindy and I both agreed that we need to add it to our places to visit more often.
We were in the Tampa airport bright and early with our camera cases rolling behind us filled to the brim. We had both packed very light, not needing much more than a few pair of swum trunks and a couple of bathing suits for Cindy to change in and out of. This made security and the international sections of the airports easy to pass through. My only item that got confiscated was a spray bottle that was over the legal size limit of NOVUS Plastic Polish I use on the dome of my Ikelite underwater camera port. Weird part is I traveled to Key West back in January with it and it never got confiscated, so I never even thought about taking it out of my Pelican Case this time. Oh Well, I've already ordered a new bottle to replace the stuff the guy took from me.
Our flights were memorable with two of the sketchiest landings I've ever experienced in my life. Landing in Miami the plane touched down hard and skidded sideways on the runway leaving most of the passengers with a few skidmarks of their own to deal with. The landing in the Dominican Republic was downright scary. We were coming into the airport through some crazy crosswinds and major turbulence that had one Spanish woman screaming and moaning loudly while she mumbled prayers with her eyes clenched tight and her hands white knuckled on the armrests. A few other women were screaming and crying each time the plane would bounce or bump through the turbulence. When we finally touched down, I've never felt a plane skid sideways as hard as this one did. Multiple people on the plane screamed at the top of their lungs and a few kids were crying just to add to the excitement.
Cindy and I both just held on tightly laughing through it all. When we finally came to a stop, the plane erupted in applause and cheers and I swear the one woman who had been praying loudly in Spanish was 3 shades whiter in color and looked like she had just given birth. We made our way through customs and that confusing ordeal and were in the taxi heading to the resort an hour later. While passing through customs, the woman kept asking 'Bag name?" to which I kept replying 'Bonish' and showing her my Passport. She kept repeating it, until we figured out she was asking for our Bag Claim Ticket. Once we showed her that, she just waved us through shaking her head the entire time in disgust.
Driving or riding in 3rd World Countries is always an experience, and this island seemed somewhat tame compared to a few others we've visited. The one thing I noticed is the amount of scooters and motorcycles that are sharing the roadways. We learned that this is a very poor country, with the average wage being around $1 per day for hard labor, yet basic necessities were almost comparable to ours here in the United States. Fuel is around $6 per gallon, which explains why you'd see 3 people riding to work on a motorcycle. Driving down the highway, we'd pass areas that looked pretty rundown, but folks were sitting on porches and sweeping off the front walkways with homemade palm frond brooms trying their best to keep their homes clean.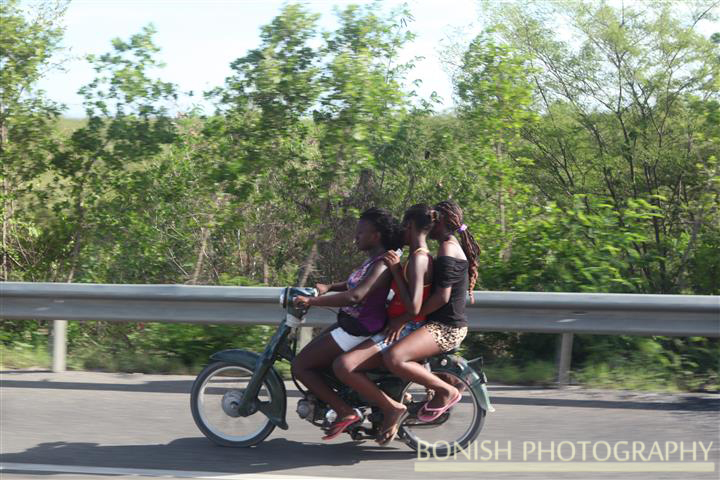 One grocery store advertised with pictures painted on the front of their building that their specialty was Dog, Chicken or Donkey, which made me wonder what we were going to be eating while staying at the resort. We've never used this resort for our downtime vacations, usually visiting one of the Sandals Resorts. Sandals is the best of the best in my mind, but they're expensive. Cindy had found the Bahia Principe chain while doing some research and read good reviews about it on Trip Advisor. When checking on the prices, this resort was less than half of what Sandals cost….which that right there scared me, but their website looked good, and the resort itself looked like it was very nice.
We had both agreed that no matter how bad or good it ended up being, we'd be sure to make the best of it. It was 4 days off, and if it totally sucked, we'd just sit by the pool or on the beach with a bottle of rum and chill out and that right there can overcome even the worst of situations.
The resort itself was beautiful. Luxury beyond what anyone would need to enjoy a grand vacation. Multiple pools and jacuzzis, breath taking architecture with 40′ ceilings and stone/marble sculptures everywhere. Blooming flowers rimmed the brickpaver sidewalks that led you from one bar to the next, which seemed like there was one everywhere we stumbled. The variety of palm trees and vegetation was stunning, and the more we explored the grounds, the more I wanted to be home working in our yard to spruce it up (weird isnt it?).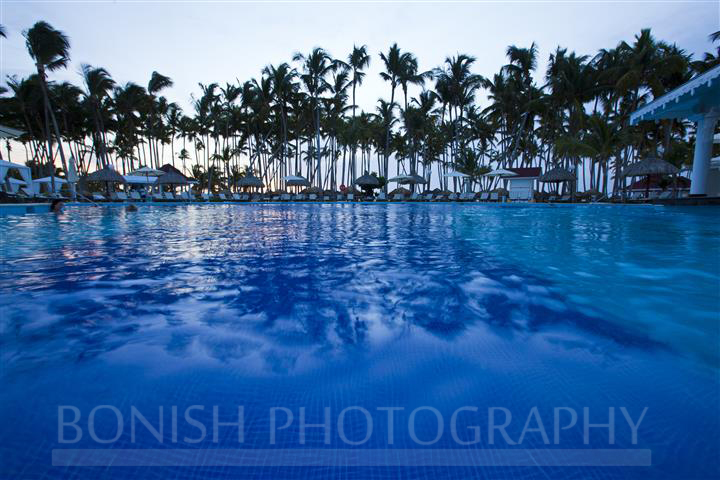 Our room was huge with polished marble floors, a giant shower with multiple heads on it and a jet tub both of us could fit in comfortably at the same time. The few comparisons between Bahia Principe and Sandals is noticeable right away, and depending on what you're looking for, they might not be a big deal at all.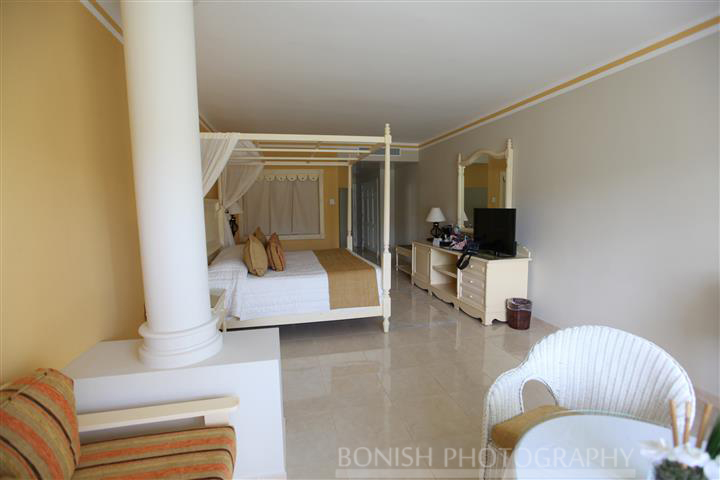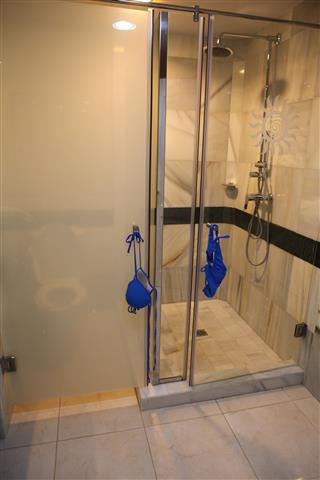 Sandals is more concerned about you having a drink in your hand the entire time you're staying with them and catering to your every need. From the time you land at the airport, Sandals is bringing you drinks and food. When you get to the resort from the airport, they bring you into a nice library/private room and go over the entire resort in detail. They make sure you know where the restaurants are located and thoroughly explain how everything works. If you're wanting to make reservations at any of the restaurants or have any special needs they make sure to take care of it. You leave the front desk with an escort who brings you to your suite and explains how everything works and where everything is located. When Sandals says you have a bar in your room, you seriously have fullsized bottles of each flavor that normally resides in a bars well. Your mini fridge is stocked with mixers and snacks and if any of these are emptied, they will be refilled with a simple phone call to the front desk or as soon as the maid cleans your room, which is normally twice a day.
Bahia Principe  Bouganville is stunning, don't get me wrong, but they're not Sandals when it comes to the service. Our front desk guy simply checked us in like we were checking into a roadside Motel 6. The grounds are immense, and when he handed us our room keys finished with checking us in, Cindy asked "Wait, where is our room?" He simply pointed in a general direction and said "That way."
When we got to the room, our mini bar was simply 2 Presidente beers (the National Beer of the Dominican Republic), one airplane sized bottle of rum, and one airplane sized bottle of vodka. There was also one bottle of each mixer, Pepsi, Diet Pepsi, Orange Soda and a Soda Water along with two bottles of water. You can not drink the tap water in the Dominican Republic, so I would have thought they would have left us with multiple bottles of drinking water at least.
This minimally stocked mini bar wasn't that big of a deal, but the note that said "The contents of this mini bar will be restocked once a day, if you need it refilled before that time, you'll be charged accordingly" was what cracked me up. All Inclusive wasn't what it meant I guess?
Sandals has buffets that are set up at all times so no matter what time of the day you want to eat, you can always go find something. Neither of us had eaten much during the course of our flights, so we were both starved by this point in the late afternoon. Cindy wanted to find a pool bar and kick back, but I suggested we go find food before we started drinking, or the night would end very soon.
We walked up to what looked like a buffet line where chefs were putting out food. We both grabbed a plate when a maitre d' came over and said "Wait, you cant eat here without reservations!" Cindy looked at him and said "Well, where do I make reservations?" The guy tells us we can only make them in the lobby, from 9am to 3pm each day. We tried to explain that we had checked in after 3pm, so that would have been impossible and we were never told this bit of information when we checked in.
Now I'm making this all sound like a simple conversation……It Was Not. This guy spoke very broken English, and we speak zero Spanish, so these last few sentences actually took about 10 minutes to decipher while we stood there with plates in our hands. This is entirely our fault for not being bi-lingual.
Cindy finally put her foot down (NEVER get between Cindy and Food!) and just said point blank "Look, I'm starving, I haven't eaten anything all day, there is food here and I don't care if I have a reservation or not, I'm going to eat!" She started putting food on her plate and the guy just looked at us shaking his head and walked away.
This started what Cindy and I would refer to as 'Stupid Americans" for the rest of the trip. Each time we'd get into a conversation with a local, and they'd ask why we don't speak Spanish, we'd simply say "Because we're stupid Americans" to which they'd usually laugh. Most of everyone we encountered that worked here spoke multiple languages, at least enough to get by when it came to basic questions. The vacation was a lesson on why we should be learning Spanish, and doing it quickly.
So I don't sound like some whiny baby who is on a beautiful vacation and complaining about everything, lets just say that you get what you pay for. Sandals this is not, but it was and is beautiful. I'd give it a 5 Star rating on looks and amenities, but maybe a 2 Star rating on service and food.
One thing I loved was that there was no Wi-Fi unless you hung out in the lobby, and even then, you could only connect for one hour a day. Cindy and I both agreed that we were on vacation, and it would probably be better to just disconnect, so we left our phones in the room on Airplane Mode the entire time. You do that because on that mode, you can't receive or make calls or texts. The Dominican Republic has great cell service around the entire island, but because it's a different country, you'll get hit hard with fee's unless you have an International Calling Plan, which neither of us do.
Each time we walked through the lobby, we'd both just shake our heads at the amount of people who were sitting around on the overstuffed couches staring at their phones. I guess this generation is more concerned with their phones then they are with looking at what's around them. We both made comments on the fact that you travel to a different country, to sit looking at your phone rather than taking in the beauty it has to offer. Oh well, their loss I guess.
And how could you sit staring at your phone when most of the women on the beaches were topless? On our first walk down the beach, I had my eyes glued to the sand and the shoreline when Cindy mumbles beside me "3 o'clock, boobs….Nice Ones!" I look up to notice that there are a couple of girls lying in beach chairs topless. Not wanting to stair, I look around and notice that most of the women have their tops off. Suddenly I LOVE this place 🙂
One day while we were sitting in the beach chairs just listening to the water lap the shoreline, we noticed two girls topless sitting in the surf about 20′ from us. Two guys walked up with drinks and after listening to their conversation for awhile, we figured the guys were traveling singly, as were the girls. The guys were doing their best to try and impress the ladies, and my first comment to Cindy was, "Damn, this makes everything different to an American. I mean seeing her topless is usually a goal for a 4th, 5th or even a 6th date. If the first time you meet her she's topless, where are you going to be on that 6th date?"
Needless to say, we enjoyed ourselves very much. We snorkeled a bunch, walked the white sand beaches daily between trips to the bars and admired the swaying coconut palm trees. The water was so warm it wasn't that refreshing to swim in, so we stayed in the pools most of the time. We met and made friends with fellow American's who were on vacation and learned some good tips on other places to visit. 4 days of lounging, drinking and relaxing was the perfect time to recharge the batteries and get us in the mood to come back to work.
We're safely home now, back in Cedar Key. Our first day home we worked in the yard from Sun Up to Sun Down. We both weeded everything, transplanted and replanted multiple plants and worked till we sweated out most of our vacations toxins. Sometimes you need to travel to foreign places, see resorts from a different perspective to realize how lucky you are to live in one yourself.
It's good to be home! I just wish there were more topless women around me 🙂