The Ultimate Rig – What Would Be Your Dream Combo?
After spending years on the road in our little 25′ Sunline travel trailer, Cindy and I have learned quite a bit about RV'ing and what it involves to live comfortably in 200 square foot of space. Basically 'Less Is More', as long as you have it outfitted properly to your standards of what you can live with minimally.
With running a little campground here in Cedar Key, we get to see all the new models, those older classics and Custom RV's pull in and out almost daily. Sitting out at the Tiki Bar, we get to talk and hear peoples decisions on why they chose the type of rig they did, and we get to hear/share stories and ideas with what we would want if we could build the ultimate rig.
This seems to change on a monthly basis for me depending on which was the latest rig that recently came through, but I'll do my best to describe what I think would be the perfect set-up to travel fulltime and roaming the back country with. Now remember that every type of explorer has their specific trips and guidelines they like to follow. Everyone will be different in what they need to live in or out of, so these possibilities are endless, but they're always fun to talk about and get a good conversation rolling. I'd love to hear from others on what they feel is their perfect combo and why they think so.
We need to set some ground rules here, if the only thing you want to do is leave your house, drive to the nearest campground and plug in to their shore power for the weekend, then basically anything off the nearest RV Lot will probably fit your needs. I'll be the first one to say that if I was going back on the road fulltime with the intention to just work camp my way around the United States, then I'd go look for the biggest 5th Wheel I could find with the most amount of slides to make our mobile house as comfortable as possible. The new 5th Wheels come with double door refrigerators you find in nice homes. Marble counter tops, washer and dryers….etc. The list is never ending really and can go as extravagant as your bank account will allow.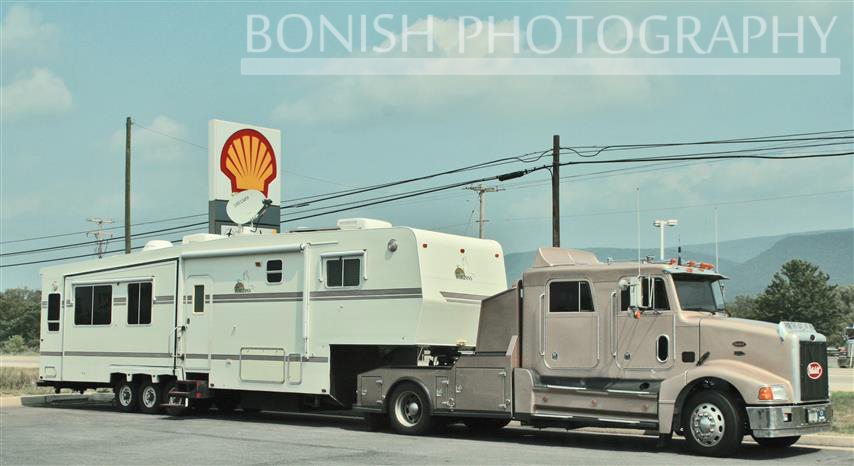 Most of the RVer's we're really learning things from are those who have been in their campers for multiple years and have customized their rigs to suit their specific needs. Fulltimers who like to Boondock, make use of BLM Land and have figured out or are experimenting with solar, wind and different types of batteries and ways to keep themselves self-sufficient. Most of these folks aren't in giant 5th wheels or full sized coaches. Those type of rigs are usually too large to be going off-road or into the back country.
One couple staying with us was really into wine and cooking. The gave up a full slide-out storage bin under their couch, and converted it into a slide-out wine cellar to hold the 30-40 some-odd bottles of very high end vino they carried with them at all times. They also removed another couch that wasn't used that often and had custom cabinets built with slide-out shelves to store their full-sized cooking appliances. Atop the cabinets was a giant Corian® counter top that could be used as a prep station for their cooking. By eliminating a couch, they gave themselves more counter space than I've had in my last 3 homes I've lived in.
Another camper we had visiting was showing us their rig and explained that after studying the BTU's and AMP Draws of various A/C Units, they figured out that if they installed a small home sized window unit A/C, they could run it off their battery bank. He had actually cut out a square in the back of the camper and had the A/C unit mounted right through the wall rather than putting it in a window. He explained to me that this worked perfectly if they were boondocking or drycamping at a State Park, and if it was really humid and the small unit couldn't keep up, then they'd just go find a normal campground that offered shore power to run their standard roof-top unit that demanded more AMP's.
That led me to think back of those days when traveling and you know you're going to be driving all day long and there happens to be blue clear skies to keep the batteries topped off. If we pulled over for lunch, the inside of the camper would be roasting hot. With a small A/C unit that could run off the battery bank, you could leave it set to 80 degrees or just enough to keep the camper comfortable, but not allow it to get up into the 90's or higher where it then takes an hour just to cool the camper down to a tolerable temperature. Little tricks like that are what I dream of designing into the Ultimate Rig. Looking around on the Intraweb, I was able to find a D/C Powered A/C Unit, that could probably be retrofitted to work in a RV.
Cindy and I spent roughly 4 years on the road living fulltime out of our camper. We had a few options and necessities that were mandatory. These still hold true today, so I'll throw them out there right away.
Having the camper outfitted so it can be 100% functional without having to be plugged in. This means having enough solar panels and a battery bank large enough to keep everything powered up without needing to find a campground with shore power. This will add a bit of cost upfront, but it will pay for itself within a year or two of traveling, especially if you spend much time in the backcountry like we did.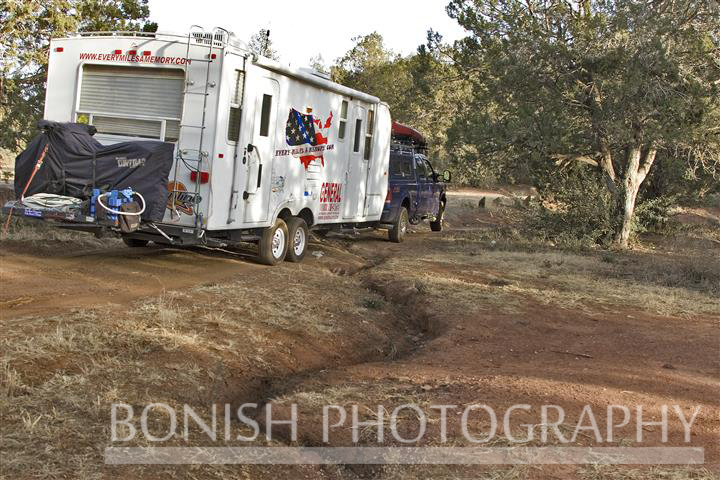 Back when we first started RVing, solar was cutting edge and very few understood it and most questioned its cost savings. With the current prices of solar panels continuing to drop, they have almost become standard on most new RV's and I question why anyone would not have at least one small panel even to just keep their house batteries topped off.
For battery power, A few people have gone the Lithium-Ion Route with their battery banks (Check out Chris and Cherie and their Technomadia Site to learn more about that avenue), and I think that is the direction the future is headed, but right now I'm still a firm believer in AGM's and the fact that they're zero maintenance. We've had our four 6-Volt Lifeline AGM's for going on 7 years now with not one issue or problem. So it's hard to even look in another direction with a track record that good. If we were to build out a new camper, the first place I'd go to would be Lifeline, but I'd probably up the bank to 8 batteries just to have more reserve power if needed.
When it comes to the camper itself, we need a hard sided place to sleep in with a bed that's always made up and ready to crawl into. No canvas or anything that pop's up or involves setting up if you have to pull into camp after dark in a downpour. This has always been our first rule when it comes to looking at campers or Houseboats. I'm not a big fan of having to set things up and have beds that also double as a table. Our camper has a high-end mattress with a 4″ memory foam topper that is so comfortable to sleep in you'd never think you're roughing it at ANY point. Another option we're looking to put in the next camper would be one of the Iso-Cool Mattress Pad covers for their claim of keeping your body cool at night. Since we try and follow the 70 degree weather around, and we're usually boondocking without shore power, anything to keep you cooler and sleeping comfortably is money well spent.
In the camper, we would have to have a full bath, and one that has a separate shower from the toilet area. Meaning, we don't want a camper so small that the bathroom is a Wet-Bath, where everything in the bathroom gets wet when you shower. Our next camper will have some sort of Solar Hot Water Heather attached to the roof to not only hold more water than the standard 6 gallon hot water RV tanks hold, but allow us to shower without even having to turn on the hot water heater and burn up propane or electricity.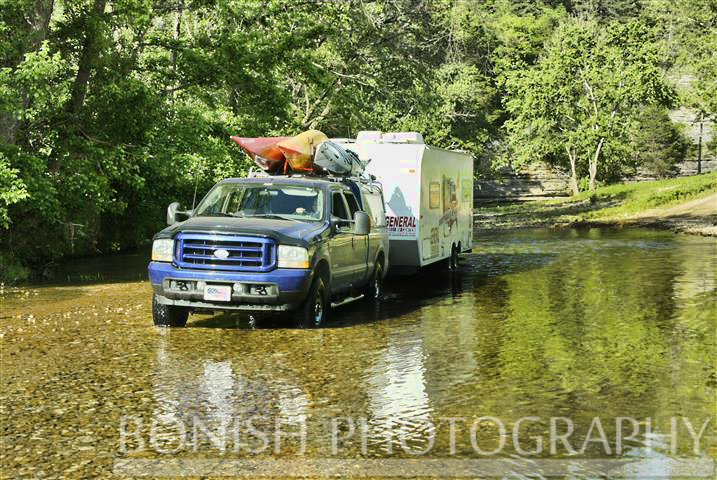 Over the years of being on the road, we learned that there are a few items that make living fulltime on the road very comfortable. Having the largest refrigerator available, and having one that runs off of D/C Current, rather than propane would be ideal, like one of these Sun Frost Models. This would free you up from having to depend on Propane and worrying about switching over depending on if you're plugged in or not. I've also been looking into Composting Toilets, which are common on boats, so you don't have to worry about dump stations. A little while back, I was finally able to talk with a couple that is fulltiming in their recently renovated Airstream that is using a Composting Toilet.
Kristin and Jason from Boondock Marketing would be a could source to contact if you're looking into this avenue of getting rid of the black tank in an RV. For now, they're the only ones I know using one exclusively. Give them a shout and talk to them about their poop habits……HAHAHAHAHA!!
Some sort of rainwater catchment system on the roof of the rig, that would then fill your fresh water tanks would be another ideal set-up and would be pretty simple to set up.
Building The Ultimate Rig
This is hard to pin me down on. Ask me 10 different days in a row, and I'll probably give you a different answer all 10 days, but only because I'm torn between two set-ups that I've been dreaming about for a few years now.
Option #1 being a 4-Door Diesel 4WD truck, I'm not really locked on any one brand at the moment, but it would have an aluminum flatbed with a slide-in camper on the back.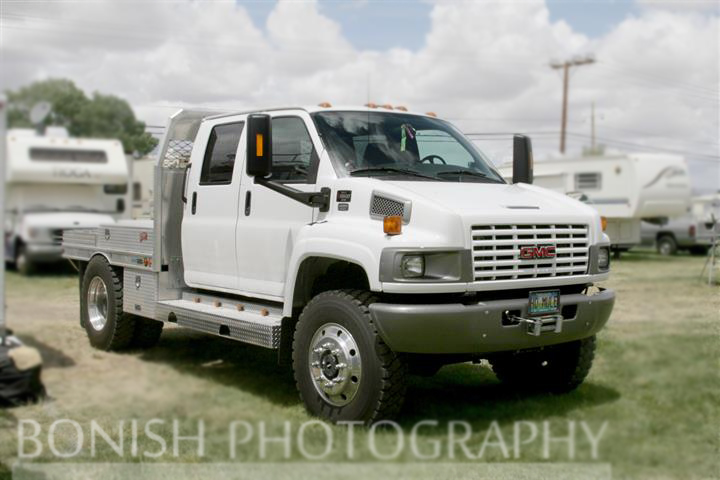 This could allow so many possibilities. With the jacks on all 4 corners of the slide-in, the camper could be left back at a campground fairly quickly if you were going to be running some rough terrain and knew you'd be back that same day. Or it could be left on the truck if you were needing to be traveling and wanted to stay the night on the trail or in-route.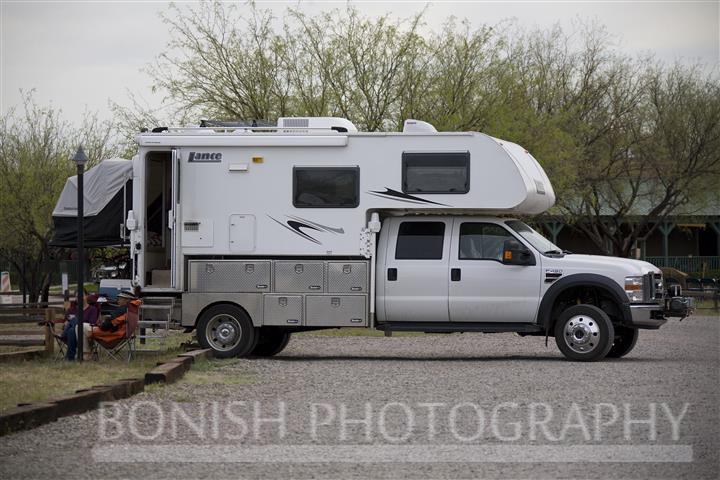 My reason for this set-up would be for pulling something behind the rig. If you were going to be hauling motorcycles, then a flat bed trailer could be hauled easily with what ever type of off-road vehicle you're into. Whether it be Sport UTE's, Four Wheelers, Dirt Bikes, Harleys or Boats. It leaves the options wide open.
To really get you drooling and thinking outside the box, why limit your travels to the hard surfaces of Terra Firma? Think of having a nice set-up like I'm describing, with a fully capable Liveaboard towed behind it.
You have a great place to stay while on the hard ground, but visit anywhere there is a coastline, or large lake (think Lake Powell, Bull Shoals, Lake Mead) and be able to launch the boat to give you a whole new way to travel and explore. Carry some kayaks, Stand Up Paddle Boards, and your Mountain Bikes atop the Liveaboard and you've got practically every mode of transportation rolled into one package.
Hold up a second while I wipe the drool off my keyboard.
Option #2 would still be having a Liveaboard towed behind you, but I toy between the idea of using a different tow vehicle when I consider fuel mileage.
Originally I had always dreamed of an Earthroamer or a Sportmobile to use as the Tow Vehicle. Both of these vehicles have proven themselves very capable to go off-road, and keep you comfortable. But after seeing both up close and getting time to tour the insides, both Cindy and I agreed that they didnt meet our option requirements to live out of fulltime.
If doing a short trip, say 3-6 months, when you know you're strictly going from Point A to Point B with hundreds of stops in-between for photos, like the trip from Key West to Artic Circle I'm planning, these two platforms would be perfect.
But try and live out of them for years at a time, and I could see us strangling one another. The other problem is both of these platforms use fullsize diesel motors, which isnt the best when it comes to the fuel mileage I was talking about. A few years ago, Sportsmobile started offering their rigs built on a Sprinter Chassis, with the very reliable and fuel efficient Mercedes 6 cylinder Diesel. That option had me losing sleep! Not Kidding!
But it kept coming back to just being too small for fulltime living.
Then one day we had a guest pull in with one of the Class C campers on a Sprinter Chassis with that 6 cylinder diesel motor. They invited us inside to look around when I mentioned I liked the look of this model.
Class C's were something I had never considered in the past due to the crappy fuel mileage and the fact that you'd still have to be hauling a motorcycle or tow vehicle with you so you wouldn't have to break camp each time you needed to run to the store or go out exploring.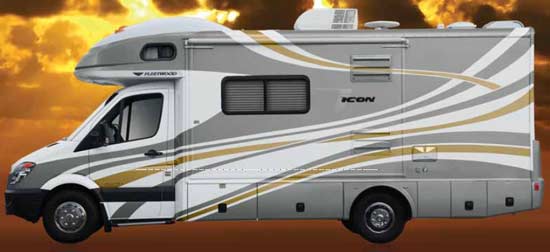 Most Class C's are fairly large and not conducive to city driving or narrow back road travel. These newer models are fairly narrow, and could leave you thinking you're simply driving a large van. I've seen them parked in regular parking spaces at the Big Box stores and some models come with multiple slides so once inside and at camp, you'd actually have a good sized space to move around inside.
They offer full sized beds to sleep in that do not need to be taken down or set back up, a full sized bathroom and a comfortable kitchen to live out of. And best of all, the multiple people I've spoken to who are traveling in these claim to be averaging in the 20 mpg fuel range. That's unheard of with practically anything else on the market that offers you this comfort level to live out of.
So, these are my two dream set-ups. I'd love to hear some feedback as to what you think would be the perfect set-up and why. Leave a comment or make a suggestion. If you have any ideas that I forgot to mention, use the comments section below to bounce some ideas off of like we do at the Tiki Bar while sitting around dreaming out loud. With each new dream, we come up with more options and ideas to add to the mix.
For Boats, that's a whole new story, but for right now, I'm set on either a C-Dory Style Boat, or a Twin-Vee Weekender.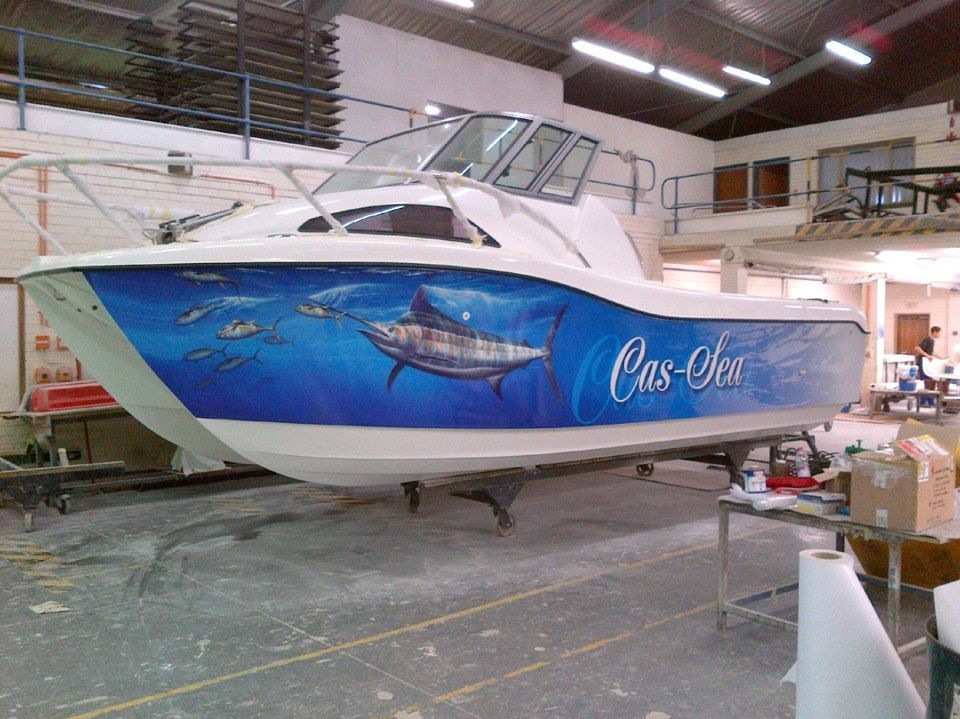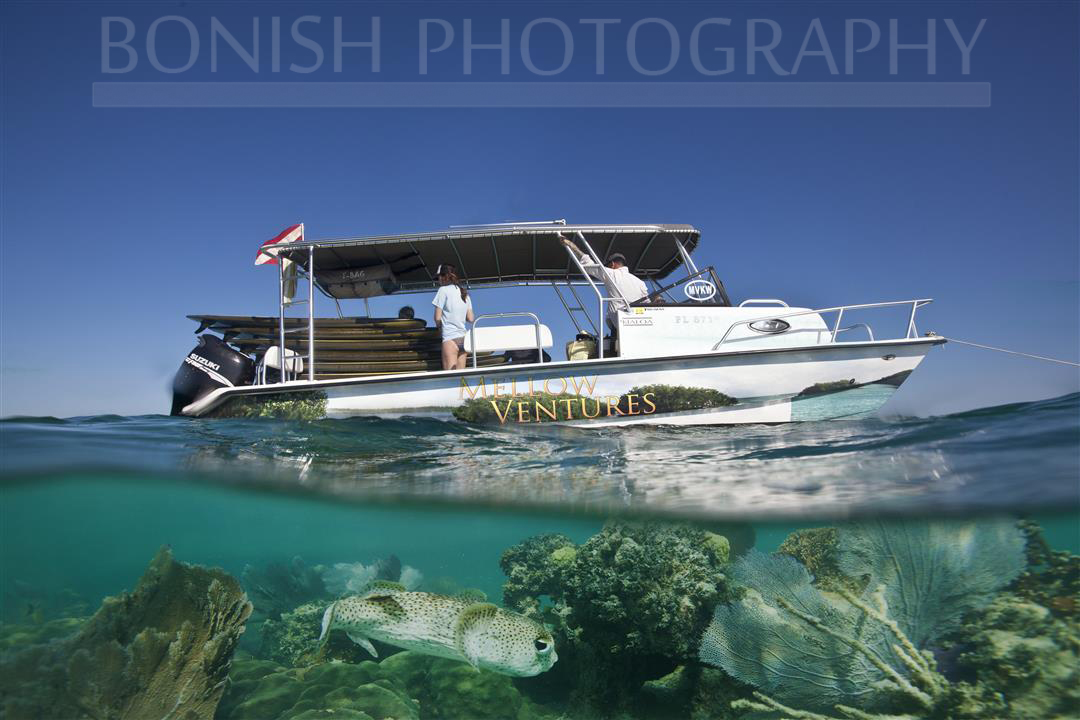 Both of these hulls are tried and true and will offer a smooth ride, yet allow enough cabin space to sleep comfortably for a few days at a time. And both boats are easily trailerable by just about any sized truck.
A custom Boat Wrap logo'd out would be just icing on the cake! The photo opportunities would be limitless for a combination like this. I can see exploring Baja and the Sea of Cortez, Florida's coastline and the Keys, the various River Systems that snake throughout the United States, the Great Loop…..wiping more drool off the keyboard!
Time to go to work so I can pay for all of this at some point!