Why do visits from family always seem to be so hard? Cindy and I get to do a lot of fun things and spend lots of time playing around in the outdoors and when family visits, we want them to experience those fun time too. Problem is it seems every time we have family come visit, they get here and the weather turns crummy.
The last time our daughter came to visit, it was freezing cold and raining the entire time. My mother and father escape the cold, dreary Michigan winter only to visit us in Cedar Key on a few of our coldest days we've had this year. That meant no boating and no hanging out in the back yard due to the biting cold wind that seemed like it would never let up.
It did give us a chance to hang out inside and do a lot of talking. Cindy and my mom broke out the sewing machine and made multiple throw pillows out of new fabric Cindy had bought for the motel rooms. I kept saying lines from Happy Gilmore when the Grandma was locked in the room sewing all day and would ask for a glass of warm milk. The nursing home orderly would snap back "You can trouble me for a warm glass of shut-the-hell-up!" and would tell her to go back to sewing. Of course this was all said in humor and it's not like we locked my mother in a room and made her sew the entire time.
Another day my dad and I got to spend some quality time together when I had to drive to Williston to pick up the boat from Williston Marine Metals. Troy had finished up installing the new bilge pumps and hooking up the Chart Plotter. The drive there and back gave us some Father/Son time that is something that doesn't happen too often. I guess I learned it from my dad, but neither of us are one to talk on the phone much, so unless we're face to face, we don't get to talk all that much. Put us together in a room and we'll talk your ear off, but we only get to see one another once or twice a year, so I always cherish those times we do get to visit and talk.
Trying to escape the brutal winds and cold temps, we took a drive down to Homosassa Wildlife State Park where we had went a few weeks back with Scott and Karen. We figured this was nestled in the trees and wouldn't be nearly as windy as it was in Cedar Key.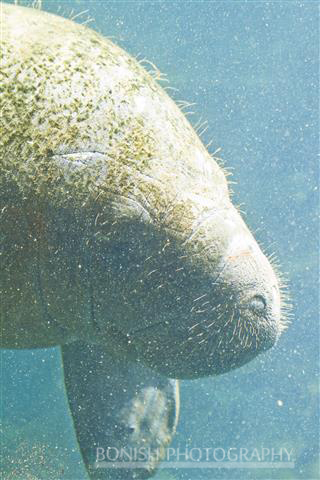 It made for a great afternoon and we saw a bunch of manatee, birds and various native wildlife. At one point, we were walking past the Red Wolf enclosure and the 3 wolves all started howling. Us humans couldn't hear it yet, but soon enough, a fire truck came around a few blocks away with its sirens blazing  The wolves did not like the sound the siren were making and all sat there howling like something you'd see in a horror movie. Here are a few shots from our day in the Wildlife Park.
On their last night here, we had a potluck at the tiki bar and my parents got to experience the fun Cindy and I get to have on a weekly basis. There was so much good food and so many friends and fellow travelers from around the country who were in the tiki bar. I hope they had a good time and hope they see how much we enjoy this hideaway we've created for ourselves here in Cedar Key.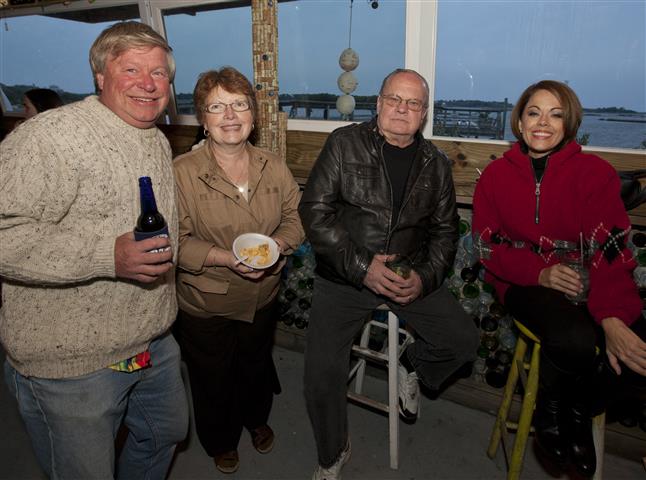 From Cedar Key, they're headed to New Orleans to visit our daughter and see the Great Grand Baby Jazper, something we're hoping to get a chance to do soon.
While they were in town, we had another visit from our good friends Shane and Heather. They've both visited before, and again, it sucked that this time the weather was so cold, because it meant no boat time and zero getting out to do much of anything. Although it's always good to see them no matter what the weather is.
Growing up, my older sister had a doll that was called Big Girl. She was one of those dolls that stood about 3′ high. My older brother and I would pluck out this dolls hair, glue her eyes shut and always be doing various torture treatments to the doll in an effort to drive my sister mad.
I cant count the times we scared people with the doll by hiding it in a closet, under a bed or putting it in their back seat of their car. After getting scared too many times, my mother finally threw the doll away. Granted we were all adults at this point and Cindy had been brought into the picture on numerous accounts of scaredness.
A few years back, my sister and her family came to visit and re-introduced a new and improved Big Girl into the scene. You have to know that our entire family has issues with scaring one another. We go out of our way and will think up elaborate schemes to scare the crap out of another family member, sometimes bringing multiple family members into the plot to make sure it is a real good scare. On the ride down from Michigan the year Big Girl was resurrected  her kids matted the dolls hair, blacked out one of her eyes and glued the other eye shut.
They got Cindy and I good that year, and we've kept the doll in the attic ever since. We've brought her down a few times to scare the crap out of Amber or another of our friends, and you know it had to be brought down while my parents were here.
While my mom and dad were in the house with us, we had Amber go into their motel room to make and turn down the bed. She tucked Big Girl under the pillows so when they went to pull the sheet down to get into bed, they'd see her lying there. It worked good as we got a text that night from my mom saying "You got us GOOD!" Of course this meant we had to let my sister know that Big Girl was still raising hell all this time.