With the spring weather finally hitting the Southeast, we've had a few chances to use the Houseboat. This was a grueling winter simply because we knew we had the houseboat just sitting there waiting to be used, but neither of us really saw any need in floating around in chilly, pretty much downright cold weather staying inside in order to stay warm.
So with the first few days of 70 degree temps, we packed up the boat and headed out. We both knew that our first few times on the boat would be more or less, shake down runs to see what we needed, get a feel for how the systems worked and learn the small characteristics of the boat. Luckily our years spent roaming around the country in the Travel Trailer prepared us for simplistic living and knowing we weren't going to have all the conveniences of home, but we were actually looking forward to roughing it a little….if that's even an issue when you're camped on a houseboat with the windows open and a cool ocean breeze blowing through to keep you cool.

The boat has a aftermarket aluminum canopy framework that the previous owner built to act as a shade cover over the back deck area. With the addition of a few pool noodles cut to proper size, this framework acts as a perfect area to hold our Stand Up Paddle Boards. Loading them and unloading them once on the water was somewhat of a learning curve, but after doing it multiple times, I think we've come up with a good routine that only takes a few minutes.
Having them along while anchored makes for a great means to go out exploring or for an afternoon/early morning activity to get some great exercise. Up to this point, each time Cindy and I have paddled, it was for short bursts maybe 20 minutes or less just to get us into the springs or for something to do while anchored. This time around, while anchored for multiple days, we were able to log multiple miles of paddling and both have a new found appreciation for the muscles we never knew we had that were aching the next day.
Crystal River and Kings Bay
Our first few days on the water we had towed it down to Kings Bay in Crystal River and launched it from Pete's Marina. They have a nice boat ramp, good parking, fuel and a little general store where you can stock up on a days supply of munchies if you need them.
Scott and Karen drove down separate so they could spend the day with us. We floated up and down the calm, protected waters and explored some of the back canals while enjoying nearly perfect weather. With temps in the upper 70's, no humidity and a slight breeze to keep any bugs away, you couldn't ask for a better time on the water.
The boat feels tippy at first, but after a few hours of getting used to it, we all fell into sync with how it acted. Like anything else, the more you use it, the more comfortable you get with it. Something simple that would scare Cindy during our first few minutes on the boat didn't even register with her after a few hours of it happening over and over.
After multiple hours and countless stories/laughs later, we headed over to Cracker's Restaurant to grab a bite to eat. Cracker's has boat docks you can tie up to which is so nice compared to our Unfriendly Cedar Key boat docks.
After a great dinner, we brought Scott and Karen back to their truck, said our goodnights and headed off to find a place to anchor with the last little bit of afterglow left in the sky. I figured since we didn't know this bay too well, we should probably follow the lead of the rest of the sailboats and anchor in a little cove where quite a few larger boats were sleeping. With Cindy at the controls, I dropped the hook and we were in for the night.
With the full moon coming up over the bay, we sat on the roof of the boat listening to the sounds of the quiet bay….the occasional dolphin surfacing to get a breath, the owls talking back and forth to one another and I shit you not, we even heard a coyote howl off in the distance. Something that really surprised me for how populated I thought Crystal River was. But both Cindy and I heard it very clearly, so we knew we weren't just hearing things.
Life on a boat without internet, television or anything else to distract from your surroundings is much like our life when we traveled in the RV. You pretty much wake up and go to bed with the sun and the moon, so not too long after we settled in, I think we were both sawing some serious logs.
The next morning as the sun broke through the clouds, Cindy said she could not remember the last time she had slept that good. So much for her fear of boats and saying she'd never feel comfortable on one. I think the gentle moving of the boat throughout the night lull's you into an almost comatose state of mind.
We ate a light breakfast, got down the Paddle Boards and went paddling around the canals and into 3 Sisters Spring. By the time most people were just getting their day started, we were back at the boat loading the boards back up wore out from our few miles of paddling, swimming and enjoying the first weeks of Spring.
While we were loading the boards back up on the rack and I was hanging my sweaty shirt up to dry, we could hear the radio from the local crab fisherman who was tending to his traps in the bay. The news station was saying that much of the Northeast was under a massive snow storm and most of the schools would be shut down for the second day in a row due to how cold it was. Cindy and I both looked at one another and without even saying a word just laughed out loud. Here we were in bathing suits having just swam in the tropical blue springs listening to how schools were closing to keep the kids safe from the frigid temperatures of Mother Nature. I guess some people figure this out and some just stay put for one reason or another. I'll let you guess if we've figured it out or not 🙂
The rest of the day was spent motoring up and down Crystal River and around King's Bay, anchoring here or there to grab a bite to eat, climbing up on the roof to get a better view or strolling down a shell covered island to inspect the driftwood.
That night would be another night of amazing sleep even with the crazy winds that picked up late in the evening.
The next day would be a day of solid rest. With the winds blowing at a steady 20mph for the entire day, we never left our anchorage and both never really even got out of bed. Luckily I had brought a book I was in the middle of, but unfortunately I had only brought one book. I finished it and could have probably finished another if I would have had one with me….Another item to add to the list of things to remember….bring extra reading material for days you're stuck due to weather. I ended up reading through the manuals for the radio, the VHF and the inner workings of the boat. Highly Entertaining reading material right there.
The boat was left at Pete's Marina for the week while they ordered a part for our toilet that had a small leak. This worked out perfectly as we didn't have to tow the boat home, and it would guarantee us a return visit the following week to pick it up.
The next week, when he called to say the part had come in and he had it finished, we packed up the camera gear and came back down for a few more days on the water. It's like having a 2nd house, or a cottage on the water. With Crystal River only being an hours drive from the Low-Key Hideaway, it's the perfect little get-away.
We loaded up the gear, paid the mechanic for the work he performed and headed back out on the bay. The rest of the afternoon was spent shaking off the normal stresses of work and getting your mind to relax and forget about those chores you've put aside.
Scott and Karen snuck away and spent the day with us and helped us forget we were avoiding normal life and our work. Not that it was all that hard 🙂
After another great dinner at Charlies Fish House, which is right beside Cracker's (Cracker's had a 45min wait for dinner), we tried Charlies and loved every bite.
The next morning we paddled towards 3 Sisters Spring. I had brought my new Aquatech Underwater Housing for the Canon 5DMKII and was eager to try it out. As we paddled up to the spring, I tied my Stand Up Paddle Board to the designated area they have for kayaks and paddle boards. Cindy was going to stay on hers and paddle into the springs so I could swim around and do Split Shots like we had last week.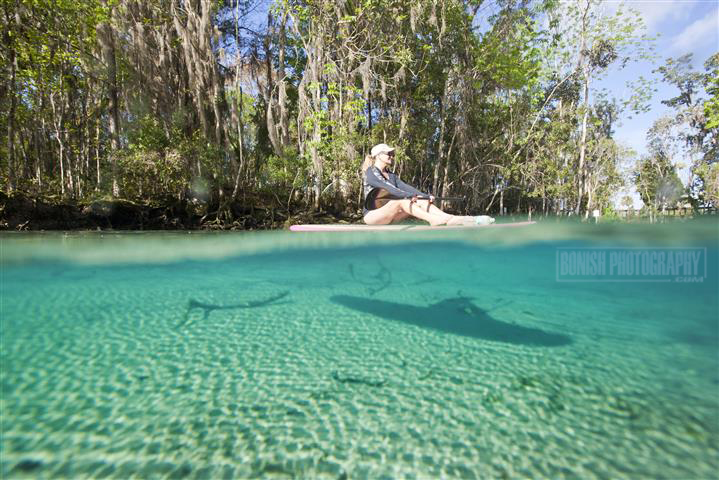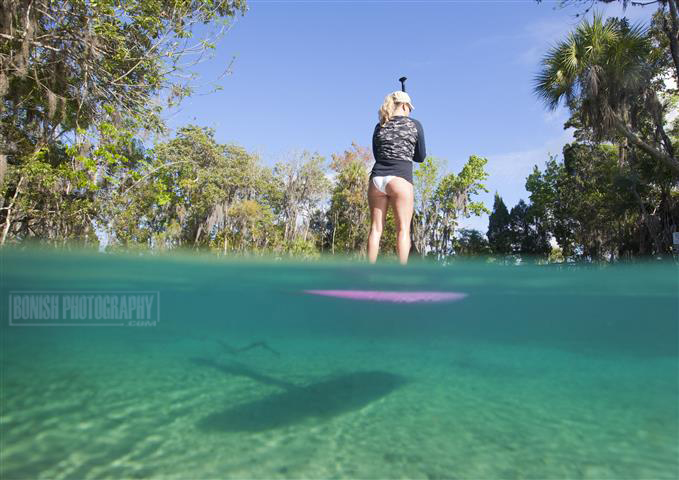 As we were coming up to the entrance, one of the volunteers who monitors the springs and stays up on the boardwalk around the springs told us we would not be able to come in with the Stand Up Paddle Board. When we questioned this, and explained that we had just been here last week, and that the sign said SUP's were approved, they said "The rule was just passed yesterday and the sign hasn't been changed yet."
She hadn't brought her snorkeling gear like I had because she had planned on staying on her board the whole time. So she told me to go ahead and swim into the springs to get some photos and she'd wait on me out in the channel. The volunteer went on to say "Oh, and you cant go in there with Professional Camera gear without a permit from the City of Crystal River."
I asked what made this a Professional Camera and was starting to get pissed. She said "Well too many people are having their flashes go off in the manatee's faces and scaring them." I let her know that my camera did not even have a flash on it, and that her and I both knew on a warm day like today, there would be zero manatee's in the springs, but she stood her ground and said I couldn't go in without a permit.
To add to my anger, which was getting close to boiling stage at this point, one of the tour boats had pulled up and anchored along the channel. They had let out about 20 people that were snorkeling into the springs with hopes of seeing manatees. The tour guide had overheard us talking to the volunteer and adds "Yeah, we don't want those Stand Up Paddle Boards in the springs as they hurt the manatees!" Cindy about lost it at this point and says "Yeah, because I've seen dozens of manatees with marks on their bodies from Stand Up Paddle Boards…..Oh Wait, no those are Prop Scars from the boats your group just got out of!" The guy just put his head underwater and snorkeled quickly into the springs to get away from my wife who was about to put a mark on his head with her paddle.
At this point I was livid. We both paddled back to the houseboat, loaded up the paddle boards and dried off. I was completely blown away! This area was my absolute favorite escape from where we live, which is actually my favorite place. Now it's ruined!
Back to Cedar Key
We had the boat loaded onto the trailer within the hour headed back to Cedar Key and our own protected paradise. We still had the next day off, so we figured we'd just launch it closer to home and be home earlier tomorrow when we have to return to work.
Once back on the water, we headed out to North Key, anchored the boat and spent the next few hours paddling around the island. The day had heated up and it was quite the workout. Cindy had wanted to bring Little with us, which proceeded to turn into a mistake. On the paddle board, she continuously wanted to walk from front to back of her board, which was throwing Cindy off balance. When I'd try and put her onto my board, she'd jump off as soon as we'd get close to Cindy and she can barely swim against the current.
Cindy had to sit down the entire time so Little could just sleep in her lap…..Do you think this dog is just a tad bit spoiled?!?
Paddling back up to the Houseboat, I was already sore. My shoulders were aching and Cindy could barely pull herself up onto the boat. I think we were both swallowing Ibuprofen before we even loaded up the boards.
That night we hung out anchored off of Atsena Otie Key listening to the oceans sounds. We had dolphins swimming around us, eagles flying over head and too many birds to count circling the abandoned islands. It was our own little slice of heaven, and we had it all to ourselves.
That's just a quick update as to what we've been up to. This past season has been our busiest one on record and we don't see it slowing down anytime soon. There are some big changes in the air for the Low-Key Hideaway, but you'll just have to wait and see what those are going to be. I promise, it'll be a big surprise to everyone when we announce it. Till then, here are some photos to tide you over.