The Flume Gorge – White Mountains of New Hampshire
While visiting Scott & Karen in Maine, we asked them what they would do if they had a few days off of work? Asking most of our friends who knew of Maine and the New England Coastline, they all mentioned various towns and coastal destinations to visit. Since Scott and Karen live along the coast, and see it on a daily basis, they suggested that we venture inland and take a drive up to the White Mountains of New Hampshire.
They spoke of a small attraction called 'The Flume Gorge' and both of them got excited as they described past trips there with their kids when the kids were younger and living at home. We looked it up and both Cindy and I instantly said "Yes, we want to go there!"
So we packed up their conversion van with a cooler full of food, drinks and loaded the camera gear for a few hour drive through some of the most scenic back country roads I've seen in years. Small villages that make Cedar Key look big, and small farmsteads that reminded me of the cover of a Mother Earth News magazine. I do love that the speed limits in these areas are only 35-40mph. It keeps us going slow enough that you can pull over easily if need be, and you can absorb the beauty of the blooming meadows leading up to the mountain sides that would soon be ablaze with changing leaves and bright fall colors. It looked like we were about two weeks early to get the color change so many come to this area to witness, but seeing how dense the mountain sides are covered in big, leafy trees, it was put on our bucket list to re-visit this area later in the fall.
While we drove, Cindy called ahead to Mt. Liberty Lodging and booked us a quaint little 2 bedroom cabin right on the Pemigewasset River. Along the drive me made a few stops at various antique shops and roadside attractions. Covered bridges along the edge of the road make you think you're looking at a postcard and if we wouldn't have even stayed the night or visited the Flume Gorge, I'd have been content with just the beautiful afternoon drive.
We found the Lodge, which was nestled right along the river perched atop boulders the size of Mack Trucks. Within a few seconds, we were all reduced to children scrambling over the rocks, jumping from boulder to boulder with nothing but the sound of gurgling water serenading us in the background.
Before long, we headed into downtown Lincoln where we found the Woodstock Station Brewery. This is more than just a micro-brewery….it's a beautiful Inn, a full restaurant and looked like the towns gathering/meeting place. The food was amazing and menu was multiple pages long. We all joked that you could spend a week or more here eating breakfast, lunch and dinner before you'd be able to sample everything they have to offer….and EVERYTHING we tried was mouth watering. It's rare you find a place that has it all…outstanding service, phenomenal food, and award winning homebrew! And to top it all off, the entire roof was covered in solar panels and solar hot water arrays, so not only is it a beautiful building, but it's as Green as they come.
With full bellies, we headed back to the Mt. Liberty Lodge where everyone proceeded to take a nap on the smooth rocks being lulled to sleep by the sounds of the flowing river. Now one might think "How comfortable is it to sleep on giant boulders?" well let me tell you. When these eons old boulders are polished smooth from Mother Nature, it's hard to describe, but a solid granite boulder almost feels soft to the touch.
Everyone climbed around till they found a spot that felt like it was molded for their body and with a serious food coma setting in, the promptly feel asleep. While they snoozed away, I played on the boulders with my camera, tripod and some Neutral Density Filters to allow me to do long exposure images in the mid-afternoon light. No matter how I tried, I could not talk Cindy into climbing into the water to add a human subject to the Earths Artwork. I do understand since the 10 minutes I was standing in shin-deep water to get a certain shot, my feet were beyond numb and my legs literally ached due to how cold the mountain runoff was.
After hours of playing on the rocks, we retired to the back porch of the cabin and wasted away the rest of the evening talking while listening to the stream sing to us. I could have spent a few days just at this location with the water and rocks only steps out the back porch.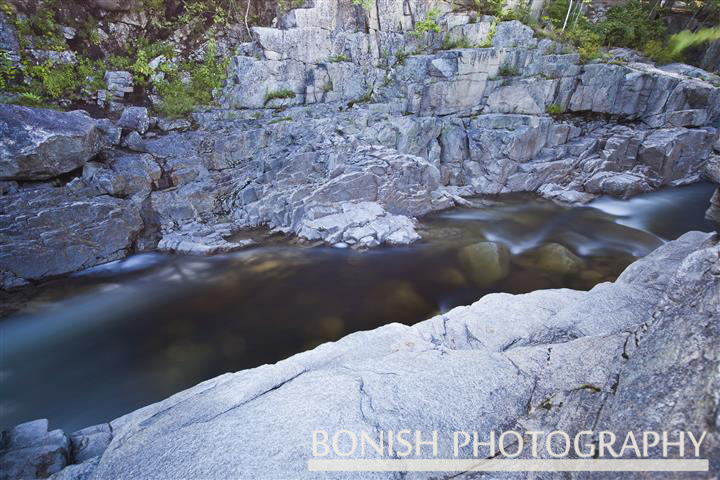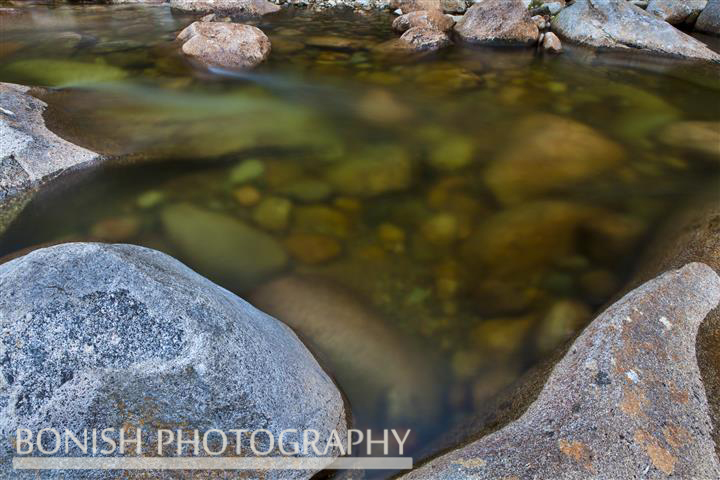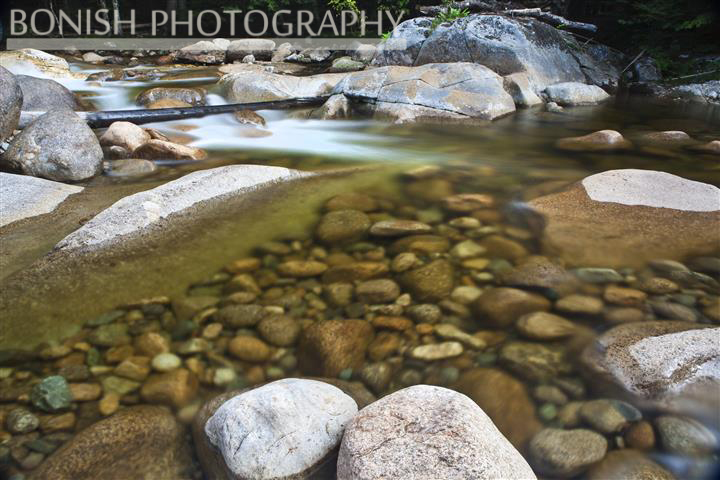 The next morning we were all up early and ready to hike through The Flume Gorge. We had perfect weather with a slight chill in the air, but bright blue skies above.
We found breakfast at a little coffee shop in downtown Lincoln, then drove back up the mountain to the Flume Gorge Visitor Center. Once inside, we started our days hike through the thick forest. You have a quarter mile hike from the visitor center before you even get into the cut through the rocks known as The Flume Gorge. The Flume was discovered in 1808 by 93-year-old  "Aunt" Jess Guernsey when she accidently came upon it while fishing. She had trouble convincing her family of the marvelous discovery, but eventually persuaded others to come and see for themselves. At that time, a huge egg-shaped boulder hung suspended between the walls. The rock was 10 feet high and 12 feet long. A heavy rainstorm in June of 1883 started a landslide that swept the boulder from its place. It has never been found. The same storm deepened the gorge and formed what is now known as Avalanche Falls.
I did not know what to expect, and was carrying my ThinkTank Backpack loaded with multiple lenses, a few camera bodies and my Manfrotto Tripod strapped to it. I'm only telling you this because it was a waste of energy on my part. If you're to take photos where you'd be able to set up a tripod, I'd think you'd have to come here on a day with very crappy weather outside so the attendance would be minimal. The gorge itself is very narrow, and has an even narrower wooden walkway that leads you up the Gorge itself. To setup a tripod on this wooden walkway would literally block the path for anyone else trying to get through. Even with my backpack on, if I was waiting for the right light and someone tried to walk past me, I'd have to hang my backpack over the railing to give them enough room to pass.
Camera specifics aside, this marvel of Mother Nature is one to behold. We allowed dozens of people to walk past us as we all like to take our time and absorb the surroundings, and I still think we went way too fast for my liking. If it would have been just Cindy and I, we'd have probably spent multiple hours on just the walkway. I could have sat, read a book or just enjoyed the cool air, the sounds of the rushing water and tried to absorb as much of it as I could in one sitting. If I lived close to this, I'd visit as much as I could. I've love to see it in the winter, or in the spring with heavy run-off coming from the surrounding mountains. I want to sit in there during a massive rainstorm and first thing in the morning when you'd have it all to yourself.
When we were finished with the 2 mile hike, we ended up back in the visitors center with a serious appetite to fill. After yesterdays lunch at the Woodstock Brewery, all of us were talking about what we wanted to order today. So I'm sure you could guess where we headed back to. Cindy and I have both agreed, this is another place we cant wait to come back to hoping to explore deeper and more in-depth.