Hurrincane Season – What We Learned During Hurricane Hermine
With the upcoming Hurricane Season fast approaching, we thought we'd put together a re-cap of what we learned after Hurricane Hermine came through Cedar Key last year. If you never read that Blog Post, that link will take you to the story so you'll see first hand what happened to our little town. Weeks and months after the storm passed, we have talked with hundreds of friends who were hit by both that storm and then the following Hurricane Matthew that swept up the East Coast causing major damage with it's wind and tidal surge.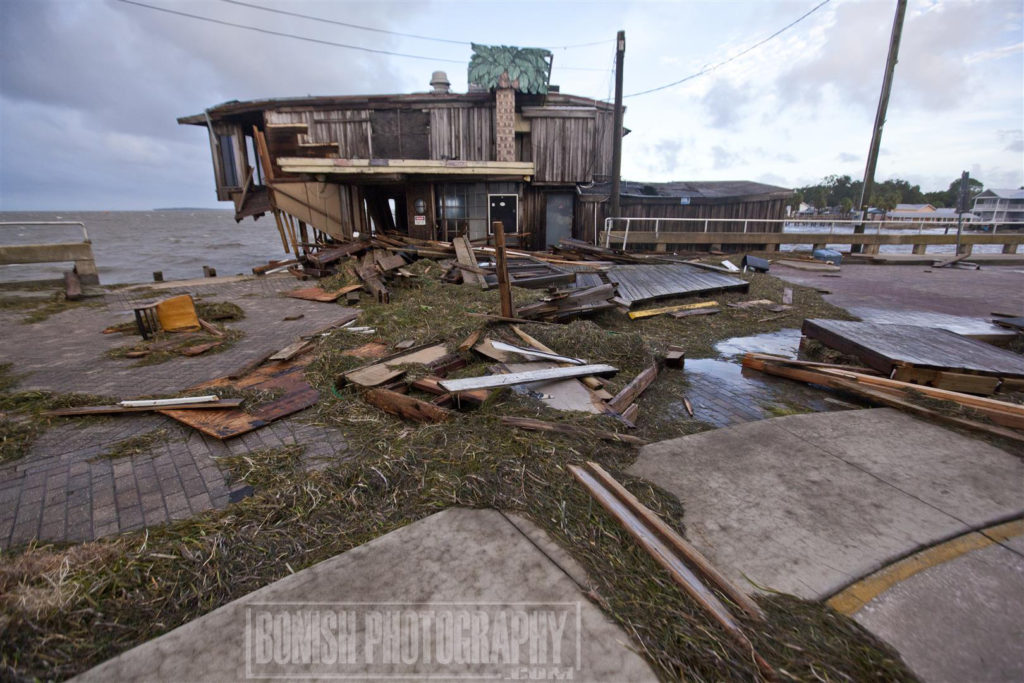 There are lots of Natural Disasters you should be prepared for. In this day in age, Prepping is a common term and pretty normal. Long gone are the days of thinking your neighbor who has a few months supply of food in his garage is a survivalist, today, it's just the norm. If you live in a coastal area, you should have a small stockpile of food, water and emergency supplies on hand at all times. There are unlimited lists of the basics you should always have on hand. Here is a Really Good List that is even printable so you can check stuff off as you collect it. I don't care if you live in Florida or Colorado, just watch the weather channel and you'll know there have been very few states that haven't been hit with some sort of major storm that knocked power out, limited the water supplies and kept people from their daily rituals for multiple days.
These are items we learned and talked about after this last hurricane. Many of these items are things you probably don't think about. The stocking up of batteries, flashlights and basic necessities should already be something that is done well before the hurricane. These are items you might not normally think about and when you think about the larger picture, none of these items will take much time to put together. I ask that if you have lived through a storm, whether it was a Hurricane, a Tornado or a Earthquake, leave a comment with something you learned that might not have been mentioned here. Hopefully anyone reading will learn from this list and be able to fine tune it to suit their Preparedness Plan for a future storm.
None of these are in any specific order, just random thoughts we piled together
Before Hurricane Season begins, check with your local municipality and see when their Hazardous Waste Day is. This is when you can get rid of all those old cans of paint or noxious chemicals that will end up getting turned over and spilled during a storm. Use these days to start the whole clean up and preparedness process long before the storm approaches
Store everything you've stockpiled as high as possible if a Hurricane is coming. A bunch of dried foods are useless if they got wet. We bought a few cases of bottled water and had them sitting on the floor in the kitchen. When they're submerged under nasty water after the sewers backed up, those cases of water become useless when you see the funk on the outside of the bottle unless you have a lot of clean water to rinse them off with, which we did not because of a Boil Water Order was in affect after the storm
Stock up on heavy duty rubber gloves, work gloves, disinfectant, bleach wipes and cleaners and make sure they're all stored up high so they do not get contaminated in dirty water. The clean-up will be horrible, be ready for it in advance. Heavy duty garbage bags are another thing to stock up on. These are items we did not have and had to make a run to the nearest Big Box Store that is a hours drive away
Do not own any furniture made from pressed wood. If you do, you had better get it high up off the floor. Every piece of furniture we threw away was made from pressed wood. Numerous pieces survived that were made from quality hard woods
Be courteous to your neighbors and the surrounding environment and remove anything you have lying around in your yard, under your house or in outside storage cabinets….paint cans, fuel cans, flower pots, scrap wood, yard tools….etc….If you do not move them before hand, they will be gone afterwards and during the storm could become missiles or projectiles. This is where the Community Hazardous Waste Day comes in handy
Put your fuel cans, coolers, buckets and anything that will float in a storage unit or garage as high up as you can get them. The amount of floating debris we watched float past our building was AMAZING. The smell of gasoline mixed in with the water that was flooding us was almost overwhelming due to so many gas cans being turned over when they floated away
Something we would have never thought of before the storm was all our potted plants. Cindy keeps dozens of really pretty flower pots with floral arrangements in them around our business and in our yar. They all floated in the water, turned over and died due to being submerged in salt water
Your vehicle should be topped off with a fresh tank of fuel before the storm. Would be a good idea to put a storage bin in the vehicle with a few change of clothes and some extra supplies so if you need to leave the house, the vehicle is already packed before the storm hits and you're not doing it in the middle of the storm. If you live in a flood zone area and you're planning on staying at your home, it might be a good idea to relocate the vehicle to a high and dry area before the storm
I had brought a few change of clothes with us to ride out the last storm. I had them sitting in a Rubbermade plastic bin thinking it would keep them dry. Unfortunately I learned that the bin floats when you have 2' of water in the house. This means at one point the bin turns over and takes on water. So my multiple changes of clothes are now soaked in dirty sewer water. Store anything you want to use as high as possible or plan on losing it.
Propane tanks float, a full propane tank floats, a full floating propane tank that might come in contact with something could be a very big explosion! Be sure to strap your whole house tanks down and tie them off to a deck or the side of the house. Put your smaller propane tanks in the bed of your truck and move the vehicle to high ground with your extra fuel cans, this way when the storm is over, if the power is out, you'll have a full propane tank to cook your food on the grill and your extra fuel cans will be safe and dry to run your generator
You should probably start your generator before the storm to make sure it'll run and top it off with fresh fuel. Be sure the generator is stored high above the high water mark so it doesn't go under water and get ruined during the storm. A day before the storm, I had to hit my generator with a can of Starting Fluid because it had been so long since the last time I had run it. Once it got going, I let it run for a few minutes to get some fresh fuel into the lines. It's better to be able to get what you need while it's still available (I didn't have a can of starting fluid on hand and had to go buy one) rather than trying to start a generator that hasn't run in months and find out you need some items and the auto parts store is closed due to the storm make sure it's running in advance.
Put as much ice in your freezer as it'll hold. For two reasons, if you lose power, a full freezer will stay frozen for multiple days if packed full. If you lose power, the ice will come in very handy. For days before the storm, I made ice and packed 1 gallon ZipLock bags with the ice. I had an entire section of the freezer stocked with these bags in case we were to lose power. When the storm hit and we ended up getting stranded at our business, the house was left without power for 4 days. We figured the freezer and all its contents would be lost. When we finally got back to the house, the freezer was still frozen solid and my only reason I can think of is because of all the ice stored inside it.
Stock up on as much bottled water as possible before hand. Worst case scenario is you have extra drinking water. It's not like it'll go bad, so you can just keep it as an emergency item you've already got on hand.
Go to your Fuse Box and turn off as many items as you can before the storm hits. This is when it's good to know what the fuses in your fuse box actually shut off. We killed everything in our fuse box except for the ceiling fans which had lights on them so we'd have air movement and lights during the storm. Everything else we shut off at the fuse itself. We never lost a single circuit and had over 2 feet of water through the business
I know its fun to party the night of the storm, but you should probably refrain from drinking during the storm. You'll want a clear head if the house or business starts flooding and its not fun cleaning the next day with a nasty hangover
Be sure and have your phone charged 100% before the storm hits. Know where your charger is in case the power goes out, you don't want to be searching for it in the dark
Unplug as many items from the wall outlets as possible, especially sensitive equipment like computers, televisions and electronics. Even if you've killed the fuses at the fuse panel. Numerous friends lost equipment due to having cords and their power supplies that were sitting in water when the flooding started. Even though we had unplugged all our computers and electronics, the next morning when I was turning fuses back on, I heard a loud buzzing sound and saw sparks. Apparently I had unplugged the laptop cord from the laptop itself, but I had forgot to unplug the plug from the wall during the storm. Because it had water inside the adapter, when the fuse was flipped on, it fried the adapter. Luckily it wasn't plugged into the laptop, so I only had to buy a $20 adapter rather than a $700 laptop
Put together a bag that has everything you'd need in case of an absolute emergency and you have to leave your location, preferably a waterproof bag so if you have to go out in the storm, everything inside will stay dry. Items like a few water bottles, a flashlight with fresh batteries, a few energy bars, a change of clothes, toothbrush and toiletries, cell phone charger, wallet and I.D. and a wad of cash so if power is out and ATM's or Credit Card Machines are down, you'll have spending money.
Before the storm hits, have a location where you have your candles, your flashlights, your cell phone, chargers and necessities all located within a safe spot in the house. This way if the power goes out, you'll know where everything is located. Make sure everyone in your party knows what is at this location and where to find it in the dark.
If you're like us and have dogs, have their life jackets, leashes, harnesses and extra dog food already stored in your Go-Bag so if the need arises, you're not searching for these items in panic mode.
Know where your Fire Extinguisher is located! We had a local business burn down due to an electrical fire in the flooding. Everyone should have a commercial size fire extinguisher and know where it is located, especially when a storm is approaching and all hell is about to break loose.
We don't have young kids that live with us, but if we did, our Go-Bag would have necessary supplies for each child in our party. Heck, if we had young kids and knew a storm was approaching, I'd probably go on vacation and leave the area, but if we couldn't do that, I'd at least make sure I had supplies to keep the kids comfortable. You also need to make sure you have extra supplies if there are more people in your party than just you and your spouse.
I know this seems silly, but if we ride out another storm, I'd make sure I'd have a good life jacket for each person in our party and know they were right at the exit. When we left our business via Rescue Boat, none of us had life jackets on. If at any time that boat would have capsized in the hurricane force winds winds and 4 foot deep water, trying to swim could have been very dangerous due to the current in the water. With a life jacket, all you have to do is control your footing and stay righted and you'll more than likely survive. In the future, when a storm is approaching, the life jackets will come out of our boat and be hung at the front door.
If you own a boat, it should be pulled from the water and stored on the trailer on high ground. One friend told us he pulled his boat, but left it in his yard. He watched from his house as his boat and trailer floated across his yard because of how high the water was. Better to move it to high ground a day or two before the storm than have it get damaged in your yard. This goes for any lawn equipment that might be stored on the ground. Move lawnmowers, tractors and any equipment stored in your yard or garage to higher ground or plan on losing it
Empty your garbage and recycling bins before the storm and tie down the bins themselves. Due to the storm hitting our area the day before the scheduled garbage pick-up day, most of the cans were full and once they started floating, the debris was EVERYWHERE making clean-up the next day all that much more nasty
If your town or city has grease recycle bins like ours does, have the companies come out and pick them up before the storm hits. One of the things we noticed was numerous grease recycling bins floating in the streets upside down. That means the used cooking grease was floating in the water that was flooding everything
Same goes for commercial ice bins. The kind you see outside convenience stores where you'd go buy bags of ice. They're basically big coolers that float when the water rises. We saw these floating all over town during the storm. Call the company that provides you with the bin and have them come pick it up, or they'll probably be replacing it after the storm
Although we had zero structural damage to our building, we did have close to 2 feet of water through the entire thing. This means that we lost our brand new Front Loading Washing Machine, our Dryer, our Dishwasher, the Refrigerator and other major appliances that were used for the bar. These are big ticket items when it comes to cost of replacement. We should have bought a few cinder blocks and some 2"x4"s and raised them up off the ground. This would have saved us thousands of dollars in the long run for the minimal expense of the cost of the cinder blocks.
We had our doors and windows boarded up with Hurricane Shutters. We had the doors sealed with caulk to try and help keep the water out. One thing we didn't think of was the 4" hole in the wall behind the dryer for the dryer vent! DUH!!! Yeah, that hole allows a LOT of water to enter into the house.
Cleaning up was made so much easier with a big squeegee to push the mud out of the business. We basically hosed out the inside of the building with a few friends pushing the mud with Squeegees and push-brooms. It might be better to go to the hardware store a few days before the storm and pick these up. If you don't use them and the storm is a dud, you can return them afterwards. If the storm hits, these items will be the first things off the shelves at the hardware stores.
Floor Fans, Heavy Duty Fans and dehumidifiers are also the items needed in the clean-up process. It might be better to go buy these before the storm, keep them in the box and stored on high ground. They'll be sold out immediately after the storm. If you don't use them, just return them since you've never used them or even taken them out of the box.
Having a good sump pump is a good idea to move standing water after the storm. If you're in an area like we were, they do not make pumps big enough to keep the water out. But after the storm subsides, we had big ponds in certain areas in our yard. It took a day of running a sump pump to drain the water into an area that would allow it to flow away and not become a mosquito haven.
You normally think of furniture items and try and relocate them up to higher areas of the house. You might not remember that your pots and pans and dishes are stored in lower cabinets. You probably store medicines and a whole bunch of other stuff under your sinks. It'll all be ruined if your house floods. Empty any low drawers, cabinets and storage places in your house before hand. Basically look around your house and imagine a line that is 2′-3′ off the floor. Move anything that you're fond of above that line.
Storing photos and keepsakes in the top of the closet is a good idea to keep them from getting submerged. This might be the time to start scanning the family photos and have them stored on a hard drive that would keep them safe for the next few generations
Our filing cabinet filled with water, so all the paperwork we use for the business…..receipts, taxes, licenses and order receipts were soaked and many ruined. Hopefully we do not get audited as I have no idea what to do since we tossed them out. Many of the papers were stuck together after being under water and lots of the ink on the papers simply wiped off due to the new styles of inks used.
One of the items we did not think about was power tools. Many of them were stored in tool boxes that are heavy and were sitting on the ground. It's heart breaking to have to throw away most of your tools due to salt water damage after they were submerged.
If you have an attic like we do, it might be a good idea to make sure in advance that you have a way to get out if of it if you end up climbing up there to get away from the rising water. Luckily we did not have to worry about this exit plan, but I've talked to people who have told us stories of being stuck in their attic and having to break through the wall to get out. Cindy and I have both talked of putting a door in the eave of our roof line so if for some reason we're ever stuck up there again, we could open the door and escape. Remember all the images of people being stuck on their roofs during Hurricane Katrina in Louisiana.
If you can think of anything else that you've learned after a natural disaster, please leave it in the comments below. It would be good to hear other items folks have learned during times of crisis like this and hopefully it'll help someone in the future.