Sanibel Island and the Seahorse Cottages
This past week Cindy and I celebrated our 16th Wedding Anniversary. We've been together for many more years than that, but only 16 of them were recognized by that little certificate claiming we were actually married.
We tried to take a few days off, and do something that just involved the two of us since our last few vacations have all been for weddings or group events. I'm not complaining, I'm just saying we wanted a vacation to sit around and relax and actually take a break.
We haven't been to Sanibel Island in over a decade, so we thought we'd go visit a little motel that has quite a bit of history with us and was a major player with our current situation in Cedar Key. Years ago when we lived in West Palm Beach, we used to sneak away as much as possible and had a little motel we'd use as our secluded vacation spot.
Seahorse Cottages was small, quaint and hidden at the South end of Sanibel Island and was the perfect spot to forget a busy, hectic lifestyle. The rooms were decorated with eclectic antiques and made you feel right at home. They were set up as extended stay cottages with full kitchens, full size refrigerators and were comfortable enough that you could spend multiple days or weeks living out of one and not feel cramped. Heck, for someone living in Manhattan, these would be considered huge apartments with the size of the rooms and the amenities they offer.
Back then, Cindy and I used to kick back and dream aloud about what we'd do if we owned the place, or if we managed something similar how we'd decorate and entertain our guests. Those were just dreams and who would ever think that 20 years later, we'd be living out some of those fantasies?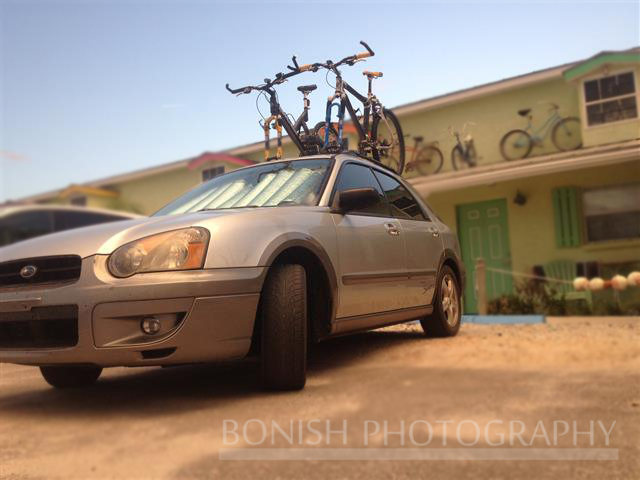 When we started dreaming about the Low-Key Hideaway, one of the first places we brought up was this little motel and conjured up those distant memories trying to recreate the rooms in our cobwebbed minds. Many a days while driving around in the camper would we be spent trying to remember the cottages in Sanibel and reliving all our wonderful times spent vacationing there.
A few months back, we got an email from the owners of Seahorse Cottages asking about making a reservation at the Low-Key Hideaway. They said they had heard nothing but good things about our place, and wanted to come check it out for themselves. Cindy and I were blown away at the karma that a hotel and it's owners that had given us so much inspiration would want to come check out our place. So while they were making reservations for a Cedar Key vacation, Cindy went ahead and made reservations at their place for our upcoming anniversary.
We loaded up the new (Used, but new to us) Subaru Wagon we recently bought as a second vehicle, and headed down South for a few days of R&R. For some reason I thought it would be fun to take Route 19 the entire way, which ended up being a huge mistake. For most of our travels, we've always avoided the big Interstates like the plague. You tend to see the most interesting things along the smaller back roads. Up in our area, HWY 19 is just that type of road. Take it South and once you get South of Weeki Wachie, HWY 19 becomes Stop Light after Stop Light with nothing but Strip Mall after Strip Mall.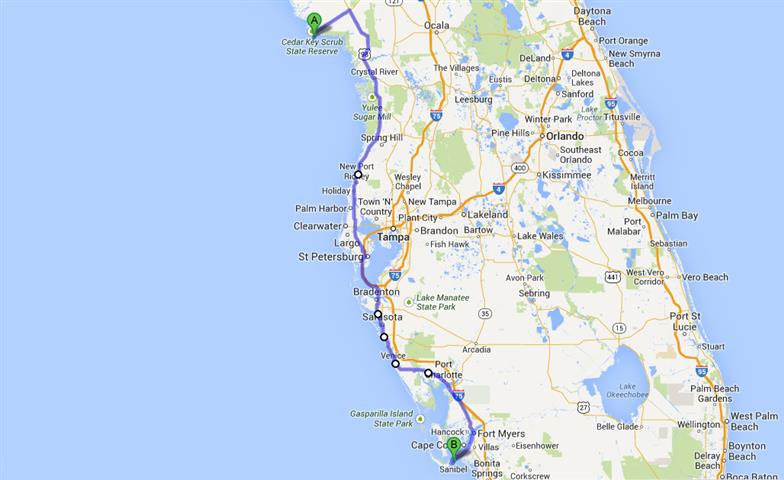 Looking at it on a map, it looks like it would be right along the Gulf of Mexico similar to A1A along the East Coast of Florida. A1A is actually a beautiful drive and is one that Cindy and I have driven from Miami to St. Augustine over the years of living and vacationing in Florida. For the most part, while on A1A, you are driving along the coast with the Atlantic Ocean on one side and sleepy little coastal towns to stop in and visit. Hwy 19 is the complete opposite. Do yourself a favor and if you ever come to the Southern West Coast of Florida, just stick to I-75 and bypass all the stop lights and Strip Malls and get to your destination where you'll enjoy yourself.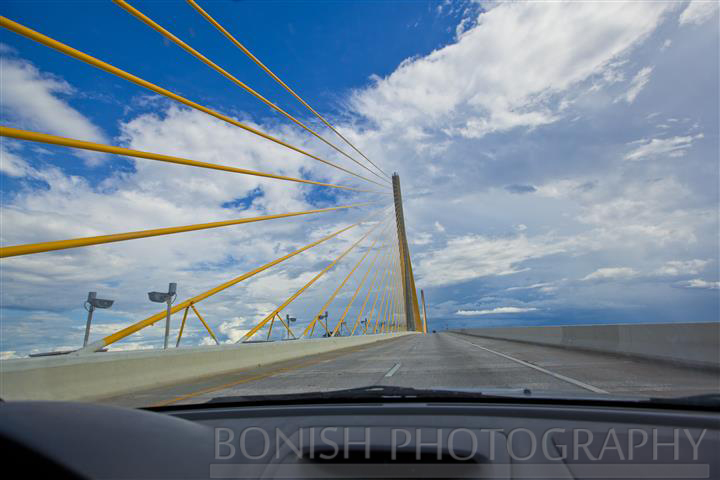 Google Maps told us this trip would take 5 Hours and 31 Minutes. Since we left around 11am, we figured we'd get there with plenty of time to check in, enjoy a sunset and grab dinner before it got dark. WRONG! Figuring in that we got lost (Totally my fault), had to stop multiple times to either eat or use the restroom, and once we crossed the Skyway Bridge we ran into a big storm…only to find out the wipers on the Subaru were useless, we finally crossed the Intercoastal Bridge onto Sanibel Island just as the sun was setting.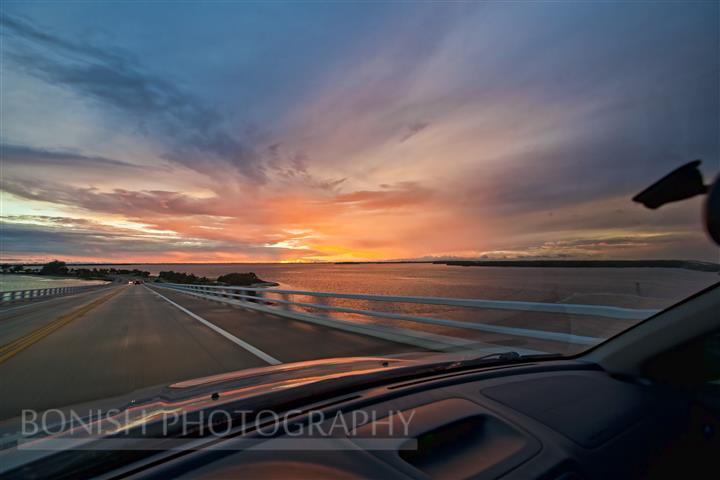 This sucked because the sky was ablaze with what looked like a post card sunset. We pulled over on the side of the road and snapped a few photos just to say we enjoyed it, but in reality we were kicking ourselves for missing out on such a beauty. Once we watched the afterglow fade to darkness, we drove the last mile over to the Cottages and unloaded our gear.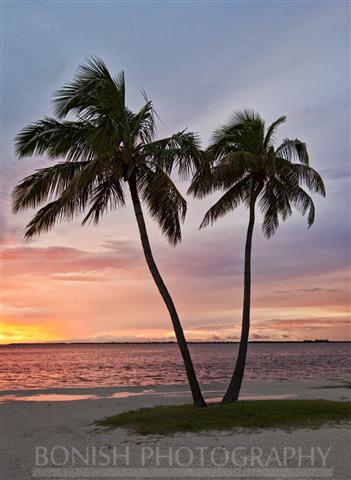 This place is almost more laid back than the Low-Key Hideaway which is probably why it's remained stuck in our memory bank for so long. There is no front desk person to check you in. It's all done over the phone where they tell you what room you'll be staying in and how to get in. There is no room service and no tiki bar out back, but this was exactly what we were looking for. The rooms are still clean and eclectic as we remembered them and it was like returning to a long lost friends house. The last time Cindy and I had visited here were were young pups and hadn't even thought of getting married yet, and here we were celebrating our 16th wedding anniversary.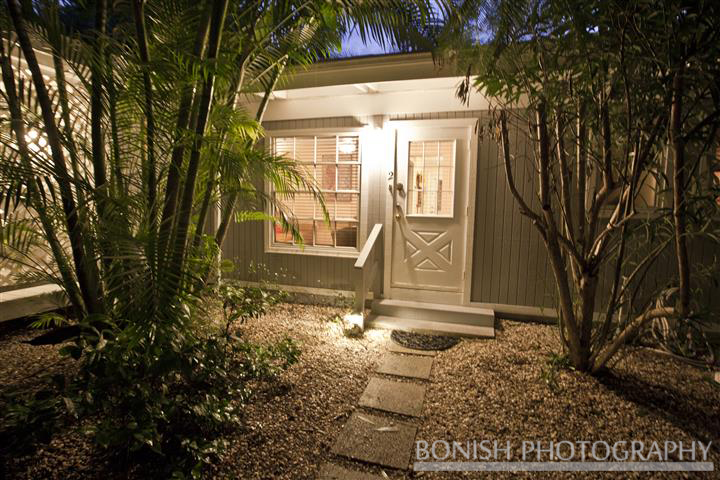 We unpacked our one suitcase we had brought and carried in a few other items so we wouldn't have to worry about it later after we had eaten dinner. I reminded Cindy that September in Florida is one of the slowest months for tourism. If Sanibel was still like it used to be, the island rolled up the streets after dark and went to bed. If we wanted to find anything open where we could eat dinner, we had better get a move on.
Luckily the only place we found open happened to be one of the best places on the island. George & Wendy's Seafood Grill was filled with patrons. The bar was hopping and the restaurant side was still quite busy. They've figured out that although most of the businesses on Sanibel close at sunset, most of the islands visitors still want to go out to eat or have been waiting till after sunset is over to go find dinner.
I ordered fresh caught Coconut Crusted Snapper that was probably one of the best meals I've ever eaten in my life. I let Cindy have a taste and it was all I could do to keep her away from my plate. Carmen our waiter was top notch and sat talking with us for quite some time.
The tasty food washed down with a couple of cold drinks made us forget the long drive and the disappointment from missing that beautiful sunset. We headed back to our little apartment at Seahorse Cottages where Cindy said I was snoring away within seconds of hitting the pillow.
Morning came early and I don't think I even rolled over throughout the night. The bed was cozy and the feather pillows were snuggly soft.
After a couple of cups of coffee to get us going, we jumped on some of the beach cruisers they offer and rode the few blocks South to the Sanibel Lighthouse. We parked the bikes and walked around on the beach just enjoying the fresh air and warm Gulf breezes. The ocean was bath water warm, so swimming wouldn't be cooling you off any, it would just simply make you wet and wash off the sweat.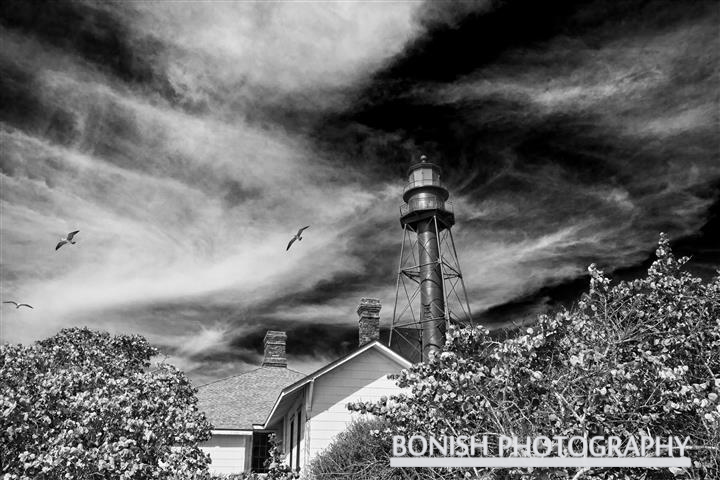 The main mode of transportation around Sanibel Island is bicycle and with what looked like a beautiful day ahead of us, we planned to ride from one end of the island and back just enjoying the sights and bar hopping via pedal power. Back when we used to visit more frequently, Cindy and I were majorly into biking and would log close to 100 miles each week on our bikes. We could ride from sun up to sun down and never get out of breath. We had brought our bikes with us and planned on using them on this vacation too.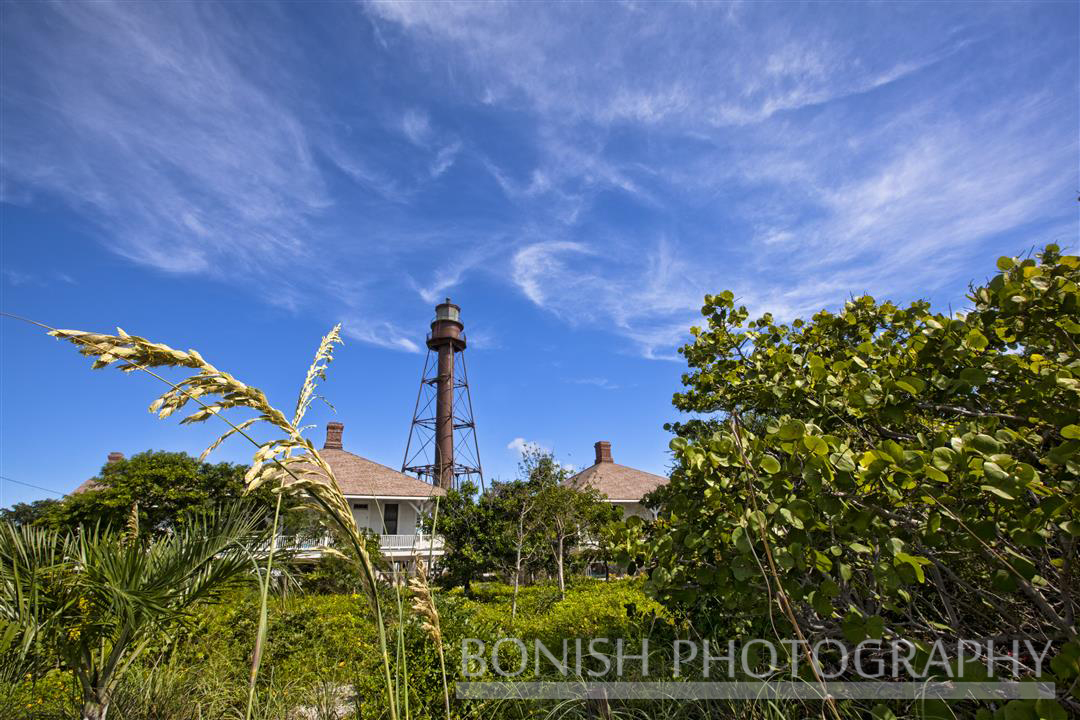 From the Sanibel Lighthouse, we rode the beach cruisers back to the cottage and unloaded our own bikes to go explore the rest of the island. It's amazing how much smoother and more efficient a well tuned bike will get you around than a single speed beach cruiser.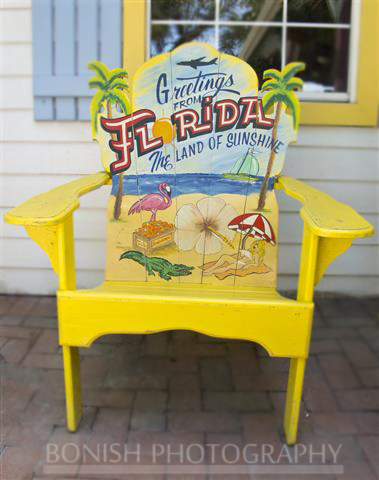 Our stomachs were growling by this point, so we were headed to find a breakfast place to fill us up. By the time we found one, we hadn't realized it was almost noon, so I guess we had missed breakfast and were now going to be eating lunch. Island Cow Restaurant had outside seating since we'd probably gross people out with the sweat that was pouring off of us. Even though it was September, it's still in the mid-80's with high humidity in South Florida. So copious amounts of ice water and iced tea was washed down with lunch to try and replenish the liquids being expelled on the bikes.
Once we were finally fed up, the riding continued. We stopped at the Ding Darling National Wildlife Refuge and cooled off up on the balcony overlooking the bay. We rode further down the island stopping at the Bailey-Matthews Shell Museum and spent an hour or so in the comfort of the A/C learning about many of the shells we're always finding along our shorelines. Cindy and I are always asking one another questions about the various types, if they're edible or not and what or how they reproduce. The shell museum explained all of this and more and quenched our thirst for knowledge when it comes to our never ending questions we're asking one another.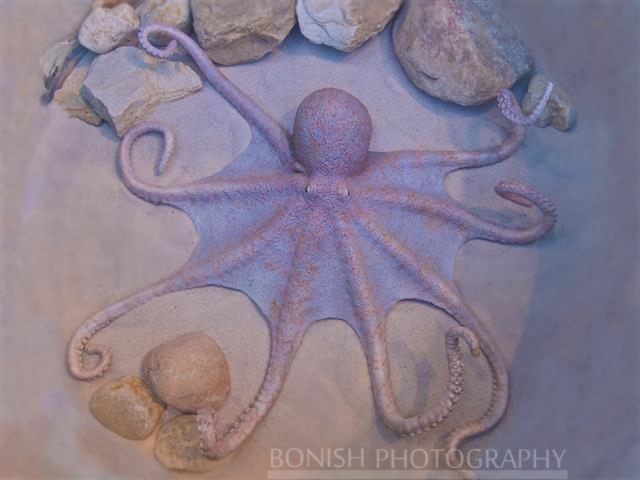 From the Museum, we rode further North up the islands bike paths till we found this enticing road sign. Who wouldn't be lured into a Rum Bar with Yoga and Massage's available?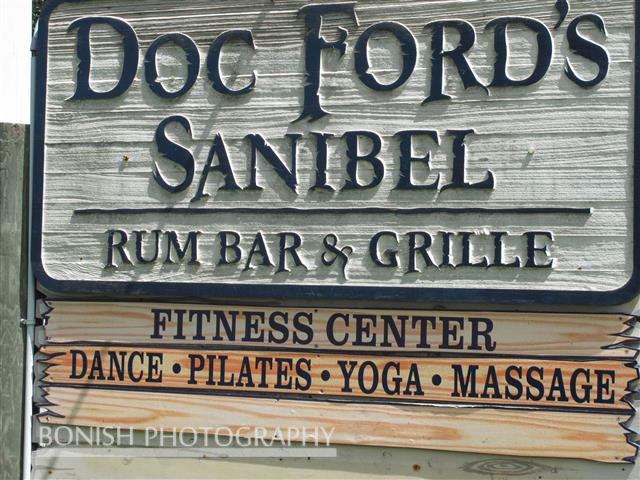 We bellied up and cooled off with some high quality Rum. The bartender was very entertaining and we talked about Traveling, Florida and Road Trips for an hour or so. Before we let our legs cool off and cramp up, we got back on the bikes as Cindy wanted to find a beach to cool off at.
Our bartender had recommended Bowman's Beach which was a few miles further up the road. Cindy was all for it till she realized we were riding into a headwind the whole way. By this time, the computer on my bike was telling me the outside temperature was 96 degree's and we were both soaking wet with sweat. When Cindy was ready to give up, we saw the sign that said the beach was right up ahead.
As our luck would have it, just as we turned off the bike path and started heading towards the beach, we heard thunder off in the distance. We'd been riding along the bike path which was shouldered by thick vegetation the entire way which didn't allow us to see over it. Once out on the beach, with a clear view looking back East, we could see that the typical afternoon thunderstorms were heading our way. I dug my phone out of the the backpack I was wearing and checked the radar. It was a big storm and was covering most of the state, and the whole front edge of it was RED, which meant lots of lightning.
I sort of chuckled because at this point, we were at the northern most tip of the island, almost ready to cross the bridge onto Captiva Island which is some 12 miles away from our motel. 12 miles in one direction only meant one thing, we'd have to turn around and pedal 12 miles back, which would mean a total of 24 miles for the day in mid-90 degree heat. Not to mention all the side trips we'd been making. At this point, the trip computer was already telling me we'd pedaled over 13 miles.
When I relayed this message to Cindy, she looked bewildered and said "I'll wait here, you ride back and get the car!"
I suggested that we both ride back till we found a restaurant or the rain and lightning started, which ever one came first. At that point, she could wait in the safety of the restaurant and I could ride back and get the car. She agreed and rather than cool off with a swim in the Gulf like we'd planned, we simply dipped our feet in the water before we climbed back on the bikes and started pedaling South.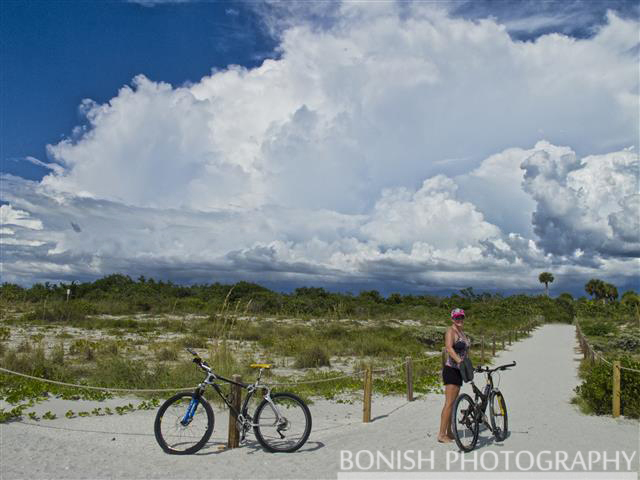 We were pushing pretty hard at this point to try and beat the storm and a few miles into the ride back, Cindy said she was done and couldn't pedal any longer. I told her that there was no way that I could stop, or my legs would cramp up. Much like when we're hiking, climbing or doing just about anything that is exhausting. If I stop, I usually stop for good. As long as I keep going, even if it means going much slower, I can still keep going for a long time.
Cindy on the other hand had hit her physical wall. I looked back to see that she was sitting on the ground under the shade of a big tree with her head in-between her knees.
I turned around and rode back to her. She let me know that she just needed to cool off for a minute and catch her breath. I rode a ways back up the trail before turning around to ride back to her as she was climbing back on the saddle. I had to keep moving as my legs were already starting to cramp up.
Just as the rain started to pelt us, we saw the safety of George & Wendy's Seafood Grill. We knew this was good food and they even had a little outside  seating area where we could rest a minute and allow the strong winds to dry us off from that last hour of work. With the storm blowing in, the temperature had dropped from 96 degree's to the high 70's. That drop in temperature felt like standing in front of an air conditioner which felt amazing. While we sat out on the patio, I went in and got us a couple of huge glasses of ice water to try and start replenishing all the fluids we'd lost.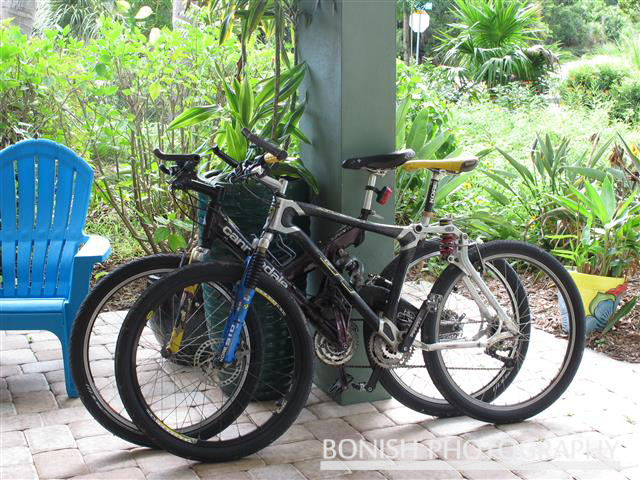 The rain was coming towards us as we could see it a ways up the road, so we decided to grab a bite to eat and see if we could wait it out. We both relaxed and had some lunch, some drinks and waited more than an hour in the safety of the bar, but it hadn't started raining yet. The winds were blowing something crazy outside and we could hear thunder all around us, but other than a few light sprinkles that had passed over, we thought maybe we had missed the storm. We decided to try and make it the last few miles to the cottages.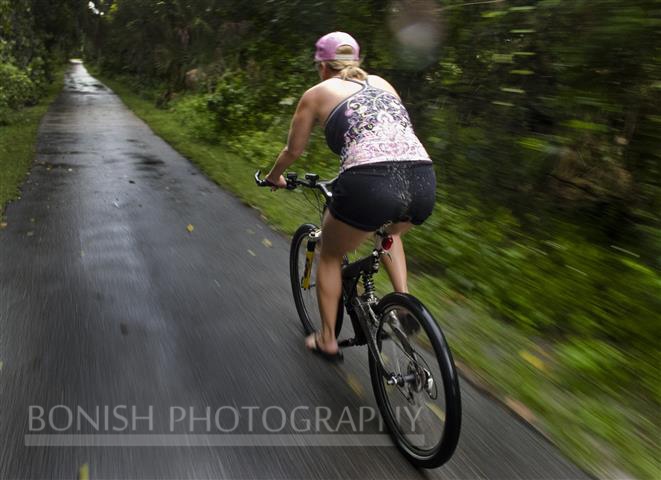 We only rode a block up the road when the wall of water hit us. It was raining cats and dogs and was hard to even keep your eyes open. By this point we were both soaked and knew we just needed to suck it up and ride those last few miles home in the rain. Hopefully we wouldn't get struck by lightning since it was crashing down all around us.
Once home at the Seahorse Cottages, we stripped down on the back porch of the apartment, changed into swim suits that werent covered in road grime and soaked in the pool for the rest of the afternoon. The pool was perfect to soothe our sore legs, backs and arms after the 26 mile ride, and was just what the doctor ordered. I would think that if we hadnt swam and been in the pool after this ride, we probably  wouldnt have been able to get out of bed the next morning due to how sore we would have been.
After a hot shower and a little nap, we drove up to Captiva Island and the Green Flash where we both had some excellent dinner. Tonight was another night that I think I was asleep before my head hit the pillow. But tonight was much deserved compared to just driving all day yesterday.