Sanibel to St. Pete Beach
With a great nights sleep behind us, we awoke early this morning to tight and stiff leg muscles. What were we thinking yesterday? Who just gets on their bikes and goes for a 26 mile bike ride in 90 degree temperatures with really high humidity? Especially when the longest bike ride you've done in the past few years is maybe a mile or two. Like the old saying goes, "If you're going to be dumb, you'd better be tough!"
We packed up the Subaru and headed North up the West Coast of Florida. Cindy and I have heard a bunch of good stuff about Siesta Key and thought we'd stop there to check it out. Now you'll have to hear me out first, and if you know the area, then you're going to see how funny this is. If you don't know the Siesta Key area, then learn from our mistakes.
I get people telling me all the time when visiting Cedar Key and our little Tiki Bar that it reminds them of Siesta Key. They sit around and tell me that Siesta Key used to be just like Cedar Key before the development took over. So I'm thinking that it's going to be this quaint, little beach town with a few chain restaurants that have recently been built, maybe a few condos that are being built or have just gone up. NOT! The next time someone tells me this, I'm going to take their drink away because they're obviously highly intoxicated.
Ok, we pull into this town, and both just started laughing. First of all, it's nothing but high rise after high rise condos built right along the beach. You cant see the beach at any point because of all the condos, most built way up above the 3 story limit which is what we have here in Cedar Key, so there is a man made wall between the ocean and the road. All of these condos look like they've been built well over 20 years ago, so when people say "Back before the construction took over", I guess they must be talking about back in the 50's or 60's. We were at a loss for words wondering if we had the right area?
There was not one thing, not one area or anything we could see that reminded us or even resembled Cedar Key. That's both good and bad depending on which way you're looking at it, but don't ever come here thinking it's a small, little fishing town time has forgotten. It's not a bad area by any indication. There is lush tropical foliage, it's beautifully maintained but it reminded me more of Delray Beach which is another beautiful beach community.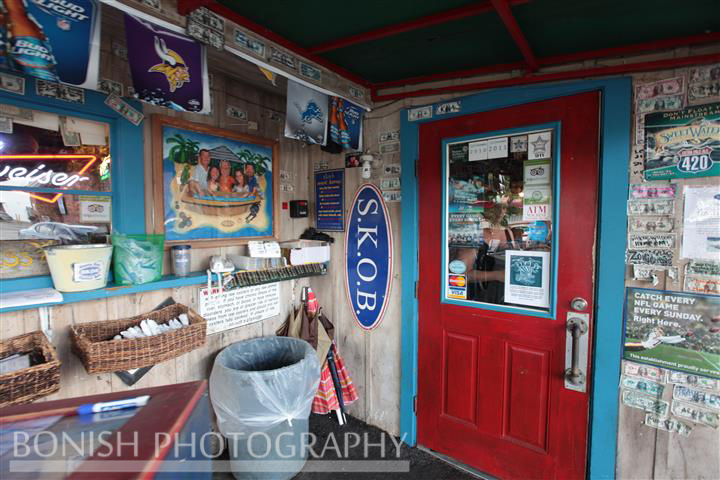 By this point, we were both hungry so we parked the car and found a restaurant that had some outside seating. We found the Siesta Key Oyster Bar and grabbed a seat out on the patio. This place is pretty funky and had a very good vibe going on. The service was top notch and both our meals were excellent. I ordered Buffalo Chicken Taco's that were topped with Crumbled Blue Cheese! Mouth Watering and something I could live off of for the remainder of my days.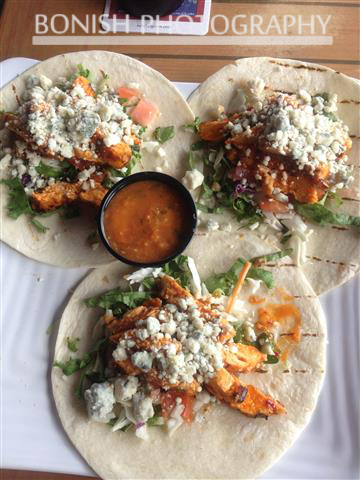 If we had come to Siesta Key without the notion of it resembling Cedar Key, I think we'd have probably hung out longer or even looked for a place to stay. But I didn't like that you couldn't stay on the beach. I mean if you're going to be in a beach town, then why not stay on the beach. Especially since Siesta Key owns the award of being voted one of the top beaches in the United States. The beach itself is huge and bright white sand with a nice turquoise colored water as a backdrop.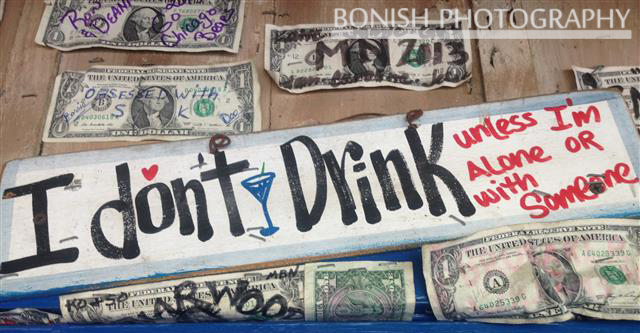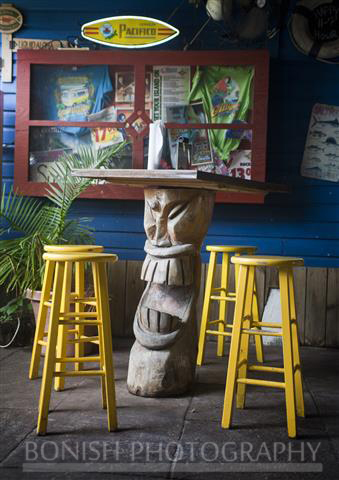 But during our visit, it was pouring down rain, so after barhopping and hitting a few of the places along the Main Street, we climbed back in the Subaru and headed further North towards St. Pete Beach.
Interweaving out of Sarasota and onto Longboat Key, we had hoped to stop and check out this beautiful area, but the rain never let up. Luckily we had stopped and bought new Rain-X Wiper Blades on our drive down, something I always question when you're in someone's vehicle and they have crappy wipers? If they made wipers that cost $100, I'd buy them. With the rains we get in Florida, why have anything but the best they offer?
Heading off of Longboat Key, we were driving through the little town of Cortez, which has a very funky, fishing village feel to it. We were rolling through just taking in the sights when we passed this roadside place that had me screeching to a halt. When you have a shop where the front yard has a giant old wooden boat with a skull sitting atop it that's the size of our car, you've got my full attention.
Cindy looked up from the map she had sitting in her lap thinking we were getting into an accident and screamed "What the hell are you doing?" as I yanked up the emergency brake spinning the car around in the middle of the road. When she saw the front of the Sea Hagg shop, she said "Give me your credit card right now and let me hold onto it!"
This place was pure eye candy for a photographer that enjoys Still Life. It's even better for someone looking to decorate with a Nautical Theme. The place was a hoarders paradise and I was instantly on sensory overload. Cindy went one direction as I went in the opposite towards something that had caught my eye. An hour later, when we finally bumped into one another, she said "I've seen so many things that I want to buy, that at this point, I cant pick anything! I'm totally overwhelmed"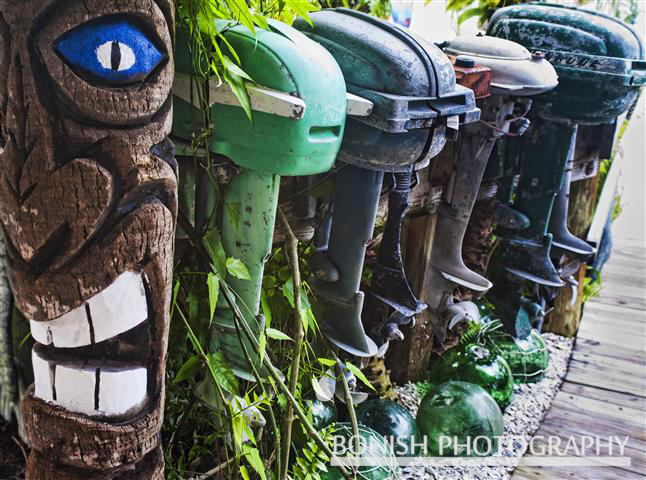 In case the owners of the Sea Hagg Shop ever read this, I'll throw out one hint or suggestion. You have many outstanding items on display. Problem is your prices are so high, that you'll probably end up going out of business before you could ever make your investment back. I saw a ton of things that I would have bought, but the prices were double what I can find them for by shopping around. Cindy and I have a nice collection of antique Signalling Devices used on boats and ships. Either we have a nice nest egg for retirement, or this place is charging more than we ever thought about paying. One light we have that we paid $300 for and is in very good condition, they were selling an exact duplicate for $799. Theirs wasn't in as good of condition as ours is and the Fresnel Lens was cracked in theirs?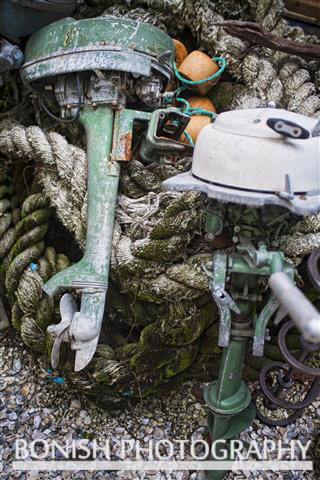 I don't mind spending a bit more by shopping local, but there has to be a line drawn where you just say "That's just outrageous " Many items they had were absolutely breathtaking and one of a kind, and I fully understand those exaggerated prices and would almost be willing to spend it if I had that kind of money, but many items were just junk and were being sold for wayyyyy too much.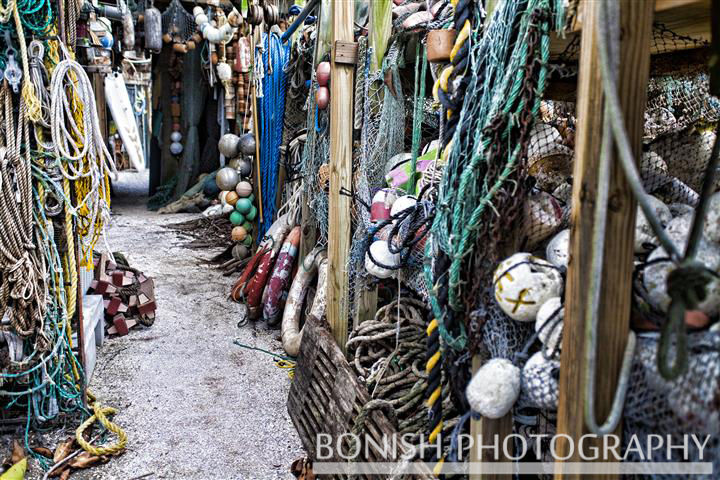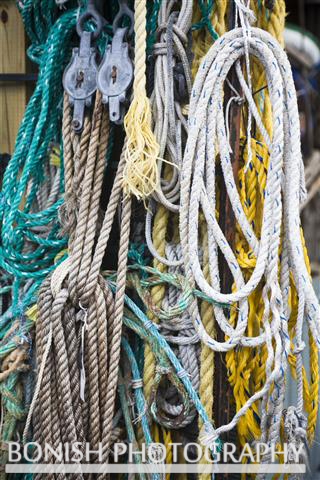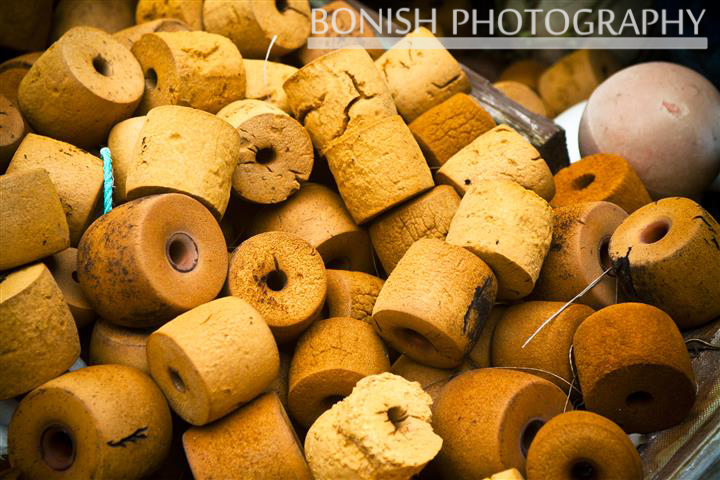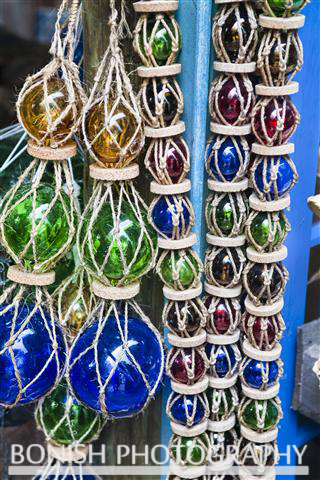 Either way, it was a super cool shop and one that if I ever get back to, I'll plan on spending more time searching through their piles and piles of treasure. If you're ever in the Cortez area, stop by just to indulge your eyes or your camera lens.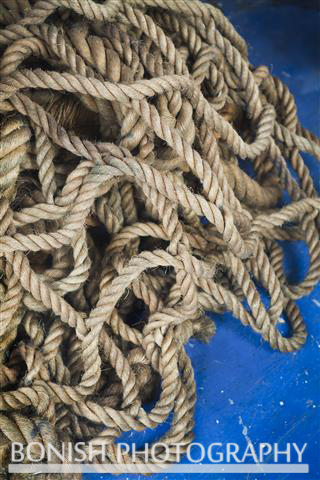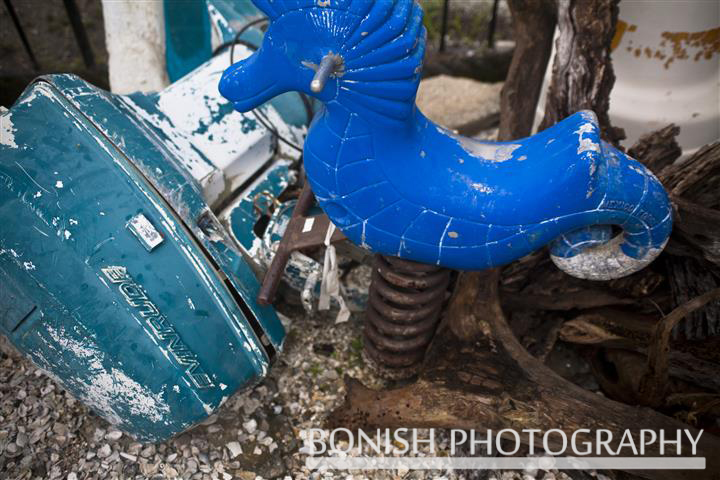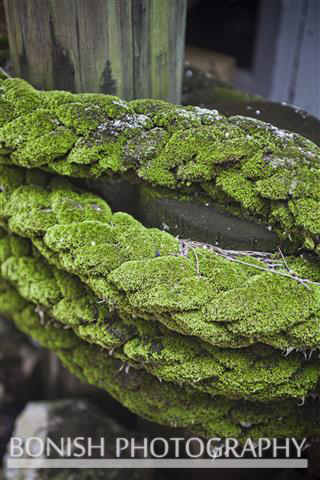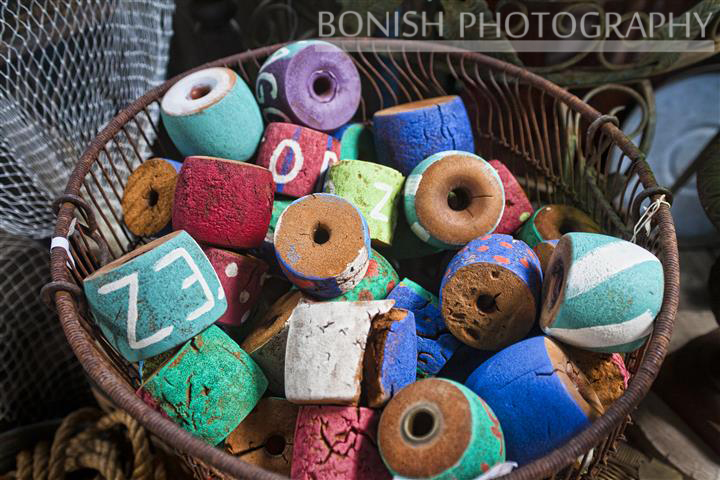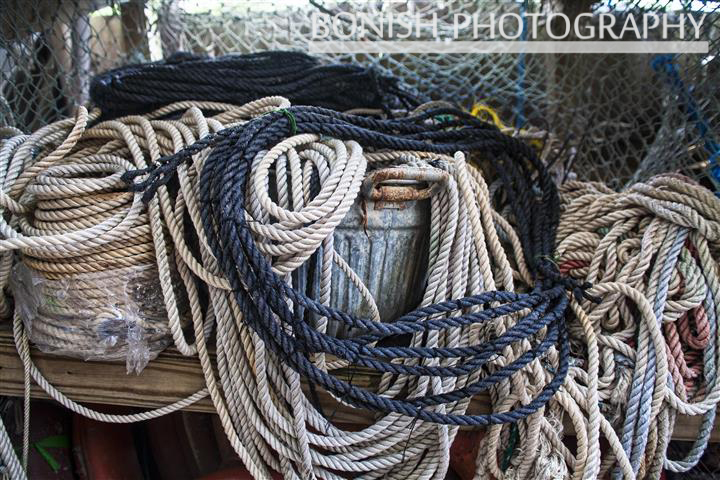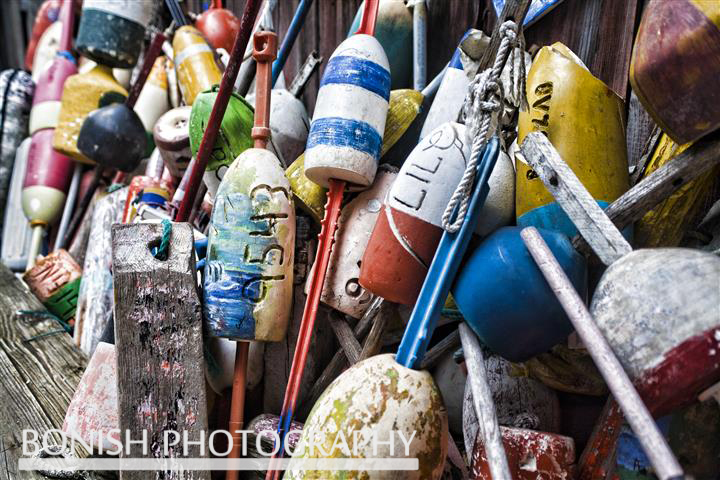 Our hour long visit was only cut short because it started raining again. We piled back into the Subie and headed north across the Skyway Bridge towards St. Pete Beach. Cindy had found a place on Trip Advisor that she thought would be a good place to stay the night. We hadn't originally planned on spending 3 nights away from the Low-Key Hideaway, but Cindy had called Amber back at home this morning and she told us she had everything buttoned down and was doing fine, so we thought we'd take advantage of the situation and explore a little more of the West Coast.
Pulling into St. Pete Beach, we were headed up the Strip which is very long and developed. There is every motel, hotel and type of cottage under the sun to pick from. Everything from tiny Mom & Pop's type cottages like we stayed in on Sanibel to the historic Don Cesar or 'Pink Palace' as it's known. Cindy had picked a hotel that was #1 on Trip Advisor and we were headed towards that place when I spotted the Post Card Inn.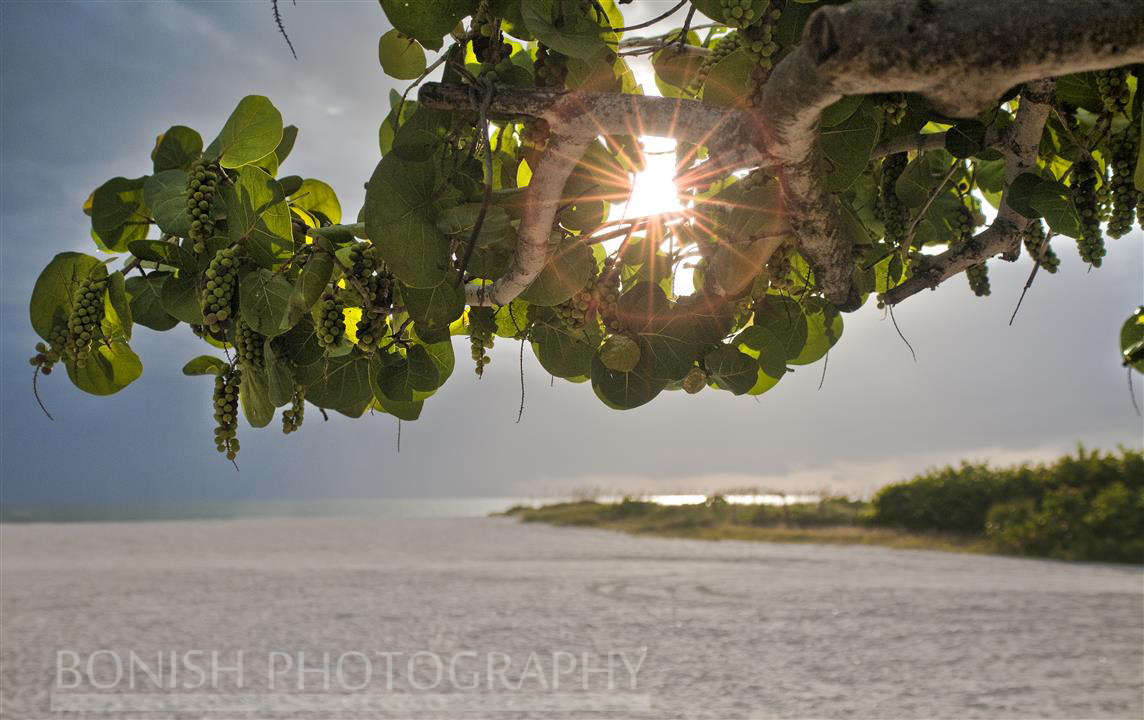 Before even looking at the other motel, I pulled into the PCI to check it out. We had been approached by a couple that was looking for a wedding photographer awhile back who told us their wedding was going to be at the PCI. This made me look it up in order to quote them a price. We have basic wedding packages listed on my website, but each wedding is different and unique to that couple. In order to give someone a fair price, there is no real standard price.
I guess my prices were too high as they never hired us, but don't get me started on Wedding Photography. It's a sore subject because I hate to have to explain to couples who are planning on spending thousands on their caterer and table decorations, but will try and skimp on their wedding photographer. Ask any married couple on their 10, 20 or 30 year anniversary how their food was the night of their wedding? Most would look at you and shrug their shoulders…but ask them if they still have a wedding photo hung in their house and most can point right to it. So the one thing that will really test the span of a relationship and be passed down from generation to generation will be the first thing they skimp on when it comes to cutting costs??  Doesn't make any sense to me, but then again I'm a photographer.
When I had looked up the Post Card Inn, it interested me because of their decorating ideas and use of funky designs. Trip Advisor was not that kind to them, but sometimes I don't agree with Trip Advisor and the negative reviews posted. You have to read the reviews and digest them somewhat for what they're saying. Most of the items that were negative with the Post Card Inn were complaints about noise from the bar, or that they didn't like that their room was facing the parking lot.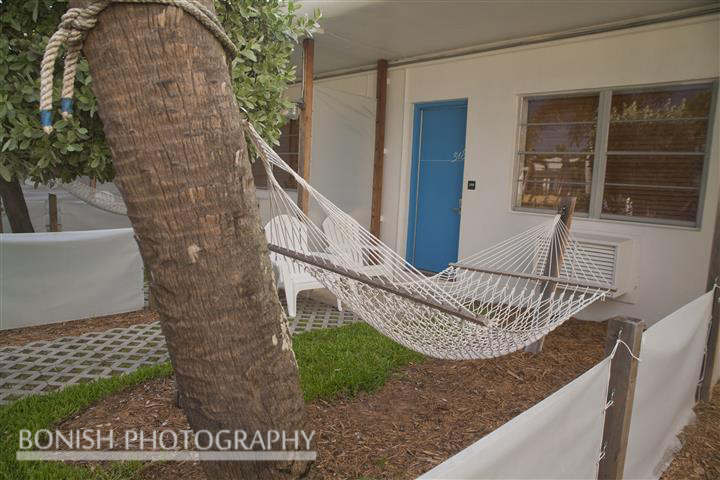 How do you make a reservation at a motel which offers tons of options, like pool front, garden view, or parking lot side, and then leave a negative review saying you didn't like your room because it faced the parking lot when you had the option to change that? It would be like making a reservation on a cruise ship and not picking a balcony berth, but then leaving a bad review because you didn't have a balcony? You have that option, so the review shouldn't be about something that was 100% up to you to change to begin with.
Whether Trip Advisor said they were good or not, I wanted to check them out simply to learn some design ideas that I look up to.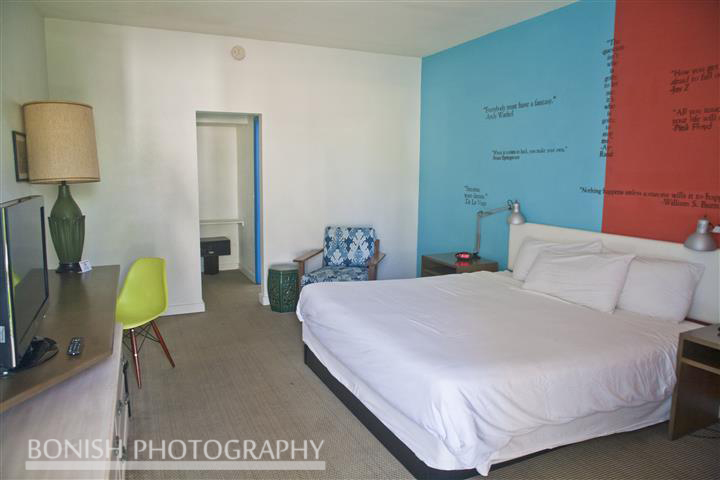 We asked the front desk guy if we could look at a room and check out the grounds. He offered us a map, a room key to one of the rooms that was pool front (That was the room we picked, he actually offered 3 different rooms to decide from) and told us to have a look around. I liked that the place was right on the beach, had a Tiki Bar that you could order food at, even if it was delivered from a different restaurant, and also had a pool. I love to swim, and unless there is a reef or something to snorkel around in the ocean, I'd rather swim in a pool if it's just for exercise purposes.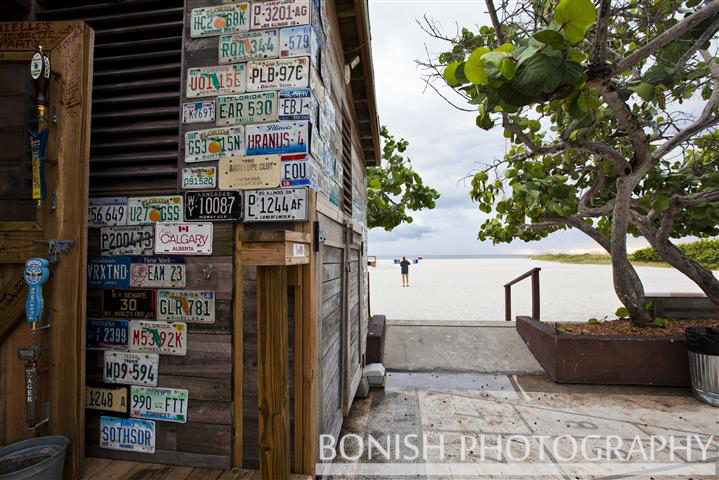 After checking out the room, which was decorated very minimalistic and fresh, we looked at the tiki bar and the beach. The sun was getting ready to set within the hour, so we either had to make a decision or leave and go find the other motel Cindy had wanted to stay at. We both liked that once we had checked in, we'd really never have to leave the property which is a must if you're planning on having any drinks.
We went back to the front desk and Cindy did the paperwork thing while I drove the car around the side of the building and unloaded our bags.
As luck would have it, that storm we'd been ducking in and out of the entire day was hurtling itself towards us, so sunset meant a cloudy horizon on the beach with light rain landing upon us. Once that was over, we headed into the tiki bar to check it out. Much like our tiki bar, it was decorated with license plates from all around the globe along with a smattering of washed up debris.
Needless to say, we both felt right at home. We enjoyed a few drinks and ordered some food that was delivered from restaurant that is attached to the front of the building. Food was great, drinks were strong and our last night of vacation was a total success, which is another reason to not always go by what Trip Advisor says.
The bar is open till midnight, but Cindy and I rarely stay up that late, so by 10pm, we were both ready to call it a night. This is where we can see how most of the negative reviews came into play.
If you're a light sleeper, or one that was expecting a quiet night sitting out by the pool with your significant other, than the PCI isn't the place for you. The crowd is younger, of the 21-30 year old age and was having lots of fun in the tiki bar. They continued to do so till well after we went to bed and remember that this is the slow season for Florida. I can imagine how crazy and packed this place must be during the height of season or during Spring Break! Luckily for us, our Air Conditioner was very loud, so it drowned out the hoots and hollers coming from the bar patrons, but that wouldn't have bothered us even if it had been a whisper quiet model.
The king sized bed was super soft and comfortable and we both slept like tuckered out kids the entire night. It was another great day and we were both glad we had decided to stay one day longer.