Tropical Storm Andrea Hits Cedar Key
Funny how fast things can change here in Florida. Couple of nights ago we were sitting out on the dock enjoying a sunset and slapping at the bugs because of how calm and hot it was. We wake up this morning to the sounds of high winds and rain pounding the metal roof.
I checked the radar around 4:30am and knew we were going to have an interesting day. The entire state of Florida was covered with a big storm that was dumping tons of rain and bringing lots of high wind. It wasn't officially a hurricane, but the winds were fast enough and it was developed enough that she got a name and 6 days into Hurricane Season, we'd have Tropical Storm Andrea heading straight for us.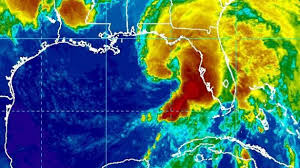 By the time it was light enough outside to see what we were doing, Cindy and I suited up in some rain gear and started battening down the hatches. We took the chairs off the dock, stacked the colorful chairs we have in front of the motel and put anything away that might get blown away if the winds did pick up.
I ran downtown early to see what the waves were doing to Dock Street and luckily, the City of Cedar Key was on their toes this time and had the outside docks removed already. You might remember Last June when we got caught by surprise almost this same week with Tropical Storm Debby that did some serious damage to many of the docks that had been left out.
County Workers had trucks all over town putting out road block signs in case the streets were to get flooded later this afternoon when Andrea was expected to make landfall. Again, I was surprised, but felt comforted that our municipal workers were on their 'A' Game this time.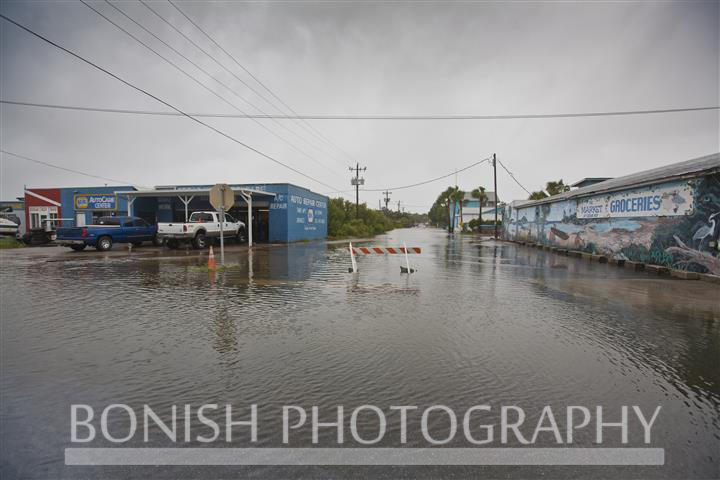 High Tide wasn't till 12:44, and the waves were already pretty big, so I ran home, put the cameras in their protective Think Tank Rain Covers and got Cindy. These rain covers are the bomb and allow us to shoot in the pouring rain and not have to worry about the cameras getting wet. They've allowed us to capture some amazing footage since we've been in Florida and they're worth their weight in gold. I cant believe how many photographers I see with a plastic bag haphazardly covering their equipment in a driving rain!?! Spend thousands of dollars on gear, but skimp on keeping it safe???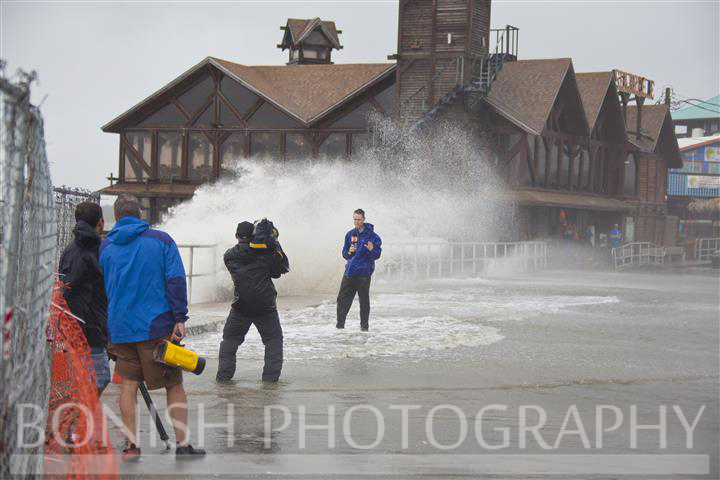 So we get downtown, and within the time it took me to go home, pack up the cameras and grab Cindy, the weather had turned to shit. The waves were now crashing over the seawalls downtown and Dock Street was already closed off. News Crews from all around the state were parked in the marina parking lot with their satellites uploading their news feeds to the networks.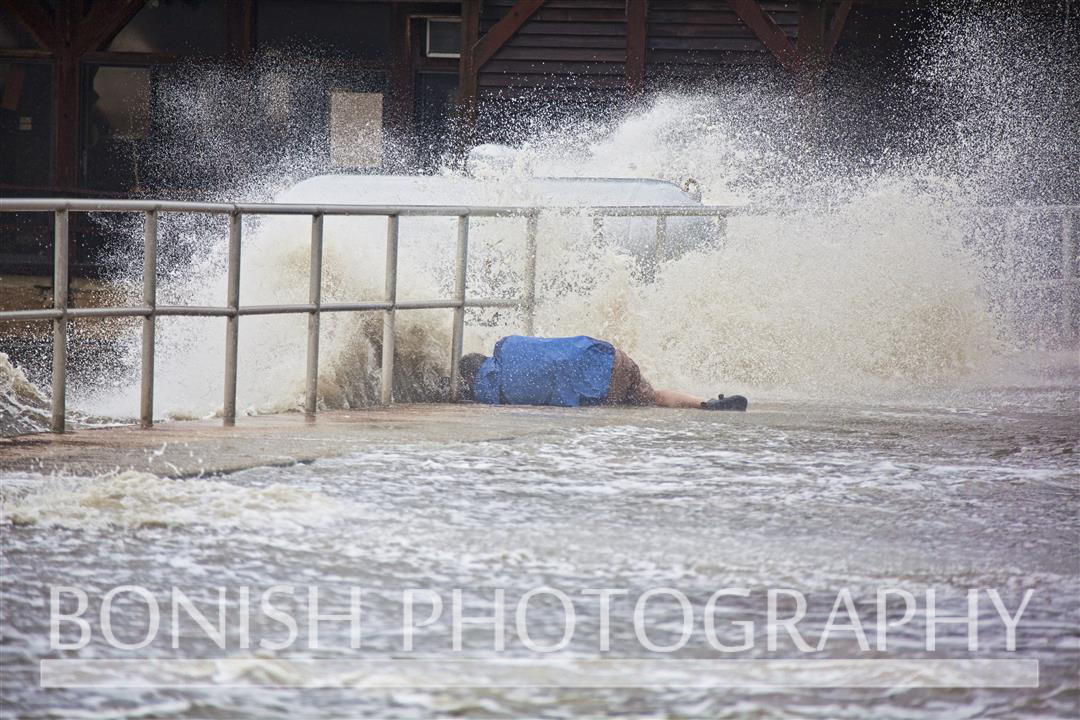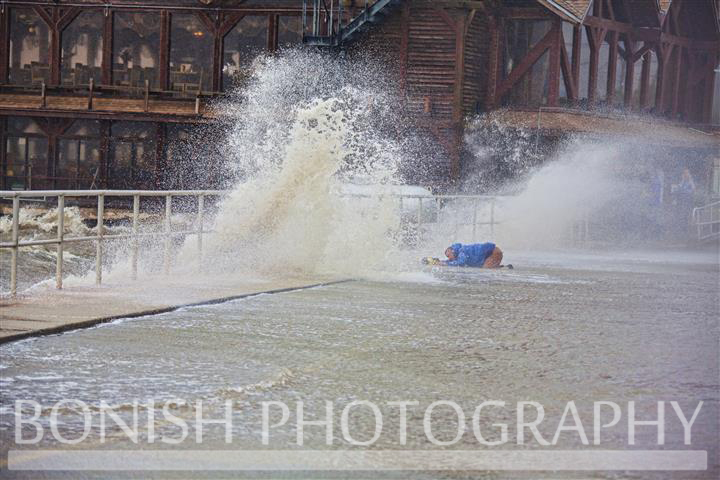 The guy in the photo above, Jim Edds from Extreme Storms.com has the yellow housing in his hand waiting till these guys were done shooting their feed. Once they were finished, he walked out to get some shots off the surf crashing over the wall. It was pretty entertaining to watch how dedicated he was to get his shot!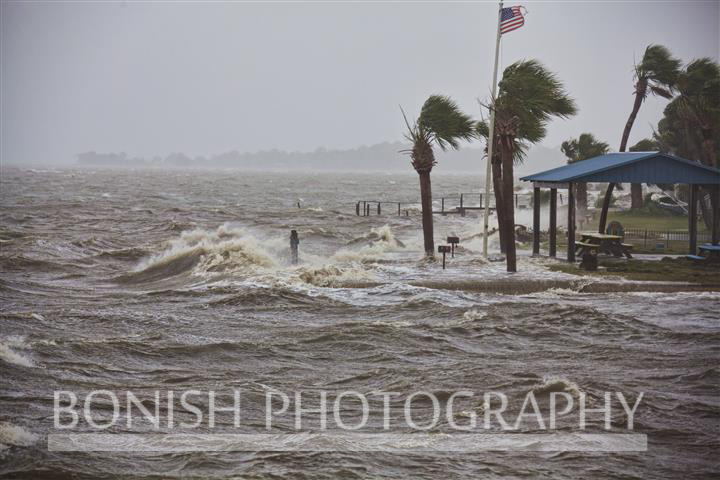 Here the waves are crashing over the seawall behind the Gulfside Motel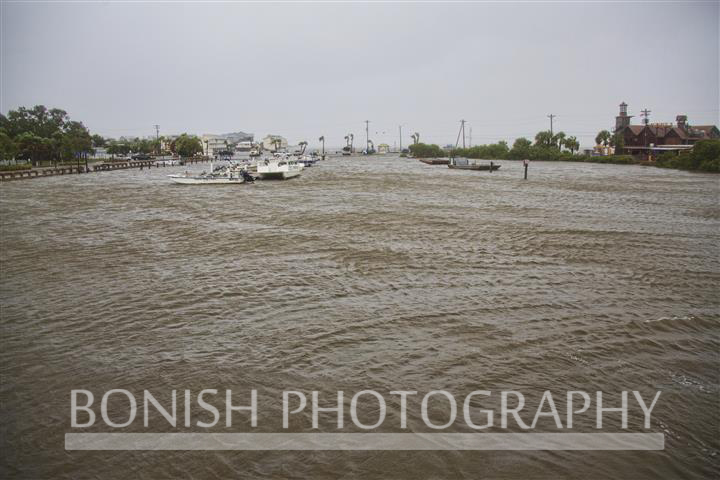 Looking East across the Marina. The water was so high and you can see how hard the wind was blowing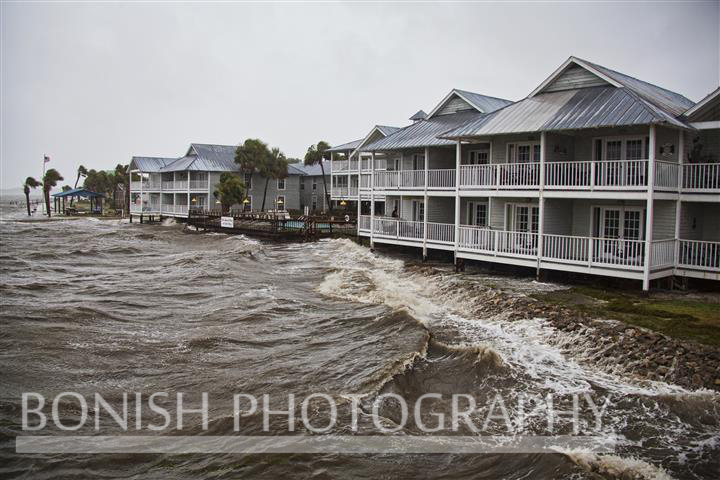 Waves crashing behind the Island Place Condos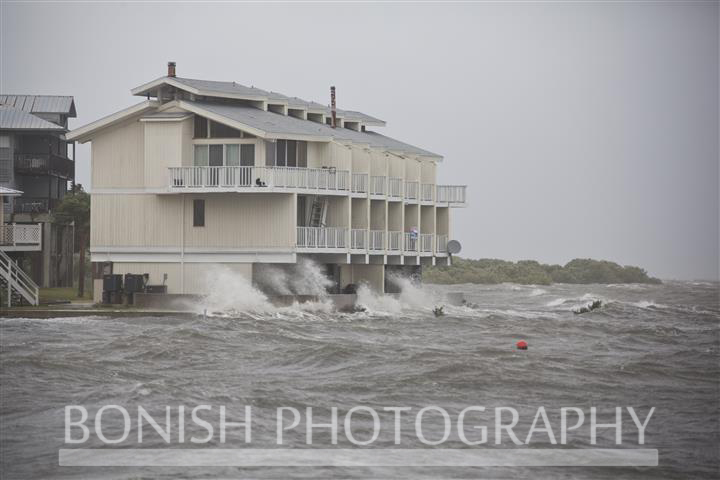 There is normally quite a bit of beach behind this building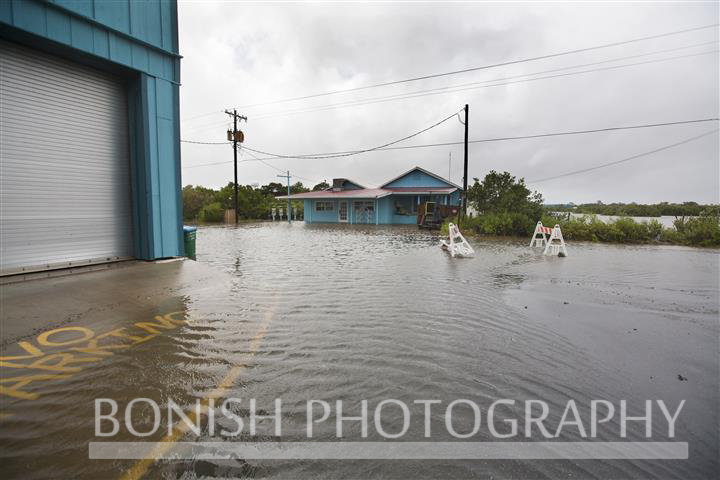 3rd Street was flooded out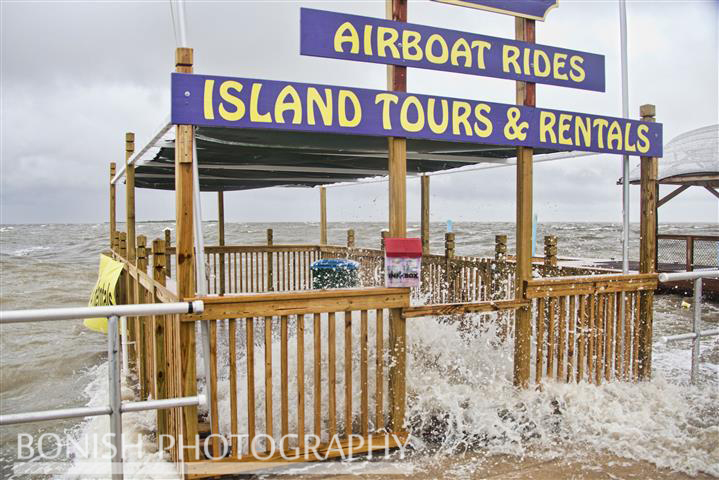 These docks were just recently finished being rebuilt after last years storms tore them out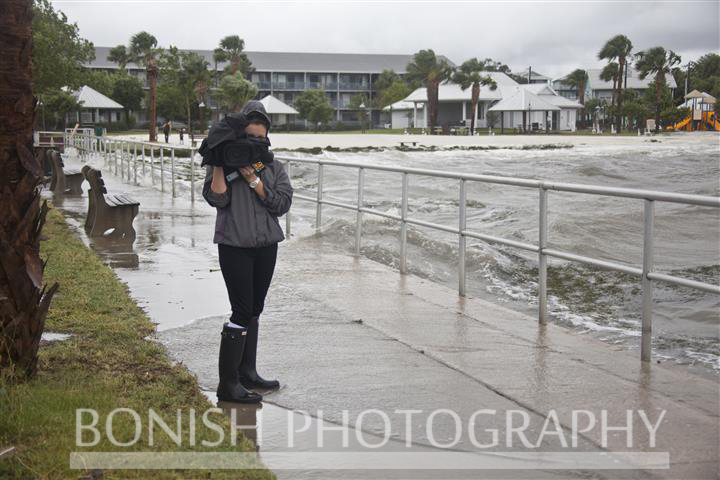 TV20 News Reporter Emily Burris getting her shot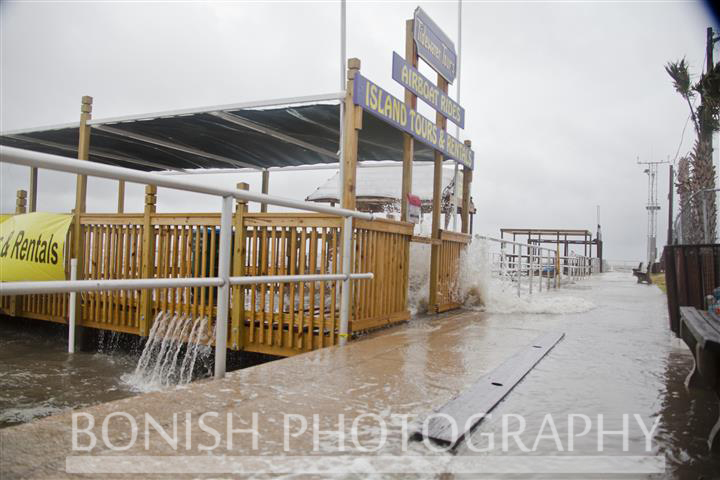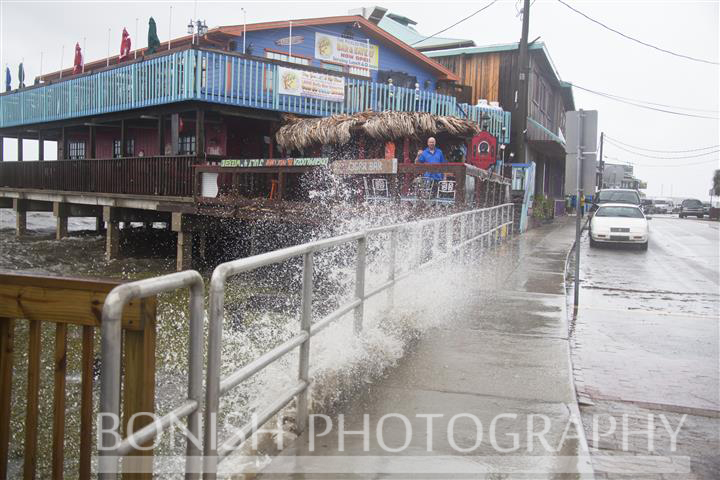 The Owner of the Black Dog Bar was standing out on his deck sipping a beer saying "What, you call this a storm?"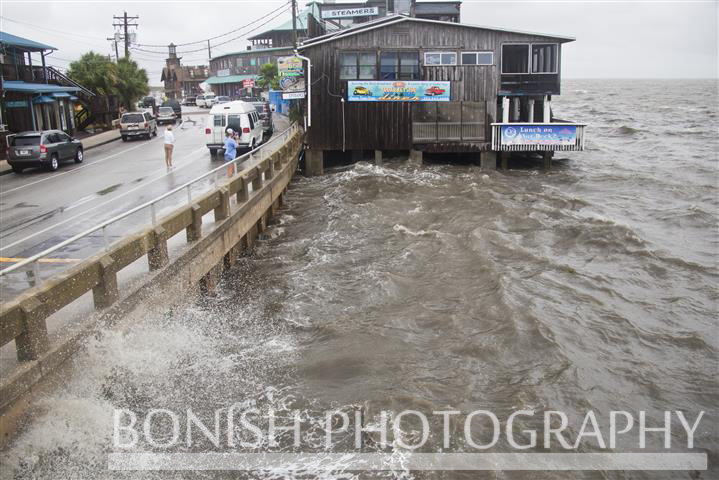 Cindy and I spent the majority of the afternoon walking around town, getting soaked to the bone, but being in awe of Mother Nature's power. There would be times when the rain was coming down so hard and the wind was blowing so fierce, it felt like you were getting stung. Then it would clear up, the wind would die and there were even times the sun came out. 20 minutes later, it's all hell breaking loose again. It did this repeatedly for most of the day.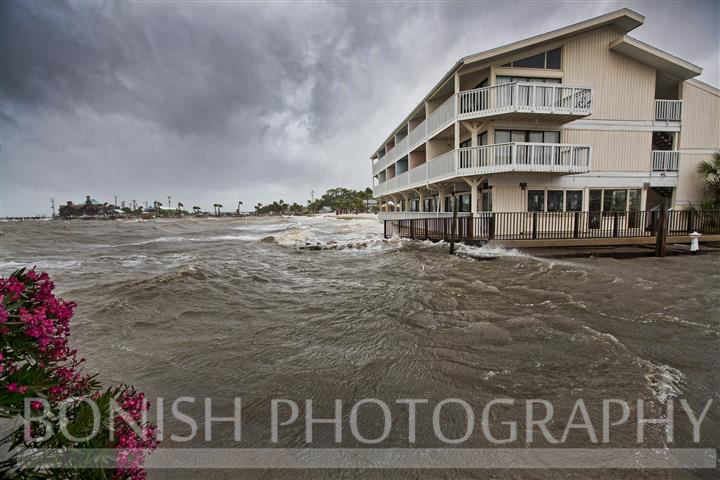 Cedar Cove and the Island Room had water lapping at the windows for most of the day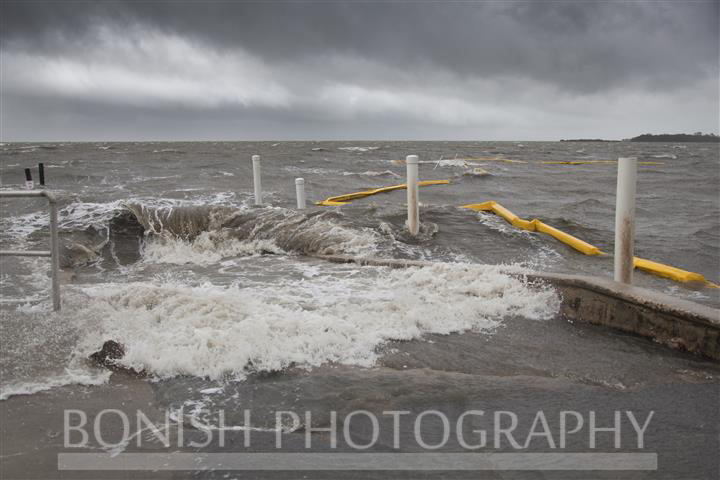 This was the outside boat ramp where you'd normally launch your boat. The waves were coming right up and into the marina
Cindy spent most of the day shooting video with her iPhone and posting it to Facebook. If you're interested in seeing her videos, check out her Facebook Page.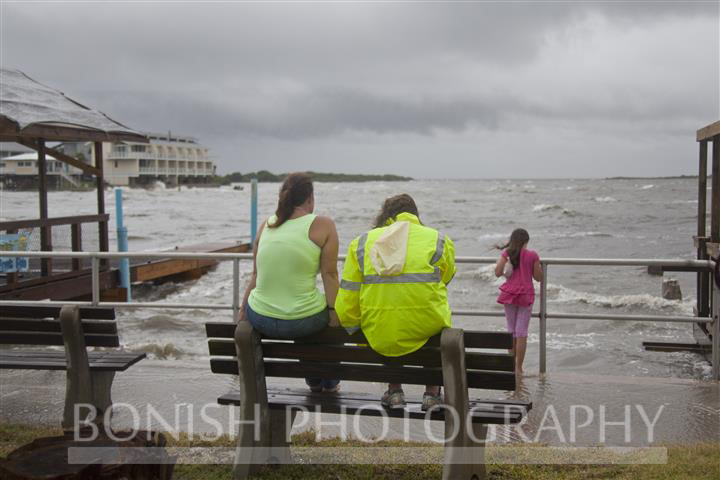 Wendy Slaughter was sitting on the bench watching the storm roll in with her kids as were many Cedar Key locals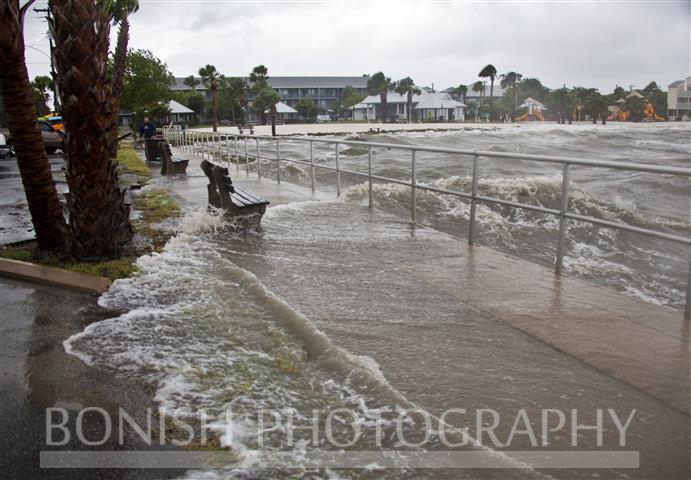 Luckily for us here at the Low-Key Hideaway, the winds were coming out of the Southeast, which means were were protected back in the calm of the storm. Sure the wind was blowing something awful out at the motel, and there were palm branches all over the yard, but we didn't have the waves crashing into or coming over our seawall. I keep crossing my fingers with each storm.
I'm the type that if we get hit, I want it to be a full blown destroyer of a storm. Don't just do a bunch of water damage that takes weeks to clean up and it's not even worth filing an insurance claim. If you're going to hit us, take the building with you so we can just start from scratch. Luckily we've yet to have ANY damage, and I'm knocking on wood as I type that.
Tomorrow we'll head downtown to see what needs to be cleaned up, but hopefully it'll be like last year when a day after the storm, you'd not even have known it had blown through other than a few docks that had some damage. I do think the Honeymoon Cottage has taken her last hit. She's not much more than some poles standing up with wood piled up atop them. It's hard to even make out what it was unless you are familiar with the structure.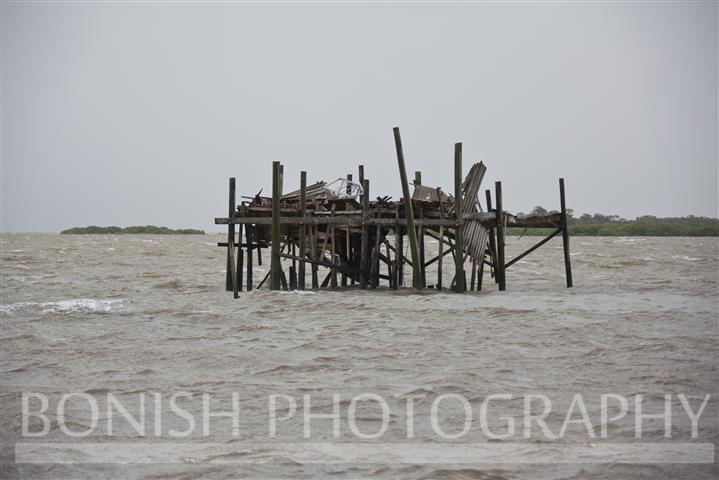 This was the start of the day and what the Honeymoon Cottage looked like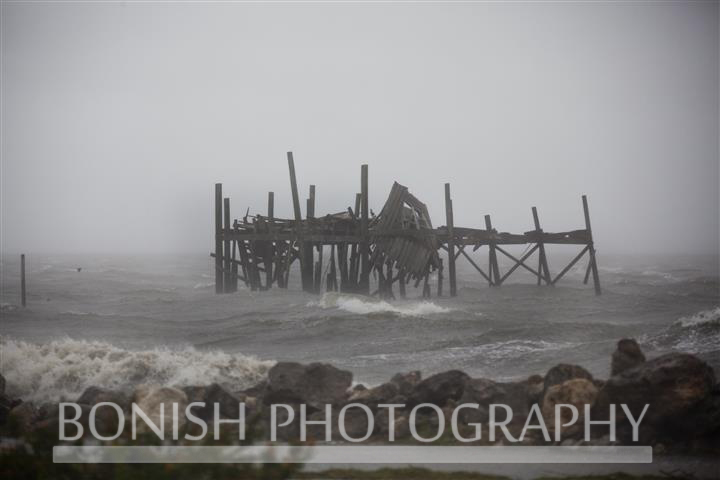 This was around 5pm when the winds were blowing something awful and had been for hours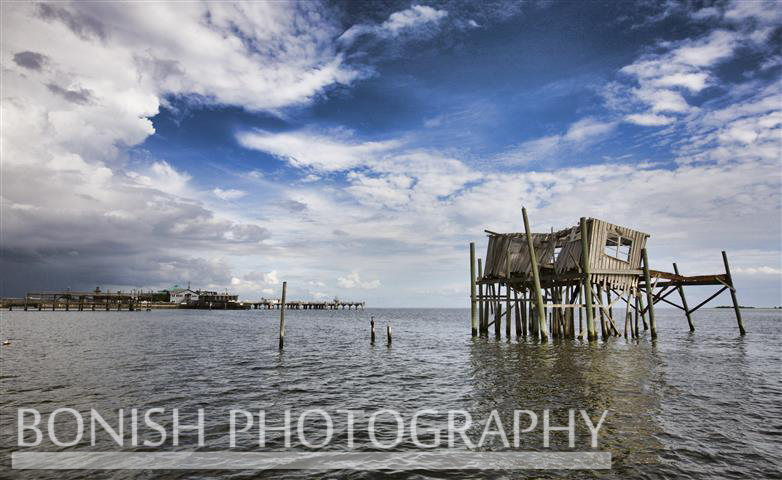 For reference, this is what it looked like last year before Tropical Storm Debby blew through
Tomorrow will be another day and we'll see what Mother Nature has to offer! This one wasn't all that bad, and it got us geared up for Hurricane Season with a little taste of what's to come. More photos can be seen here if you're interested.