Cedar Key Small Boat Show 2013
You would think that living in a small coastal community on the Gulf of Mexico, the view over the water would be filled with sails on a daily basis. Questionably this is not the case in Cedar Key. From time to time, sail boats will come and go, but I guess with no Mooring Field for them to anchor safely out in the channels, they just sail on by heading for safe anchorages.
For one weekend a year, usually the first weekend of May, a small community of sailors and boaters from around the country get together to show off their small boats. Not all of them are sailboats and many of them have motors of some sort, but almost all of them are home built masterpieces. This is one of my favorite weekends in Cedar Key. This to me is what every weekend living in a small coastal town should be like.
We have a slight offshore breeze that blows on an almost constant basis. Small boats with shallow drafts like Hobie Cats or Shoal Boats are ideal around the Cedar Keys as they can sail right up to the edge of the beaches and aren't too hindered with our shallow waters.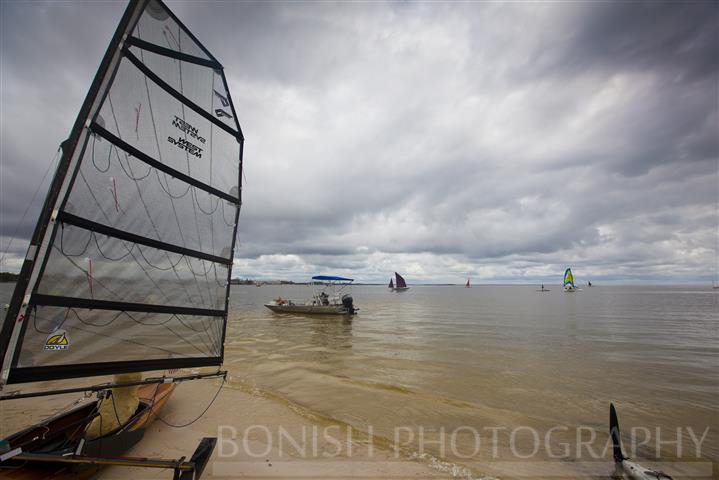 Saturday looked a little iffy, with some dark clouds on the horizon, but we figured we'd head out and see what the sailing group was up to. Cindy, Jay and I left from the dock at the Low-Key Hideaway and picked Scott, Karen and a good friend of there's, Val, that was visiting from Maine up at the docks downtown.
The beach at Atsenia Otie Key was already loaded with boats so we motored over there to have a look. Heath, Jolie and Norm were even out taking in the sights in Heath's boat. I find it funny how some of us locals love to come out and see all these beautiful boats while others wont even go on the water because they don't like when the narrow channels are this busy.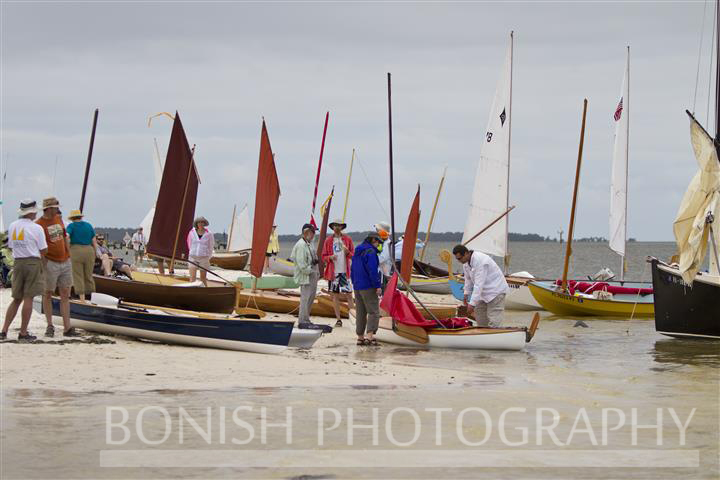 The way I see it is these boats aren't making any noise, they're beautiful to look at and the folks bringing them into town are usually very interesting to talk with. Most of them have spent years building or researching these boats, so they're a wealth of knowledge to learn from. Sailing has it's own vocabulary, so most of what they're telling me is completely foreign, but I'm always interested in learning new things.
The tide was in pretty far, so we were able to anchor right off the beach atop a sandbar. This gave us the ability to let the boat float in a foot or so of water while us guys walked ashore to drool on the fine craftsmanship that lined the beach.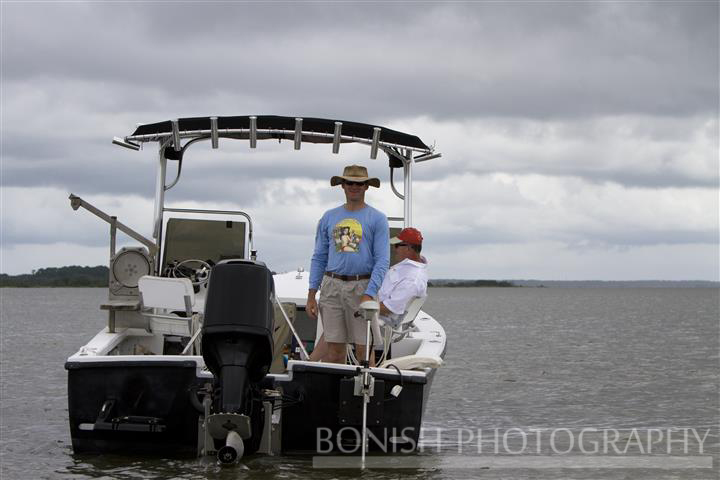 A few people recognized me from last year and asked me to take photos of their boats. I was surprised at how many people will go to great lengths to build such a beautiful boat, but not have a professional photographer photograph their work once it's finished.
I was loving the variety of boats this year. There was everything from small wooden kayaks with top of the line sails, to home built boats with Tyvek house wrap used for the sails. Something that I jotted down to try out at a later date.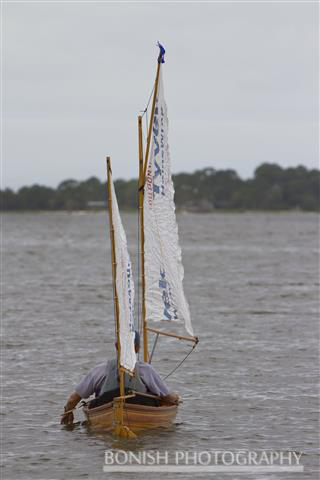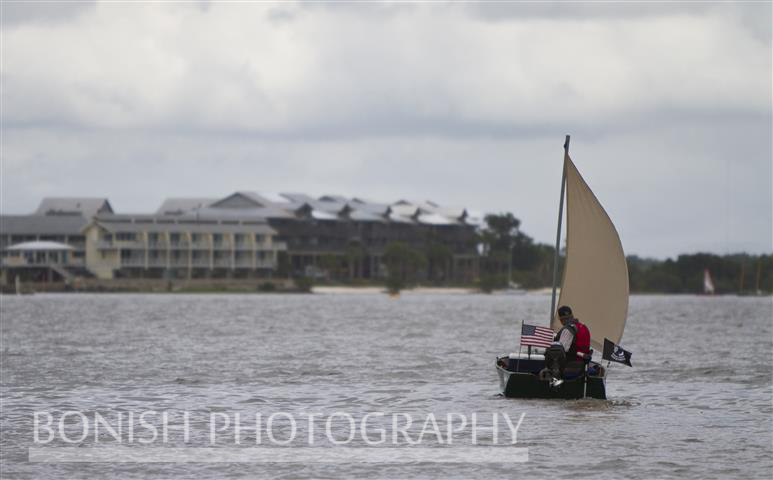 One guy had a little aluminum V-Hull fishing boat that had a homemade sail on it parked beside a carbon fiber Tri-Maran that had to cost over 6 figures. After awhile of most of the boats sitting idle along the shoreline, the winds started to pick up as the tide started to head out to sea. This gave us a chance to see almost all the boats on the water with their sails full. By this point in the afternoon, the skies were starting to clear up and the day was turning out to be perfect weather wise.
It put such a big smile on my face to see the waters around Cedar Key filled with sailboats no matter which direction you looked.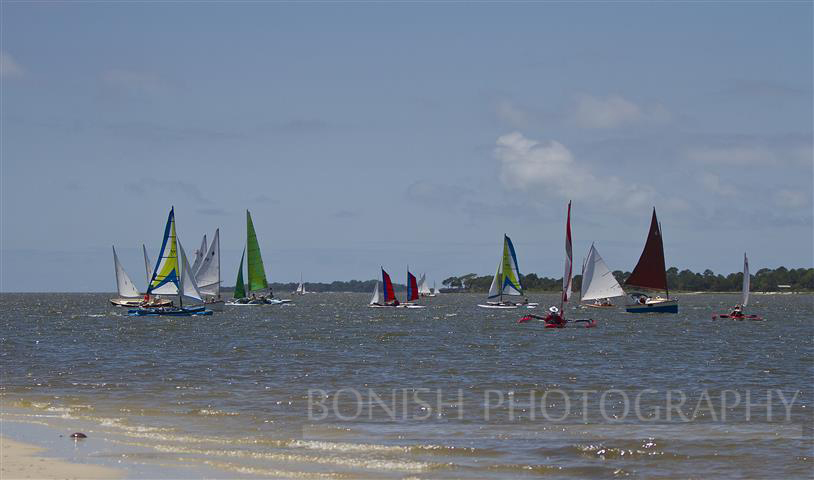 At one point, one of my favorite locals, Bobby Witt, sailed up on his Hobie Cat and asked if any of us wanted to go for a ride. I jumped at the chance and asked if I could bring my camera? Bobby sort of hesitated and said "You should probably leave it on your boat or it'll get wet." I started whining saying that I wanted to take pictures while sailing. He suggested I wrap it in a plastic bag or some sort of waterproof case if I was dead set on bringing it, but he reassured me that it was going to get wet. I hadn't thought I'd get in the water, so I had left the Ikelite case back at home.
I just figured I'd take the chance and risk getting splashed, but luckily Cindy was there to put her foot down. She piped up and said "Either wrap that in a Ziploc bag or leave it on our boat!" The Boss had spoken and luckily I listened to her.
I always carry a few large Ziploc bags in our Pelican case just in case we're caught in a rainstorm, so I grabbed one out of the case and wrapped it around the body of the camera. I left the lens poking out the front of the plastic bag and figured it wouldn't matter if the front of the lens got a little splashed.
Bobby's Hobie Cat is super light weight with big sails, so before long, we were flying over the water with very little actually in the water other than the rudders. Thank God I had listened to Cindy because we were getting soaked from the front of the pontoons splashing through the waves. This felt awesome to be only a foot or so above the rushing water as we laid on the trampoline between the pontoons and moved along at a high rate of speed.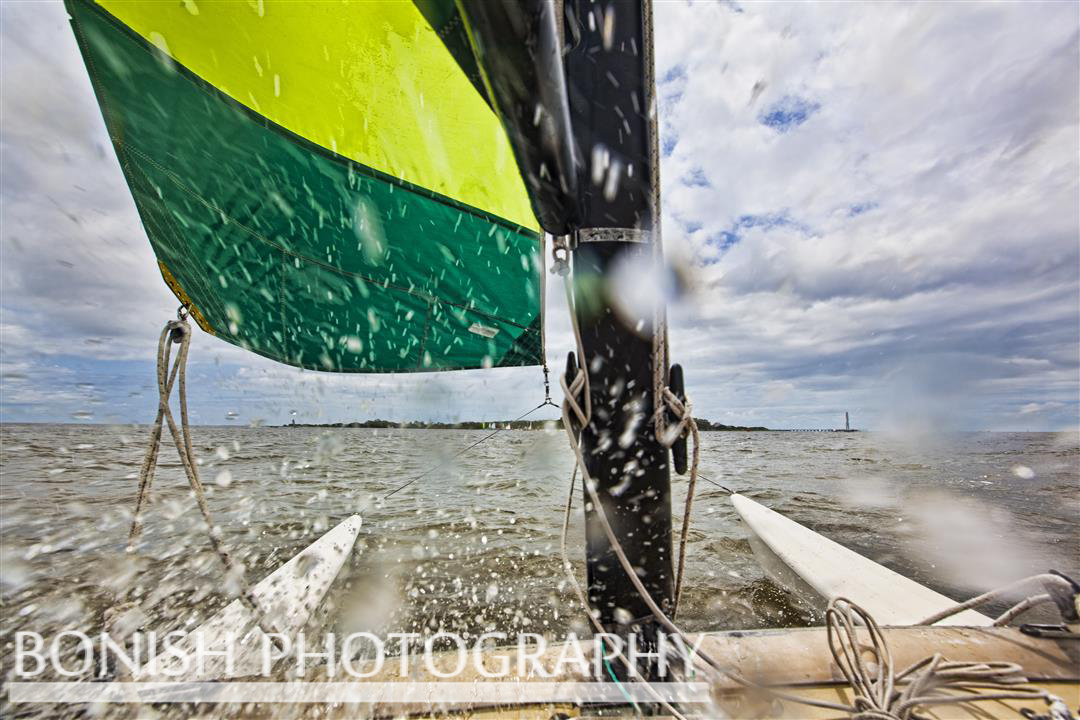 If you've never sailed before, it's hard to describe how cool it feels to be moving along with no noise other than the sound of the water. When you tug on the lines to bring the sails in tighter, it's the equivalent of pushing the throttle up on a powerboat, only there is zero noise. It's such a rush and something that could probably be very addicting for my adrenaline production.
I can see Bobby and I spending lots of time out on this sailboat of his.
When we finally came back up to where our boat was anchored, Jay switched spots with me and went for a ride. They were gone for awhile as they raced other sailboats up and down the channels in the wind.
Jay finally came back soaking wet and had a smile from ear to ear. He climbed off the boat and said "Yep, I'm addicted!"
Looks like a Hobie Cat will be our next purchase!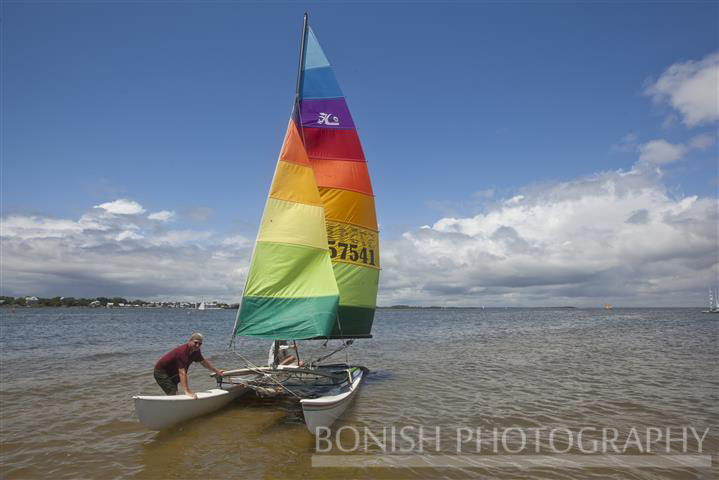 We hung out on the sand bar till it came time to shove off and head back to the Low-Key Hideaway so I could open up the Tiki Bar. If it were up to me, I'd have hung out for the rest of the day, but I have to work every now and then to fund this fun we're always having.
I'm already looking forward to next years Small Boat Show! If you want to see more photos from the day, check out the Cedar Key Small Boat Show Gallery Here.