December 31st 2012 – New Years Eve!
The last post of 2012!  What a year it has been!
Cindy and I were up before sunrise to go down to the beach and watch the sun come up for the last time this year.  Not that Cindy wanted to, I more or less guilt-ed her into it.  I was walking out the door with the camera gear when I threw out one last comment like "Fine, stay in bed, I guess I'll go watch the sun come up for the last time this year by myself."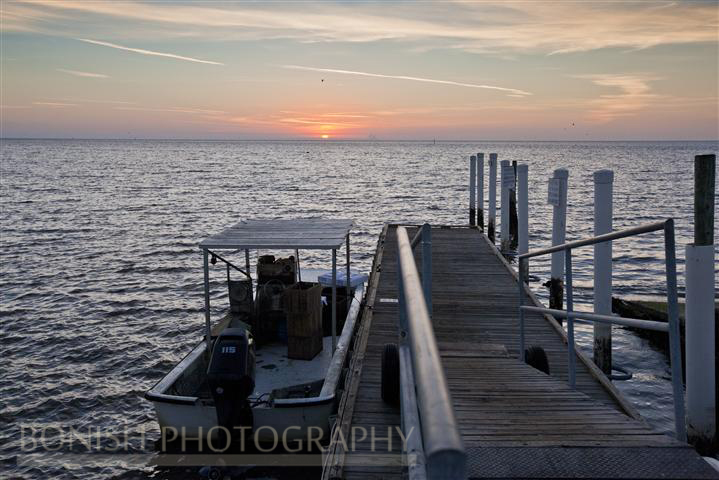 In reality, I was joining John and Patrice, two friends who are staying with us this weekend.  We had talked last night at the tiki bar when Patrice was showing me her sunrise photos from the 30th and how beautiful it was.  I told her that I had slept in, but I would be getting up early on the 31st to go down to the beach for the final show.  They both said they were going to go also, so we just planned on riding together and going out to breakfast afterwards.
As I was walking out the door, Cindy yelled "Hold Up! I'm putting my clothes on!"
Sunrise wasn't all that spectacular, but it was the last one of 2012, and it's always good to get a early start to the day.  Sharing it with friends was fun as we all huddled in the truck with the heat blasting to keep us warm till the last second when we jumped out to get photos as it peeked over the horizon.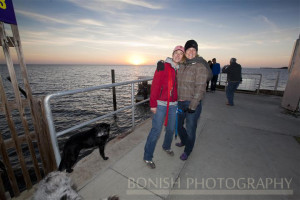 We saw our good friend Karen Dombrowski who had just got back in town last night from Maine.  She was out walking the dogs after they had all spent the last two days couped up in the truck driving South out of the blizzard that was hitting the North East.  Scott had stayed home in bed this morning, but Karen was up bright and early enjoying the cold, brisk air blowing off the Gulf with the rest of us.
Once the sun was up and we had our couple of photos to remember it by, we headed over to Ken's Diner to warm up and enjoy some breakfast.  Today was going to be a long day with getting the tiki bar ready for the party tonight.  John was going to be cooking up a couple of Pork Shoulders in his La Caja China Roasting Box.  This thing was super cool and was something I'd never seen before.  Sort of like the way the Jamaican's do their BBQ in a pit in the ground…only we didn't have to dig a hole in the back yard.
While John got his Roasting Box ready, I built a small shelf in the tiki bar where we'd be able to put some food that people would be bringing.  The Tiki Bar seems to have a Pot Luck a few nights a week, so it was time to build a shelf specifically for food to be placed and help keep the top of the bar strictly for drinking.
Working on the shelf was harder than I thought with John's food roasting right beside the Tiki Bar.  The smells wafting out of that thing were nothing short of mouth watering and it wasn't long before people actually started coming in off the street asking what that amazing smell was.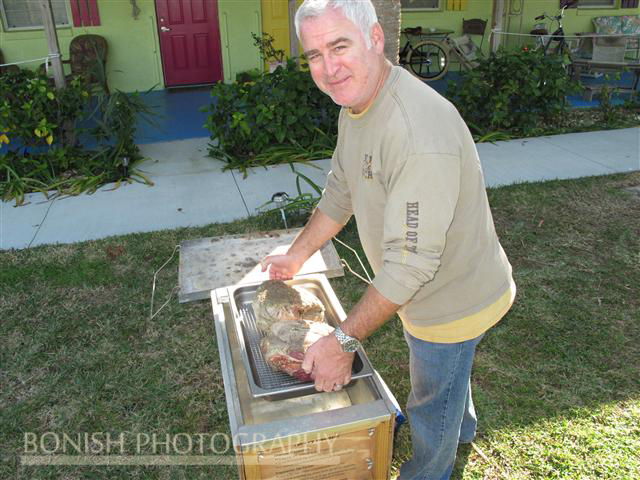 John adding the Pork Shoulders to the Roasting Box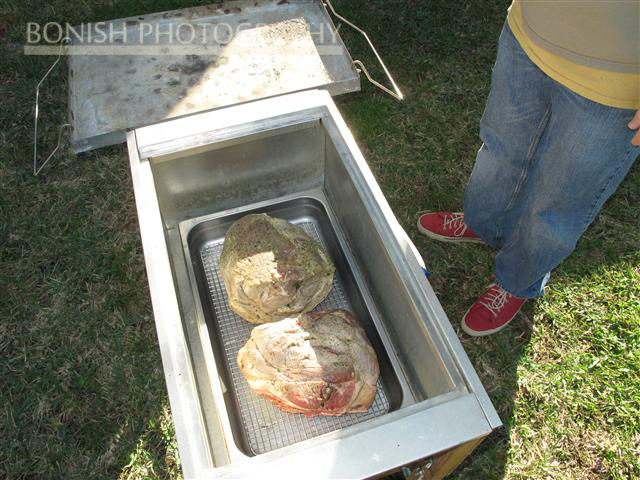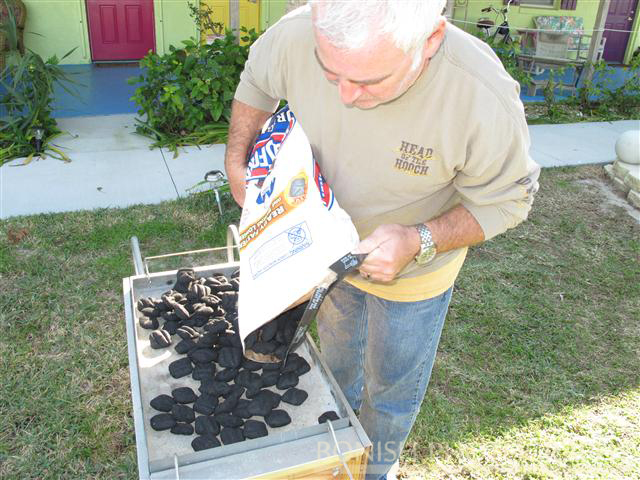 You put a bed of charcoal brickettes atop the roasting box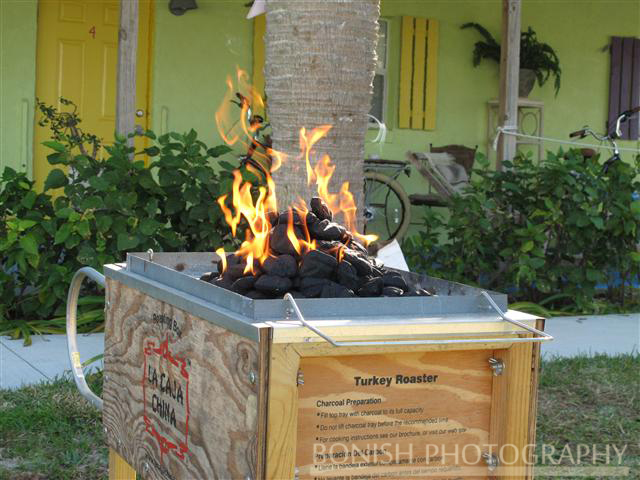 Light them and wait for a few hours for the goodness to cook
Once the shelf was built, I stocked as much beer as I could to prepare for how busy we were planning on being tonight.  Cut myself some extra limes and put a few back-up's of everything that I thought we'd need.
Extra wood was stacked around the fireplace so that could be added as needed.  Heath and I had spent the day yesterday cutting more firewood for the wood burner to keep us all nice and toasty warm tonight.
With all my prep-work finished, I headed in the house for a half hour nap before I'd have to actually come back out and clock in for real.
It didn't take long once the bar was opened for it to fill up.  With so many RV'ers in Cedar Key for the winter season, the Tiki Bar has somewhat became the go-to place for them all to meet up for Sunset Celebrations and get-togethers.  We only have 4 RV Slots at the Low-Key Hideaway, but Sunset Isle has close to 70 slots, and they're completely full right now.  With them being only a hundred yards from us, it's too easy for fellow travelers to just walk down and enjoy a drink or two rather than having to drive into downtown, especially with No Sidewalk for them to walk on at this point.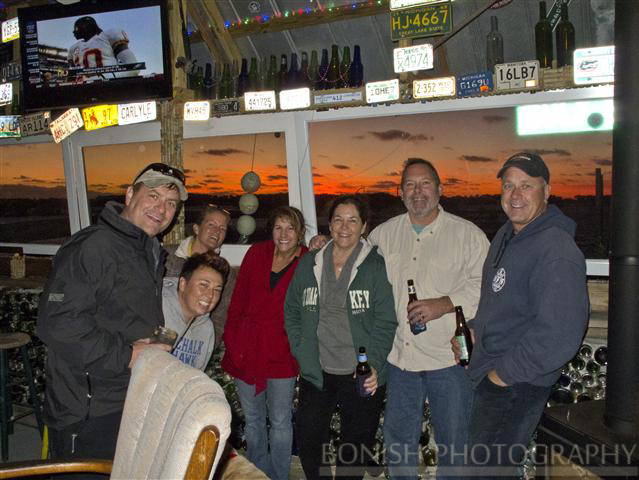 Such a eclectic group of people all having fun together
Thank goodness that tonight the wind wasn't blowing so hard and the temps had warmed up.  The last few nights people had been taking turns huddled up as close as they could get to that wood burner just to stay warm.  People were yelling at one another that they were stealing all the heat when they'd form a tight circle around the front of the blower and not allow any of the heat to hit the rest of the patrons.  Of course this was all in good fun, it's not like people actually yell at one another, unless someone leaves the door open….then the entire bar yells in unison, "Shut the Door!"  which usually results in everyone laughing really hard at whomever has left the door open allowing cold air to come in.
With a full bar enjoying our last sunset of 2012, it was sure to live up to the reputation everyone has come to expect from Cedar Key.  As people showed up with pots filled with various foods, everyone filled their plates while we all sat around mingling, laughing and just enjoying the end of the year.  What more could you ask for?  Good friends, beautiful sights right before your eyes and fun times being enjoyed by everyone.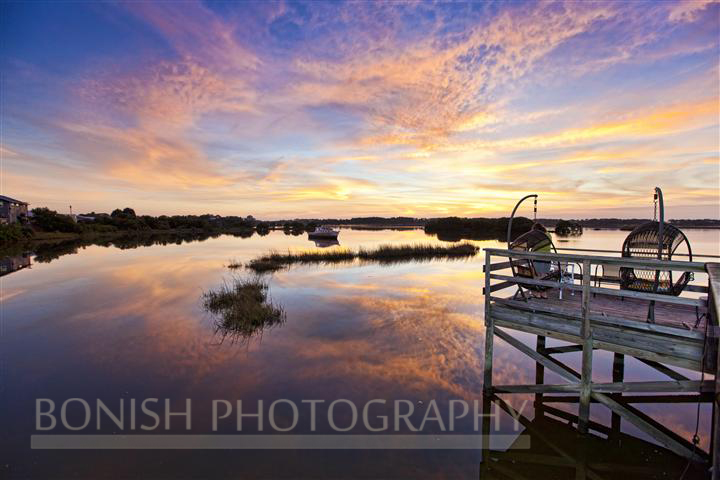 The last sunset of 2012 – Notice the heart in the clouds!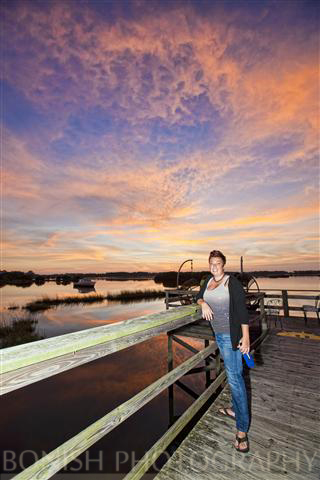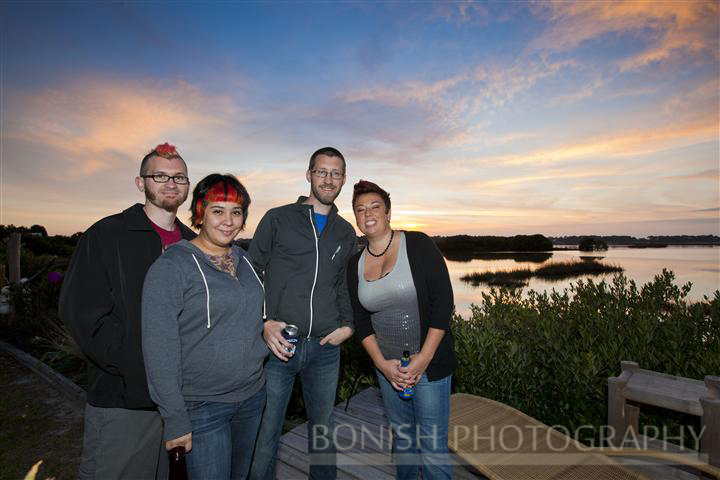 Brian & Maria with their doppelganger friends visiting for New Years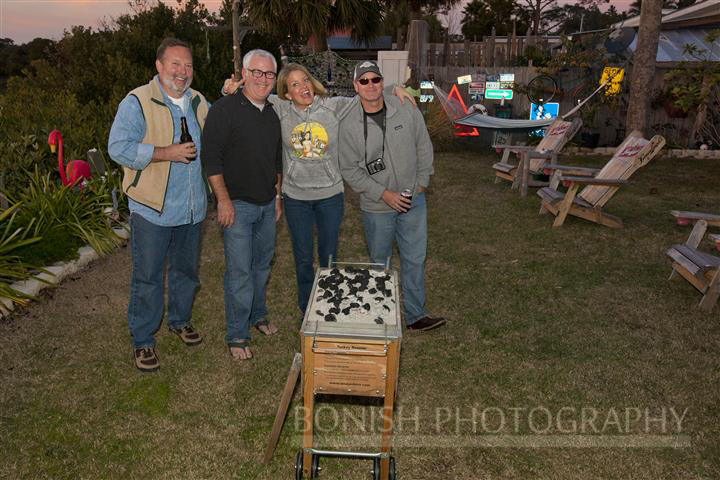 Cindy hanging out with the boys who are tending to the Pork Shoulders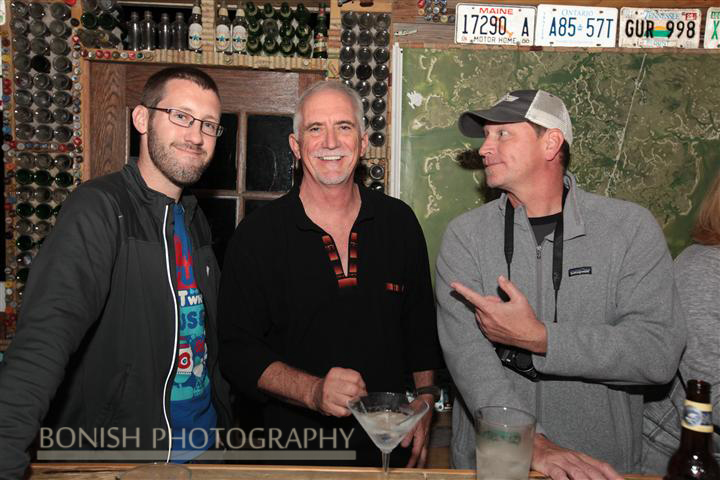 Brian, Bill & Jay enjoying their New Years Eve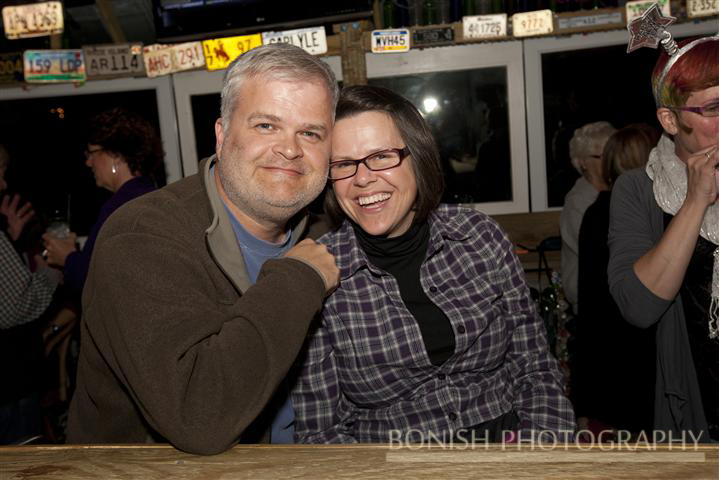 Brian & Melissa visiting again and sharing their New Years Eve with us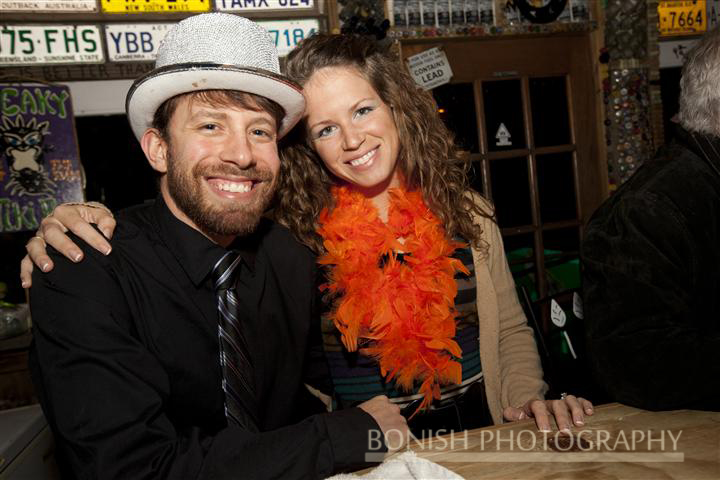 Dave & Jennifer all dolled up for New Years Eve
The remainder of the evening went much the same way.  People kept showing up with more food and more food.  Plates would be filled yet again just when you thought you were so full you would burst.
Towards the end of the evening, as the clock grew closer to midnight, we lit off some fireworks just to have some fun.  I mean how can it be New Years without risking life and limb with 3rd degree burns?  Cindy also brought out masks for everyone to wear, which added much humor to the evening.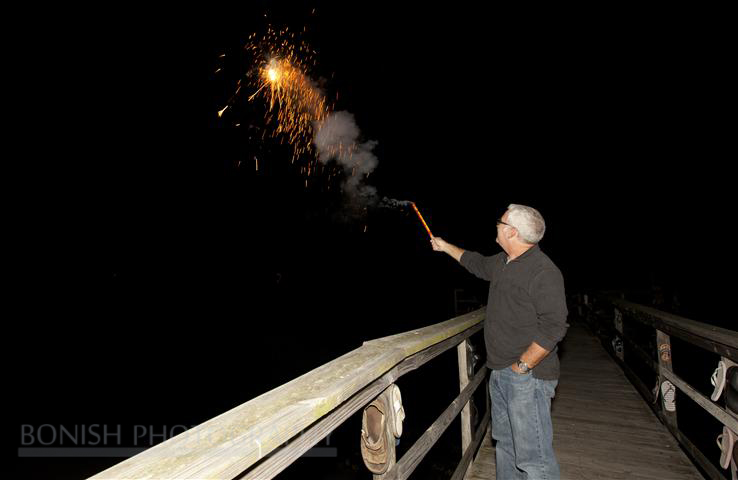 John lighting off some New Years Fireworks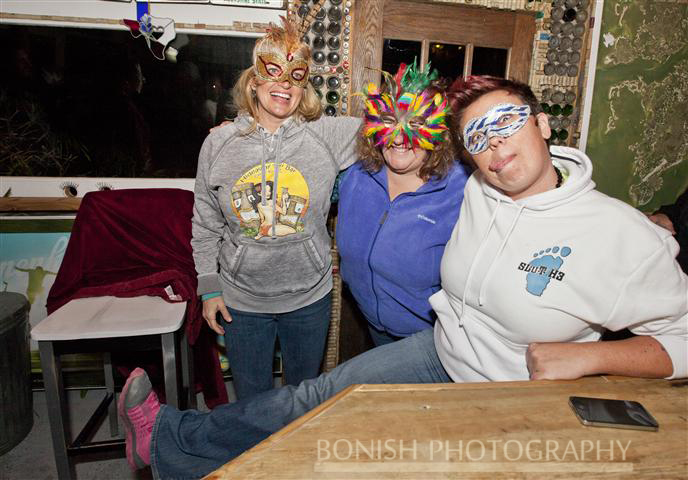 Cindy, Patrice and Maria with their New Years Eve Masks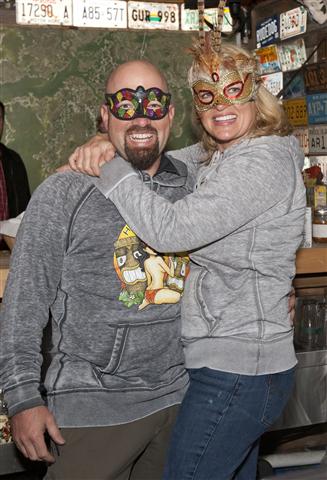 Cindy and Me with our Super-Hero Masks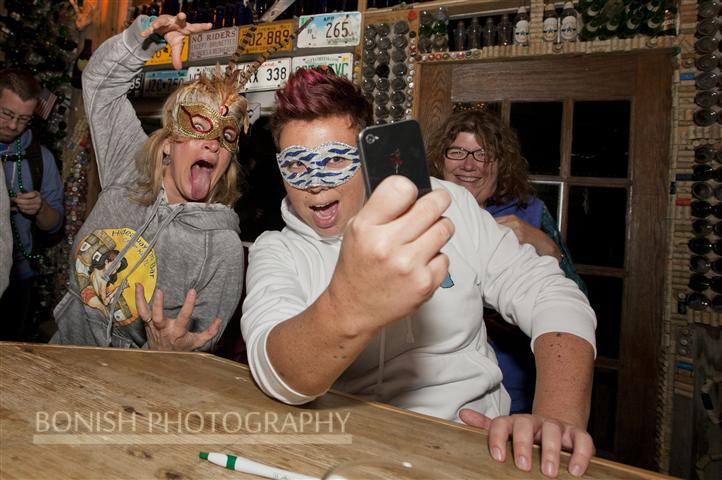 They were having way too much fun with these
Then at midnight we all toasted with shots, kisses and hugs for everyone who had remained.  The crowd throughout the night would swell and thin multiple times, but as the ball dropped and we rang in the New Year, we had a tight group that had stuck it out.  We all cheered, danced and laughed till our sides hurt.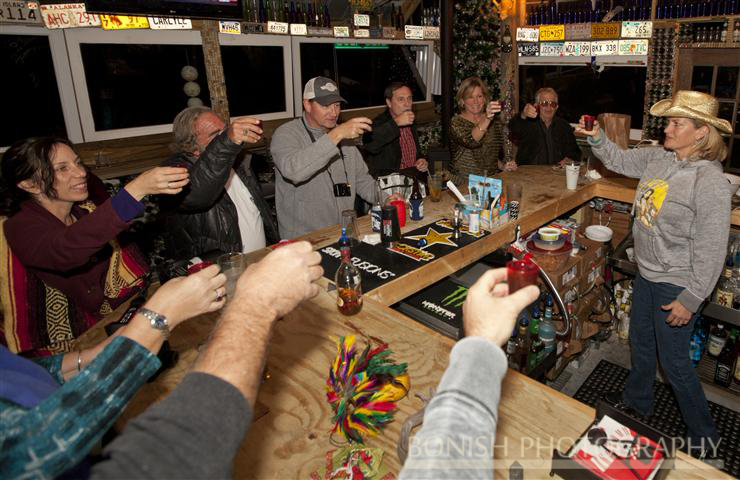 Toasting to the New Year
I think it was finally 1:30am by the time everyone had left and we had cleaned up the Tiki Bar.  Thanks to Cris from Island Pizzeria who helped with the clean-up and made sure everything was put away and brought in the house, so the Raccoon's wouldn't get to the left-overs.  Thanks to EVERYONE who brought food to share or simply stopped by to share their New Years Eve with us.  Let's all hope that 2013 is even better than 2012 was.  I dont know if that is possible, but I'm sure we'll try our hardest.