December 22, 2012 – The World Did Not End
Cindy and I have joked about December 21, 2012 for years now. When people would ask us about our adventure and ask if we were worried about spending a life's savings before retirement age, our usual response was "Why worry, the world is going to end on 12-21-12 anyways."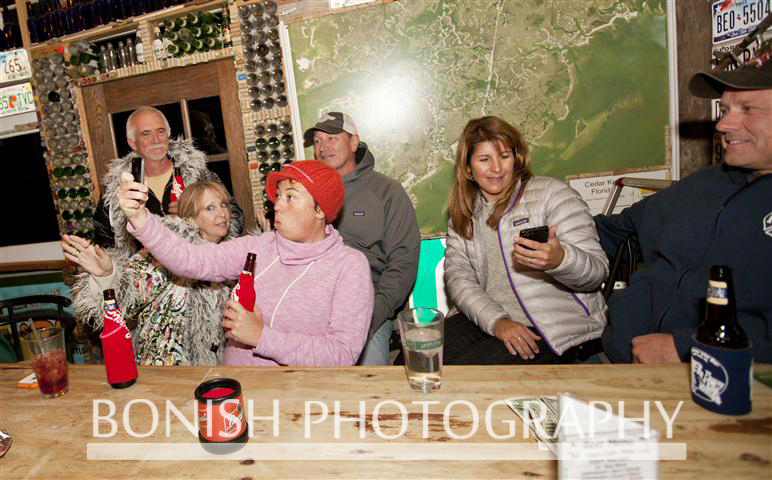 The Fulltime RVer's gettin' wild in the Tiki Bar
So last night at the tiki bar we had a big party planned.  You could look at it one of two ways.  Either we were all going to go out  happy and drunk, or we were going to be celebrating that it was all a hoax.  Either way, do you really need a reason to be celebrating the Winter Solstice?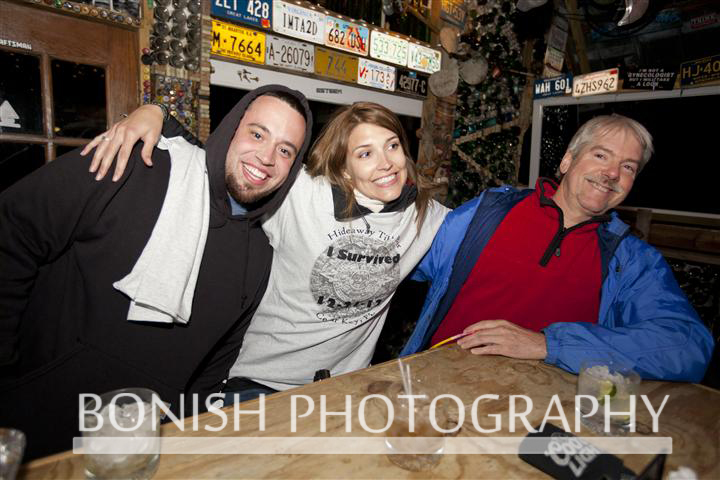 James, Jennifer and Uncle Tim from Ohio were even in the house
Notice Jen sporting the "I Survived 12-21-12 @ The Tiki Bar" shirt
Russ from Kruisn Krepes catering service who is camping next store at Sunset Isle Campground brought over smoked ribs, pulled pork, cole slaw and baked beans.  Enough to feed a small army!  THANKS RUSS!!!  Numerous people brought dishes to pass and at least if the world was going to end, we were all going to be Fat & Happy.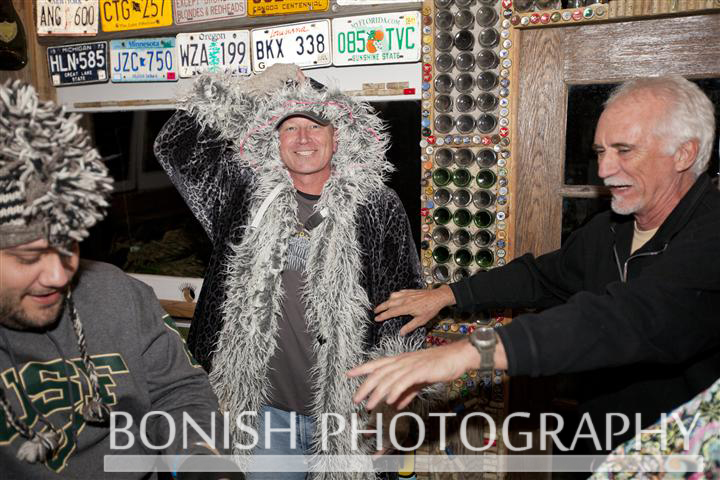 Once Bill started acting like a Zombie, Jay stole his fur coat
We had the wood burner stoked up due to the cold front that was blowing through, and when I say blowing, the winds were whipping through at 35mph for most of the night with gusts coming in even stronger.  There were times when the roof of the tiki bar could be heard straining under the force of the winds.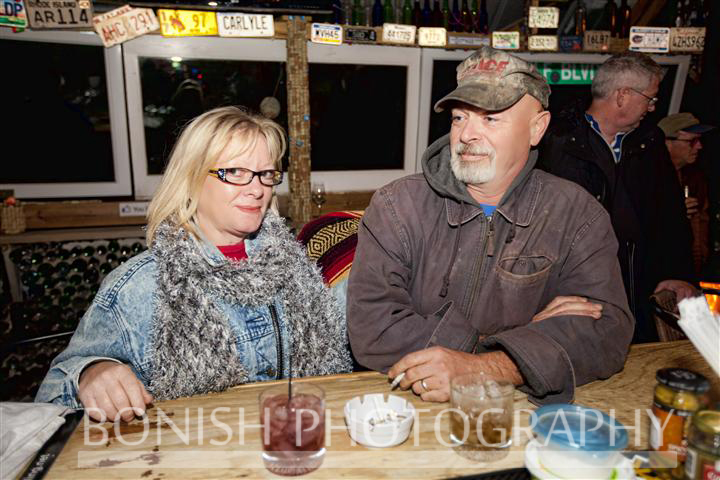 Cris & Dave from Island Pizzeria stopped by to let us know the World wasn't ending,
we were just all idiots for being out in this cold weather
I would not have been surprised at any second if the roof would have just come flying off the beams and went sailing away into the night.  Not that 35mph winds are all that fast.  I mean we've sat out 70mph storms with no damage, but when it just never stops blowing, it gets a little frightening.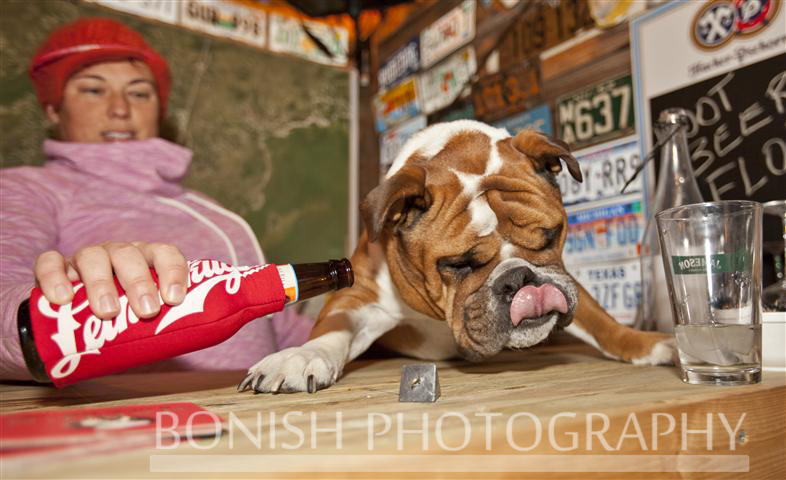 Maria and Buddha drinking at the Tiki Bar
The night went off without a hitch and I guess all this talk of the world coming to an end was another Y2K scare.  So today we'll go back to work and start life over again.  Damn Mayans!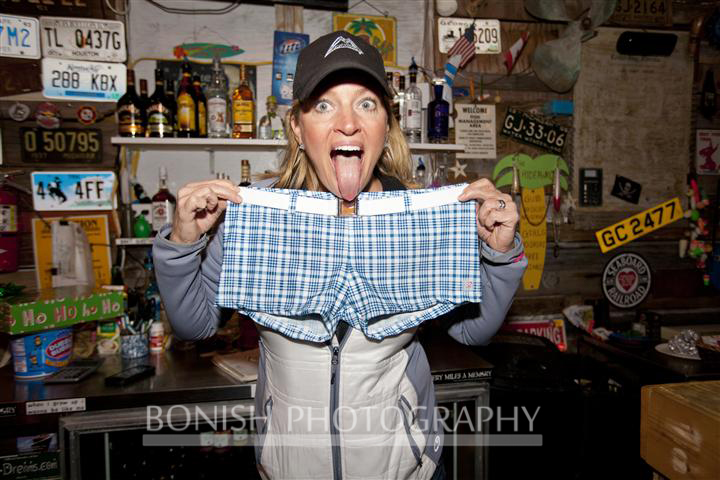 Cindy had to bring out my new Speedo that I got for the cruise we're going on in January You'll have to stay tuned for photos of me actually sporting the Speedo, that is if I can keep up my serious work out routine to fit into it.
There is a long story to go along with the Speedo.  We were all sitting around drinking one night and I joked that I should wear a Speedo or a Thong on the cruise.  Jolie and Cindy dared me to, and Heath told me that if I was to wear one, he would not be going.  That solidified the deal, and that next day I went looking for one online.  I forwarded a link to Cindy, Heath and Jolie telling them to pick one out for me.  Heath told me I was an idiot and refused to even take part in the link or decision process….but Cindy and Jolie had a ball browsing the website.
A few links were sent back and it was unanimous that the suit you see Cindy holding was what they wanted to see me in.  When I opened the box today while Maria and I were working on our new website, the women became instant school girls begging me to try it on.  I told them they'd all have to wait to the cruise for the big unveiling.  But of course Cindy has to bring it out to the Tiki Bar and show everyone.
Luckily we were only HALF way through a bottle of Patron, so I was able to control myself and not come out sporting them in this near freezing weather which I'm sure wouldn't do anything for my manliness due to serious shrinkage!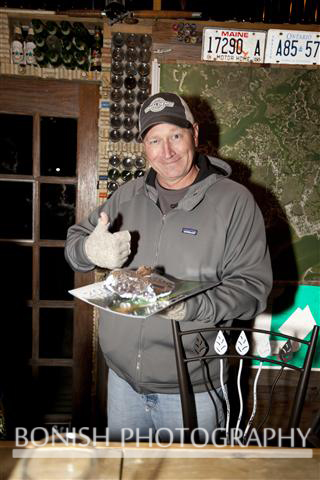 Jay with his Bum Gloves, a plate of food to take home and his 2013 calendar
now that we know there will be a 2013
 Who knows what is going on in this shot?  But I'll tell you that Maria is having fun