Sunday January 6th – Heath's Birthday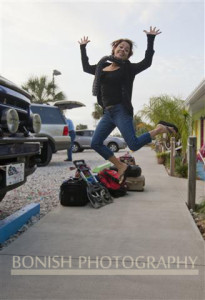 After a great night at the tiki bar last evening with so many locals and regulars stopping by to wish Heath a Happy Birthday and say goodbye to the four of us, we were all up bright and early this morning.
Cindy and I had everything packed and sitting out on the curb first thing, then spent the rest of the morning cleaning the house and getting it ready for Amber to watch over while we'd be gone. I thought it was funny that Cindy was so worried about how our house looked and was going over it with a fine toothed comb and asked her why she didn't keep it this clean for the two of us? Her reply was "I don't care what you think of our house, but I don't want other people to see the way we leave it." I kept cleaning while scratching my head in confusion.
Heath and Jolie picked us up at 8am and we were on our way. Jolie was a little excited while we were loading up the bags.  The drive to Tampa was uneventful while we talked and went over various excursions we had planned over the next 7 days and what we hoped they would be like.
This adventure would be different for Cindy and I since this was our first cruise and the first time in a long time that we would be taking a vacation that wasn't either family time or a working vacation where we would be shooting an event for hire. This also made it hard to pack my camera gear since I was trying to bring specific items, yet keep the packing list to a tight minimum. Try bringing snorkeling gear and an underwater camera housing and keep the bags small.
Once down in Tampa, we breezed through the check-in process pretty fast compared to what I was expecting. I guess the security for cruising is much easier than it is for flying. Except for the movie with Keanu Reeves, I can't think of anytime a Cruise Ship has been hijacked by Terrorists, so I guess it's not as big of a deal as the airports are. Soon enough, we were sitting on the Carnival Legend Cruise Ship knowing we were officially on vacation. This thing is a monster measuring in at 963' long with 12 levels of things to keep you occupied.
Once aboard, we found a table on one of the decks beside the pool where we ordered some lunch and cold drinks to get the party started. The forecast had called for a strong chance of rain, but it was nothing short of a beautiful day with big fluffy clouds hovering over the Port of Tampa.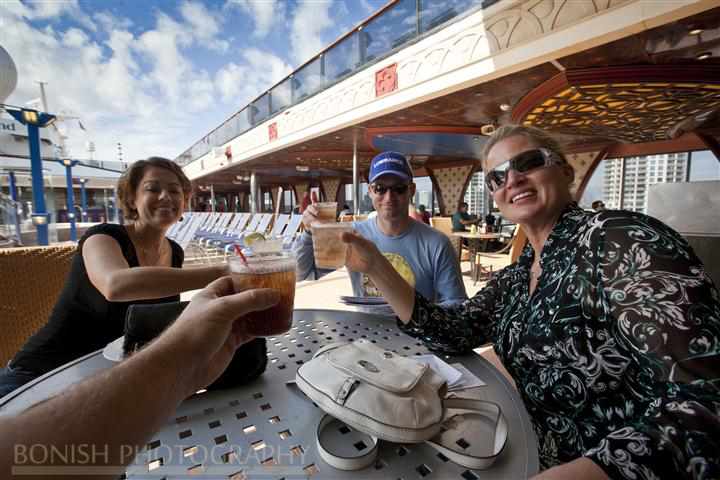 Before long, we were allowed to go check into our rooms where our luggage was waiting for us. We got everything unpacked and settled in and changed into some shorts since it was so warm outside. By this point it was around 3 in the afternoon and the four of us had been up since 4am, so we took a little nap to catch up on some sleep we've been missing out on.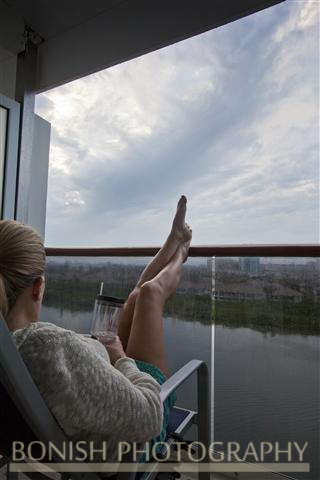 Cindy Chillin' on the Balcony watching Tampa Bay pass us by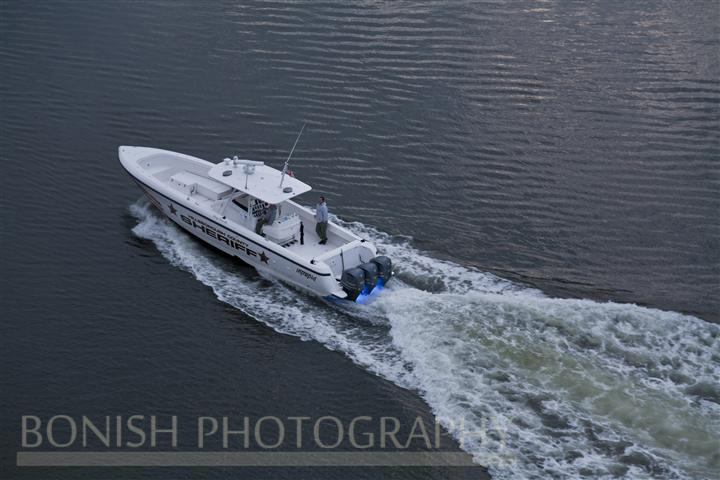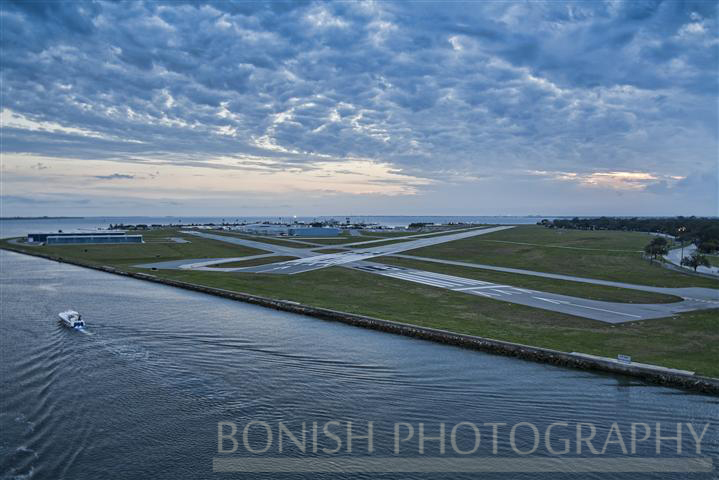 By 5pm, we were leaving the Port of Tampa as we all sat out on our balconies watching the Port Authority Sheriff Boat escort us out. This is the dream job I'd like to have. This boat is just awesome and your job is to escort the cruise ships out of the port into open water. I can't remember any attacks on Cruise Ships in the Tampa Port, so something tells me this is a very fun job on the water without ever having to worry about firing your gun. We wondered if this was the highest job position someone could work up to, or if it was one of those coveted positions everyone on the force wants?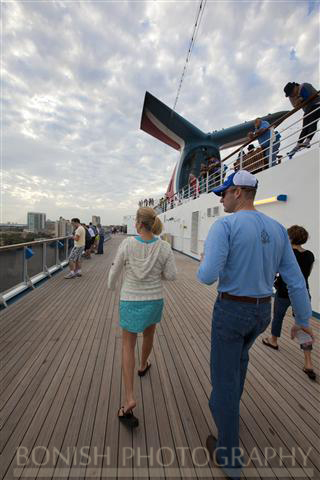 Tonight was spent learning the boat and the easiest way around its cavernous interior. Our room was on the 7th floor in the very back of the boat, which meant that we'd all have nice legs by the end of our vacation. We all agreed that we'd use the stairs as much as possible and just today, I probably climbed 50 flights in the amount of time we spent exploring the boat and its 12 levels of fun.  Jolie and Heath have both gone on many cruises, so they picked our rooms in the very back of the ship saying it would be the calmest section of the boat.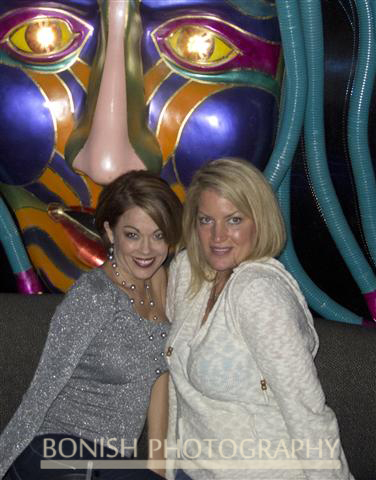 It was still Heath's Birthday, so the girls got all dolled up and we went out to dinner. The staff came over and sang the Happy Birthday Song and Heath blew out his candle. From dinner, we hit multiple bars around the ship, found a comedy show and landed in Medusa's Night Club. The night ended with the four of us cutting a rug on the dance floor till wee into the early hours of the evening.