January 8th – Day 3 – Cozumel
I woke up early again this morning planning to enjoy another sunrise off the balcony. That was till Cindy about tore my head off when I opened up the curtains to watch the sun rise above the horizon.  Apparently she wasn't having any part of waking up early after all that dancing we did in the club last night, so I grabbed the camera, threw on my gym clothes and headed out to get a quick workout before we'd debark and explore Cozumel for the day.
We didn't have to meet our hired driver till 11:30am, so I had plenty of time and wasn't in a rush at all.  I got my exercise in, walked the top deck of the boat a few times getting some fresh air and was back in the room before the others woke up.  We all headed down to breakfast in the Main Dining Room this morning rather than eat at the buffet.  The food on the ship is all included and you can order room service 24/7 if you don't even want to leave your suite.  The staff is beyond great and goes out of their way to make sure you have anything and everything you'd want.  Since this is my first cruise, I don't have anything to compare it to, but it reminds me of staying at a Sandal's Resort or a very High End Hotel.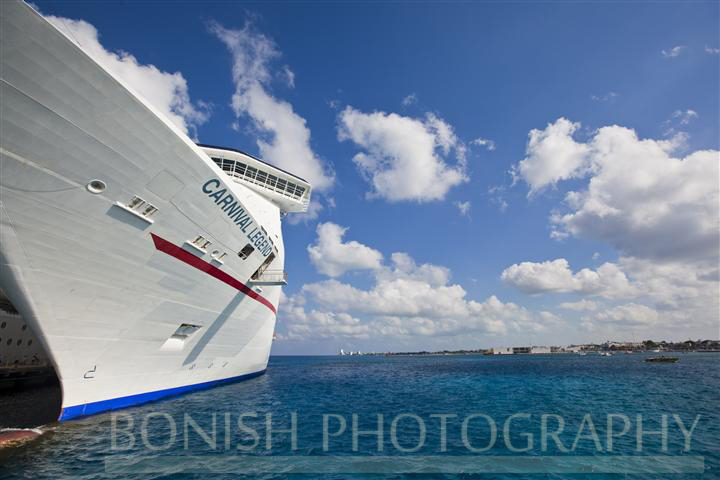 With full bellies, we all headed back to the suites to pack our bags for today's excursion.  Heath and Jolie have been on a cruise that stopped in Cozumel before, and we have good friends that had gone on this exact cruise a few months ago.  Patrice and John had given us the name of a driver they had hired and said it was a great way to see the island from a local's perspective.
Our plans were to meet the driver, have him drive us around showing us the finer points of this small island before we'd stop for a few hours to snorkel at one of the small beaches and grab some lunch.
Jolie is in charge of all the excursions because of how detail oriented she is.  She's one of those people that has an entire binder made up with all our cruise documents in it, everything highlighted and knows the times and people we'll be meeting up with for the entire cruise and can rattle off most of it from memory.
So we all walk off the ship this morning and out to the main staging area where we're supposed to meet our driver.  It was at this point that Jolie realizes she's forgotten the paperwork that tells us where to meet the driver exactly.  We figured we'd be able to walk around to the few areas where all the cab's are staged and see if any of them are holding up a sign.  Nope, there is too many of them to pick from.
This isn't that big of a deal, but Jolie is so detailed that she's freaking out.  She tells us to hold tight and stay in this exact spot so she doesn't lose us.  She then runs the entire way back to the cruise ship which is about a half mile!  Good Lord Girl, we're on vacation.
I went and grabbed some beers while we waited for her return.
A few minutes later, she comes sprinting back up huffing and puffing and has the paperwork in her hand.  Remember my comment about coming home in better shape than when we left in?  Jolie is going to win the award after today.  She was back so fast I don't think we were even finished with our beers I had went and bought.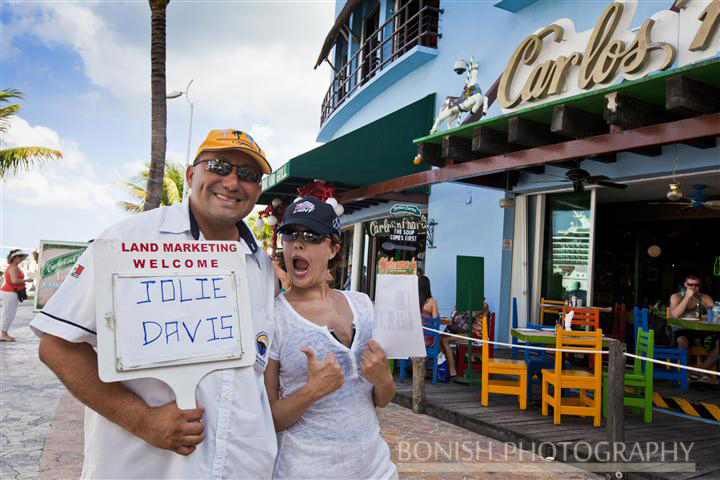 We go and find Piῇo who will be our driver for today. We load our gear into the trunk of his car and he cranks up the A/C so Jolie can try and cool down after her unexpected workout this morning.
Piῇo spends the next few hours touring us around his small island oasis.  He shows us the military bases, the high rent districts and the low rent districts which are always my favorite.  We stop at a beautiful little Hacienda that operates as a small Tequila Factory.  The tour guide shows us the many stages in the Distillation of Tequila and allows us to tastes some of their very tasty Liquor.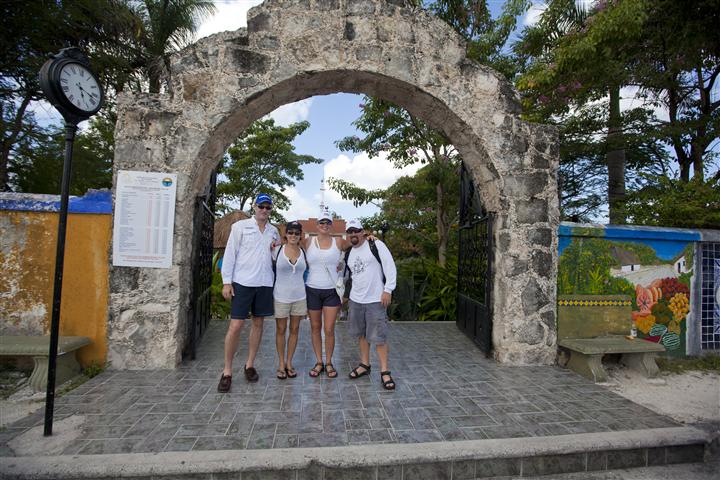 I found this very funny because we were all somewhat Hung-Over this morning after last nights big dance party.  Except Heath? Although he partied harder than ANY of us last night, he keeps reassuring us he's not hung-over even the slightest, but he is VERY grumpy and keeps complaining that his stomach hurts, he has a headache and is feeling a bit woozy.  Heath also HATES the smell or taste of Tequila.  So when the tour guide offered him a shot of his product, Heath reeled back so strongly you'd thought the guy had put a gun in his face.  This had us all laughing very hard.  I'm sure the tour guide was confused as to why this guy was so scared of a little Tequila.
We continued to tease Heath for the rest of the cruise about this incident and the fact that he refuses to admit that he get's Hang-Over's just like the rest of us do.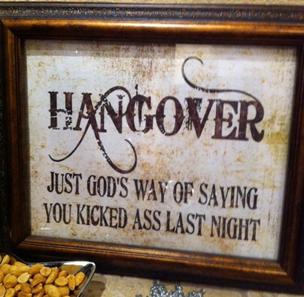 I tried explaining this quote to Heath, but he didn't get it??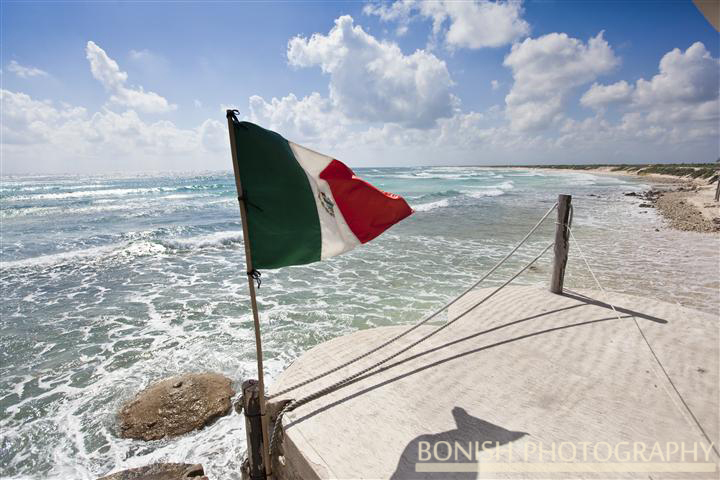 From the Tequila Factory, Piῇo shows us the beaches on the Caribbean side that were much too rough to get into the water due to the big waves, before he brings us back around to the calmer side where we find a little palm thatched hut serving cold beers and mouth watering fish tacos right on the beach.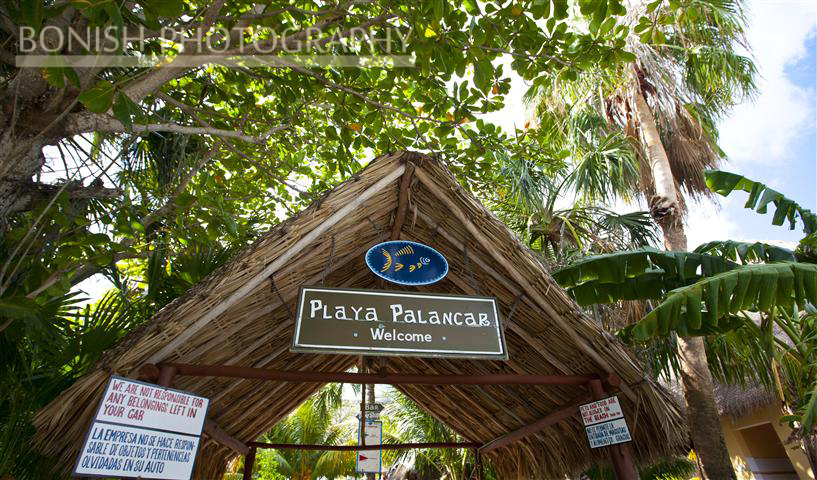 We all gorge ourselves on some spicy Mexican food not even registering that we've been eating like Kings and Queens for the past two days.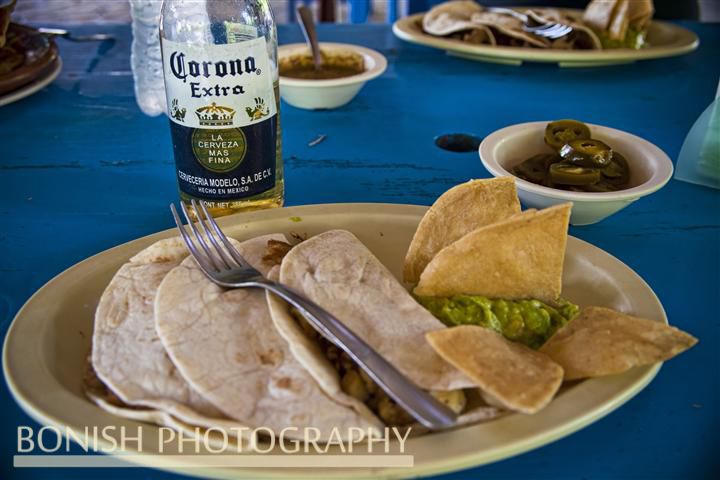 After we had eaten, Heath and I suit up in our snorkeling gear and swim out into the turquoise waters to see what lies beneath.  Remember all the talk of the Speedo?  By this point, I've worn it every day to the pool deck, lounging around on the Serenity Deck and I'm even wearing it right now while we're snorkeling.  It wouldn't be till later that Cindy realizes she has no photos of me actually wearing it, but since she refuses to take pictures anymore, I guess you'll be spared from those photos.
We find a couple of ledges in about 10' of water that are loaded with schools of fish. One spot has multiple lobsters hiding out below the cracks of the rock and another snorkeler points out a big eel that I was a little leery of getting too close to.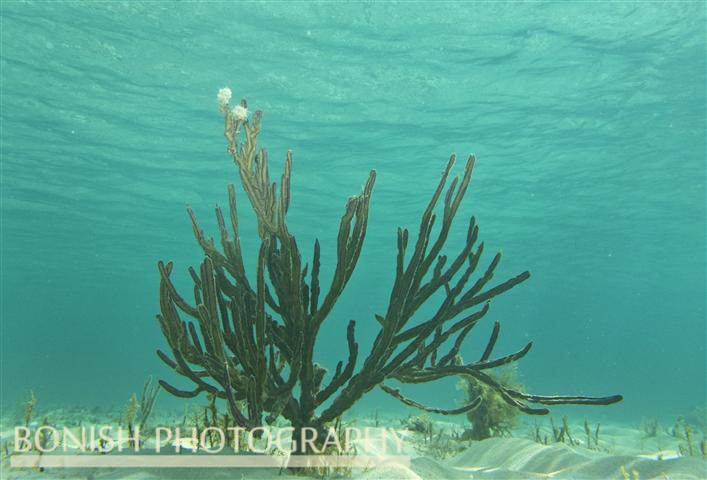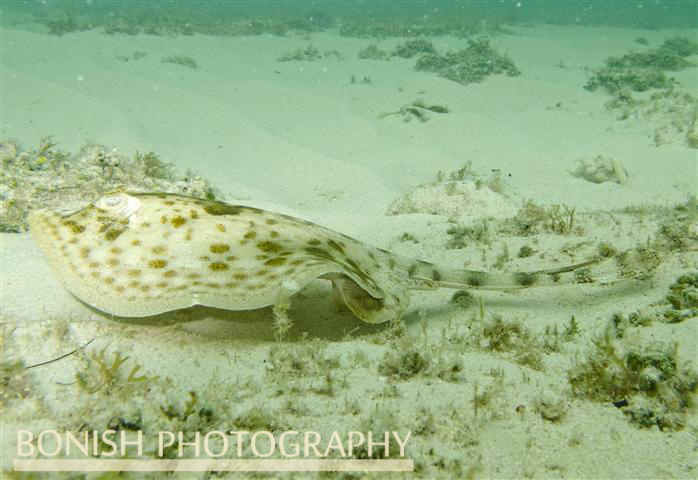 Little Stingray swimming around us while we snorkeled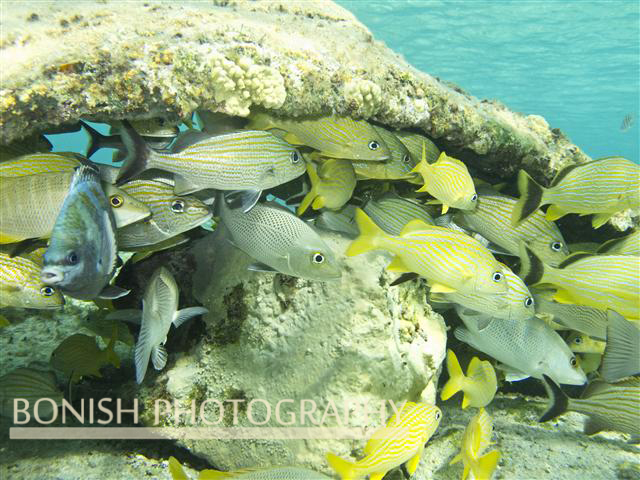 Lots of these fish followed us and hung out under and around the rocks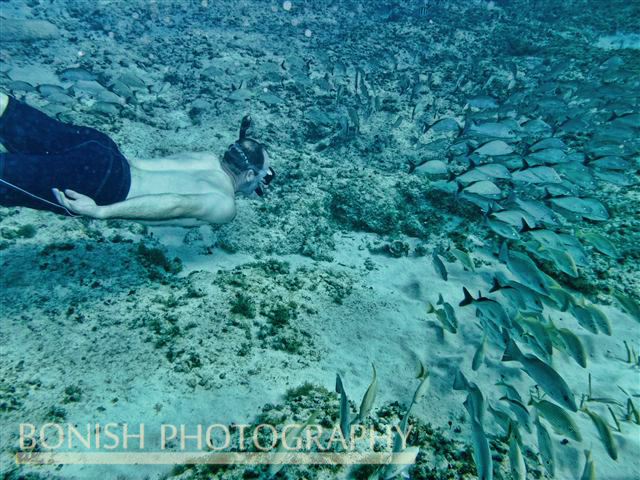 Heath swimming into a big school of fish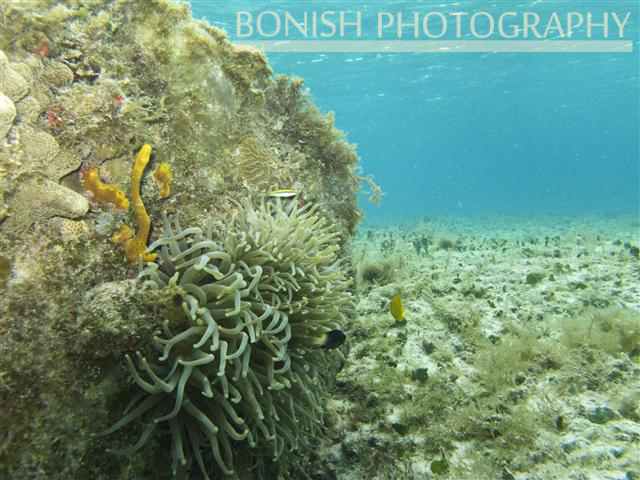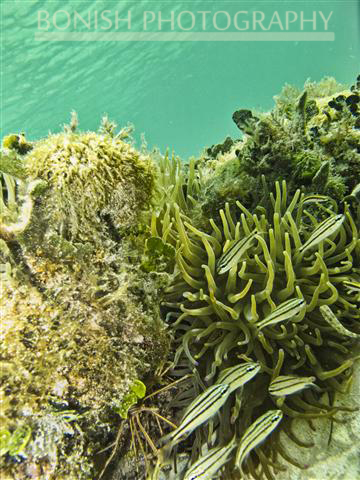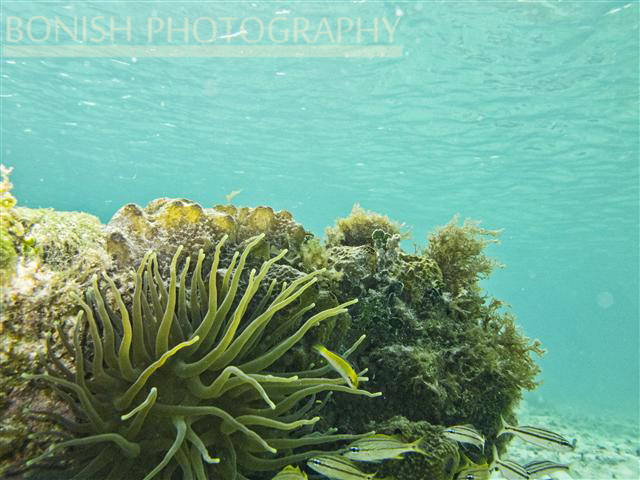 We spent awhile diving down to check out the lobster, the various fish and the Sea Anemone's that were so iridescent and vibrant they looked like they were plugged in.  I don't think my pictures do any of them justice compared to what they looked like to my eyes.
The girls were closer to the shore and just chilling out in about 4' of water.  We snorkeled back over to them because it was getting close to the time we were supposed to leave to head back to the ship.
Heath and Jolie got out of the water and were over by our gear on the beach.  Cindy and I were still out in the water just talking and enjoying the warm Caribbean breezes.  We hear Heath yell to us as he's pointing "You guys, look at that Coon!"
Cindy and I about die of embarrassment because there is this big, black Jamaican dude sitting right in front of Heath and he's just sitting there pointing at him with his waist length dreadlocks.  He keeps yelling to us that we need to come out of the water so we can take a picture of this coon on the beach.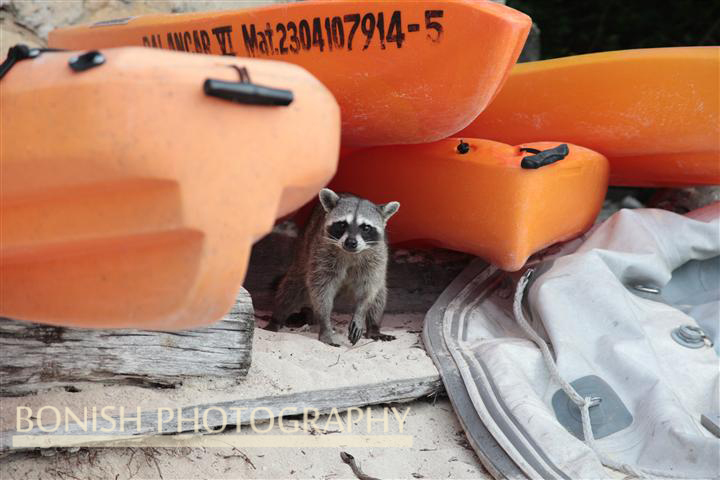 Cindy is literally trying to figure out an escape plan thinking we're about to get murdered.  Just then we realize that Heath is pointing to a Raccoon that is sitting right behind the Jamaican guy.  We bust out laughing at one another and I'm sure Heath and Jolie were probably wondering what in the heck we were doing and why we weren't coming to take pictures.  Just to clarify, none of us are racist, which is why we were so embarrassed and shocked that he was yelling this out loud on a beach.
From Playa Palancar we head back towards the Port.  Earlier I had asked Piῇo if he knew anywhere I could get a license plate explaining to him that I collect them.  He said he would make some phone calls and would let me know later.
As we were driving back to the Port, I asked about the plate and he said he has a friend who has one he is willing to sell for $25.  Since most antique shops are selling regular plates for around that same price, I figure I might as well get it since I don't have too many opportunities to get Mexican plates to add to the collection.
Once back at the boat, Cindy and I sit out watching the sun set over the Caribbean Ocean as the ship leaves the Port of Cozumel.  Heath and Jolie were taking a nap before dinner, but Cindy and I ended up falling asleep wore out and dead tired from our day in the sun.  We never even made it out of the room tonight and just caught up on much needed sleep and rest.