January 7th – Day 2 – Full Cruise Day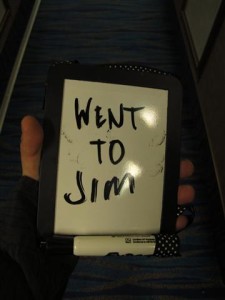 Today would be a full cruise day, which meant we wouldn't be stopping in any Ports.  With nothing specific planned, I was up before sunrise and went off to explore the ship on my own with the camera in hand.  This would be for me what some might consider meditation.  Some wake up early and do Yoga or enjoy a quiet cup of coffee, I like to grab the camera, wander around and find unique things to photograph or try my hardest to make the mundane look different with the proper use of light.
I walked the top deck enjoying the warm tropical breezes and getting some early morning fresh air.  I found the gym and grabbed a quick workout before heading back to the room content with myself.  I could have just gone back to sleep and I'd have had a perfect day.  Cindy was up by this point and wanted to go walk around too.  So I went back out with her and we walked the deck a few more times before we finally found the breakfast buffet.
After we filled up on food, we grabbed a chaise lounge/bed on the Serenity Deck, which was the Adult Only part of the boat where we wouldn't have to worry about listening to kids scream while they swam in the pool.
Cindy stayed on the deck while I ran back to the room to grab some suntan lotion and some reading material.  I let Heath and Jolie know that we'd be up there and if they wanted to get a chaise lounge, they needed to hurry because people were starting to grab any remaining chairs that weren't already taken up.  This was obviously the section you wanted to be in, so we weren't risking losing our big circular chaise lounge.  Just imagine a round, king sized bed with wicker sides!
A few hours were spent just kicking back and catching up on a good book I've been working my way through over the past few months.  I never seem to have the time to just sit down and read back in Cedar Key, so I was looking forward to this Down Time.
After a few hours of absorbing some sun and written words, we headed to one of the restaurants where we grabbed some food before wandering back to the room where we showered off and took a nap.  Sounds like a rough time doesn't it!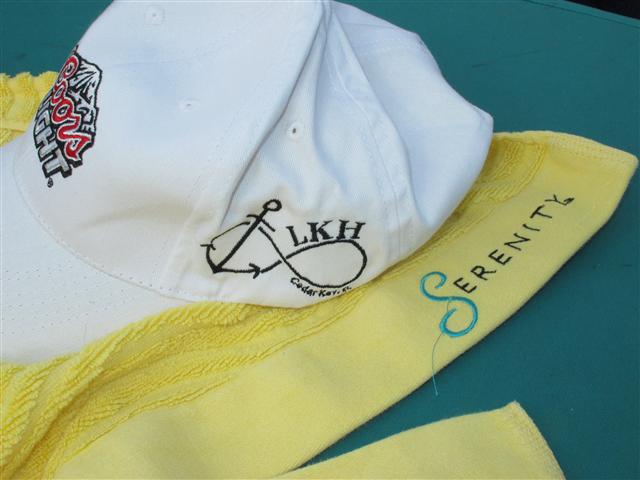 The four of us woke up just in time for Sunset out on our balconies where we all sat around talking and taking in the beautiful sights.  We were down into the Caribbean Ocean at this point, so the water was nice and blue which made it hard to take your stare away from its beautiful, relaxing colors.  This evening was Formal Night in the dining room, so the girls got all dressed up and we headed down to get fed up.
We stopped at one of the ballrooms first to take in a show that could have been a Headliner on Broadway.  Dancing girls, Big Band Music and Singing to rival anything I've ever seen in my life.  I was amazed to see the talent brought onto the ship to keep us entertained.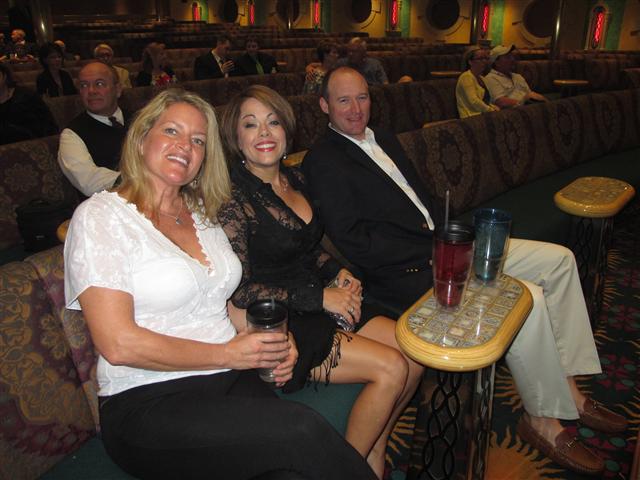 From the Dancing Show, we headed to the Main Dining Room where we loaded up on Lobster Tails, Thick Steaks and plates full of Juicy Shrimp along with aged Scotch.  I could get used to this lifestyle very easily if one of us could find a Sugar Momma or Sugar Daddy.  We've both agreed that if one of us can find a willing one, the other will allow it so long as said Sugar Momma/Daddy agree's a photographer comes with the package.
After dinner, we found our way to the night club where we had so much fun last night.  The girls were eager to get back on the dance floor and tonight's moves would even be better than last nights.  I can't remember the last time we went out dancing two nights in a row.  Between all the stairs and the hours of dancing, I think I'm going to return back to Cedar Key in better shape than when we left.  How many people do you know come home from a 7 day cruise and say they've lost weight?
I'm surprised we didn't get in trouble on our way home from the night club.  Between all of us laughing and screaming down the long hallways at one another to the girls having a race back to the room in their high heels, I thought one of us was either going to get arrested or we'd see a broken ankle; luckily we all made it back safe and the night was a total success.