Friends and family ask all the time if we'll ever move back to Michigan. It's where both Cindy and I were born, although we did not know one another while we grew up there. It has much to offer. Beautiful scenery, great people and endless outdoor activities to keep you busy and in great shape. We have both talked about it time and time again, and both of us agree, that if we were to ever move back to the Great Lake State, it would probably be up in the Upper Peninsula.
It's probably the closest you can get to living Out West in a small mountain town. It offers that small town vibe and is one of the only places I know where you can drive for an hour without passing another vehicle. When our daughter was young, maybe 13, we used to let her drive the truck down the miles upon miles of empty dirt roads so she could get the hang of driving. I remember her asking if it was illegal or if she'd get in trouble, for me to reply "Only if you hit something, and since you'll be hard pressed to see another vehicle or anything else for that matter, I doubt we'll get in trouble." This still holds true today. We drove for a long time without seeing another vehicle, person or anything other than abandoned farms and barns….and do NOT be surprised if any road, even ones on the map that might claim to be a main road turn to dirt at any time.
So after spending 10 days with family down in the lower portion of the state, we decided to head North and visit our best of friends over in Minnesota. To get there from our home town of Milford, you can either drive down South heading through Chicago, we carry too many guns with us for that to happen, or drive up through the entire state of Michigan. Driving north would fill two tasks we wanted to accomplish. #1, visiting Kitch-iti-kipi, Michigan's largest spring and #2, visiting Munising and our good friends Tom and Ana.
You might remember Tom and Ana when they flew to Florida and shot the video for the Low-Key Hideaway for us. Tom is also the main guy behind the U.P. Overland Adventures that allow you to travel through Michigan's Upper Peninsula via your own 4×4 with experienced guides and well thought out routes. If you've never done it, I highly recommend it. Here is a link to our 2010 Blog Post when we did the U.P. Overland with Tom. If you don't feel like reading, but just want to see it via photos, here is a link to Our Gallery from the event. Cindy and I always seem to talk about it when ever past travels come up, and now that we've sold the Low-Key Hideaway, maybe we'll get a chance to go on it again.
So we said our goodbyes to our family back in Milford and headed North. I was a little worried about heading this route as Cindy has mentioned for the past few months that she has a weird desire to spend a winter in the U.P. just to experience a full winter. The Southern portion of Michigan where we used to live does not have the best winters. Many times you'll simply have very cold weather from November clear through to April, without ever having more than a few snow flurries. The Upper Peninsula on the other hand has heavy amounts of snow, and on most occasions when you pull up to the neighborhood bar or restaurant during the winter months, you'd be likely to encounter more snowmobiles than you would trucks. It's the preferred mode of transportation in those parts.
After crossing the Mackinaw Bridge, we headed west along Lake Michigan barely missing a heavy storm that was approaching from Out West. Weather reports were warning of 50mph winds and nasty rain. It has pretty much rained off and on since we had left lower Michigan which did not make for the best driving conditions. Luckily for us, we seemed to stay a few hours above and in front of the storm.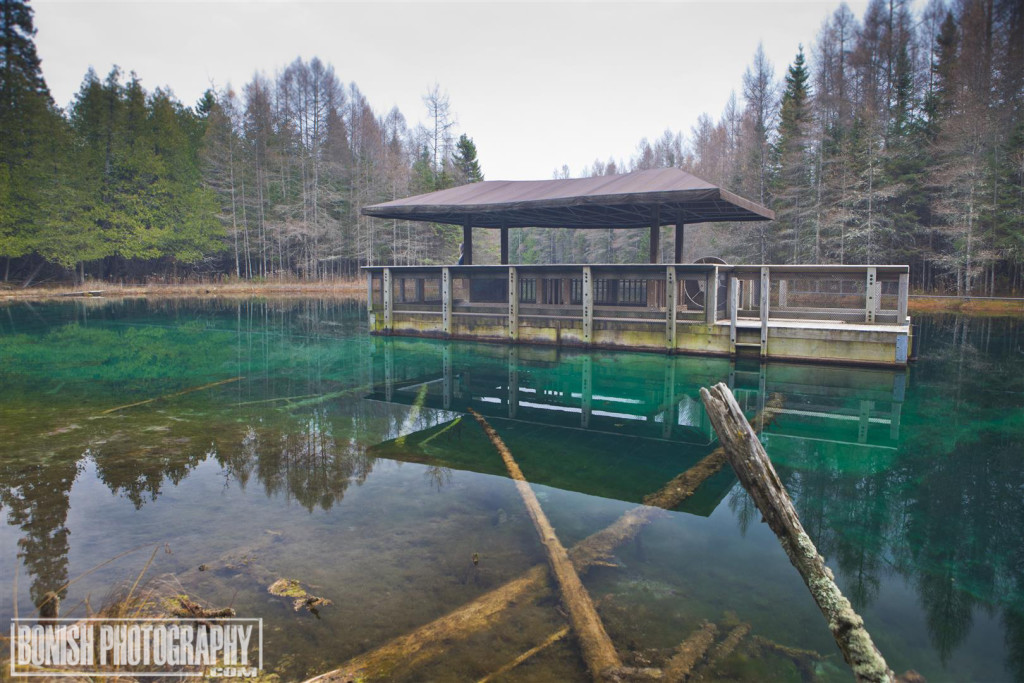 When we reached Kitch-iti-kipi Spring, we now realized how we had lived in Michigan for so long and had never heard of it….it's in the middle of NO-WHERE! We had the entire place to ourselves. As we were pulling up, another couple was pulling out and left us all alone. The Upper Peninsula has peak seasons. Fall for the Leaf Peepers, Winter for the Snowmobiles and Late Summer for those wanting to vacation and stay out of the humidity the southern section of the state gets. So if you're wanting to have the entire place to yourself, Mid-November is ideal.
This spring is AMAZING. It reminded us of the many springs we swim in around the Central Florida area, but to see one up in Northern Michigan just seemed very out of place. Big Spring is 45′ deep and  flows at the rate of more than 10,000 gallons a minute.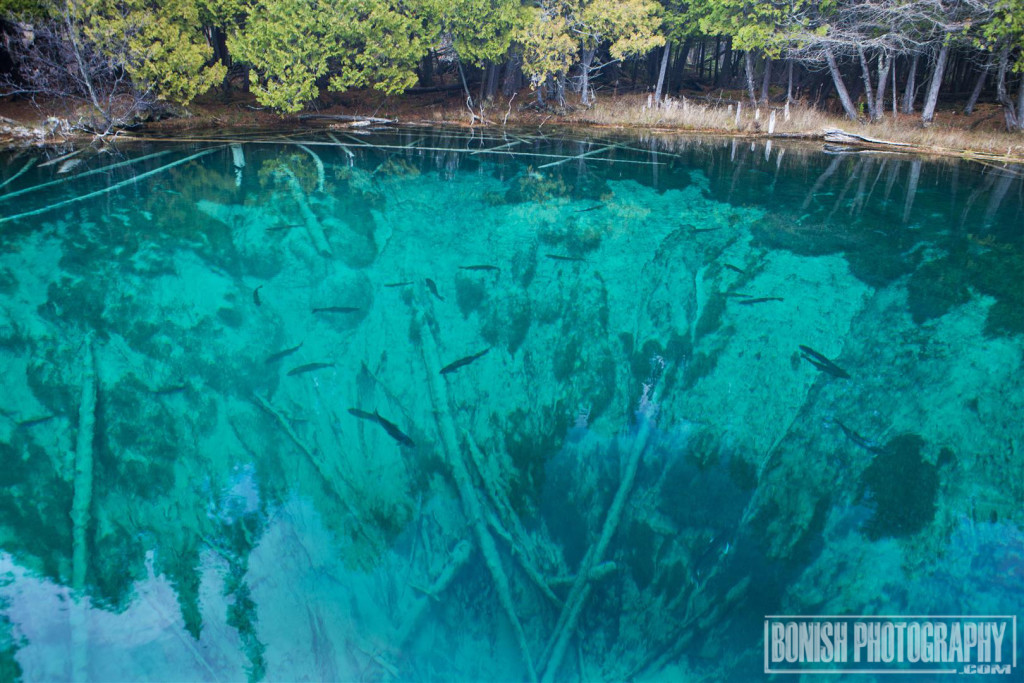 To put your arms and hands under the water told you that if you were to fall in, you'd have a few minutes before the bone chilling temperatures would incapacitate you and you'd more than likely drown.
The spring offers a floating platform with a viewing platform in the center. It's self-propelled with the spinning of a big wheel that pulls it along a series of cables strung from one bank to the other. Looking into the spring through the viewing platform, you notice big schools of brown trout swimming around the downed trees that lie dormant on the bottom. We both wondered how the fish could swim in water so dang cold. I'm not lying when I say within seconds of putting my arms in the water to press the trigger of my underwater camera, my arms were aching all the way up to my biceps from the numbing cold and I only had my arms dunked in maybe up to my forearms.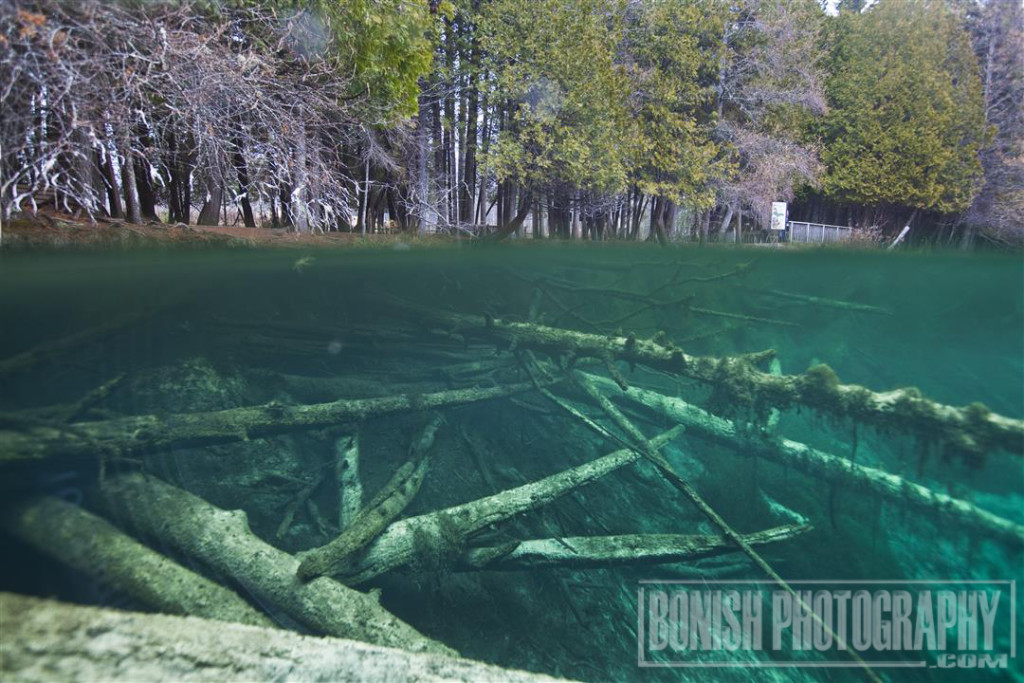 After spending maybe an hour or more at the springs, we loaded back into the truck and headed further North to Munising. We found a nice hotel room that was Dog Friendly at Superior Suites and unloaded the dogs. After multiple weeks of traveling, they've become accustomed to the loading and unloading of their gear and quieting down in different hotel rooms each night. Something I would never have thought possible for a very skittish dog like Honey and a yapper like Little. I forget how spoiled we were with Luca who was the most laid back dog we've ever owned. He never barked unless it was needed, and could be brought into any location without having to worry about him causing a ruckus. These two hellions are a whole new story.
Once we walked them and got them settled down into their new room for the night, we went and met Tom and Ana at their Party Store. This is what Michigan folks call a beer store. But Tom and Ana take the traditional local beer store to the next level. Hillside Party Store has isles of Top Notch liquors to choose from, a whole section of locally crafted liquor and a walk-in beer cooler the size of a 2-car garage that is stocked from floor to ceiling with high end craft beers and more local Michigan Brewed Beers than I knew existed.
I could see right now that this visit was going to be very bad for our livers. I mean we like to drink, we especially like to drink local stuff to support the local economy, but when you walk into a cooler I could drive my truck into and it's almost all local stuff, my mouth started watering right away.
We had only planned on staying one night, but after Ana lifted her veil and showed us her collection of goods, we ended up spending multiple nights with these crazy Yoopers. They took us to a local waterfall that we hiked to in the pouring rain. We figured since it had pretty much rained non-stop for the last few days, if we were going to see anything, we'd have to done rain gear and just make the best of it.
Amy & TJ, friends from ROAM Automotive also made some amazing chicken soup one night for dinner where we all hung out sampling copious amounts of various whiskies, telling tall tales and being schooled on Common Core Math from a 3rd grader.
When we awoke on our last day in the U.P., we had planned to stop by and say our goodbyes to everyone, but when Cindy looked out the window of the hotel room early that morning and snow was coming down, we packed up the truck quick fast in a hurry and scooted out of town to try and beat any snow accumulation. We had joked numerous times that if the temps had been only a few degrees colder these past few days, all this rain would have been multiple inches of heavy snow.
That morning as we drove west towards Minnesota, Cindy changed her mind about spending a winter in the Upper Peninsula. Personally, I would love to, but misses I'm not dressed for this had a quick change of heart as soon as the cold air hit her tanned face.
Thanks Tom, Ana, TJ and Amy for the awesome hospitality and the generous amounts of local beverages we sampled. Hopefully we'll make the next U.P. Overland