While recently up in Michigan visiting family, I decided to check out some of the abandoned buildings in downtown Detroit….there are lots of them in case you haven't followed the last few decades demise of Detroit.
Rather than go snooping around on my own, a good friend, William Trinkle who had done one of the URBEX Photography Tours recommended a company out of Royal Oak. Motor City Photography Workshops is run by fellow photographer, Michigan native Jesse Welter. URBEX is short for Urban Exploring, which means people go out and explore abandoned buildings or areas the general public overlooks due to how grungy or forgotten they look. For an artist, these areas can be turned into masterpieces of art as long as you show them in the proper light.
Figuring Detroit is a very big area, and there are hundreds of abandoned places, I thought it wise to go with someone who knew their way around. Jesse knows his history of the buildings he brings you too, and for a very fair fee, you park out at his shop, well outside the Downtown Detroit area, board a short bus with about a dozen other photographers and comfortably ride down into the heart of the city.
The group of people on the tour ranged from people who didn't even bring cameras, but just wanted to see the sights safely, to people only using their cellphones to multiple photographers who like me, brought a host of gear. Knowing what I know now, I would have streamlined the gear I brought rather than carrying a fully loaded backpack with multiple lenses, flashes and accessories. Next time I'd simply bring two full frame camera bodies, one with a super-wide angle lens, one with a medium angle zoom, a tripod and a good flashlight. Even the tripod wouldn't be all that needed and you could easily get away with one of the Gorillapods. I use a SureFire Fury Flashlight when light painting scenes and they work amazing! They're beyond bright and sometimes can almost be too bright for light painting scenes. A small headlamp that clamps to the bill of your hat (LIKE THIS) would also be helpful so you could keep your hands free yet still see what you're doing while adjusting camera settings in the dark or while carrying gear so your hands can stay free for balance would also be helpful. I'd also bring a bottle of water and a couple of ClifBars to keep you fed up and hydrated. There is lots of climbing and walking.
Our first stop was at the abandoned Detroit Water and Sewage plant on the corner of Erskine and Orleans in the Eastern Market district. This place was HUGE and covered with what I would guess is thousands of dollars in spray paint in the form of amazing colorful graffiti. I was at a loss for words with how much money the artists must have spent on paint, to simply mark their territory. Seems like somewhat of a waste to me, as this art will not be here for long, and some of it is fantastic. It would be like me taking photos, printing out huge canvases only to hang them up randomly for free in abandoned buildings??!!
The bus emptied out and photographers went flowing out in various directions depending on which piece of architecture caught their eye first. Jesse simply said meet back at the bus in an hour as we exited the bus.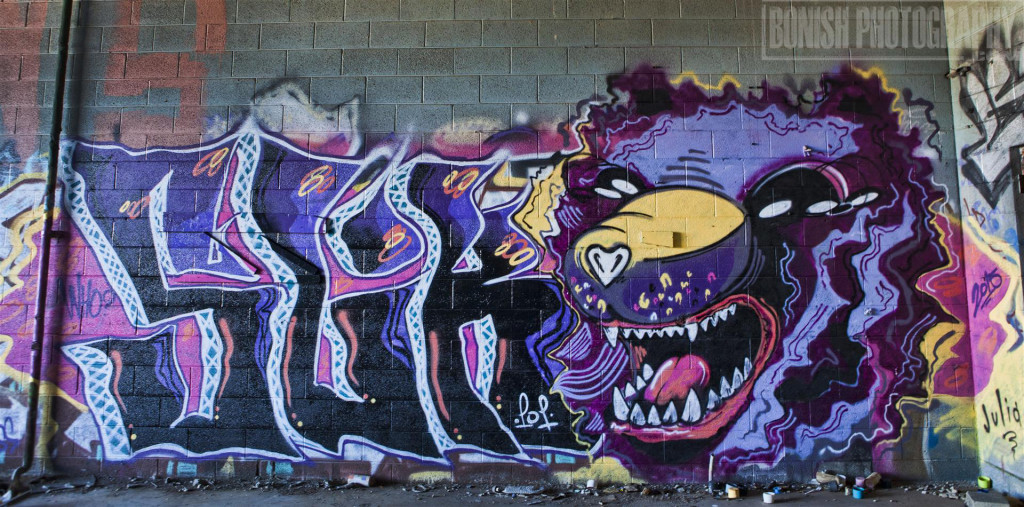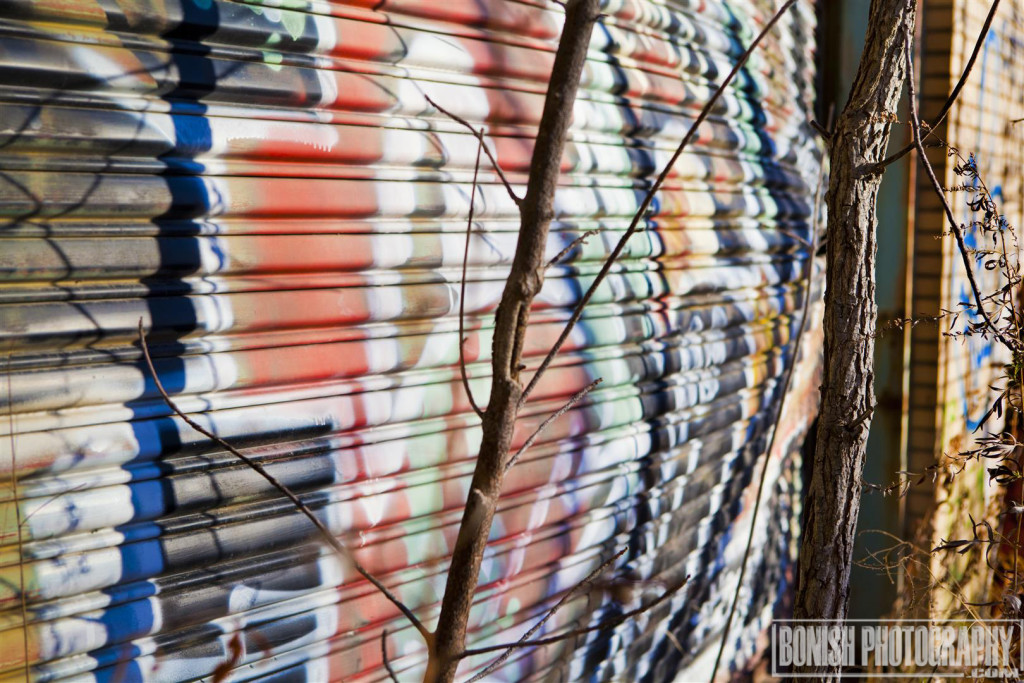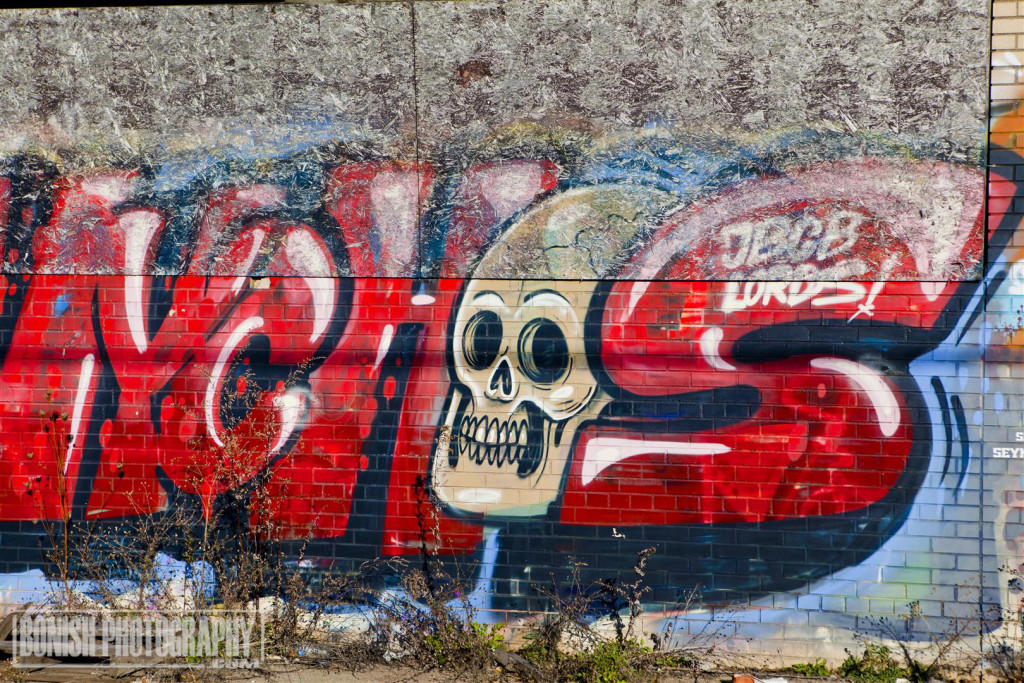 From the Detroit Water Plant, we all loaded back onto the bus and headed into some of the neighborhoods where Jesse explained what we were passing as we drove amongst block after block of empty lots. How does a city this big just implode? How does this happen to a country like ours?
At least the city has had many of the abandoned homes torn down, the property leveled and keeps the grass mowed so block after block just looks like big soccer fields empty of people. I remember years ago when many, if not all of these blocks had hundreds if not thousands of abandoned homes, many burnt out or in various forms of dysfunction. When they started becoming drug houses, the city stepped in and either tore them down themselves, or made the property owners do it.
Our next stop was the John S. Gray Library. If you're interested in the history of this building, CLICK HERE. Its a fascinating read, and another shame that a public figure with this much heritage in Detroit has a building named after him only to be left in ruins.
From the library, we moved over a few blocks to the St. Stanislawa Church. We were told we cant really call this abandoned because although it sat empty for a long time, it was bought back in 2013 and the owner has plans to renovate it. It currently has a security guard/caretaker that allowed us access knowing that all we were going to do was walk around and take photos, and not trash the place or take anything.
This place is HUGE and quite well preserved for how old it is. Many of the ornate stained glass windows are missing and the structure itself looks like it needs hundreds of thousands of dollars sunk into it if it's ever to be used as a church again, I was just glad I had the chance to wander through it and see some of its beauty.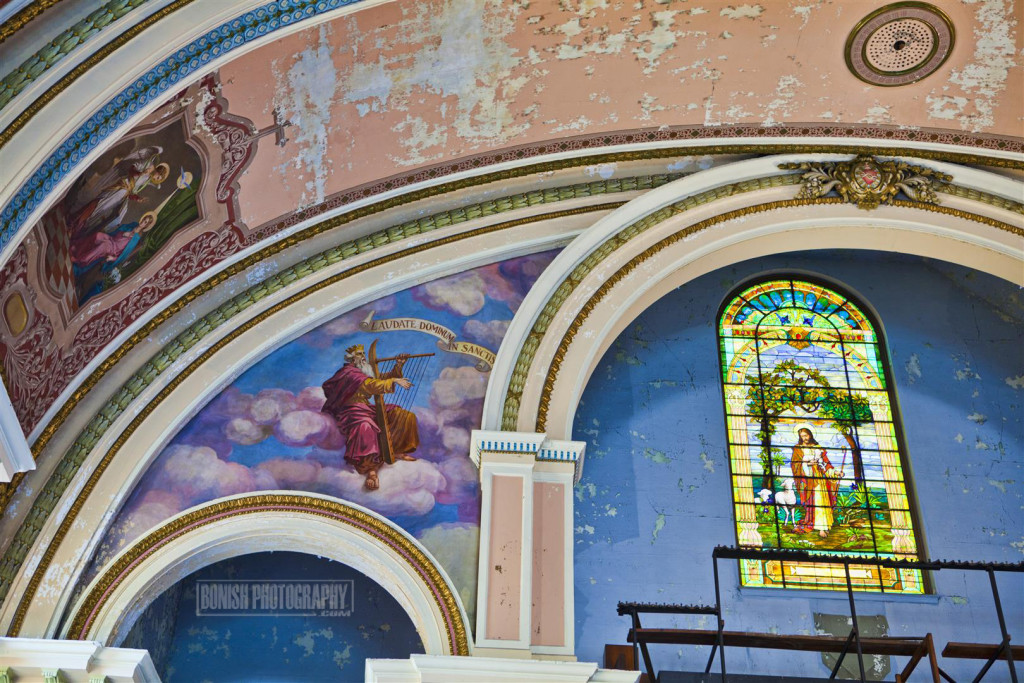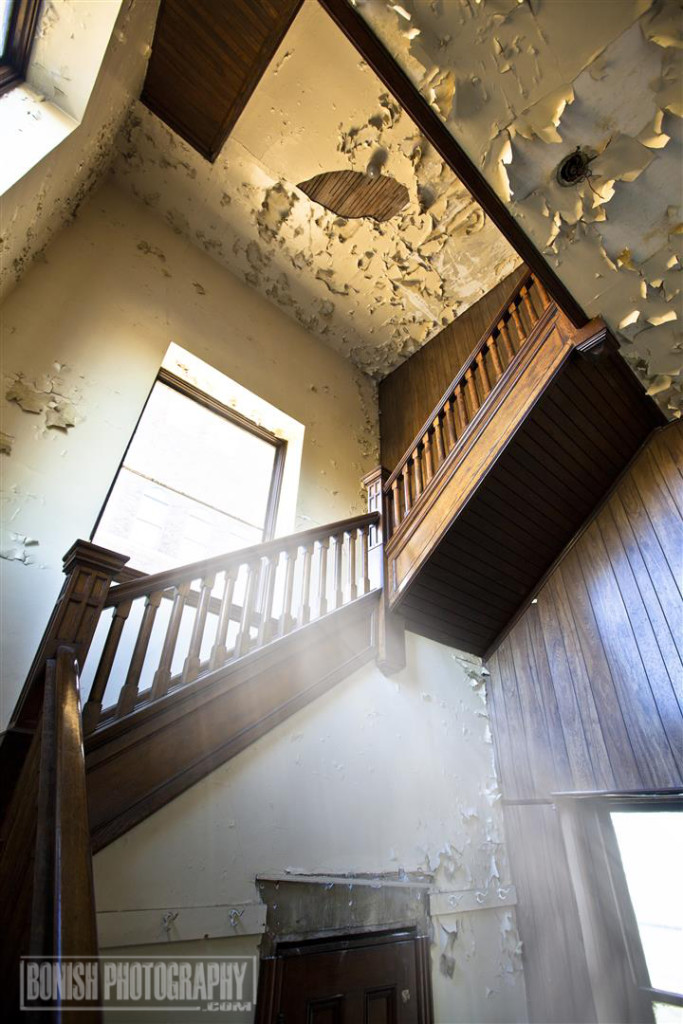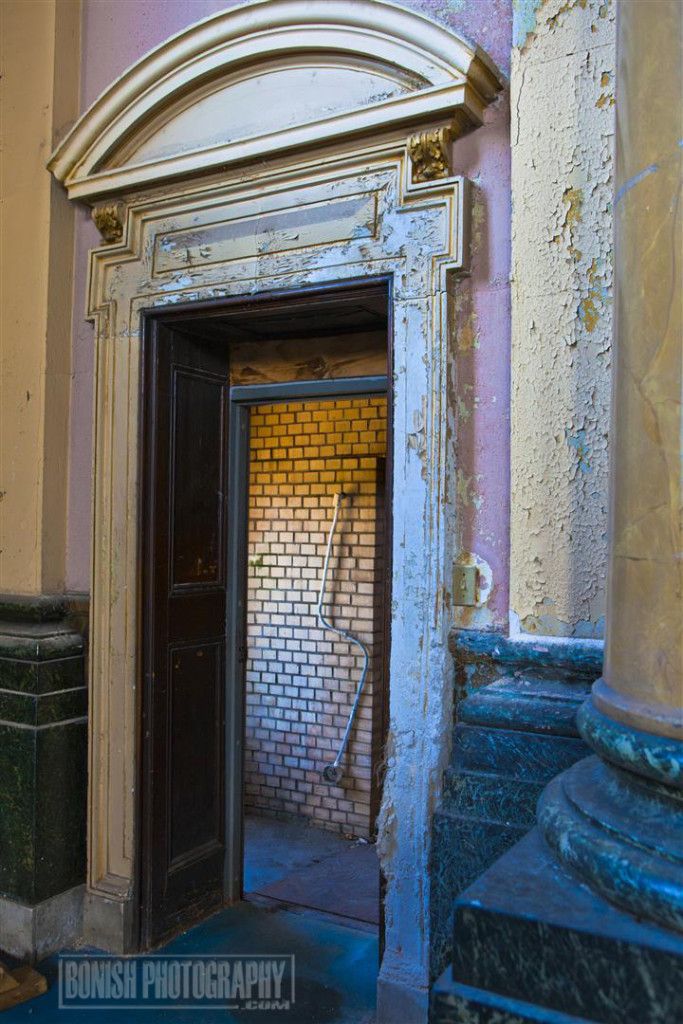 Once everyone had ample enough time to photograph and explore the church, we loaded back into the bus and headed over to our last stop of the day. But this one would be so big, Jesse said we'd have multiple hours to explore its many floors.
The Fisher Body Building is multiple blocks long and some 5 stories tall. The company constructed their signature factory, the Albert Kahn-designed Fisher Body 21, on Piquette Street, in Detroit, in 1919. The building is now part of the Piquette Avenue Industrial Historic District. At the time, the company had more than 40 buildings encompassing 3,700,000 square feet of floor space!
In a 1919 deal put together by president William C. Durant, General Motors bought 60% of the company. The Fisher company purchased Fleetwood Metal Body in 1925, and in 1926 was integrated entirely as an in-house coachbuilding division of General Motors. Fisher Body as a unique entity began slowly disappearing in 1984. THIS PAGE has some awesome history of the company and the building if you're into History. At one point it was rated as one of the Most Contaminated Structures by the EPA!
This building is so awesome, I'd give it a say that every time I visit Michigan from here on out, I could wander around photographing the interior and never get bored. I kept thinking how awesome it would have been to have bring a model with me to use as a foreground subject. To mix such rough textures as a decaying building with the soft curves of a beautiful woman has to be the perfect juxtapose if you ask me.
With each building there was something unique about Mother Nature trying to reclaim her hold. The Fisher Body 21 Building takes it up a few levels when you study the ceiling and notice the Stalactites that are growing. In some sections, there are Stalagmites rising off the floor. If left to crumble, give it another decade and it might become one of the most unique structures in Detroit.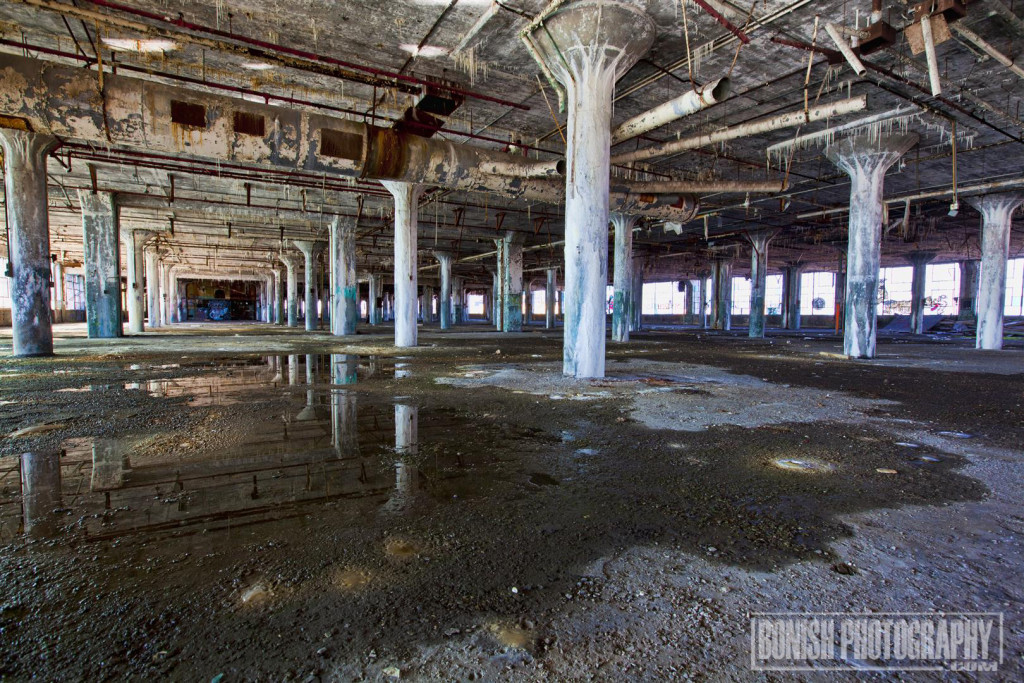 So all in all, the day was awesome. Jesse gave a great tour, and really showed us some great sights in Detroit. If you're ever in the Motor City area, be sure and look him up and see if you can tag along on one of his tours.