Homosassa River – Snorkeling Lessons
Cindy and I were talking a few days back about underwater photography and the fact that it's something that I really enjoy, and how it sucks so bad that she's afraid to go underwater. We talked about it all night long and the next day she says to me, "I've been thinking about what we talked about, and I think that if we were to go down to Crystal River to where the water is perfectly clear and let me practice on my own, I'll try and get comfortable with snorkeling with you."
This was like telling me that she wanted a Threesome with another beautiful woman! I was so excited and immediately asked when she wanted to go?
She told me that since we normally have Tuesdays and Wednesdays off, lets plan on going on one of those days.
Tuesday came around, and I had the boat loaded on the trailer, the cooler packed up with cold beverages and all our snorkeling gear loaded up. If you couldn't tell, I was just a bit excited about this little excursion.
Once we had everything situated with the motel and Tiki Bar, we pulled out of Cedar Key around 11am headed South. On our way down, we talked about trying some place different since we've been in Crystal River so many times. A few people had talked about Homosassa Springs and that area, so we thought we'd give it a try.
We found the public boat ramp and launched the boat. Surprisingly we were at The Shed, which was one of the places we visited with Scott and Karen on one of our Fun Tuesdays awhile back. The bar is situated right beside the public boat ramp, so it was familiar territory at first. Once on the water, it was totally new which is always fun. There is nothing more exciting than seeing new places and views for the first time, especially if you're doing it from the water looking back at the shoreline.
Only a few hundred yards up from the boat ramp is the infamous Monkey Island. This is a small island with its own lighthouse and jungle gym for the spider monkeys to play on. Monkey Island is located right behind the Riverside Resort which is a big hotel, restaurant, bar, bait shop and marina all rolled into one. The resort maintains the little island and cares for the monkeys as they've been here for years and people come from all around to see them. They seem pretty bored with boaters driving around in circles to take photos of them, but I had to do it a few different times just because they're so fun to look at. You cant really just stop and look at them because of the rivers current. If you kill the motor, the current will keep you drifting right past them in a hurry and you obviously cant pull up to the island or one of them would probably jump on your boat, which would be funny to see as long it wasn't our boat.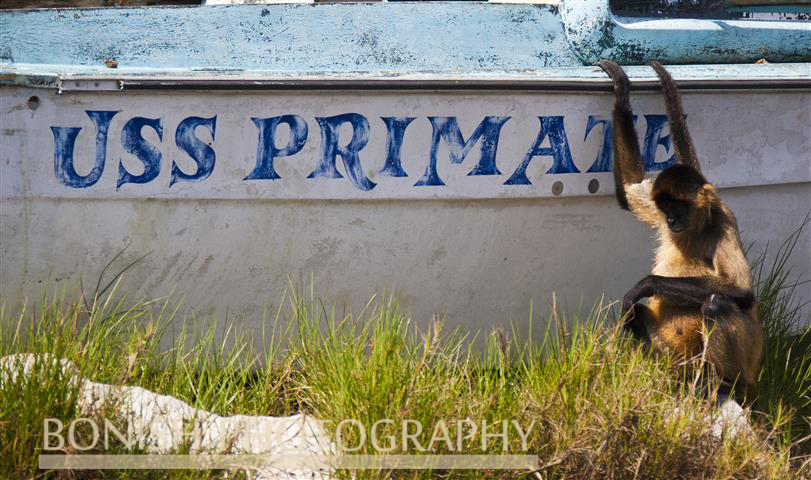 After a few laps around monkey island to get a couple of photos, we headed further up the river. We still had the rest of the day in front of us.
The homes lining the river are beautiful and the weather was picture perfect for being on the water. It was a typical HOT June day in Central Florida with temps in the mid-90's and humidity so thick, you could cut it with a knife. We were both looking forward to actually getting in the water sooner than later.
We idled up the Homosassa River talking and just getting into the groove of being off from work. It takes a little while to completely unwind since I was still calling in beer orders for the Tiki Bar and Cindy was still answering phone calls trying to line up events for the upcoming 4th of July festival that's being planned in Cedar Key. Before long, we were pulling up to the head waters of the Homosassa River, or at least as far as you can go in a boat.
Surprisingly enough, this is also right where we've visited multiple times this year with guests who were visiting us in Cedar Key. The Homosassa Springs Wildlife Park is the actual headwaters of the Homosassa River, but they have the last few hundred yards of the river sectioned off because of the wildlife park and the Manatee Preserve. We normally are sitting on one of the boardwalks looking out onto the area we were now anchored in. In the winter time, this area is loaded with Manatee's coming closer to the warm spring water pumping up from the underground aquifers.
It wasn't what I had expected when some people had told us it would be crystal clear water and white sandy bottom which is what we wanted for snorkeling practice. But by this point, it was pretty hot, and the water was looking really refreshing. It was really clear water, but a white sand bottom wasn't anywhere in sight. We overheard someone talking on another boat about an Algae Bloom that had way more seaweed in the water than is normally present.
Either way, we both jumped in within a few minutes of anchoring the boat. The water was cool, and exactly what was needed on a hot day like today. It instantly cooled us off and was as refreshing as walking into an Air Conditioned house on a hot summer day.
One of Cindy's ideas was to bring a Noodle to put under her arms so she could just float and work on her breathing. She says she has issues with putting her entire head underwater which is what freaks her out when trying to snorkel. She thought that if she could just float, then she could allow herself to get comfortable breathing through the snorkel at her own pace.
I was game for anything as long as it meant she was working on getting more comfortable with being in the water. This is a huge step for her and I have to congratulate her 100% for wanting to do this on her own. I normally have to beg her to get in the water and go snorkeling, so the fact that she wants to work on it on her own is a huge deal for me.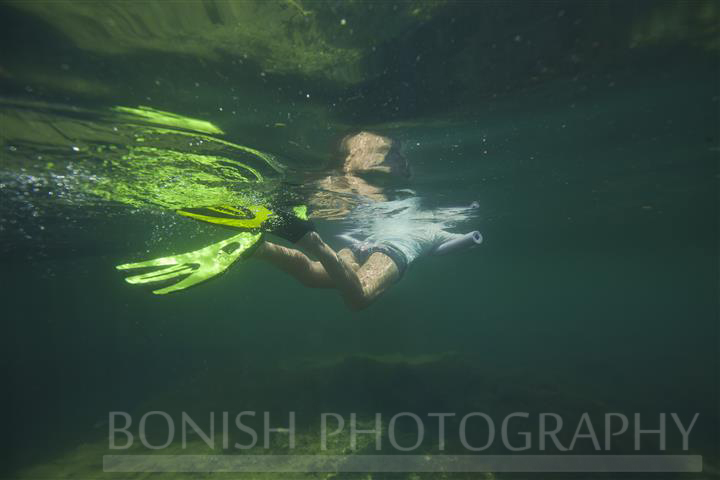 We snorkeled around the area for about a half hour before getting back into the boat. Other than cooling off, there wasn't all that much to see. The seaweed in this area is pretty thick, and I'm the biggest pussy on the planet when it comes to seaweed touching me. I'd rather be burned with scalding hot water than thrown into a big pile of seaweed! Yes, I'm that much of a WIMP!
Back on the boat, Cindy said that the noodle gave her a lot more confidence and she felt much more comfortable not having to swim the entire time so she wasnt out of breath or breathing heavy because she was worried about swimming the entire time. This was a good thing. It meant that she was more comfortable with her head underwater which is what we wanted to work on.
We grabbed a bite to eat and sat kicking back on the boat for awhile before we decided to motor on down the river just to check out the area.
A little ways down stream, we saw a sign that said something about 'Cold Beers' and 'Sandwiches', so we headed up this narrow canal to see what was at the end. When I say 'narrow' I mean our boat barely fit down it. Cindy was questioning why I was even going up there, but come on, isn't being in new areas all about seeking out new drinking establishments.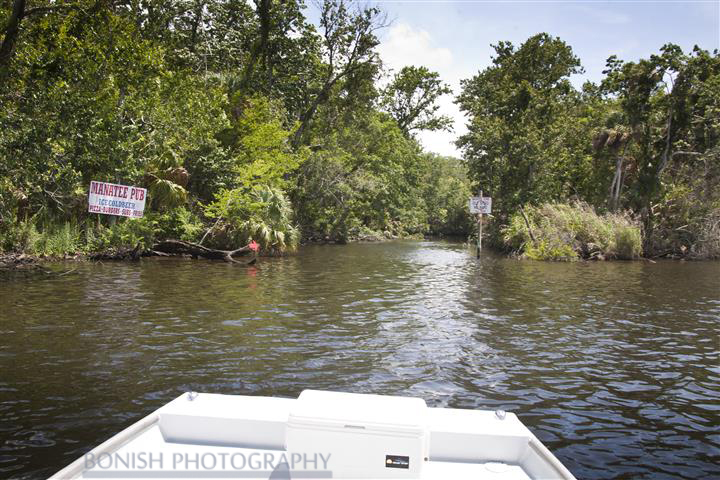 We passed a little RV campground that backed up right along the canal, and at the end, when the canal came to a dead end, was the Manatee Pub. Somewhat of a little dive bar at the end of a murky canal. While I tied up the boat, Cindy headed in to use the bathroom and see what was on the menu. By the time I came up onto the dock, She was sitting at a picnic table with a couple of ice cold Coors Lights.
She told me that I didn't want to go inside as it was a smoking bar and EVERYONE inside was smoking, so save my lungs and just stay out here….Oh, and they weren't serving food today. I had left the radio on in the boat, so we sat out there sipping on coldies and talking about her snorkeling lesson she had given herself. One of the rules was I wasn't allowed to give her suggestions or tell her what to do, she had said if we did this, she had to go at her own pace.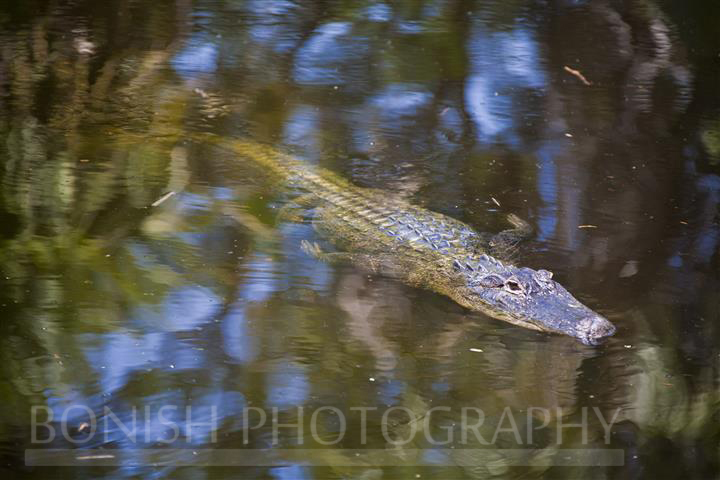 While we were sitting out there, one of the local fella's comes stumbling out and starts talking with us. He's telling us about a few of the resident alligators that live back in this canal when one splashes off the bank and starts swimming towards us. He tells us that is the medium sized Gator as there is one that is over 6′ long, but this one was only a little 4 footer.
It swam right up to the edge of the dock watching us, as if we were going to feed it something. Since none of us had anything to feed it, it grew bored when I came close to try and take a photo and swam away. We sat talking for a little while with the local guy hearing all sorts of juicy gossip, if we knew any of the people he was telling us about. When we were finished with our beers, we said goodbye and idled back down the canal towards the river.
Once back in the river, we headed towards the mouth of the Homosassa River for quite some time. At this point, we were in full Time-Off Mode, we were talking about all sorts of crazy things, none of which had anything to do with work. Awhile down the river, we heard a rumble behind us which made us turn around and see some heavy, dark clouds rolling in along the horizon.
We both grabbed our phones to check the radar which told us there was a storm heading our way, but like 99% of the storms that happen during the summer months in Florida, they fizzle out within minutes of building up. Just to be on the safe side, we turned around and headed back towards the boat ramp in  case the storm turned into something serious. It's different when we're not in Cedar Key. We know that area really well, and if a storm is blowing towards us, we can either motor around it, or anchor on one of the outlying islands and just wait it out. Since we weren't familiar with this area, we decided to play it safe.
As we motored closer to the ramp, we realized we had beat the storm and at this point and it was moving north of us, we had nothing to do other than load the boat onto the trailer and head home, or hang out to see what the storm was going to produce. Checking my Weather Bug App on my iPhone, it told me there was lightning 6 miles away and we could hear the thunder off in the distance.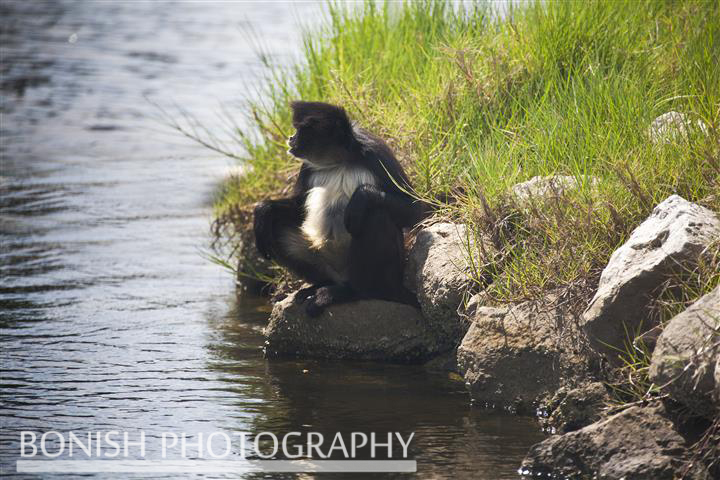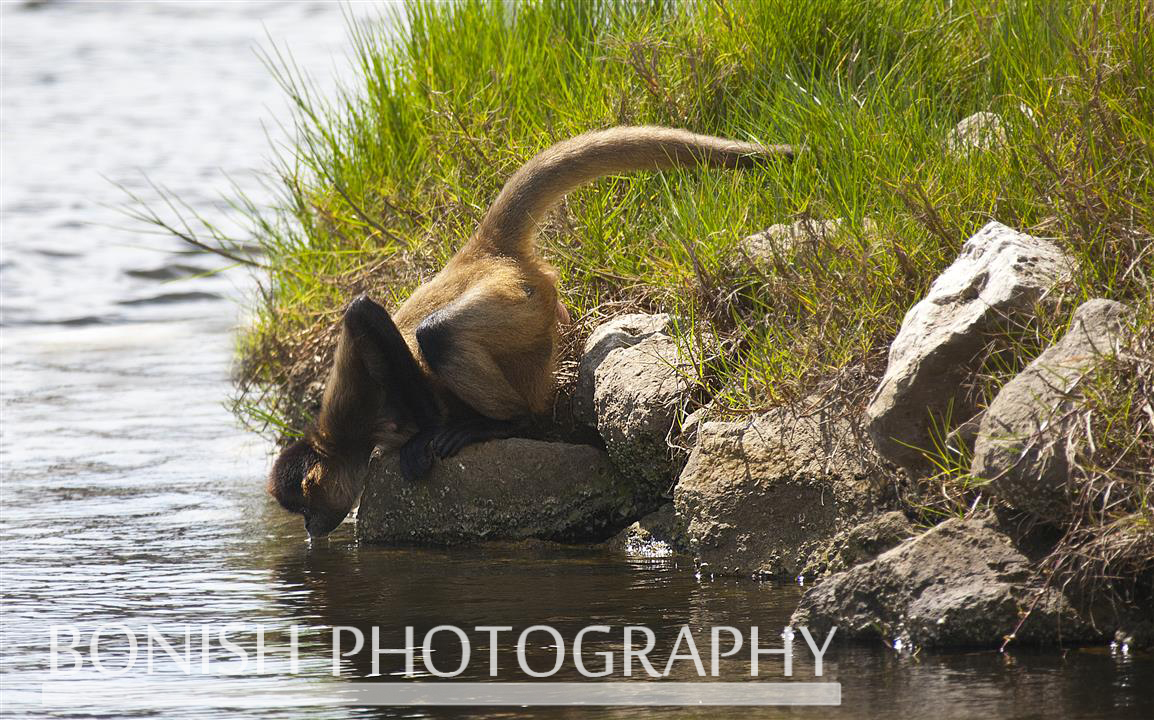 We sat talking for awhile as we watched the monkeys do their thing. We both thought that rather then drive home through the storm, why not just hang out down here for the night. We had brought a change of clothes and a Overnight kit just in case we had decided to stay. Cindy picked up her phone and called the Homosassa River Resort to ask if they had a Hotel Room available for tonight. They said they did and they asked how we'd be checking in. When Cindy told them we'd be pulling up via boat, they asked how far away we were?
She told them we could see their docks and they said they've have someone out on the docks to show us where to park the boat. How is that for customer service, especially since we were pulling in via boat and are used to our typical Cedar Key digs which are ANYTHING but boater friendly. We both always comment that Cedar Key could prosper from catering to boaters if they were to provide them with safe docks and customer courtesy when it comes to accommodations for boaters, but the City Commissioners seem dead set against it?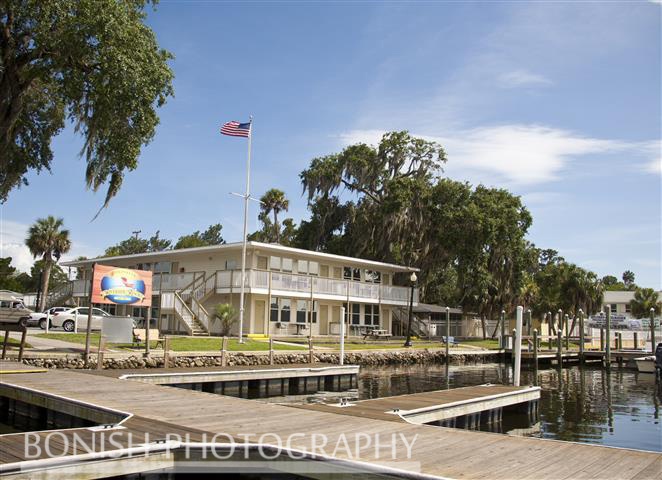 We pulled up to the docks and tied the boat off. Mental Note: Buy Bumpers for the Honey Badger! Something we don't usually use in Cedar Key but have needed twice today.
Cindy and I walked up to the office and checked in. A dock hand came back to the dock with us to see if we needed help unloading anything from our boat or if we needed help tying the boat up. Again, the customer service was outstanding and something I was really impressed with.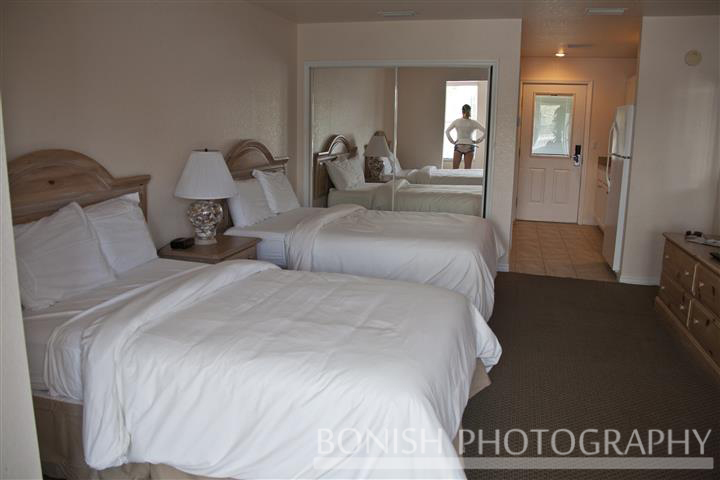 We checked into our room which was a nicely updated suite with full kitchen, full sized refrigerator and a spacious balcony overlooking the water. The resort offers a beautiful pool area, a restaurant and a full bar are on the property, and if you need anything for the boat, there is a full service marina and bait shop too. You could basically pull up and not have to leave for a few days if you wanted to.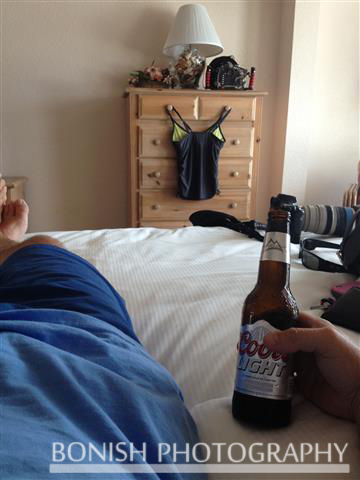 Since we had been on the water all day and it was roasting hot at this point, we chilled out in the room for a few just kicking back and relaxing. We changed out of our wet clothes before we headed over to the Yardarm restaurant to grab some dinner. We decided to sit out on the outdoor balcony overlooking the water and just watch the boats go up and down the river as the sun went to bed. Wouldn't you figure that the threatening weather never dropped a single rain drop on us, but we were both glad that we decided to stay rather than risk getting caught out on the water or have to drive through a crazy storm.
Once our bellies were filled with food, we were both fighting off some very heavy eyelids. We walked around the resort property just to let our food settle before we headed back to the room. After a long shower, I think I was passed out in bed by 9pm. I was sawing some serious logs and loving every second of it. There is something about a long day on the water that just allows me to sleep like nothing else.
It was an awesome day and I was really looking forward to tomorrow as we were planning on heading over to Crystal River to do some more snorkeling in 3 Sisters Spring.