Been a wild couple of days with everything going on in the country and in our somewhat normal lives. Cindy flew out to New Orleans to visit our daughter and Grandson for his 2nd birthday. Seems like only yesterday that we were there watching him be born. I stayed home and held down the fort much to my dislike. Cindy told me it would be too hard to orchestrate both of us going, but she wasn't going to miss it for the world. I wanted to go really bad, but agreed that I couldn't see how we could finagle the two of us leaving during this time of the year.
While she was gone, I was working the Tiki Bar one very slow night by myself. It was really hot and sticky humid and quite breezy. Only a few guests were sitting inside the bar chatting and the sunset looked like it was going to be a total bust. There was a layer of thick clouds right on the horizon, so when the sun got close to setting, it just sort of disappeared.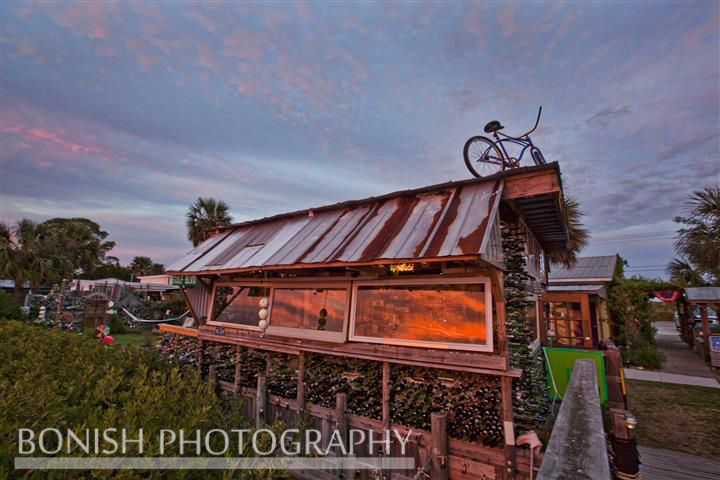 Everyone left thinking that the night had basically ended without any grand exit or good photo opportunities  I was sitting in the bar about 25 minutes later and noticed a bright pink glow on the water, so I grabbed my camera and walked out of the tiki bar to see what the sky was doing up above us. I right away yelled back into the few remaining patrons and said "Ya'll should come out here and look at this!"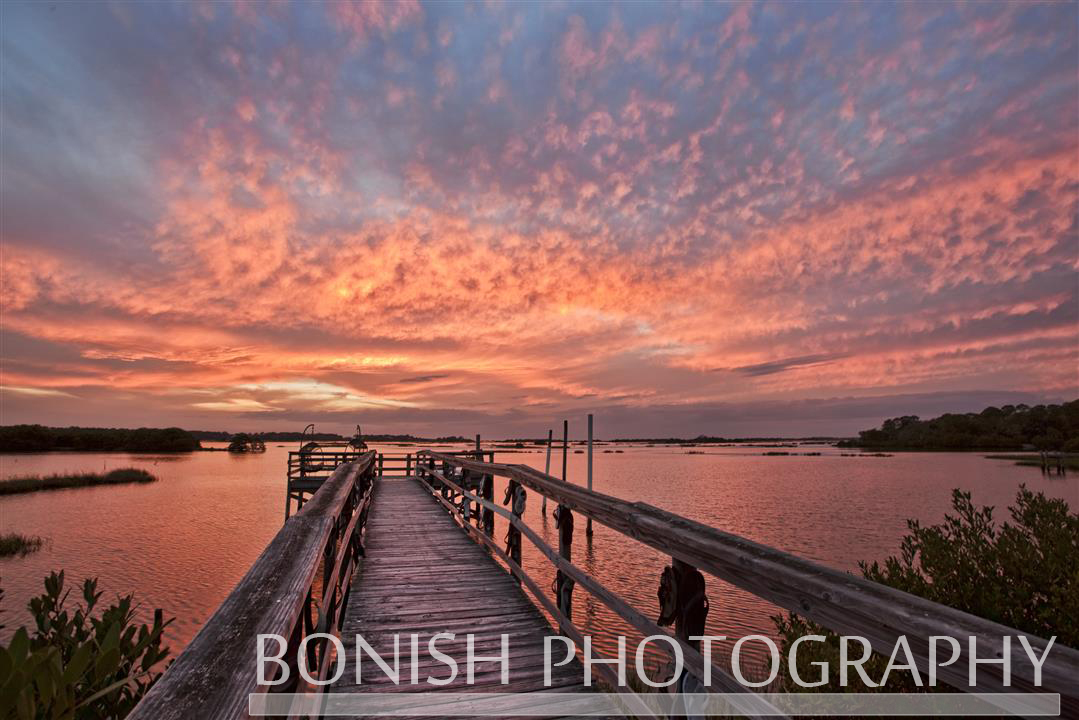 The remaining clouds were lit up something magical and the water was reflecting an amazing pinkish glow. What we call the Afterglow was kicking tonight and for the next 20 minutes, we all sat out on the dock just 'Ohhing' and 'Ahhing' as it changed with each passing second.
So what we thought was going to be a lame night, turned into one of the best sunsets I've seen in a long time. After everyone finally went home that night, I drug myself into our lonely house, fed the dogs and got ready for bed. As I was shutting down the computer, I decided to look at the pictures I had taken of sunset on a larger screen. I downloaded them and was looking at them on my laptop and thought I should at least post one to Facebook.
It was the one shot I liked the best of my dozen or so pictures I had taken earlier. I posted it on our Low-Key Hideaway Facebook Page and shut the computer down finally crawling into bed.
The next morning I woke up, let the dogs out to relieve themselves, turned my computer back on and checked some emails. I noticed a few posts commenting on the photo I had posted the night before and was shocked to see that it had over 200 'Likes' and an amazing 243 'Shares'. That's probably the most we've ever had on any of our images. And to think that I was considering the night a total bust due to how low our sales were. I guess some things make up for others when you look at it from a different angle.
I also received a really nice email from a fellow photographer after he had read a page I have on my Photography Website.
Here is what the email said:
Dear All,
I wanted to commend you on your thoughtful, generous and practical concert photo tips article on your website. I've been a photographer since 1975, professional since 1980, and your advice will help a lot of people who are starting out.
You've covered a lot of important issues, especially being considerate of fans and obeying the rules and treating security with respect. I've also worked as an events security guard for 7 years at stadiums and concert halls; I know their mindset. NEVER NEVER upset them….they can ruin your night if they desire.
Your tips for selling photos was especially noteworthy, since most beginners probably are happy just to get a pass. Another interesting tip for them would be how to present your work to magazines and book publishers. I've never marketed my work, but over the past two years, since I've been posting my work, I've been getting a lot of purchase requests and book use requests. Most recently from a publisher in England doing a Kinks' book.
Well, on behalf of the photographers you're article will help, thanks again.
Good Luck,
Roger Barone – Philadelphia – Photos from Philly
I checked out Rogers photos and that's quite a compliment coming from such a talented photographer. It put a smile on my face and really made me feel good for the rest of the day. Thank you Roger for your kind words and I hope that page I put together will help a fellow photographer learn a few things without making many of the same mistakes we've made over the years.