Logo's, T-Shirts and Marketing
The marketing side of the Low-Key Hideaway is up to me.  Cindy's in charge of the decorating, the layouts of the rooms and keeping the guests happy.  Her and Amber do a wonderful job with that and it shows.
I'm the one who is supposed to keep people entertained with logos, new designs and funky art pieces built or hung around the grounds.
Knowing we'll be here for awhile, I was talking to Cindy one night while we were closing down the tiki bar and it was just the two of us.  This is when many of our really good brainstorming secessions happen; I told her that "Cedar Key is our home port now.  It's where we've dropped anchor and we'll be here for awhile to give this business time to grow roots."
I could see the glimmer in her eye and she said "I like that!"  Figure out how to make that anchor thing work for us."  So I started working on different logos to incorporate an anchor with the LKH abbreviation we use rather than always spelling out Low-Key Hideaway.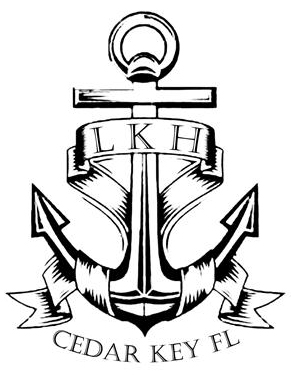 This is one logo I came up with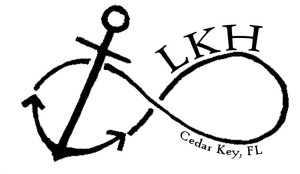 Since we don't plan on leaving anytime soon, and if we do, it will be to move to a sail boat (keeping with the nautical theme), I figured the Infinity symbol mixed with the anchor would be a cool logo
While I was designing these logos, I was searching for some retro pin-up art that I thought would be a good addition to the Tiki Bar Logo.  With the super cool vibes of the tiki bar…… pin-up girls, Hawaiian tiki's and a rustic feel just sort of go hand in hand.
I found some cool designs on Pinterest and contacted the artist, Becca Whitaker, asking if she would allow me to purchase one of her pieces to use as our logo.  She informed me that the specific piece I was asking about was designed specifically for a company and they owned the rights to that piece.
I asked her about designing a custom piece for us and Becca let me know that she'd get on it right away.  Cindy and I threw out a bunch of ideas that included keywords like 'Pin-Up', 'Sexy', 'Bodacious', 'Tiki', 'Cleavage' and 'Tropical' along with a few other words that would point her in the right direction.
A month later, Becca sent us some proofs to pick from.  We pulled a few pieces from each print and combined a really cool piece that will be unique to The Hideaway Tiki Bar.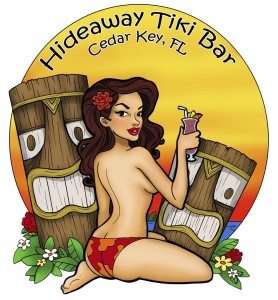 This is the finished logo that we'll be using for our next batch of T-Shirts.  As soon as she sent us the final print and we sent it off to the T-Shirt company, we had her start on another logo that I think is even cooler.  I cant wait to get it back from her and see what she comes up with.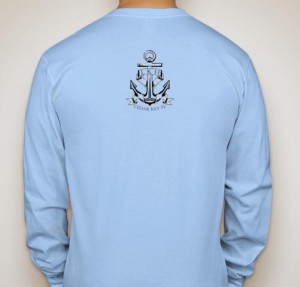 Back of Shirt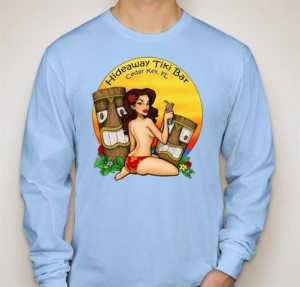 Front of Shirt
By combining the two on an American Apparel Long Sleeved Shirt, we now have a pretty unique shirt to sport while working the Tiki Bar.  The best thing about this is while the United States is complaining about a down-market, we're trying our hardest to keep everything made, designed and printed right here.
Becca is here in the Untied States.  Using an American Apparel shirt keeps our product within our borders and we're using a local printing company that is out of Chiefland Florida so it stays as close to home as possible.  Yes, this will mean the shirts costs a tad more, but I want to be part of the solution, not the cause.