We'd only been back from Minnesota long enough to catch up on emails, get our business caught up at the Low-Key Hideaway and get our clothes washed before we were leaving for Louisiana. I don't know if you'd call this one a vacation since we'd be babysitting the entire time. Seeing the Grandkids and getting to spend time with them was what we were so looking forward to.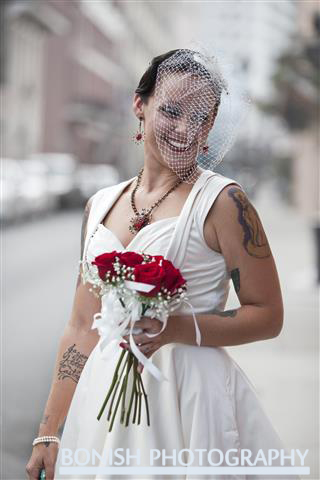 Our daughter was getting married, and this time she wanted to keep it simple and quiet. The only people attending were the parents on both sides, a few relatives who lived very close by, and a friend or two. Donielle and Brad were getting married at the French Quarter Wedding Chapel on Tuesday afternoon. After the ceremony, the entire party, 15 of us in total were walking the few blocks down to Bourbon Street to a restaurant where we were all going to have dinner and celebrate.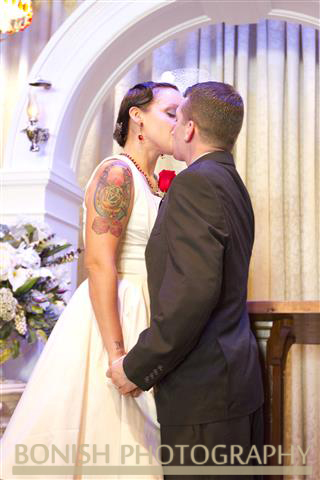 I'd planned on taking the photos of the ceremony to try and help save them some money. I had brought lighting, multiple strobes, stands and booms hoping to get there early to set everything up and have a chance to fire off a few test shots. Well the best laid plans never seem to work out, and 20 minutes before the wedding was to start, I was waiting for Cindy with the trucks flashers blinking in front of the hotel while screaming for her to hurry up over the phone.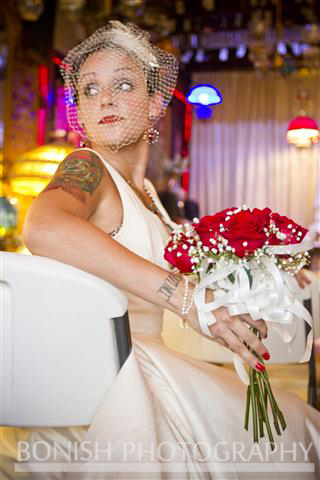 We pulled up to the chapel and when I told her it was going to take me another half hour just to get the gear unloaded and set-up, to which she said "Screw it, just wing it and see what you can come up with."
Luckily I've shot a bunch of gigs with zero lighting and just dealt with whatever was available. It's not the way I like to do things, but it is what it is. I just hate that I lugged all that lighting here and now wasn't even going to use any of it.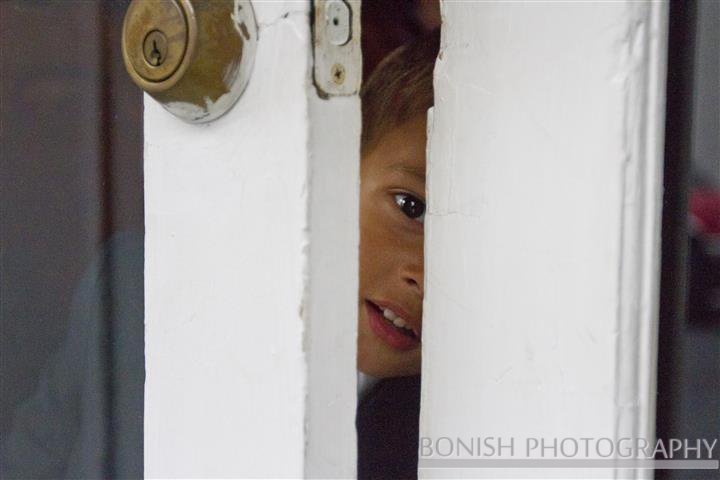 I grabbed two camera bodies, a wide angle lens and a medium telephoto lens and parked the truck. The wedding went well with the only glitch being Brad's 4 year old daughter who was supposed to walk down the isle dropping rose petals in front of Donielle. They had rehearsed this a bunch of times and it was all Gabby was talking about building up to the wedding. When they opened the door to the chapel and Gabby saw a crowd of people all staring at her, she froze up and just started bawling her eyes out.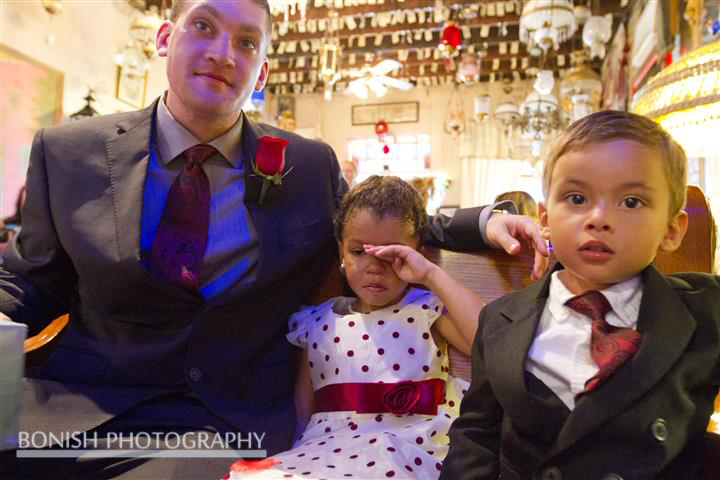 Everyone started laughing at this because of how funny it was, then Jazper who was supposed to be following her with the rings tied to a pillow froze up too. He sat looking at Gabby bawling her eyes out and looking at everyone else and you just knew he was thinking "Wait, I'm supposed to walk up there and she's crying? What are they going to do to me?"
Cindy grabbed a handful of candy from a basket that was by the front door, and showed the candy to Jazper. She said to him 'If you want any of this, you have to follow me to the front!"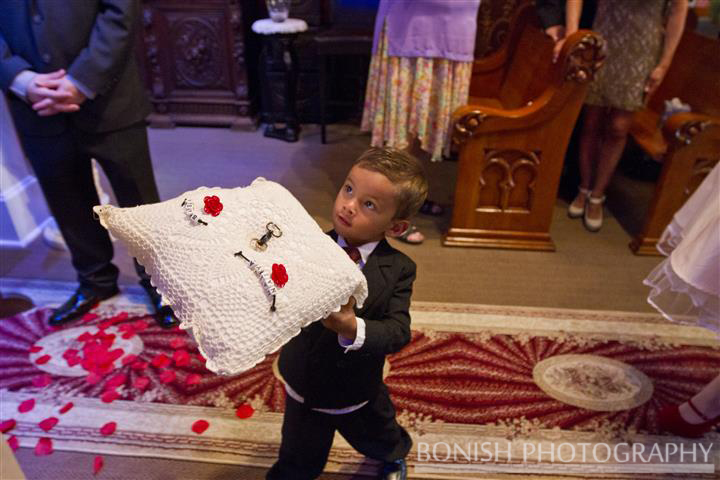 He didn't hesitate a step and followed her right up there just as he was supposed to do. The ceremony was quick and painless and before you knew it, we were all walking over to Bourbon Street for dinner. I like Brad a lot. He's a great father and seems like he'll be a very good addition to our crazy family. It was a happy day for us to be celebrating.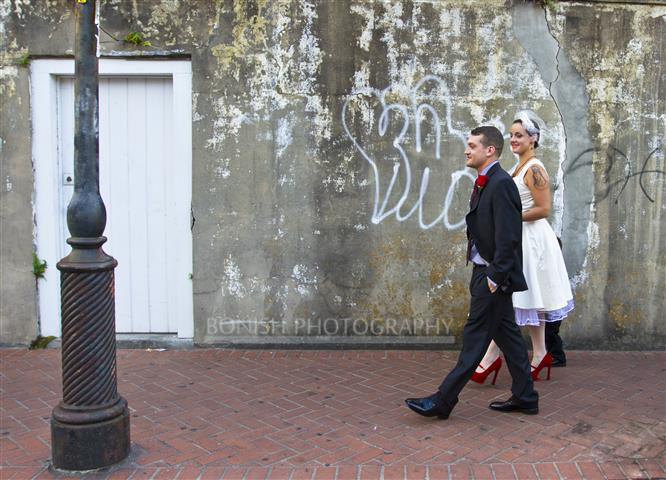 After dinner, Cindy and I excused ourselves and packed the little ones up so we could get them home and put to bed. This would allow the rest of the adults to go out partying in the French Quarter and have some fun.
We would be spending the next few days over at Cindy's sisters house in Folsom which is about an hour outside of downtown New Orleans. Teresa's house is more of a resort, complete with a beautiful in-ground pool that would keep the kids busy and active the entire time we were there. If we weren't in the pool, we were feeding the horses, riding the golf cart around or playing in Teresa's bedroom that was in the process of getting re-painted. It had a gloss white wooden floor and a high ceiling. There was no furniture in it because of the painting, so it became known as the echo room. The kids would run around in there screaming at the top of their lungs laughing at the way their voices echoed off the empty walls. Thank GOD that Teresa is so easy going because this could have easily drove an uptight person insane within an hour or so.
Now Cindy and I work fulltime and keep very active lives. We both workout on a daily basis and can party with the best of them. But trying to keep up with a 2 year old boy and a 4 year old girl for 4 days straight, all I can say is we were both so dang worn out that I think we're going to need a vacation from this trip. It didn't help that the kids both had mild colds, so they'd cough all night while sleeping in the same room with us. Being the concerned, and very inexperienced grandparents we are, as soon as one of them would cough, we'd nudge one another wondering if we should get up and do anything or question whether it was time to give them another dose of their cough medicine. This meant we'd get about an hour or so of solid sleep each night.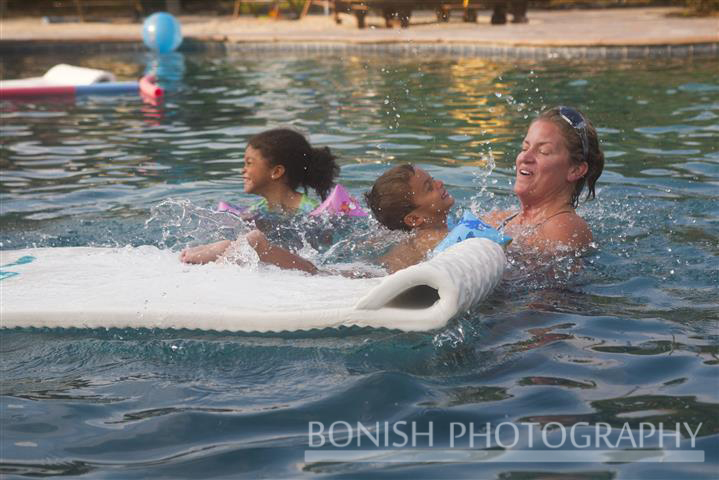 We'd wake up early each morning with the kids asking when we could get back in the pool. We'd eat breakfast and head right out to cool off. The heat was pretty brutal with the heat index peaking around 110 degrees. The pool water itself felt like you were diving into a giant hot tub. This was perfect because we didn't have to worry about the kids getting chilled with staying in the water too long. We'd get out after hours of swimming and everyone would be totally pruned up and water logged.
We stayed in so long, that at one point, Jazper asked if he could get out to go take a nap… 🙂 How often does a 2 year old ask to go take a nap? He learned that with his water wings on, he could use them as a pillow and just float in the water with his head resting on the water wing.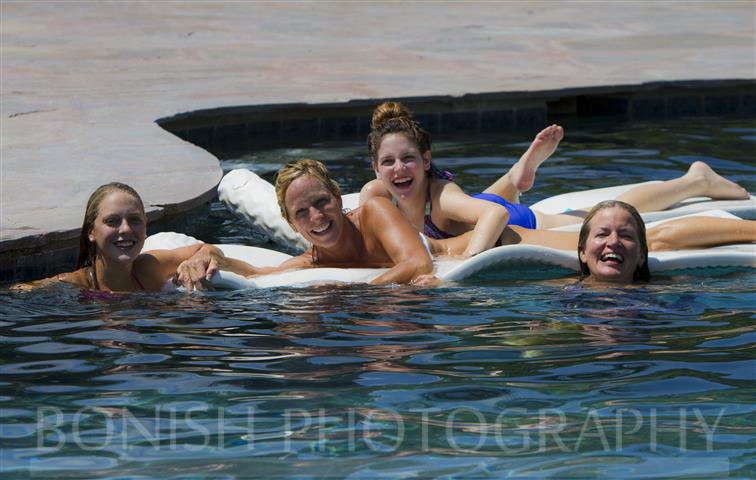 When we had picked them up from Donielle and Brad, both parents had warned us that although they didn't mind the water, neither would go under and it would be iffy if we could keep them in there for long.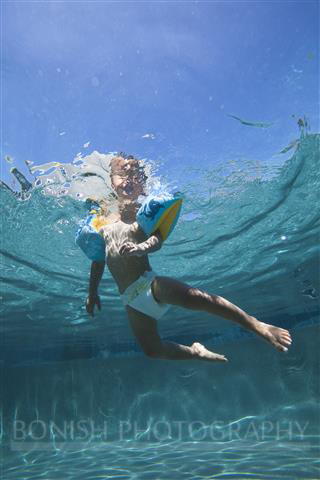 By the 2nd day, Jazper was dunking his head underwater and holding his breath showing Cindy and I how much of a big boy he was. He would even open his eyes underwater and smile while looking at the camera! Gabby will still need some work getting her used to going under, but we only had a few days to work on her. Give us a few more days with Jazper, and I think we'd have him out of his water wings and swimming on his own. He's a little water baby just like Donielle was when she was younger. They both loved going in the pool and I don't know if they were trying to show off for Oma and Pop's, or if it was just so dang hot out that they wanted to be in there to cool off? But either way, they spent a solid 8 hours each day in the pool.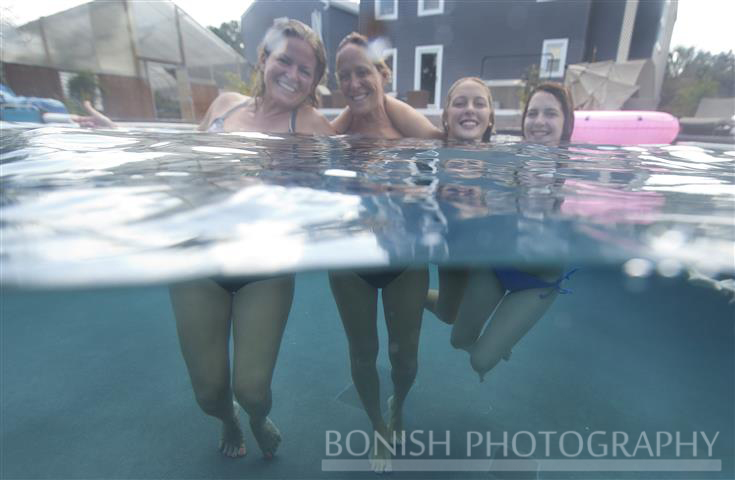 While at Teresa's, we had a blast with the kids, Teresa's two daughters and us adults even having time to ourselves to just chat and catch up. It's always good to spend time with family, especially when we're not having anything to do other than eat, drink and swim. Missy and Jessi were both great models underwater and Missy was better than I could ask for. She could keep a straight face with her eyes open and even a normal smile on her face while underwater. That's something most people cant do. So we spent a bunch of time with the Ikelite Housing shooting different shots underwater. I'd do anything to have a pool in the back yard to do practice shots and do modeling shoots underwater. It's so fun and combines my love of photography with my love of swimming and being in the water.
Here are some of my favorite shots from the few days spent at Teresa's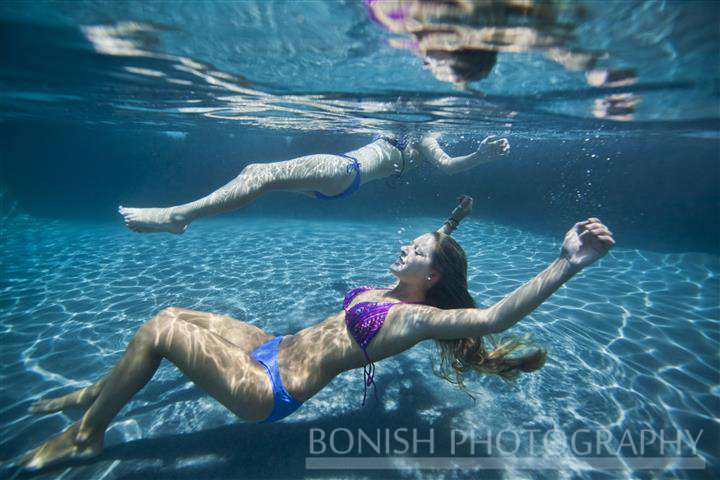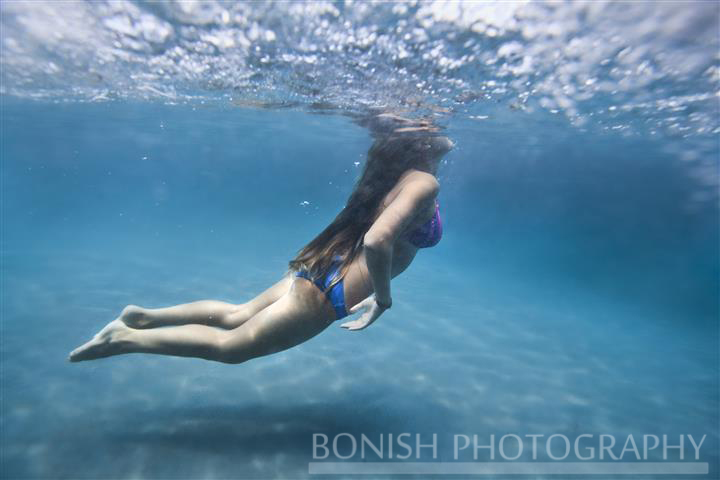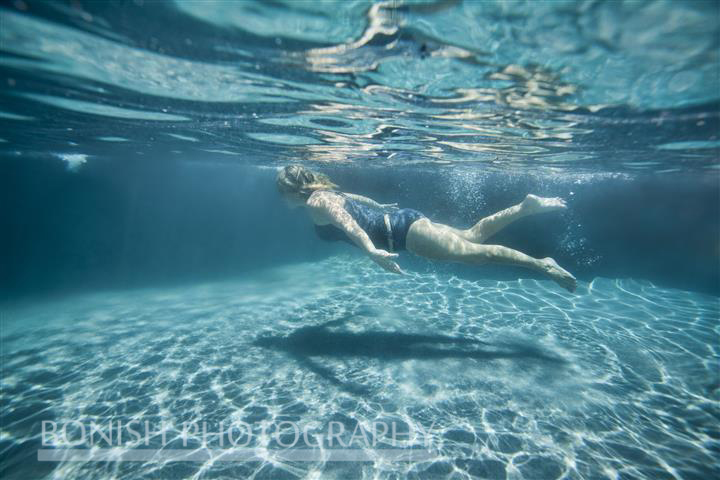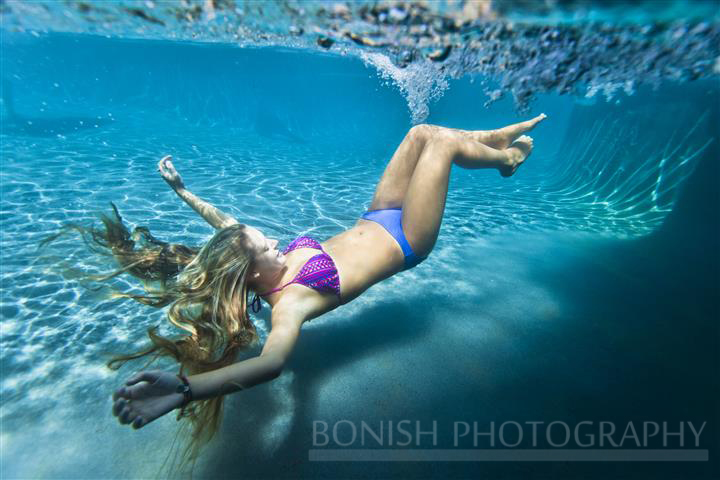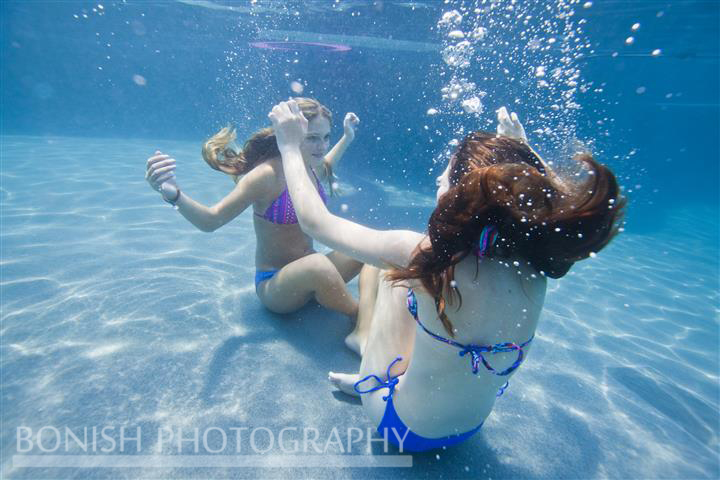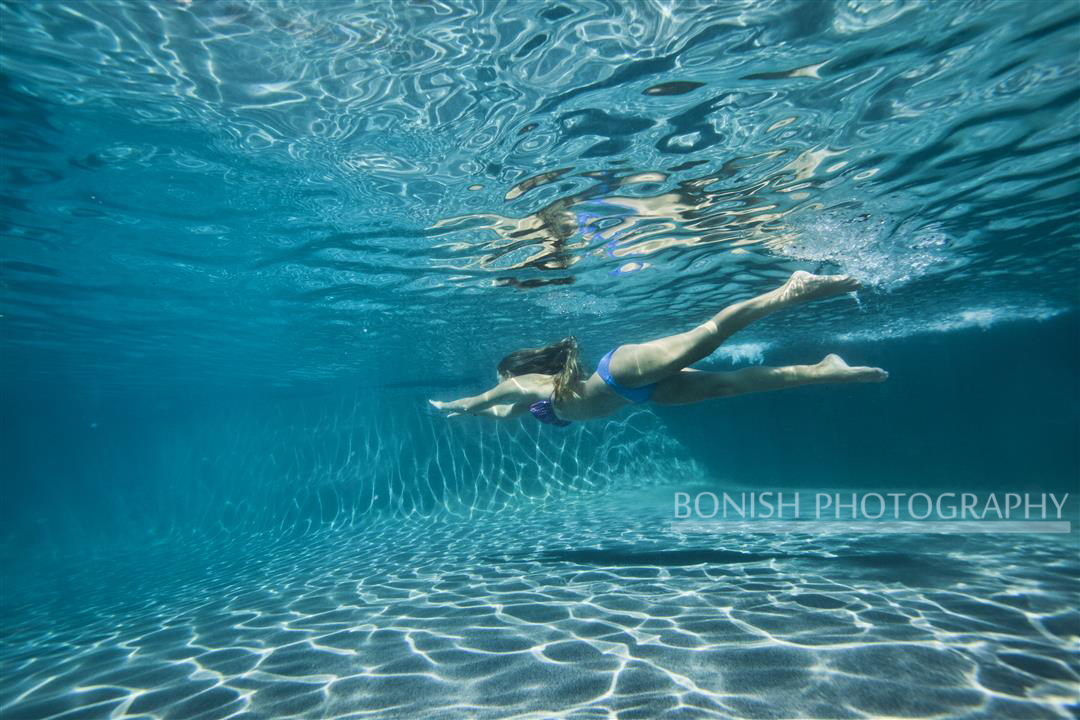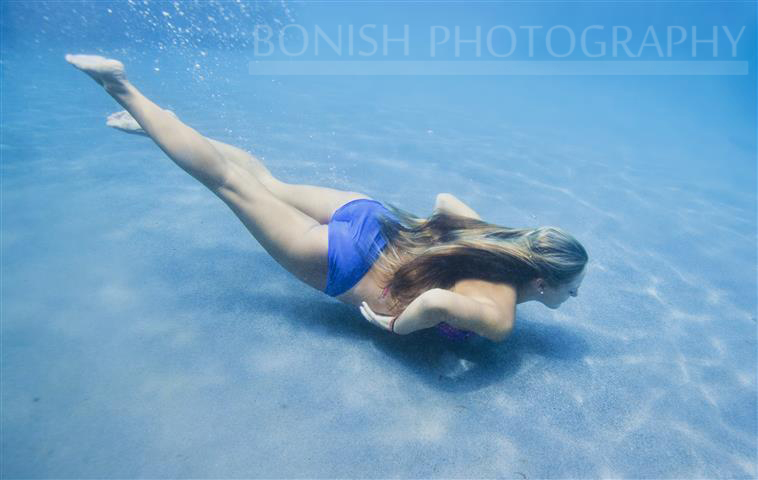 When it was finally time to drop the kids back off at Brad and Donielle's, Cindy and I were both exhausted. We had to be up really early that morning and had an hours drive back across the Causeway bridge to New Orleans. Once they were dropped off, we had another 10 hour drive back home to Cedar Key. Driving it straight through was pretty brutal. My legs were cramping up from being so sore from swimming so much, I had a sunburn on my back from being in the pool for 10 hours a day, even with wearing a 50 spf, and I was just beyond tired.
Cindy had said she needed to do some grocery shopping before we went home because our refrigerator was empty, and by the time we pulled into Chiefland where Wal-Mart is located, I couldn't stay awake any longer. I pulled into the parking lot and told Cindy to go do her shopping. I then crawled into the back seat of the truck and fell sound asleep. She came out an hour later and woke me up. We drove home, unloaded everything and went straight to bed. We were both missing our own bed, missing our pups and were in serious need of a good nights sleep.
Going to bed, we both said to one another "How do parents have kids when they're our age? What the hell are they thinking?" Luckily we had ours when we were younger and had much more energy to be able to keep up with them. Now we're just grandparents and only have to do it once every few months. But man was it fun! I miss them already.