Blue Springs Park, High Springs Florida : Part 1
I guess the Native Americas, those Yankee's or the Florida Crackers; or whom ever it was that went around naming the dozens of springs that dot Central Florida were lacking for creative names when it came to the naming of Blue Springs.
Cindy and I were planning to take a little vacation to visit some great friends who were on their annual Summer Vacation. You might remember Jeff and Jen from the many blog posts we've shared wild times with them. We camped in their yard in Palm Springs for a month when we first got on the road, they visited us in Michigan where we attended the Detroit Grand Prix and they came up to Cedar Key to visit us after we landed here at the Low-Key Hideaway.
The 4 of us had agreed to meet at Blue Springs Park after doing a little research on the web and thinking it would be a fun spot to camp for a few days. Jeff and Jen have a 5 year old son, so we thought the close proximity to the springs would give Evan something to do to wear off some steam.
While we talked about our vacation to visitors and locals at the Tiki Bar prior to leaving, it seemed that every person would tell us about their experience at Blue Springs, and every person would be telling us about a different Blue Springs location. Apparently there are 23 different springs named Blue Springs in the state of Florida. This probably explains why so many people were confusing us when it came to which Blue Springs we were actually visiting.
I made sure to send a group text to Cindy, Jeff & Jen with the link to the one in High Springs so we'd all be on the same page.
Monday morning we awoke to pouring rain and dark, dark skies. A quick look at the radar showed that the majority of the state of Florida was covered in thunderstorms so we weren't going to just wait this one out. This would make for a fun vacation as it's always fun camping when everything is soaking wet. I felt bad for Jeff and Jen as they were camping in a Pop-Up trailer which meant canvas sides and a lot of setting up and breaking down when it comes to packing.
I remembered back to when Cindy and I were first thinking about going on the road fulltime. We had our hearts set on a pop-up due to the light weight it would offer, the inexpensive cost we could purchase one for and the fact that we could tow it with a very energy efficient vehicle. That was till we went camping with a group of friends in Northern Michigan and a few of them had pop-ups. At the time, Cindy and I were camping in a tent. It rained the entire time we were camping and those folks in the pop-ups were just as wet as we were in our tent. EVERYONE was miserable that trip. There were two couples that had hard sided travel trailers and both those couples seemed to be in great spirits the entire time. Come to find out that they didn't have to set anything up, or take anything down when it came to eating, going to bed or moving around inside their campers. They also had dry bathrooms and warm showers in their trailers!
That changed our minds for ever when it came to our choice of campers and we NEVER thought about a pop-up again.
Back to packing up our trailer. During the brief periods that the storm would let up, we'd run things out to the camper to get it ready to for the few days of fun we were planning on. This was so much easier when we were on the road fulltime and had everything we owned already in the camper. After changing my soaking wet clothes for the 3rd time, we were finally ready to pull out of Cedar Key and head to Blue Springs.
High Springs is only a short distance from our area, so we were there within a few hours drive. Of course Cindy had enough time to take a nap since sleeping in the passenger seat is her favorite place to nap!
We pulled up to the main gate in the pouring rain and a big fellow in a gulf cart said "Follow me, I'll show you where to camp."
Once into the woods, I got out of the truck and he drove me around on his golf cart showing me what he thought to be the best camping spots. Since it was a few days before the 4th of July holiday and a Monday, the place was completely empty except for one other family who was tent camping. I felt really sorry for them!
I second guessed my idea of Blue Springs Park while the camp host was giving me the grand tour. The campground consisted of dense woods that provided lots of shade, a 30amp hook-up and a water spigot, but finding a level site would be close to impossible and everything was basically sand…..WET SAND! There was no sewer hook-ups available and not even a dump station to empty your tanks if you needed to? There was a nice shower house and bathrooms, but I HATE using public bathrooms. (I know, its weird, but it's also why I have a camper with my own bathroom) There no Wi-Fi, no television hook-ups, no cell phone service and the camp sites are so thick into the woods, so I'm sure if you're trying to even get a satellite signal, it would be blocked. I'm only telling you this in case you plan on camping here, you're basically boondocking or dry camping.
Jeff and Jen hadn't arrived yet, but Cindy was on the phone with them and they'd be here within a few minutes. Apparently their GPS had taken them on some backroads and Jeff was telling Cindy they'd spent the last half hour driving down dirt roads. I told the camp host I'd wait till they got here to decide where we'd camp. His suggestion of his favorite spot was nice, but it was beyond a tight fit, so I was worried about getting the camper backed into his suggested slot.
The dirt road was washed out from all the rain, so getting the campers into the slots would mean very steep approach angles with some 90 degree jack-knifes to get around all the trees.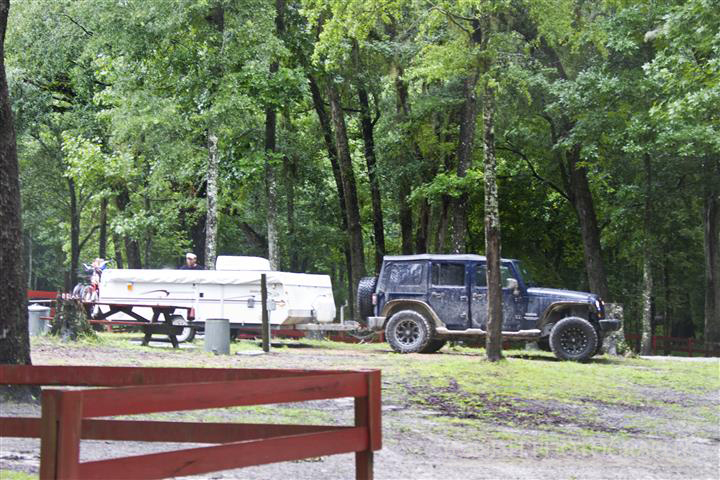 Once Jeff arrived, we talked about the different sites, and Jeff picked one he liked close to the bath house. He had to put his Jeep into 4 Wheel Drive to get up into the site due to the wet sand and steep angles. While I was trying to back our camper into an adjacent site, I bent two of our stabilizer jacks almost to the point of tearing them off, but we never really use them, so it wasn't that big of a deal to me. Cindy on the other hand was freaking out.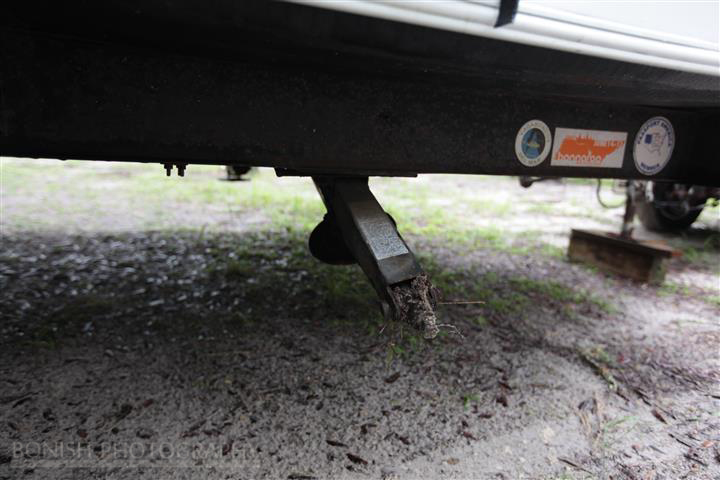 I had the truck in 4 Wheel Drive, the camper was completely jack-knifed and we still weren't getting into where we wanted to go. I finally said "Ok, Forget this spot, lets just go find a different site where I can back in, and Jeff can pull straight in so our doors are facing one another." We both pulled out of the first sites we picked and soon were parked in new spots that weren't so awkward to pull into.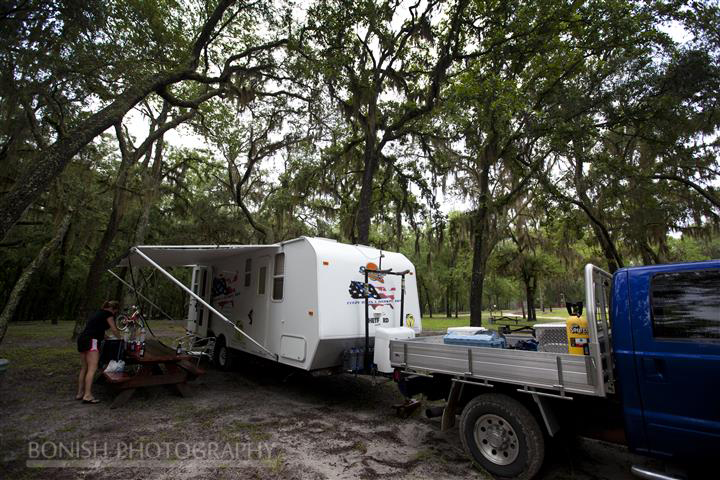 Other than backing in, unhooking the trailer from the hitch on the truck so I could raise up the front end with the main jack, and pulling out our awning so we'd be out of the rain, Cindy and I were set up and sipping on a cold beverage within a few minutes of putting the truck in park. Jeff on the other hand took the next 45 minutes to set up camp. I cant figure out why he loves his pop-up so much, but you cant talk him out of it no matter how hard you try, so we just like to sit in our chairs and heckle him while he sets up camp. Jen and Evan were over with us under the protection of the awning while we all watched Jeff set up in the pouring rain. (Isn't that what good friends do to one another?)
Once we were finally settled in, the fun began. By this time, everyone was pretty wet, so we just went out exploring the springs and boardwalks in the rain. It is July in Florida, so the rain was somewhat warm, and with the high humidity, it's not like anyone was cold or going to catch a cold from being wet the entire time.
The springs look beautiful and have a tall deck that juts out over them. The other family that was camping in the campground, which consisted of a father and his two boys were like us and just dealing with the rain. They were in the springs snorkeling and had the whole place to themselves. Just after we had checked in, the guy in the Gulf Cart came over and said they were going to close for the day and lock the main entrance. He told us we'd be by ourselves till morning when they'd return. So except for the other 3 guys, we were really the only people around.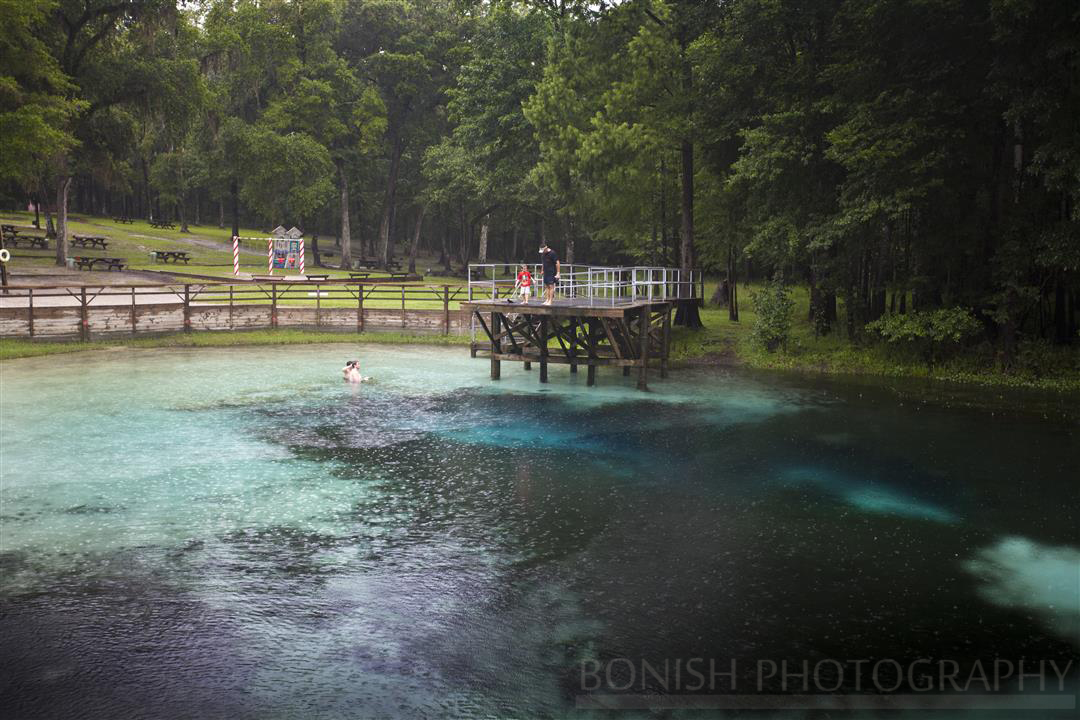 There is a long boardwalk that follows the springs run out to the Santa Fe River. Walking down the slippery wood, we had a birds eye view up over the water and were level with the middle of the forest. It was a cool perspective to view the wildlife. There were lots of turtles along the banks, and the birds chirping and fluttering around in the rain looked like they were enjoying themselves as much as we were.
After our walk, the rain was coming down in buckets so we dried off somewhat, climbed into our camper where it was cozy and warm, and spent the rest of the evening catching up on the past year apart from one another. The food was good, the conversation was great and it was an awesome night despite the crazy weather.