Cedar Key Christmas Boat Parade
Oh what fun the last few days have been. It seems the Winter Season is back in full swing here in Cedar Key and the Low-Key Hideaway.
Between the cool weather we've been experiencing, to the traveling snow birds that are here to visit, it just feels like the Holiday's are upon us.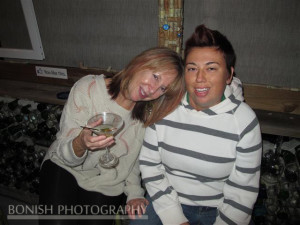 This past week, Brian and Maria from The Roaming Pint travel adventure checked in and will be staying with us for the next 6 weeks. You probably remember them from last season when they wintered here in Cedar Key along with a bunch of other gypsies that landed here for the winter months.
Our long time friends and return guests Jim and Linda, from Travels with Linda and Jim checked in a few days ago and they'll be with us for the rest of the month too. They've wintered with us multiple times and actually were the rare set of RV'ers that summered with us too.
Bill and Debby, the ever so hippish travelers Kassons Wild Ride, just got into town a few nights back who will also be spending their winter months here in Cedar Key and it seems like the whole gang is building back up to what it was last year.
Of course this meant the past week at the tiki bar has been a little rowdy, but hopefully the rest of the guests visiting will understand this sort of thing happens this time of year.
If you've been following our adventures here in Cedar Key for multiple years, then you know how big of a deal the Christmas Boat Parade is for Cindy and I. Our first year in town, we started talking smack right away about how we were going to win the prize. We're both SUPER competitive if you cant tell.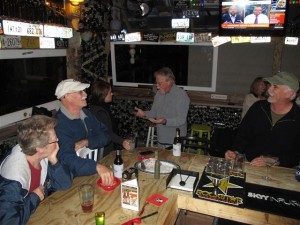 A few of the locals informed us that "Us New Comers would never win", so many of them had to eat some serious crow for the rest of the year once we had the 1st Place Plaque hung in our office.
Building up to the second year, we were informed that our boat wouldn't make the parade, hinting that some poor sports would sabotage it so we wouldn't be able to win again.
We had spent two full days decorating the boat last year only to motor away from the dock and have the outboard sputter out in the channel behind the motel. So whom ever was jealous of our first years winnings had spoke the truth when they let us know we wouldn't make the parade.
This year rumors were flying all around with some folks even posting comments on Facebook saying they'd bet money our boat wouldn't make the parade again. The stakes had been upped big time with the Cedar Key Aquaculture Association offering a Cash Prize to the winners, and the new addition of a big trophy, ala Stanley Cup style that will be awarded to the winners.
The winner will get their name engraved onto the trophy and get to keep it for the entire year as bragging rights. The following year, that winner will have to hand the trophy over to the next winner after the boat parade.
Needless to say, Cindy and I were gunning for that trophy!!
I took the boat out of the water last week and took it to Williston Marine Metals to have lights, a radio and some other electronics installed. We got it back just in time to take it out for a few test runs, but otherwise it's been sitting on the trailer in our yard so we could keep an eye on it.
Cindy, Amber, Brian and Maria spent the entire day on Friday decorating and stringing lights along the railings and canopy of the boat. This was brutal due to how cold, damp and windy it was that day with your hands not touching anything but bare aluminum.
By the end of the day, it was really looking good and we had yet to even pull out our secret weapon.
When Cindy and I had the Red Dog Saloon up in Michigan, a friend had given me this 8′ long Hammer Head Shark to hang on the wall. He had said it was too large for any room in his house. When we were selling the bar, I had contacted Scott and told him I wanted to give it back to him. He told me at that time that he was living in an even smaller apartment, and there was no way he could hang it anywhere. So we brought it down to Florida with us.
We've kept it in hiding since July knowing we wanted to use it for the Christmas Boat Parade.
We all woke up today to beautiful weather and bright blue skies. After the last week of solid fog and cloudy weather, we were all in need of some serious recharging by the sun.
We got to decorating the boat right away as we would have to build a support to hold the shark up on the bow of the boat. At one point we took a break to set up a funny shoot on the end of the dock. I mean you cant have this giant Hammer Head Shark and not have fun with it.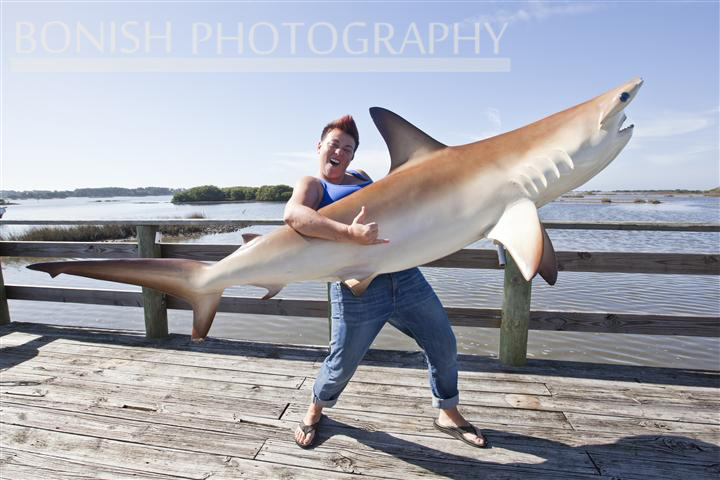 Maria playing her Guitar Shark
Cindy with the photo that caused such a big stir on Facebook
When I posted this shot to Facebook, it incited people to tell us we were disgusting for keeping such a big shark. When I let them know it was fake, they removed their posts and said they were going to eat crow….HA HA!!
Bill and Debby had just bought a canoe from our good friends Hazie and Amanda and they were decorating it with little LED lights. You have to give them some serious KUDOs to be out in the dark in a canoe with all these lit up boats all around them.
By the end of the day, it was shaping up to be a beautiful sunset, and although the wind was blowing a bit chilly, it was as perfect weather as one could hope for.
We loaded everything up onto the boat and headed downtown. I stopped at the gas station and topped the tank off with fresh fuel. We had left it at about a half tank from when we got it back from Williston Marine to test it out. I always add fuel stabilizer and a little bottle of Octane Boost to try and fight the low grade marine fuel we use that doesn't have ethanol in it.
I backed the boat down the ramp and switched spots so Cindy could back me in the rest of the way.
It didn't take long to realize all the rumors spreading around were true. Someone had sabotaged our motor again. I couldn't get the motor to hold an idle and it was coughing and sputtering something awful. It stalled at least four times while we were just sitting there in the water before we had even backed it off the trailer.
We had a friend of ours, Jay, from Slider Magazine, who is in Cedar Key visiting for the holidays go park the truck for us so Cindy could jump in the boat with the rest of us and we could try and get out on the water.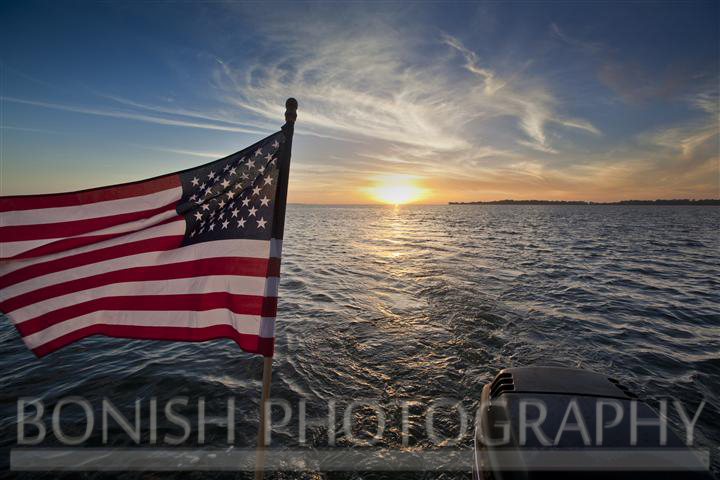 Circling around in the water while the team fixes the lights
As we motored away from the dock, it was evident the motor wasn't going to work properly. I could put the throttle as high as it would go, and we were basically puttering around at a very slow idle with it sputtering like an old lawn mower. Every now and then the motor would cough and surge and if you weren't holding onto something, you were going to fall down.
If that wasn't bad enough, while we were motoring over to where we were supposed to be staging up, all the Christmas lights on the boat went out.
I had warned Cindy that our boat was different than Luz's boat that we had decorated for the last two years. Hers was a Skiff that sits much higher out of the water. Ours is an old air boat hull that only sits a few inches out of the waterline.
She had used icicle lights to rim the boat and I kept telling her that they would be hanging in the water. Her reasoning was they were outdoor lights and they'd be fine. Outdoor doesn't mean Underwater and sure they could get wet, but they couldn't be submerged in salt water.
I had figured out by this point that if I put the motor in neutral and pushed the idle up on the throttle, we could sit still with the motor still idling and not have it stall out. We all sat there just floating in the setting sun for a few minutes with the motor racing while we scratched our heads trying to figure out what to do.
One strand of lights was still working that was closest the to generator. Brian suggested that we start from that strand, unplug everything else and just work our way around the boat seeing what we could get to come back on. While Cindy, Brian and Maria got to work, I kept the boat idling out of the way of the other boats that were pulling out of the marina.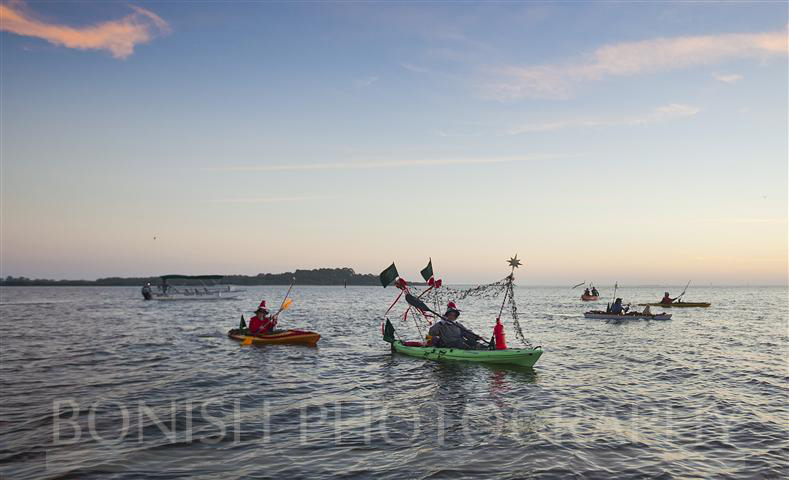 Kayakers and Canoes were paddling all around us all lit up
Strand by strand, they found the strand that was shorting out. They found this out as Brian and Cindy grabbed a hold of it and got the shit shocked out of them. With a section of it hanging in the salt water, they were basically electrocuting themselves when they were trying to grab a hold of it to pull it out of the water.
Maria picked up a paddle we keep on the boat for emergencies and scooped it out of the water. They unplugged it and re-routed all the other lights around that one strand that was causing the trouble.
Within 20 minutes time, while we circled aimlessly in the Gulf of Mexico, they had completely re-lit the boat and we were back in business.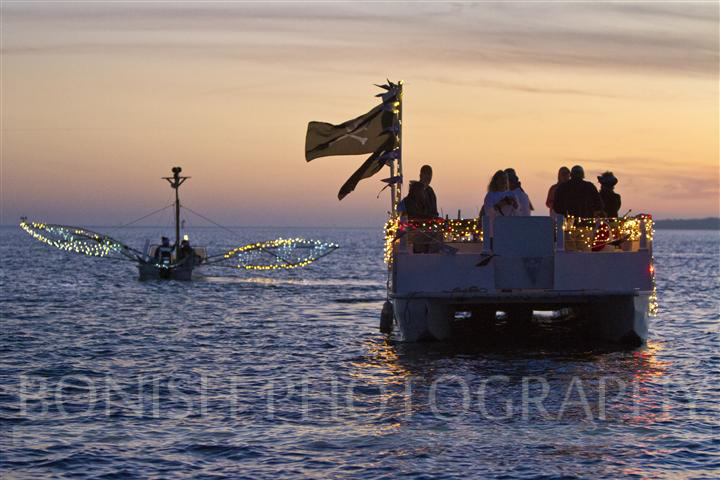 Cedar Key Pirates in Paradise Group had decorated Tidewater Tours big Pontoon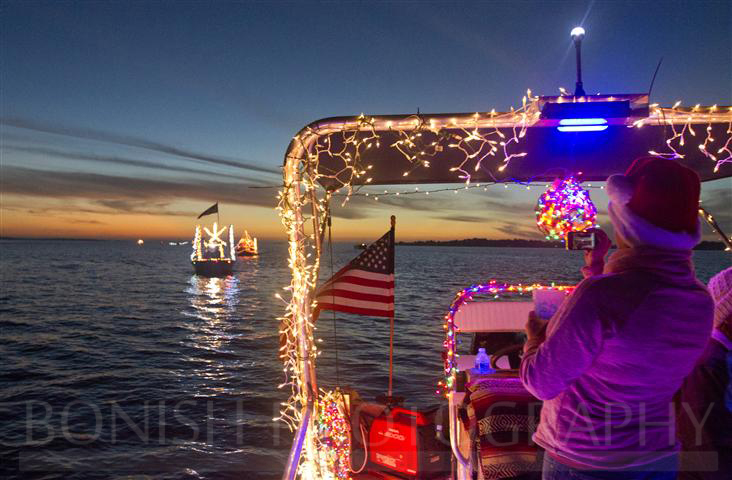 Lights back on with boats staged up behind us
With 11 boats staged up to be in the parade and 5 canoe/kayaks paddling around us, it must have looked comical for people on the shore to see our boat. In order to keep the motor running, I had to keep moving which meant that our boat was basically doing circles the entire time.
I kept the motor cranked to one side and just kept it spinning us around and around. About mid way through a full circle, I'd turn the motor just enough to push us forward ever so slightly before we'd have to go into another full spin.
There were some beautiful boats this year and the stakes have been upped seriously for future competitions. I don't think by any means that our boat was the best decorated, but I will say that we had the most spirit. The judges are supposed to judge on 3 items, Use of Lights, Creativity and Spirit.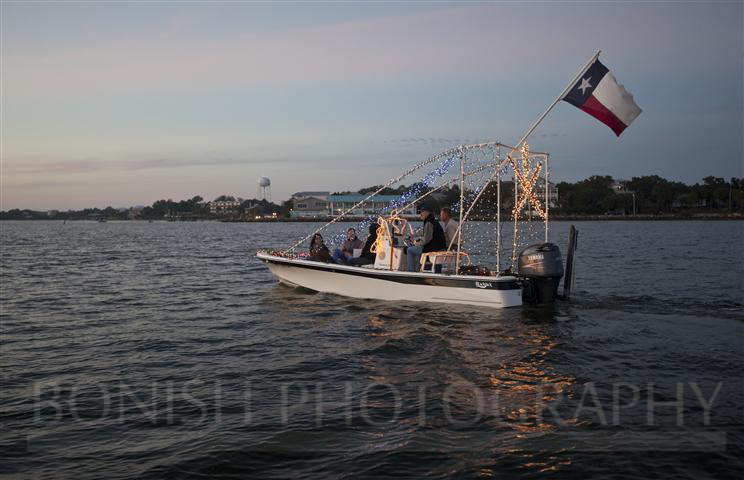 Royce's boat was waving his Texas Flag proudly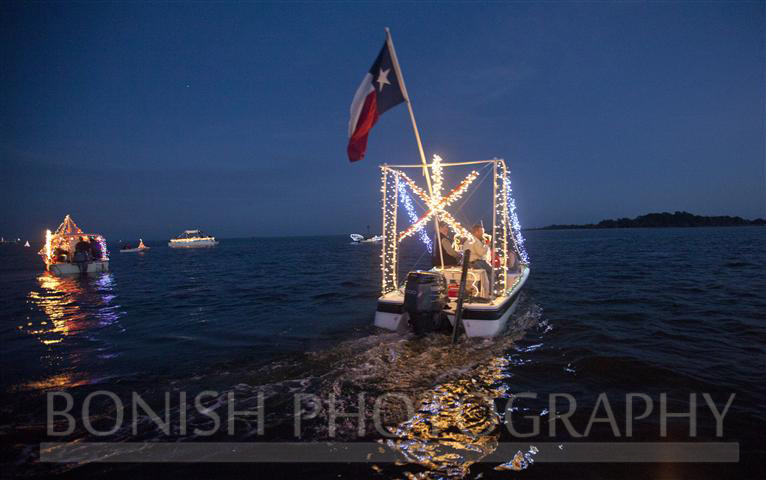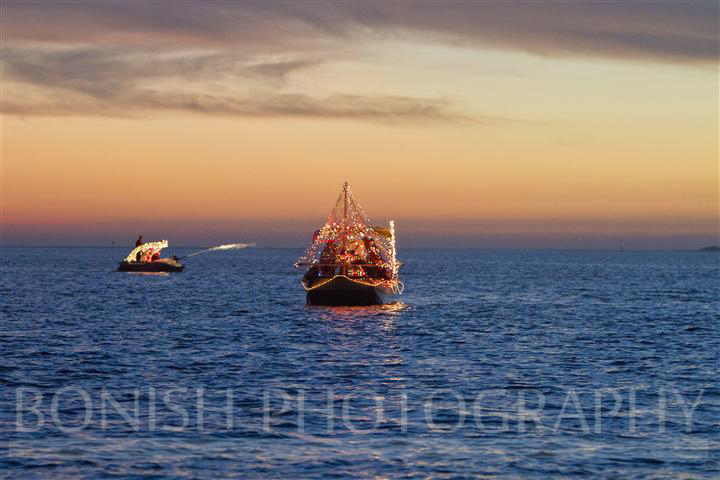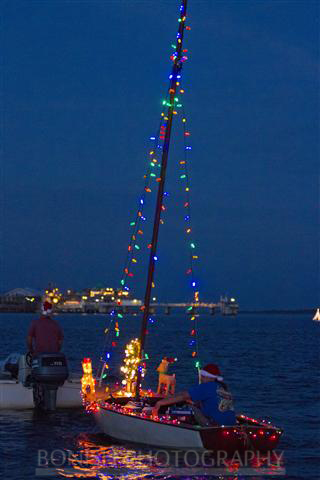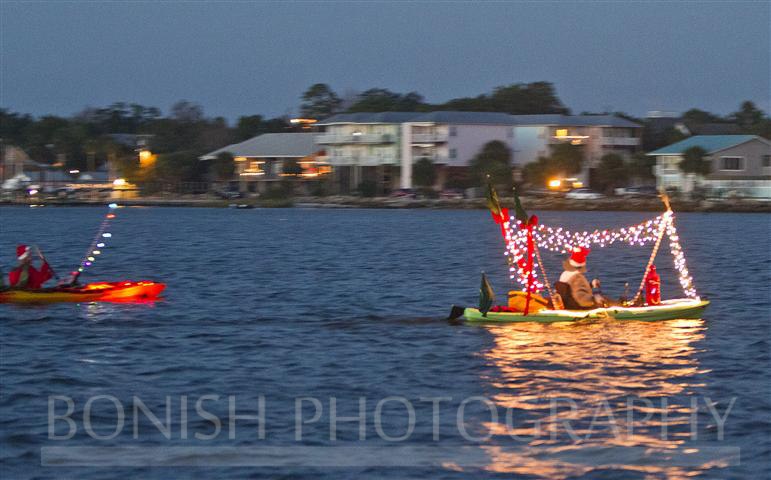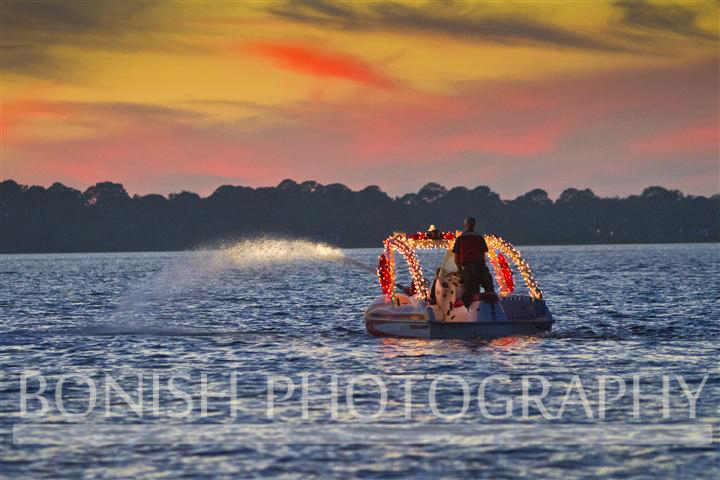 Fireboat showing off their water cannon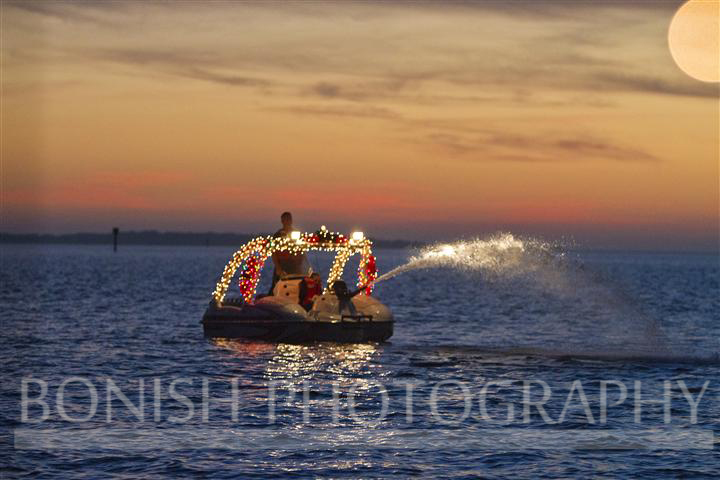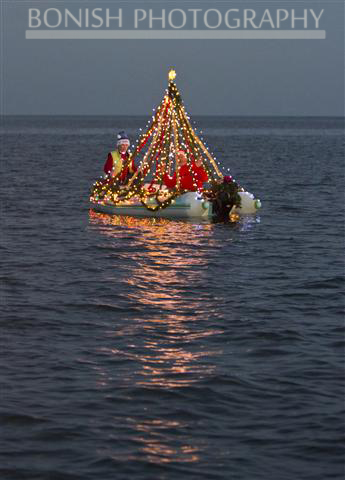 Just a tad larger than a Kayak – Even Dinghy's were decorated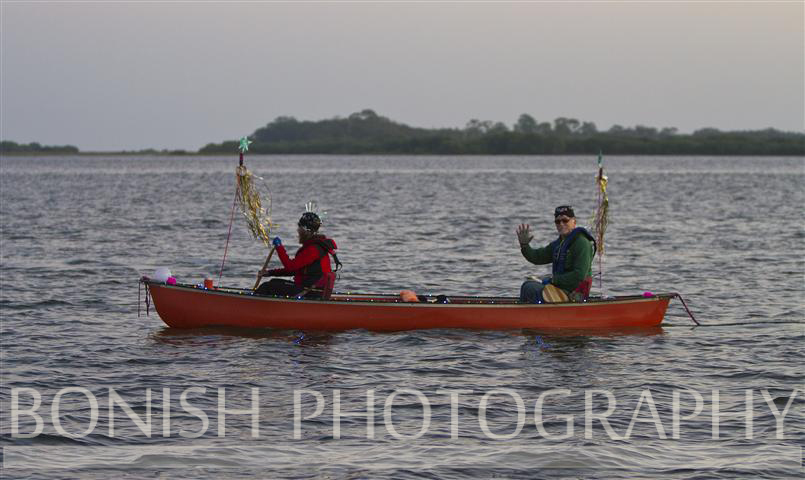 Debby and Bill in their Canoe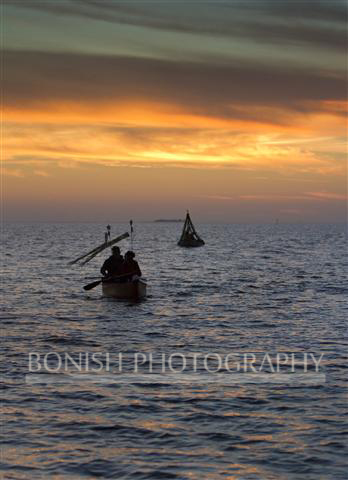 Paddling into the Sunset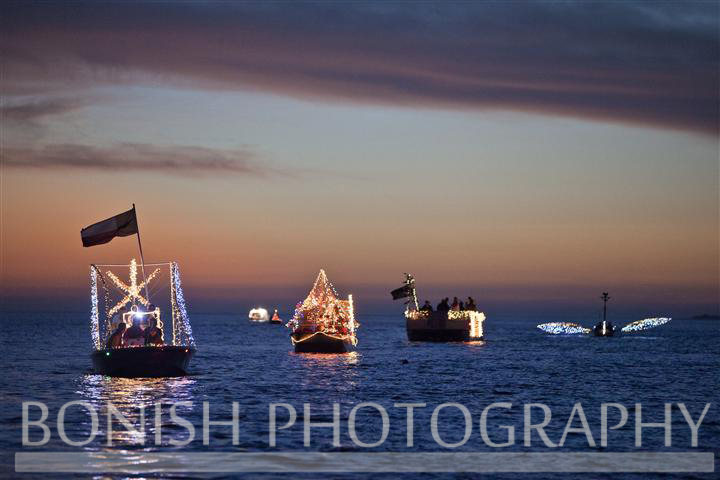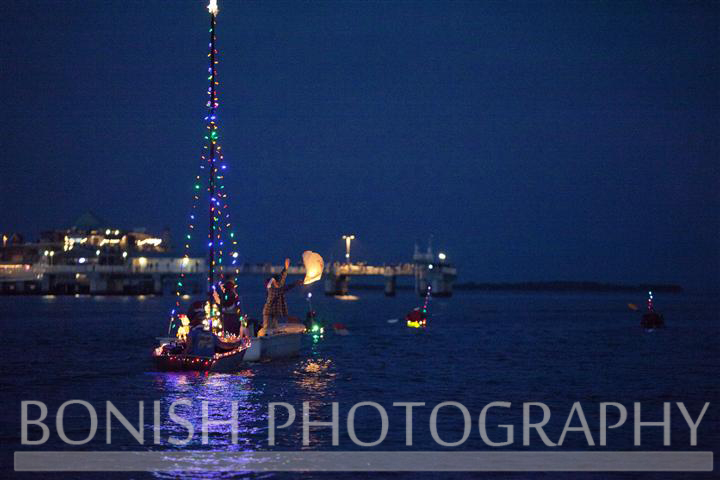 Letting off Japanese Lanterns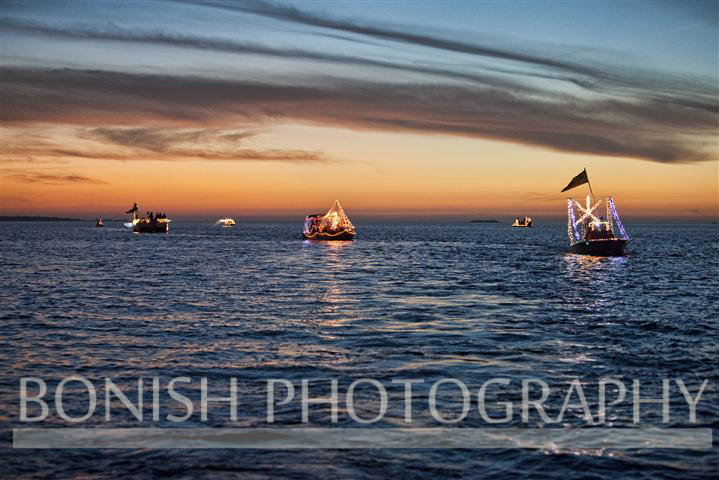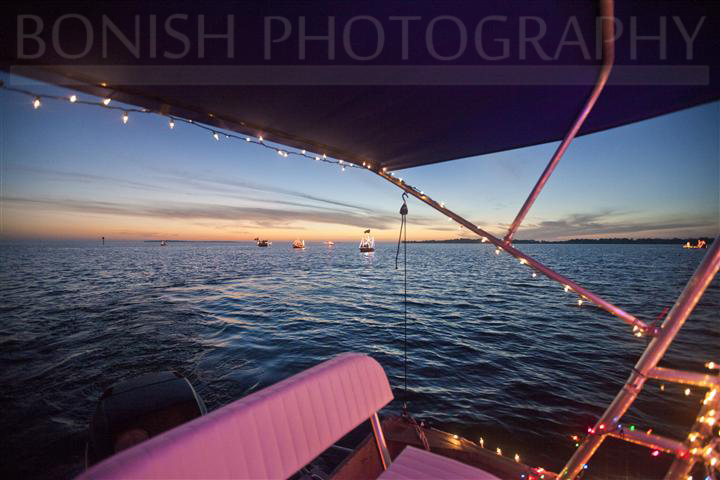 Looking back at the boats while we were circling – Ever Circling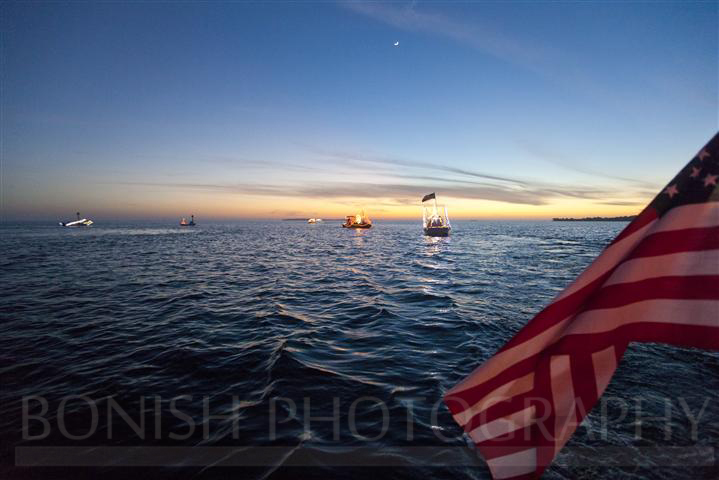 Maria and Brian both had whistles in their mouths.  Maria had a tambourine in one hand and a drink in the other.  We had the radio blasting some Spanish music that we had found on the Satellite Radio and these two were dancing like they were in the middle of a Rave the entire time we were moving in circles.  Cindy was whistling with just her mouth when she wasn't chanting "Sharks!", but she can whistle louder than any man made whistle can.
The judges were lined up on the Big Dock where we were supposed to idle past them.  Since we couldn't really just idle past, we had to keep doing circles under the big dock with the boat surging and sputtering the entire time.
I think that although our boat might not have been decorated the best, with the amount of screaming, whistling and dancing going on on the deck of our boat, we by far had the most spirit.  Most of the other boats that were decorated way better than ours would just idle past the judges with only a wave of their hand.  Come on, where is the spirit there?
After a few loops along Dock Street, the dew grew thick and everyone was moving to the City Park where warm food and deserts were waiting for everyone involved.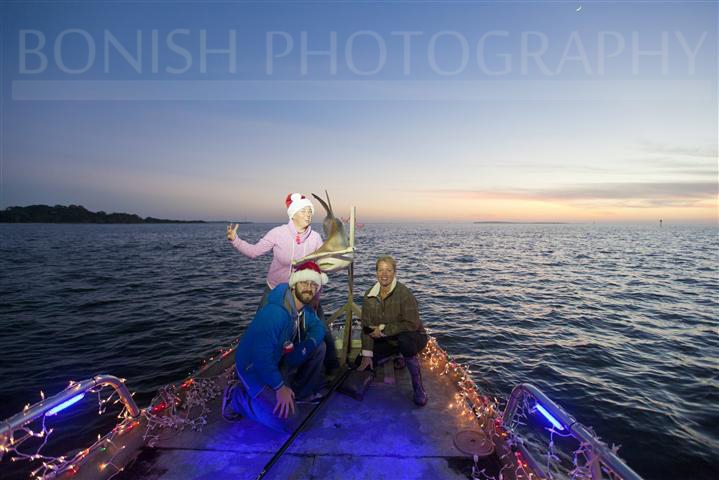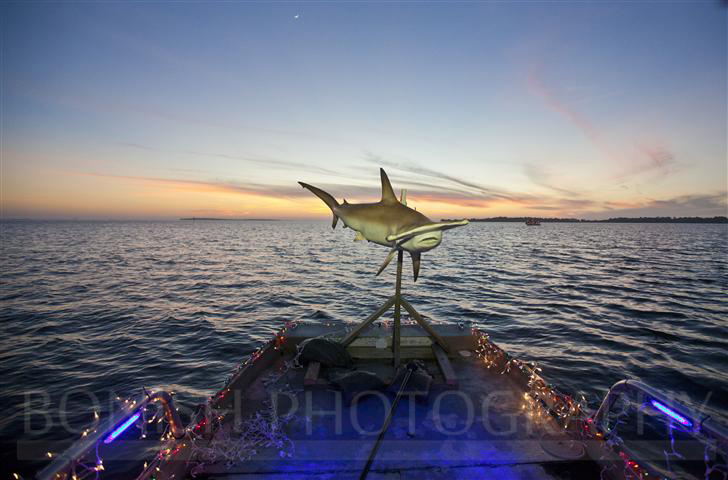 We loaded the boat on the trailer and went to see who won this years coveted award.
Everyone gathered around the food tables warming themselves up on tasty chilly while the judges tallied up their results.
3rd place went to the boat that has been a crowd favorite for years now.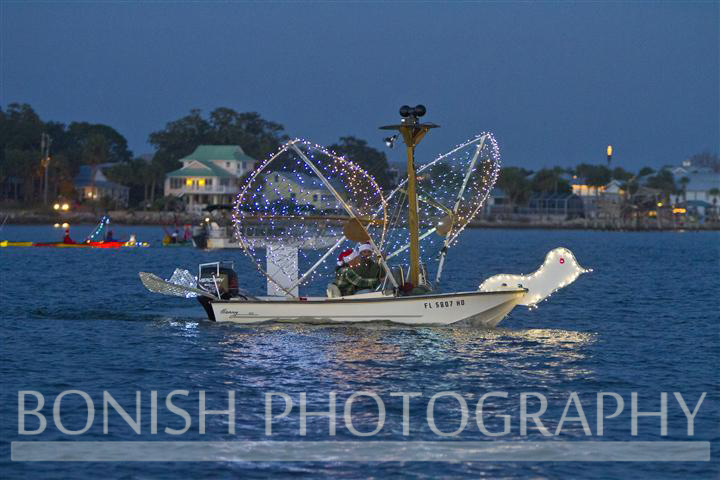 The wings on this boat actually flap up and down so the dove looks like it's flying!!
2nd Place went to Carl Robinson from Robinson's Seafood.  His airboat was decorated so nicely with a ton of lights, but because of him having that big fan on the back of the boat, he was very courteous and stayed away from the rest of us while we were grouping up in the staging area so I never got any photos of his boat.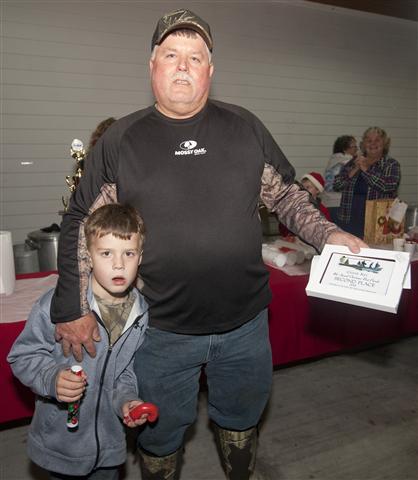 Carl Robinson with his 2nd Place Award
Then they announced the winners of the 2012 Cedar Key Christmas Boat Parade!  You can only imagine how excited we were to be called out!!  Not only did we pull it off with a bum motor, but we now can show all the poor sports who try and sabotage our boat that they cant keep us down.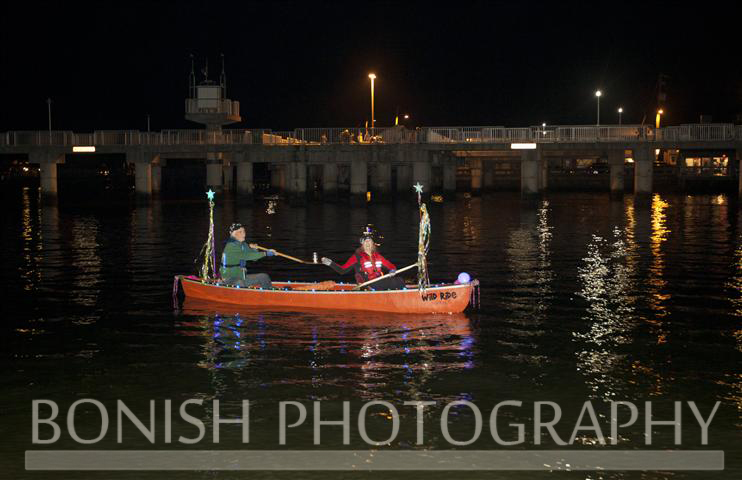 Bill handing Debby a beer with his paddle.  This was their first time in the Canoe and look at those skills!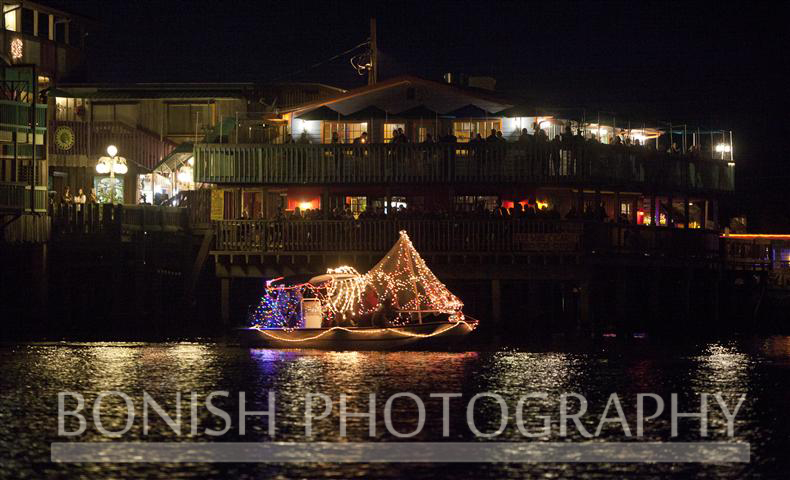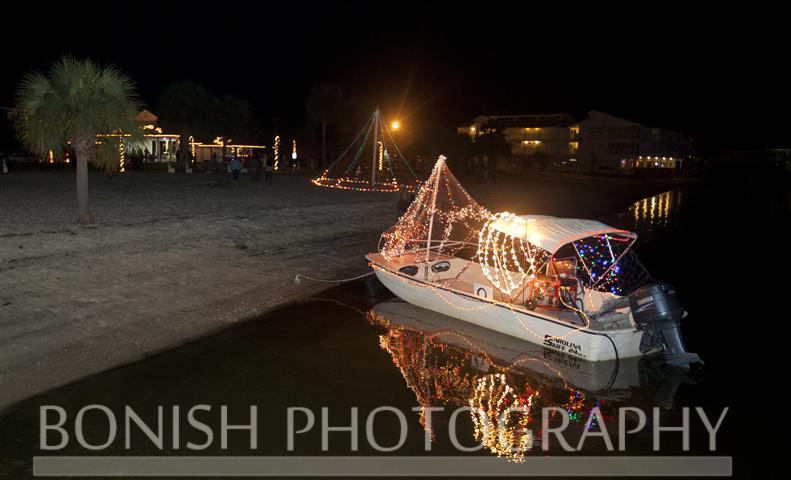 Even better than winning the big trophy was winning the Children's Choice Award.  The first year we won the main prize, Heath never let us have our winnings because he would just say "That's ok, you won the main prize, but you didn't win the Children's Choice Award and that's the bigger of the prizes!"  Guess who had won the Children's Choice Award that year?
So this year when we won both, there is no taking the awards away from us.  And we did it with a motor that could barely run and lights that needed to be completely re-strung minutes before it all started.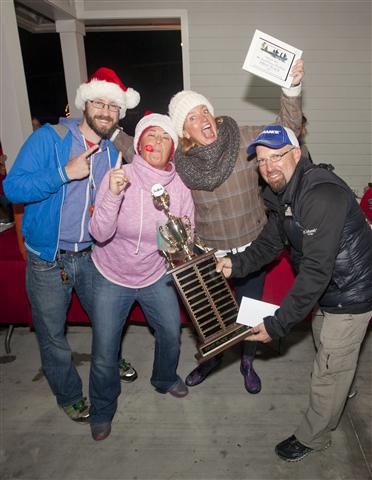 The Winning Team!
Thanks to Maria & Brian for helping us decorate and bring their Jayhawk Spirit onto the boat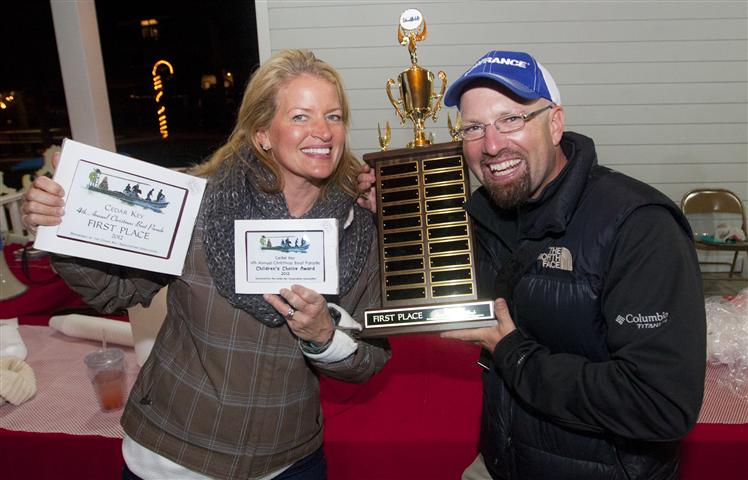 We're gonna need more wall space in the office for all these awards
From the City Park, everyone followed us back to the Tiki Bar where we paraded the shark right into the bar and bought the entire town a round of drinks with the $150 we had just won as our prize money.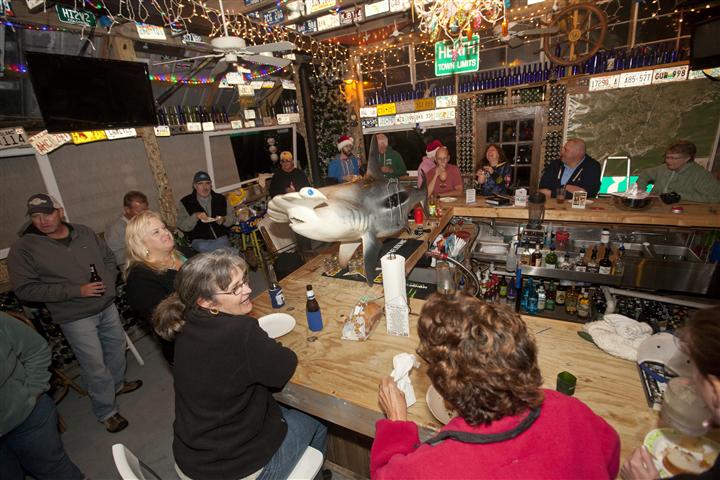 Notice the shark up on the bar!
So the night ended with everyone having a great time and us taking home the most coveted prize in Cedar Key!!!  Thanks to everyone who came out and cheered for us and helped us win!
Next stop, End of the World Party at the Tiki Bar this Friday Night!!  See Ya' There!!