Cindy Realizes We Need a Chart Plotter
I've asked Cindy a few times if we could get a nice GPS or even better yet, a Chart Plotter for our aluminum boat? Her reply is always a stern "Now why would we need anything like that?!"
We woke up this morning to more…..come on just take a guess?  Yep, thick FOG!
Just when the high tide was coming in the back bay behind the motel and I knew we'd have the rest of the afternoon of good water, I told Cindy to get dressed and we were going to move the boat around to the boat ramp in Downtown Cedar Key so we could take it out and start decorating it for the Christmas Boat Parade this coming weekend.
She looks out back and says "Really? We're going to move the boat in this crummy weather!"
We could see maybe 40 or 50′ out off the dock, so I figured we'd be able to idle slowly downtown where we'd leave the boat tied up, walk home and grab the truck & trailer and come back down to take it out. This way we'd get our daily exercise and we'd get the boat out of the water for a few days.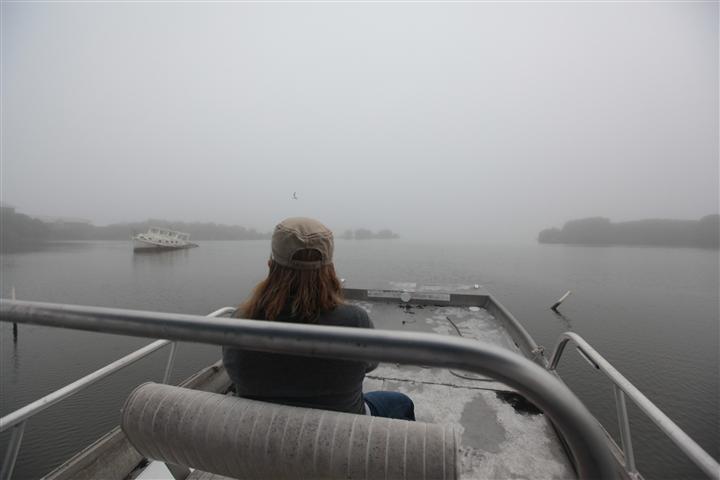 Leaving the dock with somewhat alright visibility
So we load up the camera gear in the Pelican Box, climb aboard a soaking wet boat and idle away from the dock.  Once out in the channel it almost seemed like it was going to start clearing up, so I made an executive decision that we should go around the outside rather than take the short cut on the inside canals.
Once I made the turn to start heading out, Cindy gets all uptight and starts coming up with all these scenarios that are going to leave us stranded and living the rest of our lives on a deserted island.
I'll admit right now…now that I'm writing this from the warm, dry comfort of my office that this was a very bad decision on my part.
That fog clearing up I mentioned earlier was very short lived. I had figured that I would be able to navigate us around the outside channel, the one that follows the Western most side of the island.  Once we were mid-way down the channel and where I thought we'd be meeting up with the next channel to start turning I guessed that I had made the turn. A few minutes into the turn our visibility went from negligible to zero.
I had to remove my prescription glasses I was wearing because I basically had water running down the front of my face and body due to how thick the fog was. Glasses were impossible to see out of because they were so soaking wet.
Here was the real problem. I've yet to put a compass on our boat, which is very stupid on my part.  Then there is the way our boat runs; as long as we're up on plane or moving somewhat fast, we can literally run in about 8 inches of water. So it's better to be up on a plane and not really having to worry about what the waters depth is rather than just idling along when you have to know you're in deeper water.
So even though we had zero visibility, we were moving along pretty fast just to stay up on plane. Without being able to see ANYTHING for recognition and having no compass heading to stick with, you literally have no idea if you're driving in circles or keeping a straight line.  That was a first for me since I'd never piloted a boat in zero visibility before.  Never in my wildest dreams could you have told me it was this hard to figure out where you were going.
Cindy keeps saying over and over "This is not good!  We need to turn around!" I finally stop the boat and say "Ok listen, at this point how do you know we haven't turned around? How in the hell do you know where we are? Stop freaking out so bad and just calm down!"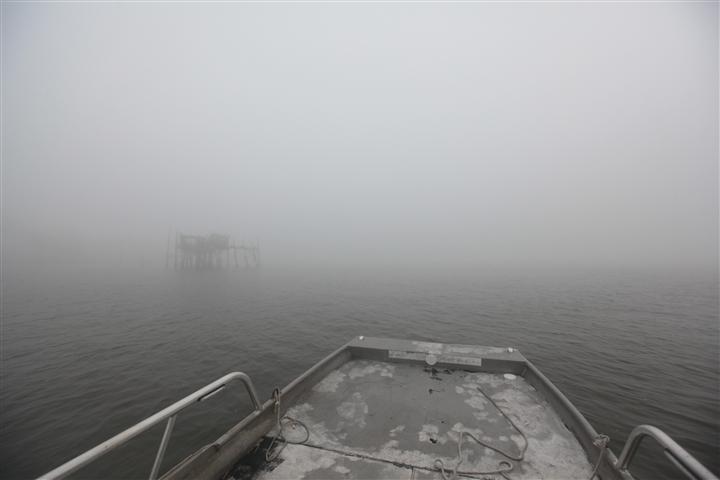 Pulling past the Honeymoon Cottage with such a wonderful view in front of us ~ That's sarcasm people!
You know when you're watching a scary movie and the scene starts to turn bad and there is that one girl that just starts screaming even though no one has even been murdered yet? Well that would be Cindy if she was in the movie.
As we're motoring to where I think I'm supposed to be going, at the last second an oyster bar becomes visible, Cindy yells "Very Shallow Right in Front of Us!!!!!"
The boat rides up onto an oyster bed and we're sitting high and dry.  I kill the motor, trim it up so it's out of the water, kick my shoes off and put on the pair of knee high rubber boots we keep on the boat. I step off the boat onto the oyster bed and push the boat back into the deeper water.  The entire time I couldnt make eye contact with Cindy in order to keep her from seeing the concern on my face.
We're motoring some more when Cindy yells again "Ok, what just appeared in front of us?"
If you squinted your eyes to the point they were almost shut, and squeezed all the water off the eyelashes, you could barely make out a dark line just off the bow of the boat.  We realized we were motoring up on an island.  Problem is, we're not supposed to be anywhere near an island? We're supposed to be in a channel!
I see a big dead piece of driftwood sticking up and recognize it because I've taken a picture of it before with a bird standing atop the dead tree.  This confuses the shit out of me because if that driftwood is where I think it is, then we're WAY off course.
At this point, I tell Cindy to take the controls and I stand out on the front of the boat. I pull out my phone, pull up Google Maps and turn on my phones GPS. It takes a second to find our location before I look up to Cindy with a shocked look on my face.
She can read my dismay and asks "What? where are we?!?"
I ask her to guess where she thinks we are? She yells hysterically at this point "I have no idea, we could be anywhere and I wouldn't know because I cant see 10 f-in' feet past the bow of the boat."
I was thinking we would be just outside the #3 Channel. Where we actually were to my astonishment was on the backside of North Key! That's a mile or so off course!!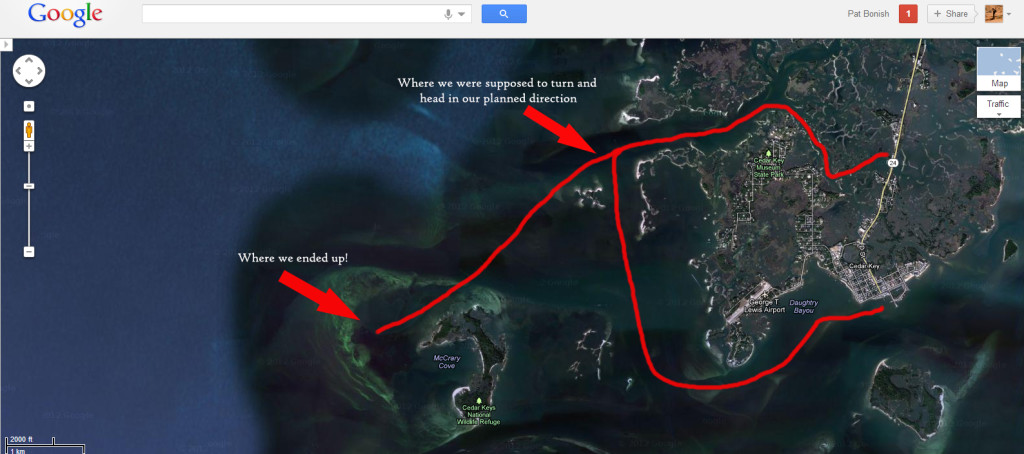 The wording might be too small to read, but the first arrow is where we were supposed to make our turn and where I thought we were heading.
The second arrow is where we ended up!
Thank God for smart phones and Google Maps!! Now we knew where we were and how to get back to the Marina. We ran the rest of the way back in using the phone as our Chart Plotter. 
What I found most wild was while motoring back in using the phone, you could be going and not even know you were turning because you had nothing to take your bearings from. Cindy would just look down at the phone and say "You're turning to starboard again! Come back a few notches to Port so we stay on course."
So that trip that we thought was going to be quick and painless turned into some serious excitement.  And what it did was drove home the point I've been trying to make to Cindy…We Need A Chart Plotter!!
Guess what just got bumped up to the top of the Christmas list!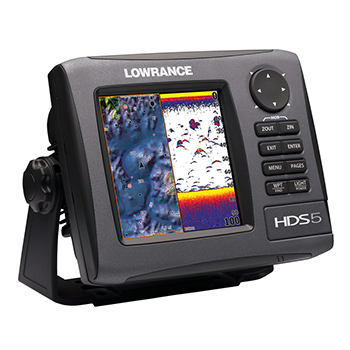 Lowrance HDS-5 GEN2
Hopefully Santa will pull through and this will be guiding our way soon enough!
Once downtown and safely in the marina, we tied up the boat and walked back to the motel so we could get the truck and trailer and pull it out of the water so we could get to decorating.
We also talked to Jessie & Katie today and found out some good info about their motor. I guess Twin Rivers Marina said they had a cracked block. They were able to JB Weld it, which fixed the leak and got them back in action.  They told us the mechanics worked on it for about an hour, and said there was NO CHARGE!!  Yeah!!  Such good news and so good to hear they're back on their adventure.
On a completely different and comical note…I like to check our webstats to see where readers are clicking in from, or what key words they're typing in that is bringing them to our website.
A few days ago, I'm looking through the stats and keywords and notice that one of the top key phrases is 'Cindy Hope Feet'. I have no idea what that is or why it would be bringing people to our blog.
So I open up a new browser window and type in Cindy Hope Feet. I find out that Cindy Hope is a Porn Star and the first few pages are sites linking to some of her movies or videos? Ok, that's weird, why are they coming to our site?
So I go to Google Images and type in Cindy Hope Feet and find that the first image that is shown is a picture of my Cindy, Cindy Bonish, with her ankle all black and blue from when she blew it out while we were in Baja Mexico.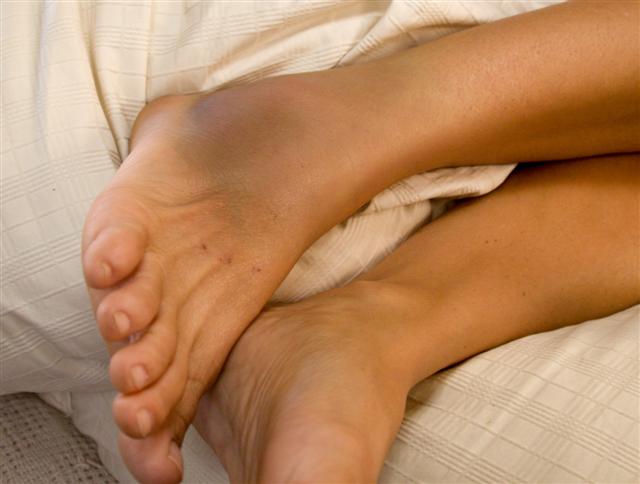 This is the image that's bringing people to our site…..
I guess it says something about my photography skills
So I guess that people must have a foot fetish and wanting to see Cindy Hope, but they're finding Cindy Bonish's bruised up feet…..LMAO It made for some good laughs at the tiki bar the other night.