Giving Back to Some Fellow Explorers
While Cindy and I were on the road fulltime, we had so many people help us out in one way or another.  From people taking days off of work to show us a secret river to paddle, to those that opened up their yards or driveways to give us a free spot to camp and those that donated monetarily to help put fuel in the tank.  We've always been grateful about those good samaritans who lent a hand to keep us on the road for as long as we were.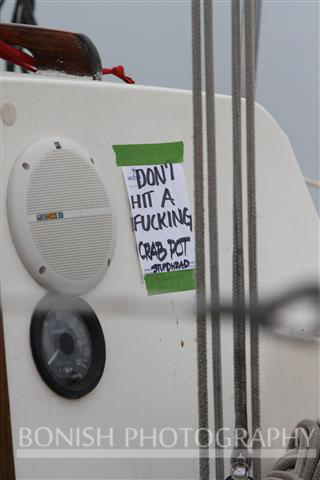 Cindy and I had went to bed last night thinking about Katie and Jessie and their adventure and wondered how we could help them.  We both had talked about how cool it was and couldn't talk enough about how young they both were.
The forecast was basically the same for today as it was for yesterday.  Dense fog which isn't too friendly for boating, especially sailing.
In talking with Katie and Jessie, they had explained to us how scary it was to be sailing in these areas due to how shallow our waters are.  They also told us about their fear of catching a crab pot in their prop and what that would entail (Having to jump overboard and swim under the boat to cut the rope out of the prop and driveshaft….doesn't sound too fun!).
When you're in a powerboat, you have much more ability to maneuver around obstacles and avoid things in the water.  Crab pots are hard to see for any boater, but especially for a sailboat where you steer from the back of the boat.   So we learned that crab pots are a big fear for sailors crossing the Gulf of Mexico.
When Jessie and Katie had left the tiki bar last night, we had wished them well, but said if there was more fog in the morning, then we'd plan on seeing them again tonight.
Cindy woke up early and went outside right away to see what the weather was looking like.  I think that Paternal Instinct had kicked in and she was seeing two young girls, actually younger than our daughter, who were basically stuck out in a wet, soggy sailboat for another day.
She comes in the bedroom and announces to me and the dogs that she's checked the computer, we have an open suite for tonight and she's going to go down to the docks and see if she can find Jessie and Katie and offer them a warm, dry spot with a hot shower and a big comfy bed.
The fog was so dense outside that although it was not raining, the air was wet enough that everything was dripping and covered with a thick layer of dew.  Katie and Jessie had told us about the Spartan like features of their boat.  No running water and no water heater meant that showers were taken by jumping overboard to bathe in the ocean.  If they wanted a hot shower, they filled their solar shower and would set it out on the deck for the day.  With the last few days of thick cloud cover, a hot shower wasn't going to be possible.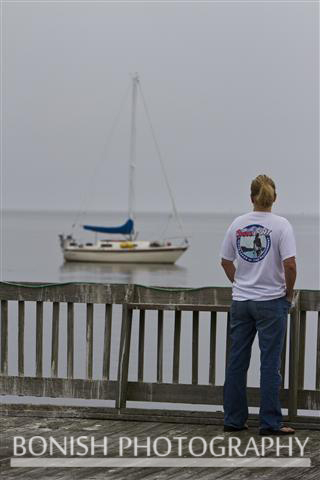 We got dressed and headed downtown to see if we could find them.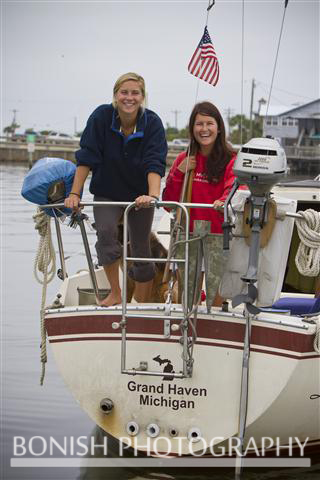 Their sailboat was still anchored in the bay and we could see their dog Reggie walking around on the deck of the boat.  We killed some time talking with some of the local fisherman while waiting to see if the girls would come up from the cabin so we could call out to them and get their attention.
After a few minutes, Cindy was anxious and said "I'm going to go out to the end of the dock behind the Captain's Table and I'll just yell out their names."
I laughed at this idea, but she was set on getting their attention.  After a few calls off the end of the dock, she gave up on that idea.  I suggested we go home and get in our boat and motor up to their boat.  This way if they did want to come ashore with us, they could hitch a ride and if they wanted to bring a bag with a change of clothes, we could carry it without them having to load the dinghy.
We went and got the Honey Badger (our Aluminum Boat) and came back downtown.  Motoring up to the sailboat, Cindy yelled out "Knock Knock!"
Jessie came up from the cabin to see who was yelling out to them.  We exchanged "Good mornings" before Cindy said "Ok, I have an offer for you."
She went on to say "How would you girls like a vacation from the boat?  Since we know the fog is going to keep you here all day and it's so wet and damp, how about you come stay with us and we give you a suite where you can take a nice hot shower, kick back with Wi-Fi to update the blogs and just relax without being soaking wet and stuck out here."
While we sat there tied up talking, we kept noticing a pod of dolphins playing a little ways from us in the bay.  We asked about their fuel supply and they said they had one full can of diesel.  I asked the girls to give me their empty diesel can and I'd run up to the gas station in our boat and fill it up so they wouldn't have to walk all the way to the gas station with a 5 gallon can of fuel.
Cedar Key isn't that conducive to live-aboard boaters.  We don't have fuel on our docks, we don't have a dump station for them to empty their tanks and we don't have a dock that larger boats can pull up to so everything has to be loaded into a dinghy and brought ashore.
The girls accepted our offer and said they'd pack up their over-night bags while we ran and got them some diesel fuel.  It's not like we can pull up to a dock and just fill up the tanks, but with our boat, we can motor up to one of the Bait Shop Docks and walk across the street to Cedar Keys only gas station. In order to do this, you have to follow a few canals and get under a low bridge, so only smaller boats could accomplish this task.
Before we ran to get fuel, we motored over to where the dolphin were playing around and sat watching them for a few minutes.  That's one of those things you never pass up an opportunity for.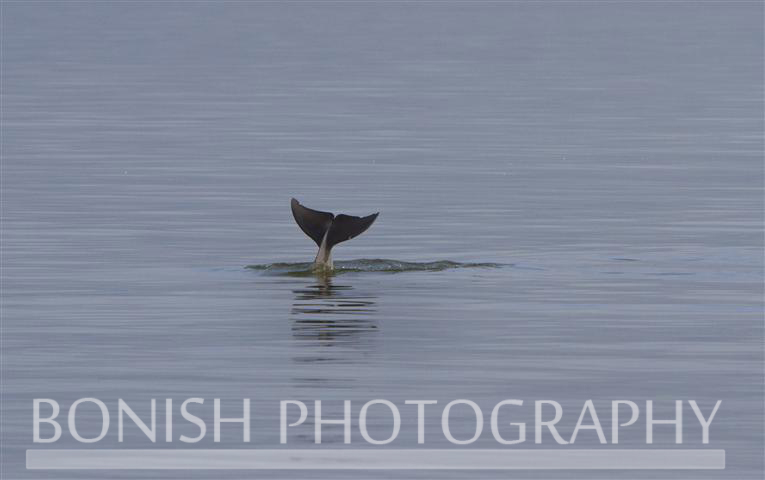 Dolphin Tail as it goes for a dive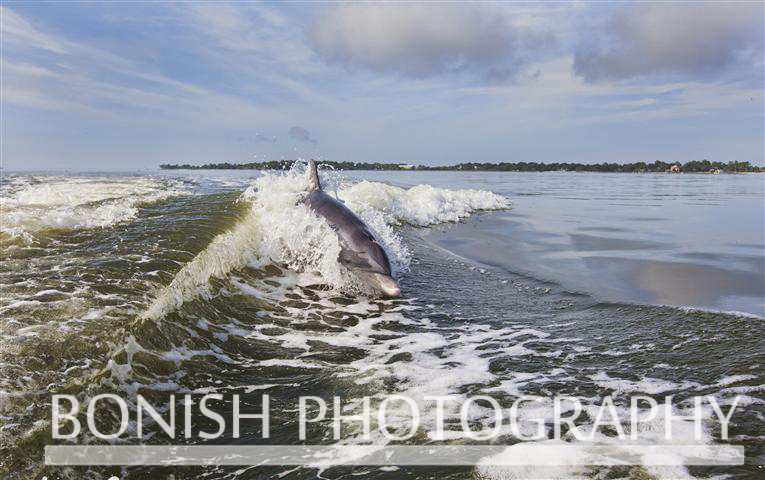 Following us back towards shore
Once the fuel tank was topped off, we ran back around and handed it off to the girls so they'd be set with full tanks.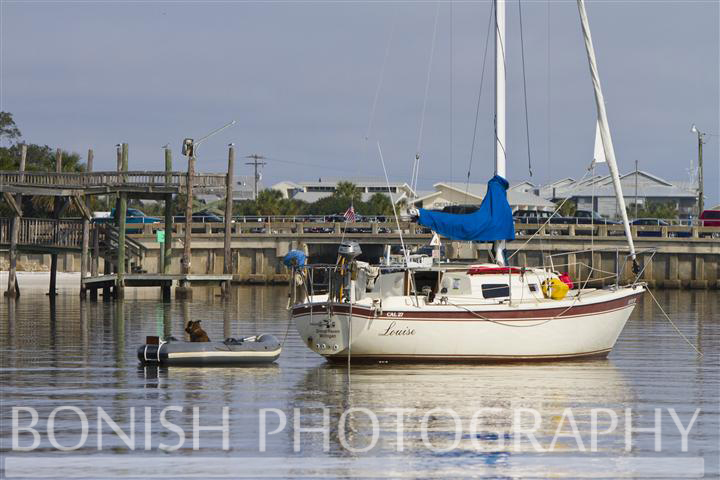 As we were pulling up, we noticed they had inflated their dinghy and Reggie was already sitting out in it.  When we asked why he was in there, they laughed and said "As soon as we inflate the boat to go ashore, he gets in so there is no way he will be left behind."
They handed off their backpacks and a bag full of empty water bottles so they could refill their fresh water supply while on shore.
We ran back around in our boat and they said they'd row their dinghy over to the docks and walk up to the motel with their dog so they'd all get their daily dose of exercise.
Before we left, Jessie jumped in the boat with us and we motored over to another sailboat that was anchored a little ways away.  I guess some fellow sailors, Johnny and Doris, had sailed with them down the Mississippi and met them here in Cedar Key to wait out the fog.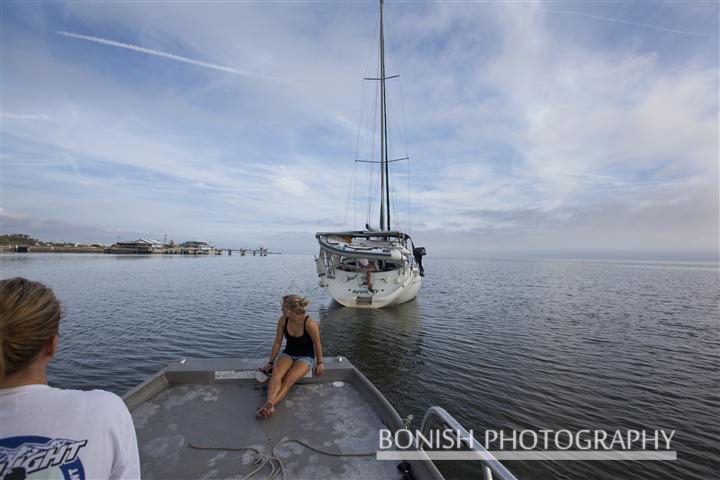 We invited them over for the dinner tonight and asked if they needed anything while we were here.
Johnny and Doris said they were good, but said they'd stop by later tonight for some drinks.
On our way back to the Low-Key Hideaway, we were running up one of the canals when Cindy yells "Look at that bald eagle!"  We watched as a big eagle drops out of the sky and snatches up a fish right in front of us.
I yell for her to grab my camera that's sitting in the Pelican box by her feet.  She hands it off to me and grabs the wheel as I find the bird in the viewfinder and fire off a few shots as it flies by us.  What a sight to see!!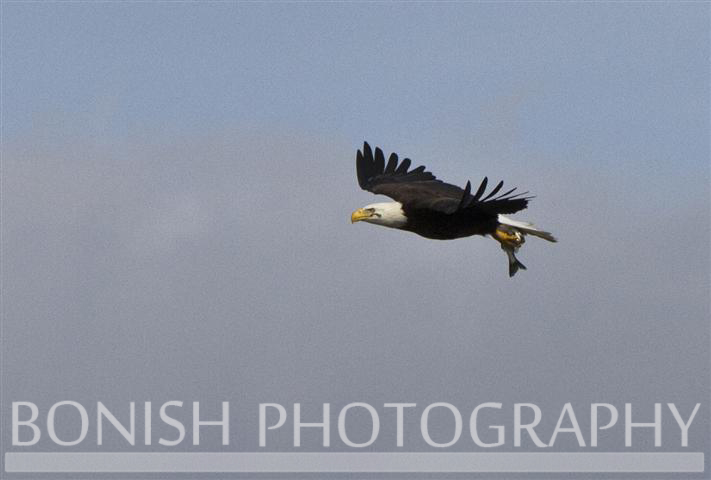 This right there is why it pays off to have a DSLR.  It would have been impossible to capture the eagle flying past us in the few seconds we had to focus and fire off 8 frames.  Smaller Point & Shoot cameras have their place for capturing photos, but there isn't one on the market that would have turned on, focused on a flying bird and been able to follow the bird as it flew past us at a high rate of speed.
Once back at the motel, Cindy went to work cooking up a big dinner of home-made spaghetti with garlic bread so the girls would get fed well tonight.
At one point, the fog lifted and we were wondering if the girls were going to want to try and get out of the harbor.  Luckily they never tried to as it only took about 45 minutes before we were completely socked in with fog again.
Later in the afternoon, I was working in the back yard when Jessie comes out the back door of her suite.  She is freshly showered and wrapped in one of our fluffy LKH Robes.  She yells out "OH MY GOD!  We feel like Princesses!  We have hot showers, soft robes, a giant bed covered in soft sheets and a down comforter, big screened televisions and a Wi-Fi signal!!!"
I remembered back to when Cindy and I would spend weeks boondocking out in the middle of nowhere without any amenities.  When we did get back to civilization and would have full hook-ups in a campground, we'd both take looong, steaming hot showers, we'd be able to watch cable television and have a super fast Wi-Fi signal and we'd just lay around all day just relaxing in comforts most people take for granted on a daily basis.  It would be like we were kids and we were getting away with something we weren't supposed to have.
I was glad that we could offer a day of comfort and relaxation for both Jessie and Katie and hoped this was karma coming back for all those kind folks that offered the same kindness to Cindy and I.
Katie even had a chance to wash down Reggie the dog that she said has been itching like crazy from always getting into the salt water. I don't know if Reggie was as excited as the girls to get scrubbed down and lathered up.  Afterwards he spent awhile rolling in the grass trying to get the good smelling soap smell off of him.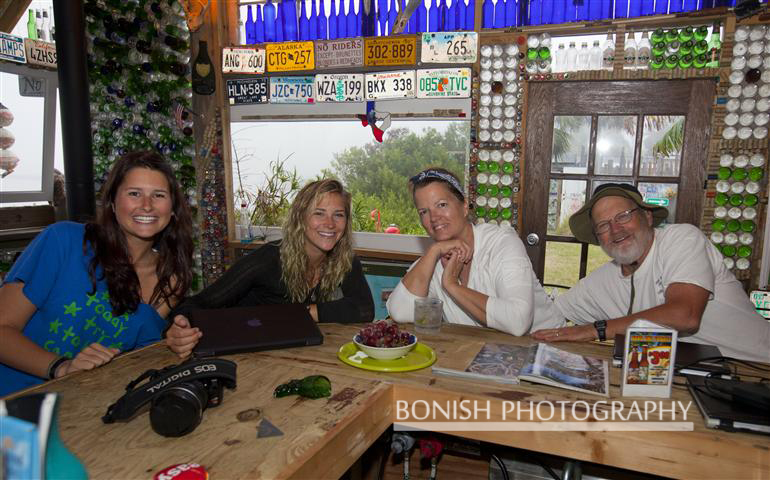 Katie, Jessie, Doris & Johnny hanging out on a damp, foggy night
That night, we spent a wonderful evening out at the tiki bar with a fire stoked up keeping the dampness out of the bar.  Johnny and Doris showed up and joined us for dinner.  Heath brought over some charts of the shoreline from Cedar Key down to Tampa to point out some sections they needed to pay attention to.
As I sat at the tiki bar laughing at our funny stories we were all sharing, I was again comforted where I was at this exact moment in my life.  I might not be traveling, but being able to enjoy my time with such good people is pretty awesome.  When you'd normally be cursing the gloomy weather, I was thankful that it was here to put Johnny, Doris, Katie and Jessie in our paths.