Waking up to the feeling that I've made it to 40! Wow, who would have ever thought I'd make it this far in life? Not me, that's for sure, especially after last night.
Check out wasn't until noon, which was perfect since no one in our party was up and moving all that early. Cindy put some clothes on and went down to the cafe in the lobby to get us coffee and breakfast and brought it back up to me so we could stay in bed longer. Such a thoughtful wife I have!
Around noon, we all met down in the lobby and agree'd that lunch would be in order. The plans for the day were to head out on Lake Minnetonka and spend the day on Derrick and Tish's boat, but the weather was pretty nasty with it pouring rain as we left the hotel with pretty strong wind gusts. We figured we'd find a restaurant and grab some food while waiting to see if the weather would blow over.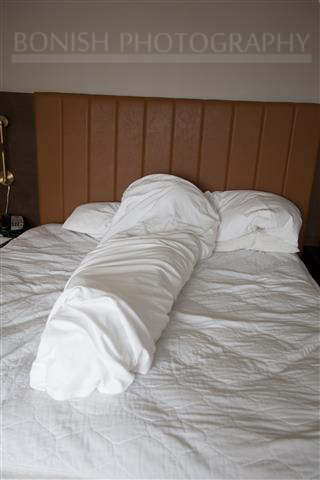 Oh, while we were checking out, I left a surprise for the cleaning lady with out bed sheets. I really wish we could have seen the look on her face, and we all laughed and came up with notes we could have pinned on the door that would have even made it better. Stuff like "Sorry you had to find this!" or "I left a number to call on the desk." I mean we laughed for hours about this one. Sorry Lord, please forgive me!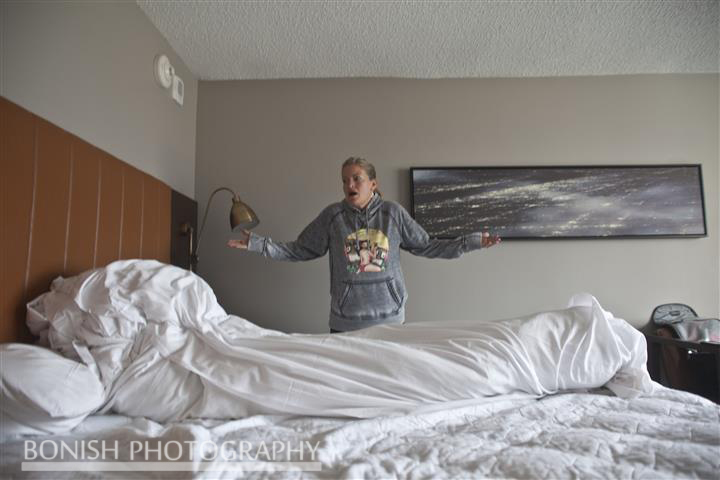 Lunch was just what the doctor ordered, and you know what happened as soon as we sat down, a round was ordered and the birthday party started right back up again. I mean today was my real birthday, so it was a big day to be partying.
With bellies full of food, we headed over to John and Kathy's house since it was still pouring rain outside. It was looking like today wasn't going to be a boat day, but it was obviously going to be a party day no matter what the weather was.
Kathy has a big island in their kitchen which everyone sat around talking to one another. Before long, the L-R-C dice were brought out and the game was on. I honestly wish I could have recorded the conversations going on around this island, because it was better than ANY Saturday night live skit ANY comedy writer could think up even on the best drugs. We laughed, laughed and then laughed more. Cindy kept saying "I love me some Island Time" meaning she was loving sitting around this Island in the kitchen.
After multiple hours of laughing, we headed back to Derrick and Tish's house for dinner. More friends showed up and the party carried on late into the evening. The squirrel head was finally brought out and passed around to everyone. We tried to scare Derrick with it, but by this point, I think we had drank enough that he just laughed too hard that Cindy was even holding a squirrel that she was trying to say was injured.
The best part was Cindy comes walking into the screened in porch saying "OH MY GOD, I just found this squirrel out in the garage and I think it's injured."
Tish's first reply was "WHY THE HELL do you have it wrapped up in my good hand towels!!!???"
This made us all laugh so hard that it totally ruined the whole scene of trying to scare everyone with it. By the end of the night, the Squirrel Head was mounted above the fireplace like some prize hunting mount. It fit so perfect, that Cindy decided that this will now be it's home and is where it'll live out the remainder of it's life.
I made it to 11:45 when apparently this video was made. I never knew I snored that loud, but I question what the heck Cindy is doing at the end of the video??? Happy Birthday to me!