Putting the 'Mellow' in Key West
Awhile back, while looking for underwater photography vacations Cindy and I could go on, I found a company called Mellow Ventures Key West on Facebook. I started browsing through their images with a passion and contacted them right away. Rob, the owner and Captain got right back with me and we struck up one of those online friendships that made it feel like we were old friends, even though we had never met. Cindy calls it a 'Bro-Mance'…. 🙂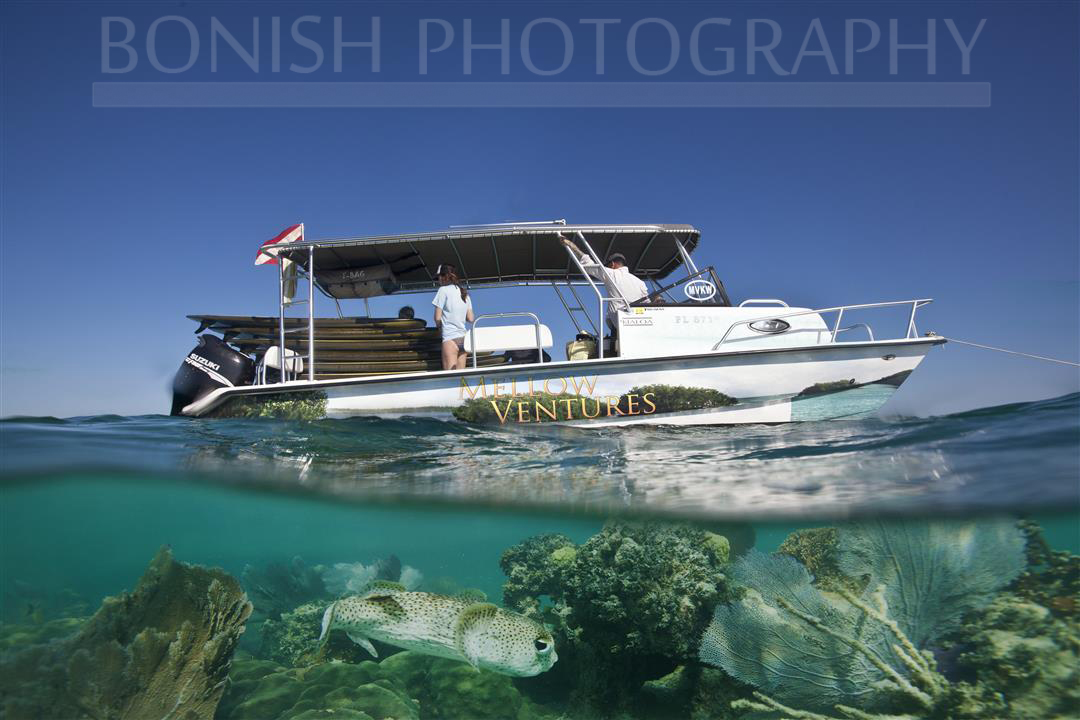 Cindy and I have also been looking at the Twin Vee line of boats, which is what the Mellow Venture guys use for their tour operation. I was beyond excited to be on the clear blue waters of the Caribbean with great friends, a super cool custom boat and to be doing this while the rest of the country was experiencing some of the worst winter weather many of us have seen in our lives.
We all woke up early and loaded our camera gear into the girls truck to head down to the Key West Docks. We stopped off for some breakfast at Baby's Coffee, picked up some sandwiches for lunch and met Rob at the Marina at 8:30am.
Introductions were made, gear was loaded in the Catamaran and before long, we were on our way out of the marina in search of crystal blue waters.
Now looking around the marinas here in Key West, you instantly notice that Mellow Ventures handles their tours a little differently than most of the other companies. With Key West being a Port City for commercial cruise lines, many of the tour operators try and cram as many visitors onto their boats as one could legally fit. Just because a boat says it can handle 50 people, it doesn't mean you should put that many on there.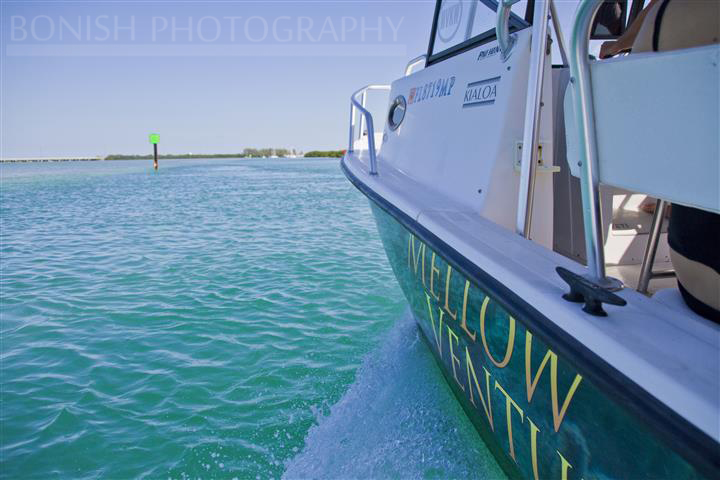 Shane and Rob, the Captains with Mellow Ventures have what is called in the Coast Guard World a 6-Pack License (This is the same Coast Guard Certification I carry). This means you can have a maximum of six paying customers on the boat at any time. Their boat could hold more, but they told us they rarely even have that many. They try to cater to small groups, families or couples looking to be out on the water and have the solitude of a secluded reef, mangrove water trail or a white sand beach all to themselves.
This is exactly the type of business that Cindy and I try and run ourselves, so I felt really good knowing it was also the type of business we were supporting. I'm all about the small business and especially the under-dog in a Dog-Eat-Dog world of commercialism and competition, even if it means you pay a little higher price for that type of service.
Our first stop would be a section of the Marine Conservatory off the coast of Boca Chica Key. The water was maybe 10′-12′ deep and Gin Clear. It was deceiving because I was sitting on the edge of the boat about to jump in, and kept asking how deep it was because it seemed like I was going to go over the side and just be able to stand up, but Shane and Rob kept assuring me that it would be over my head.
I was also a little reserved because as soon as they dropped anchor, there were Moon Jelly Fish all around the boat. They told me this was not a big deal and for some reason they're always attracted to the boat? Rob even reached over the side and picked one up to show it to me.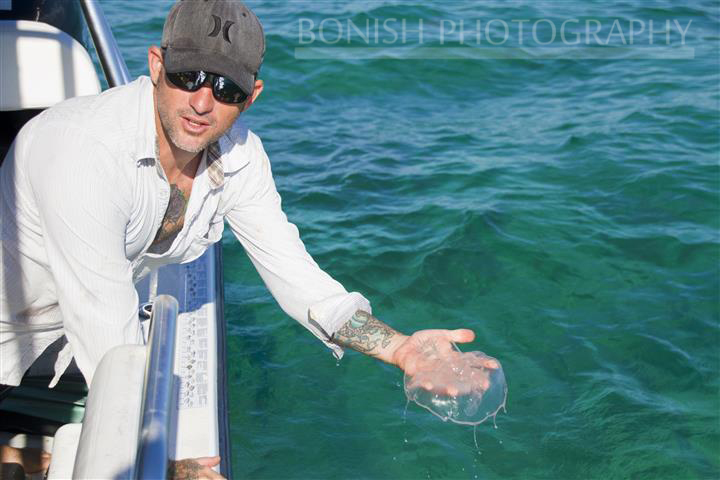 When we used to live down in West Palm Beach, if there were lots of Jelly Fish in the water, they'd close the beaches. But those were Man-O-War, and they can hit you with a venomous sting.
Of course I had Cindy heckling me the entire time telling me I was going to get stung and the rest of the trip I'd be in the emergency room, so you can see my trepidation about jumping in the water. But I was eager to get in as snorkeling is one of my most favorite things to do in life. So I'd risk the sting if it meant photographing the coral reef around us.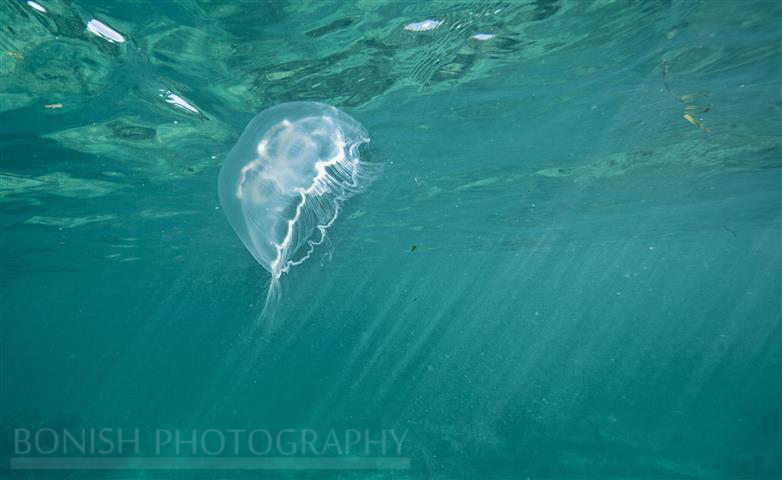 Once in the water, the initial shock of the cool water wore off once I acclimated to it and I was soon enough swimming amongst 5′ long Barracuda's and giant Puffer Fish that were moving in and out of the big sea fans and brain coral that was scattered all around us. I don't think the water temperature really matters to my body as my mind gets so enthralled with the photography aspect, it shuts down the sensors that are telling me I should be cold right now.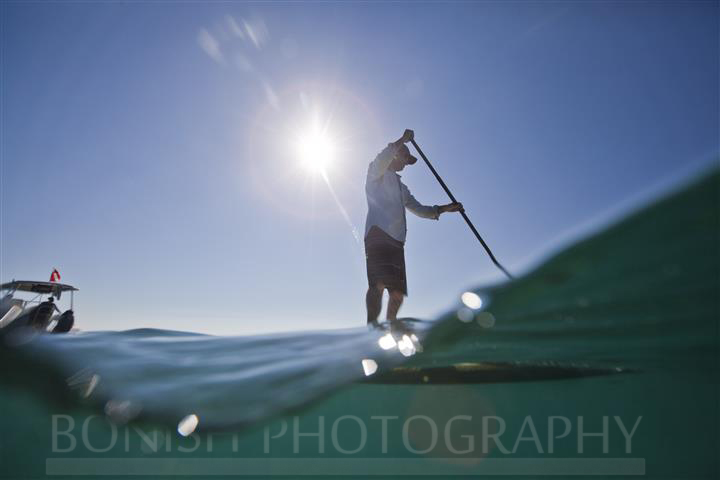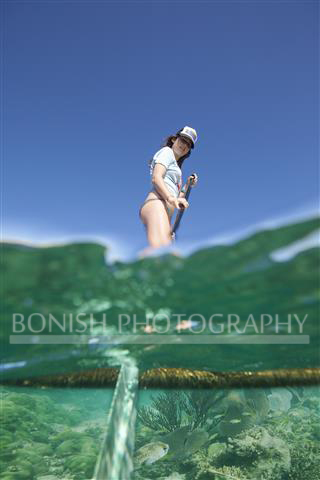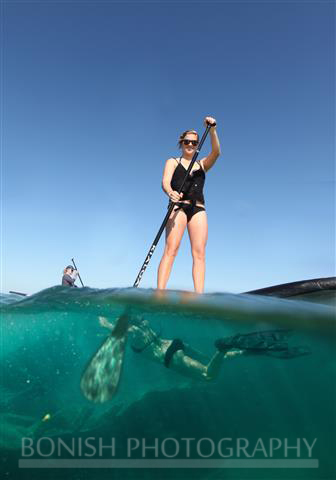 While I was snorkeling, the rest of the gang threw in their Stand Up Paddle Boards or SUP's and were soon paddling all around me. Even Cindy, the little girl so timid to be trying anything new and always blaming it on her clumsiness and fear of swimming was paddling with Rob, Shane, Jessie and Katie.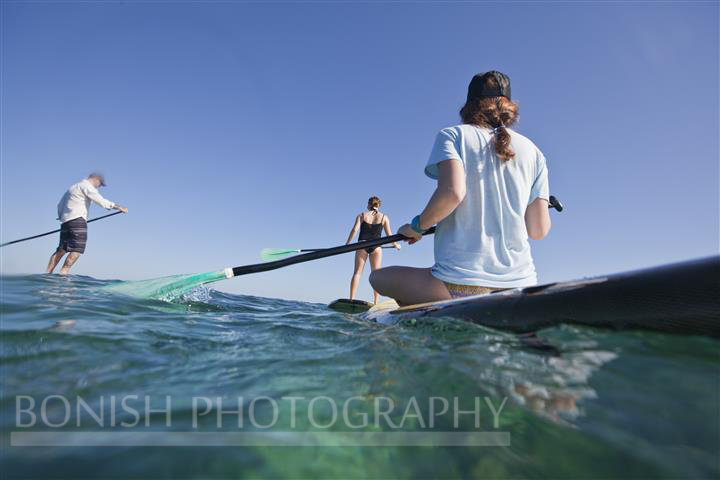 I was so proud of Cindy to see her on the board and out there trying something new. She's the type that just needs to be pushed in, and once she's doing it, she usually loves it. But she's always so apprehensive to try new things.
After awhile at this location, we loaded the SUP's back into the boat and headed over to a nice sand bar to chill out and see another mellow slice of Key West. The best part about the Twin Vee Catamaran is it can run in about a foot of water. So the guys can literally go places that many of the other tour boats cant go. They can also bring you right up to a sand bar where you step out and you're only in knee deep water. I was totally sold on the hull design already.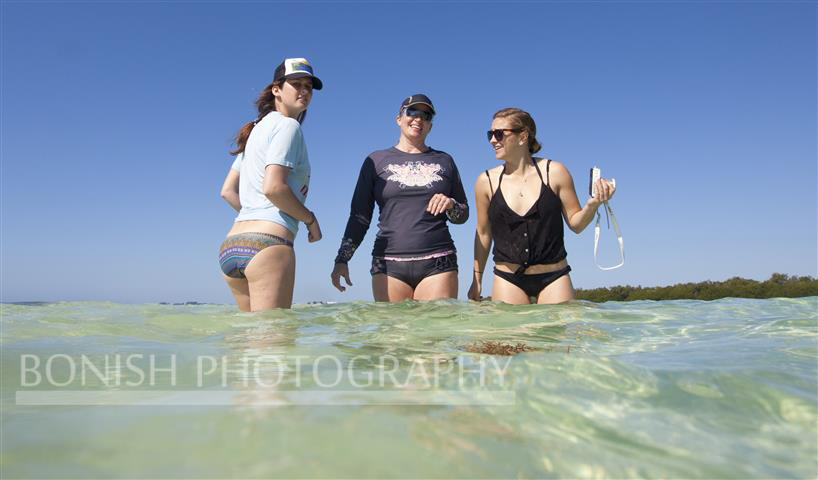 From the sand bar, we motored through some inner canals to another marina where we picked up another girl who would be going out with us to some of the Mangrove Islands. Alexa Mae is a local Certified Yoga Instructor that happens to be doing SUP Yoga down here in Key West. Rob had asked if it was alright if she tagged along as they are ready to open up a new feature to their tour business where they'll be doing SUP Yoga Excursions in a vintage Trawler he's refitting that will act as the mother boat for the Yoga participants to stay on.
Once we had Alexa on board, we headed out into the outer islands to check out a sunken ship that we were told has some good marine life around it. They were telling us about Goliath Grouper, big sharks and giant schools of fish in this next section. I was getting amped up just thinking about getting underwater photos of any of these.
I also had a chance to see how the Twin Vee handled in different types of water since we were now going through deep water sections, shallow sections and passing multiple boats that were throwing different sized wakes at us. With each mile we motored, I was more and more convinced our next boat will be a Catamaran.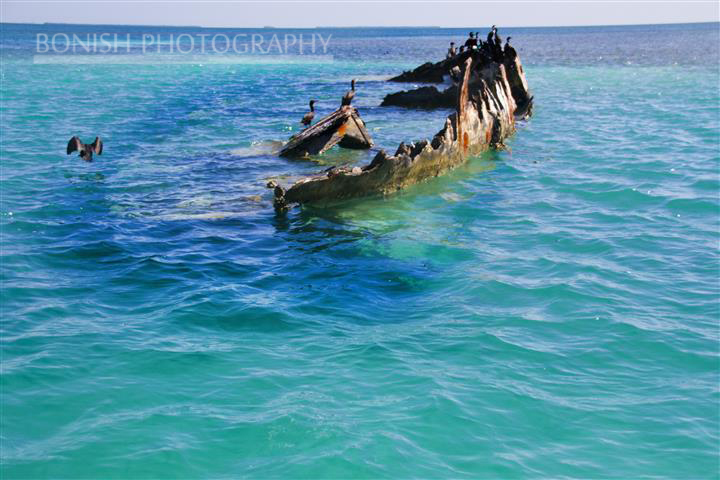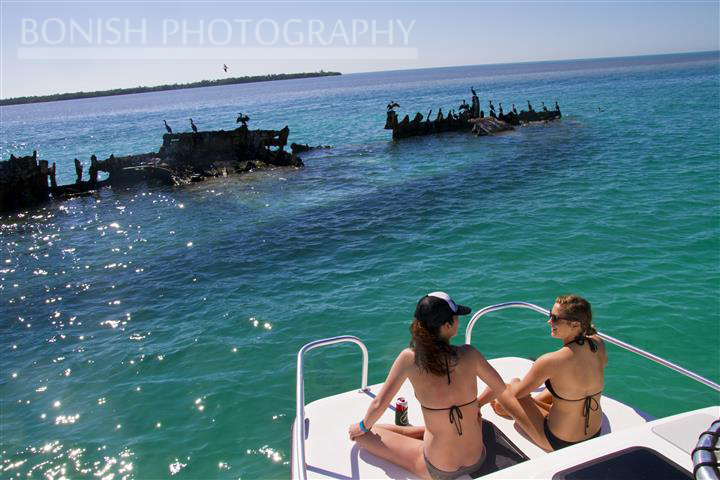 Pulling up to the shipwreck, we were all watching as a shark was swimming in shallow water right over top of a reef that's beside the sunken ship. The shark was in too shallow of water to go completely under, so you could see it's fins sticking up and out of the water. Go swimming they said, it'll be fun they said! 🙂
I waited a minute of so while the shark swam away from us before I put on my snorkel and fins and jumped in the water. I've always wanted to swim with sharks, it's a item to scratch off my bucket list, but I was hoping I'd have some sort of Chain-male suit on to protect me. Not just a pair of swim trunks and a thin rash guard. So that will have to wait to be scratched off till next time.
Snorkeling around the hull of this sunken cabling vessel left you wondering what it's life had been? What made it sink right here, and was anyone injured or killed in the storm that sunk it? Did it sink somewhere else and wash up here in a storm, or was it placed here by the Coast Guard after it was decommissioned? What ever those answers were, I was just happy to be in the water snorkeling around on this beautiful day.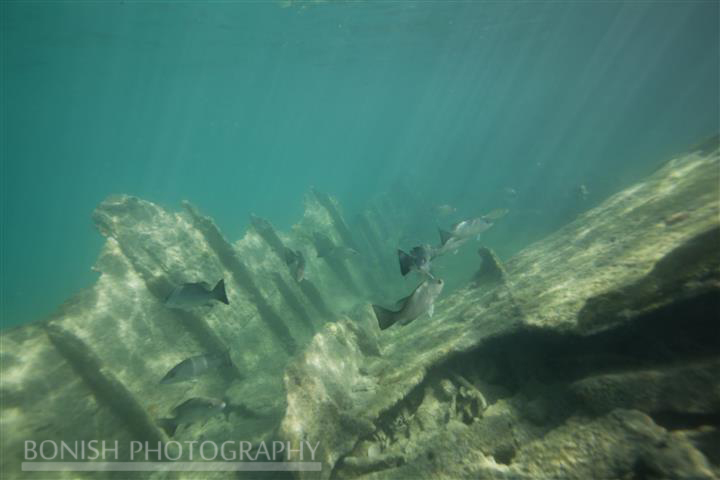 The water here was perfect. Crystal clear and only about 10′-12′ deep. There were fish every where and I was on sensory overload thinking about the sharks we'd been seeing all around us. I'd be snorkeling along looking at things through the camera when one of the girls would come snorkeling up beside me which would completely freak me out till I realized it was one of them and not a shark coming to inspect how I tasted.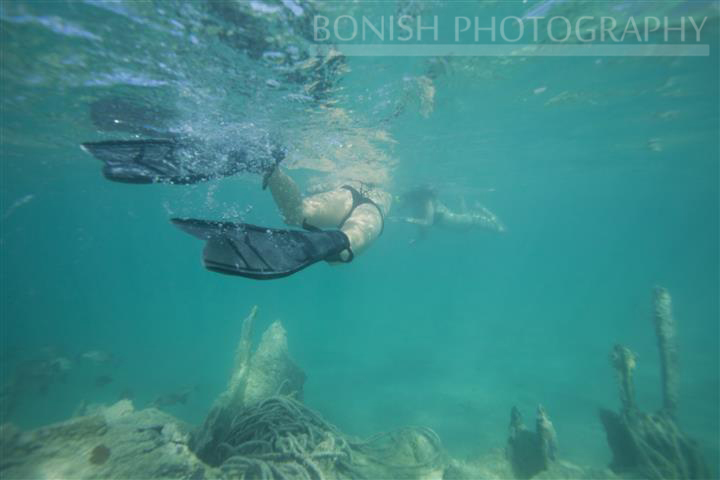 From the sunken ship, we loaded back in the Catamaran and headed over to a calm beach area where everyone took a lunch break. Sandwiches were brought out, some beers were drunk and we listened to more stories of Key West, travel and life on the water. I could see living a lifestyle like this. It makes perfect sense to me. You're on the water as both a job and a lifestyle, and remember that this is the coldest week of the year for the United States, and here we are in the water, in bathing suits enjoying ourselves. Life is rough for some, for others, we figure out how to make it work in our favor.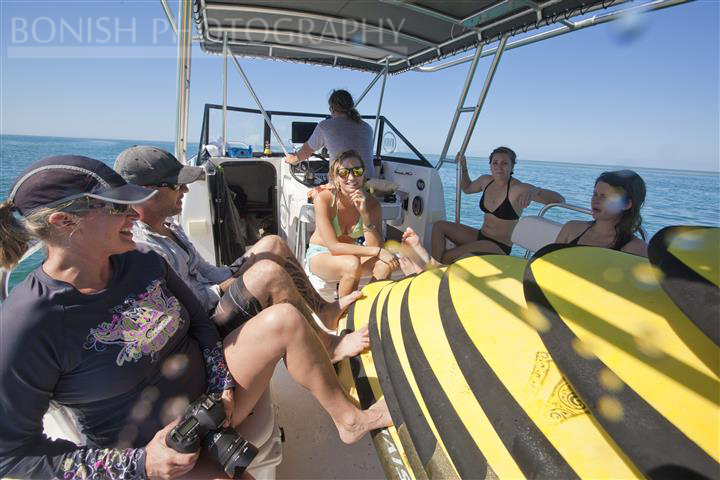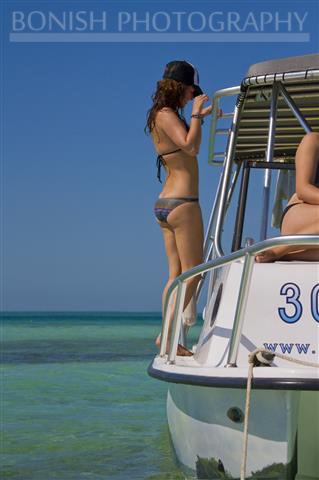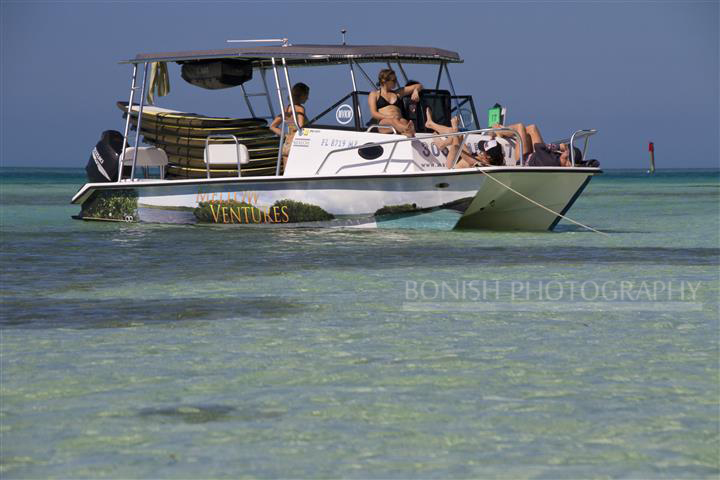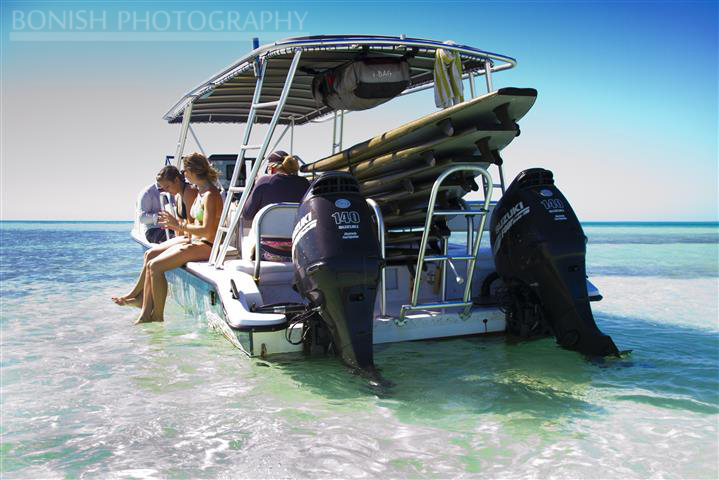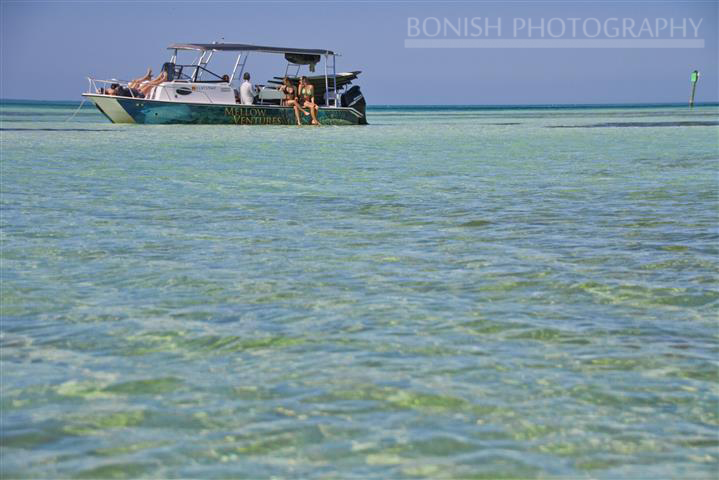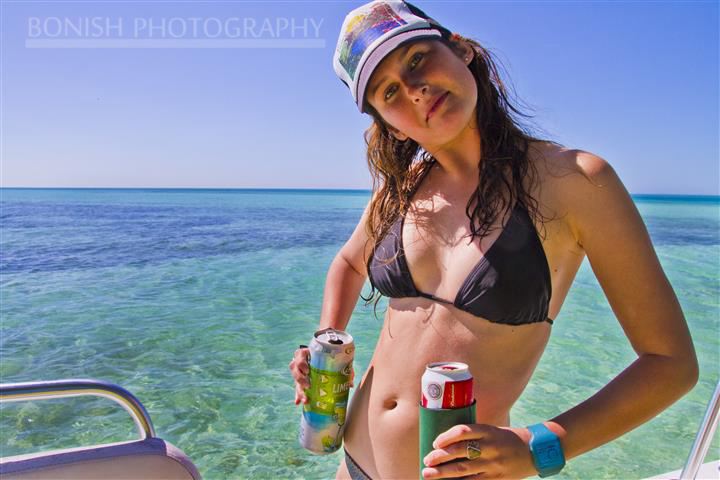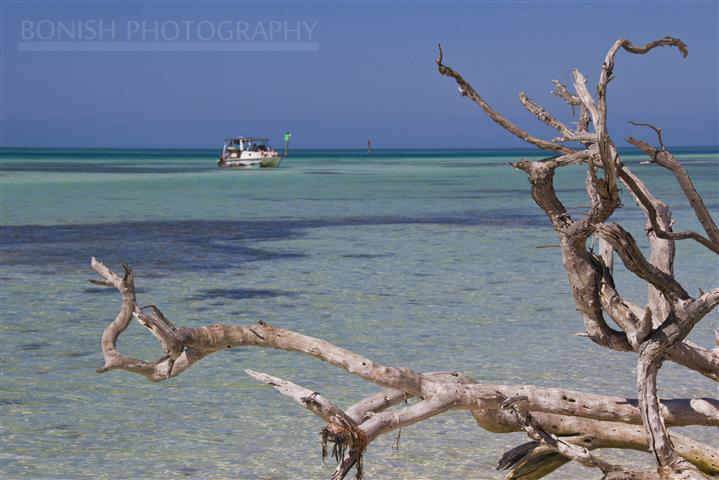 After our little siesta on the white sand beaches of a deserted island, we motored over to another small island that was rimmed in Red Mangroves. There were narrow canals carved through the islands that were loaded with fish, birds and aquaculture. Everyone loaded up on the SUP's and we paddled through the canals exploring and just enjoying the afternoon heat.
The girls took turns showing off their Yoga poses and each took turns showing us boys how much balance it takes to do headstands, splits and all sorts of other moves I cant even begin to dream of trying, let alone recovering from. Most of these moves would be hard, if not impossible for me to pull off on the solid ground, now think about doing them on an SUP Board while it's floating. I'm sure it adds a whole new level to your Yoga workout. It makes for some beautiful photography though.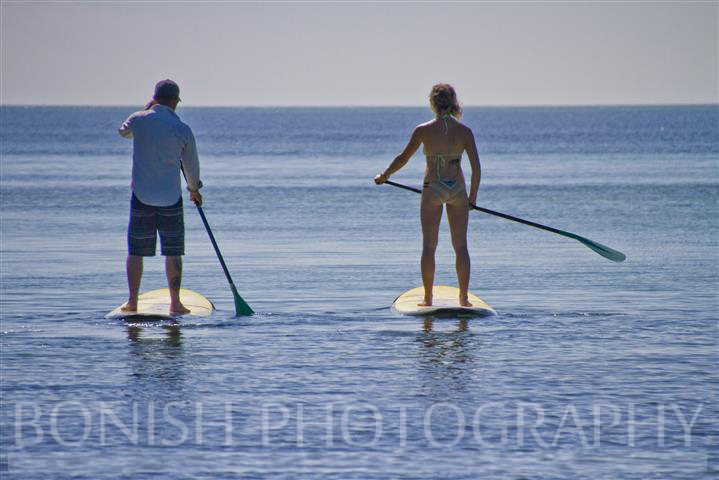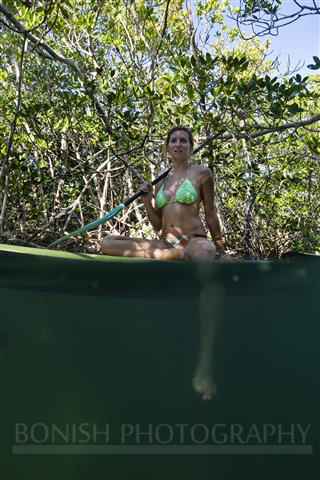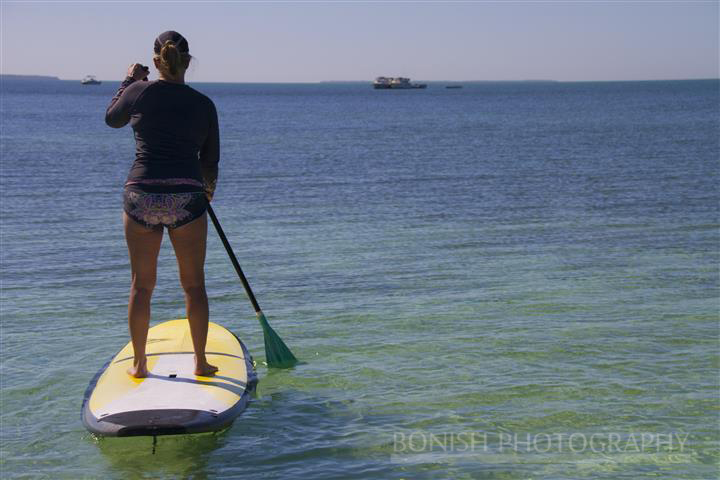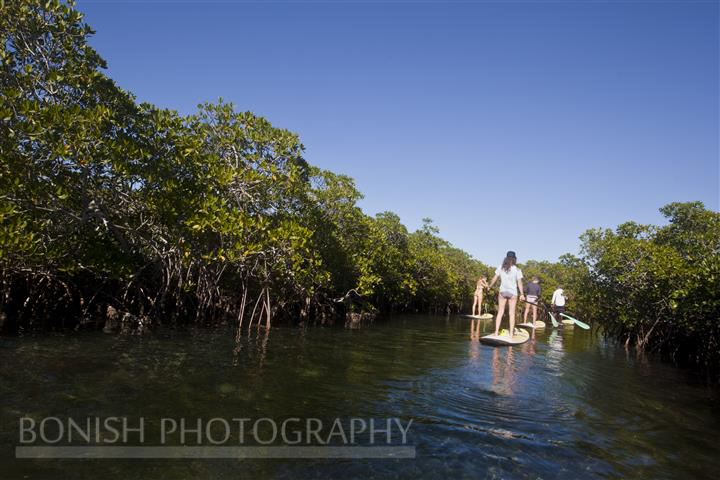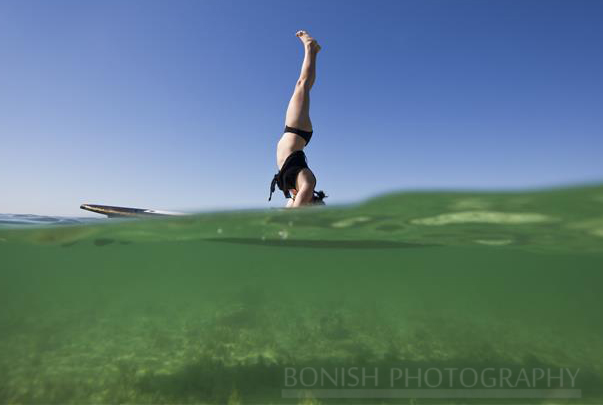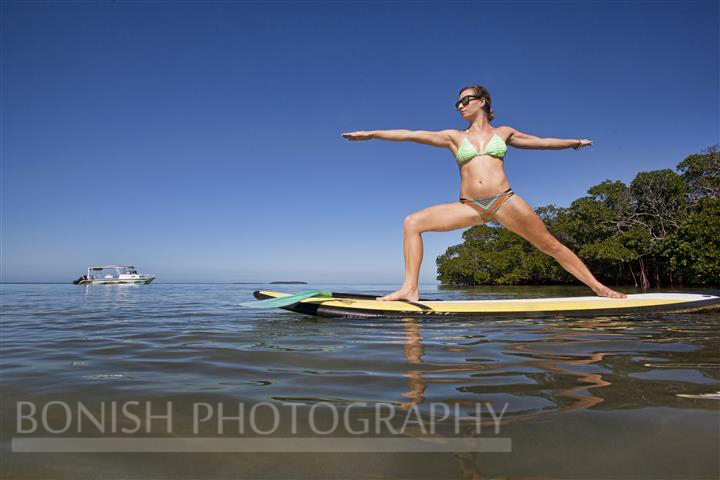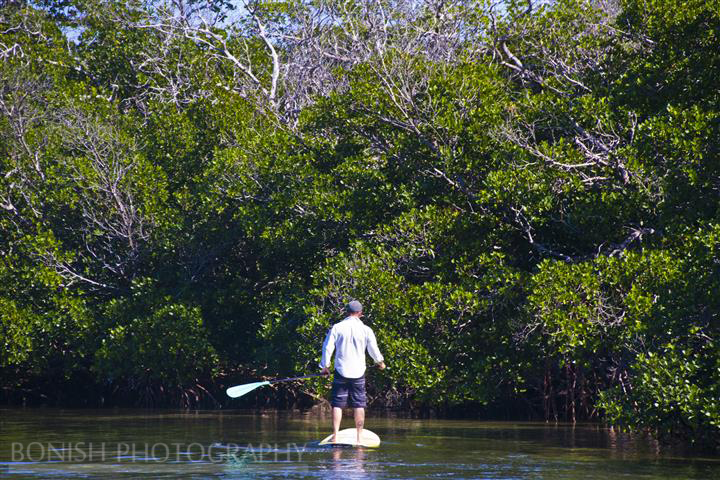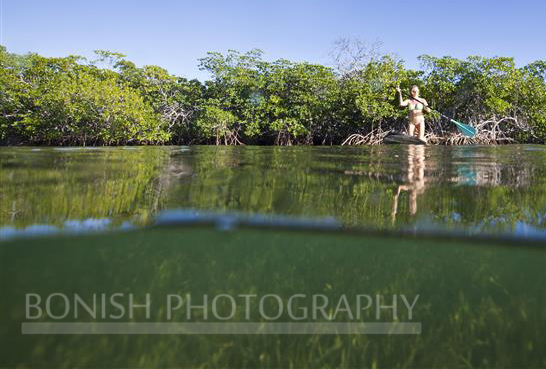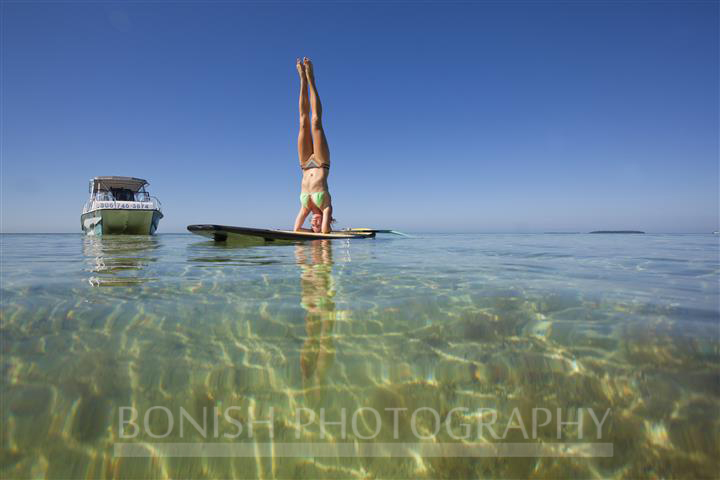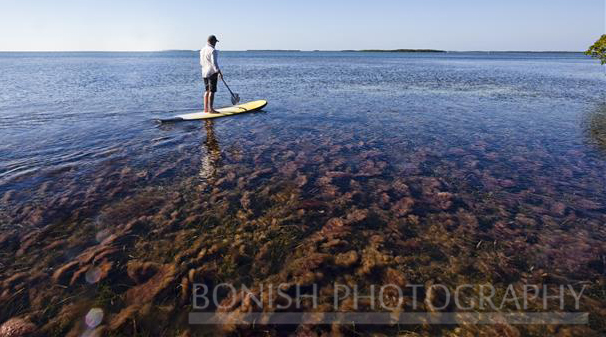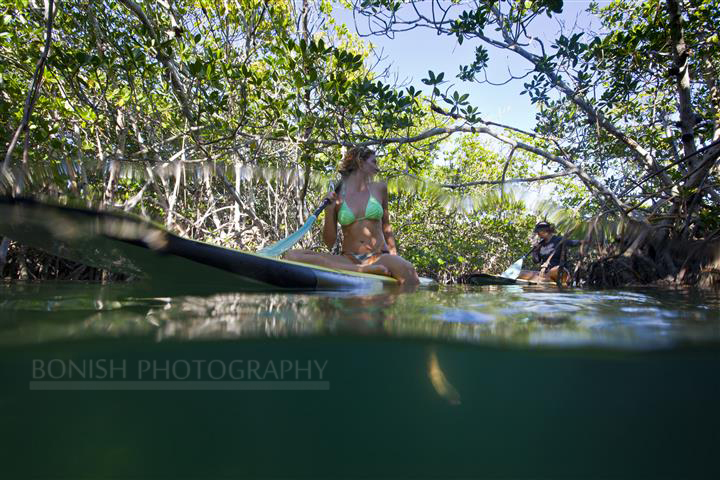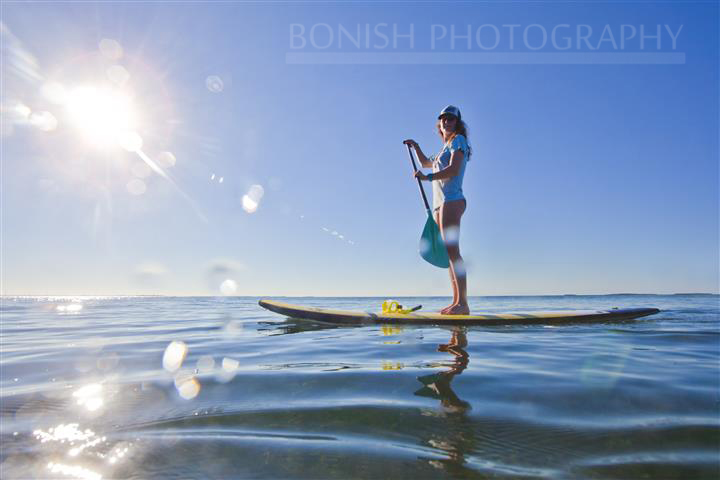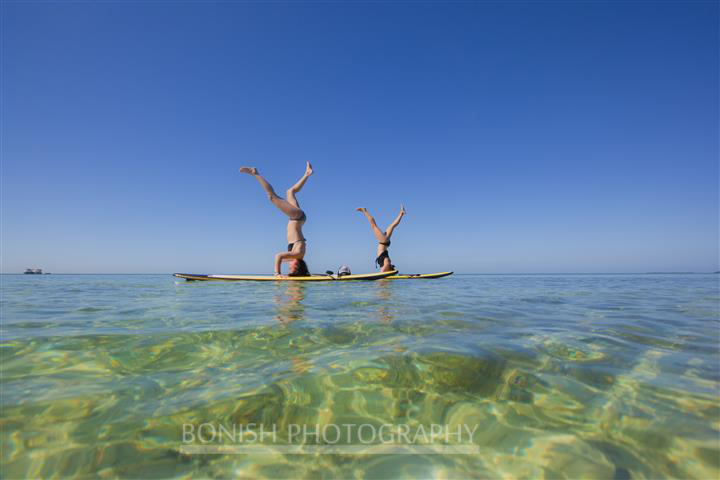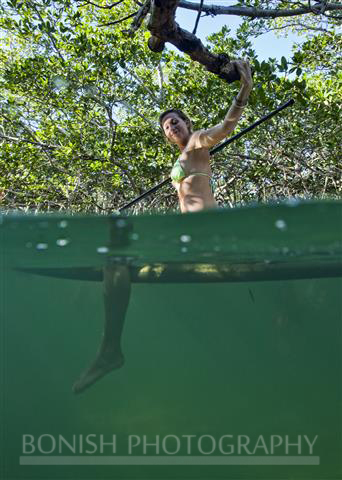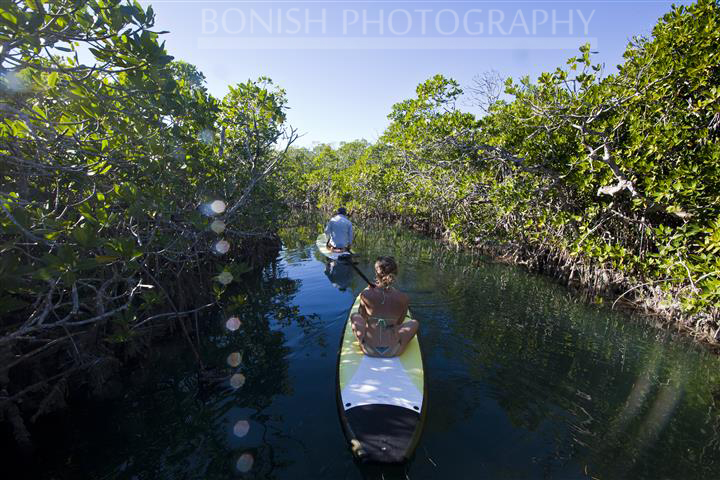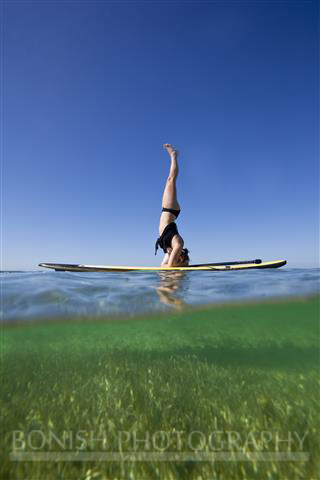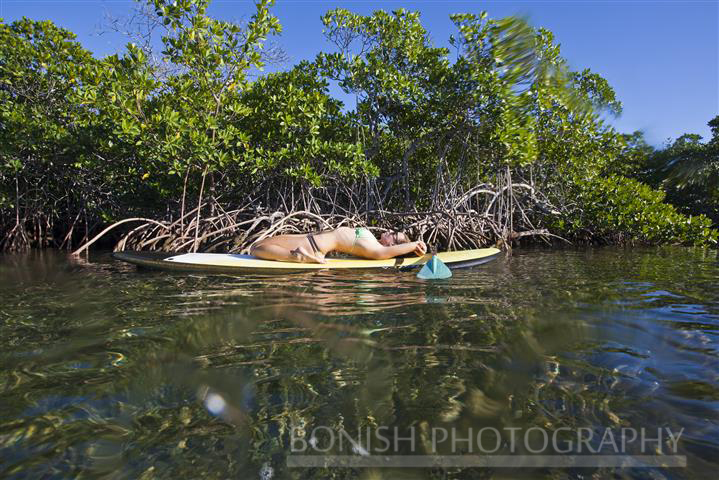 By this time of the afternoon, the sun was getting close to setting and we were all whipped. It had been an amazing day of paddle boarding, swimming, snorkeling, sun, fun and friends, both new and old.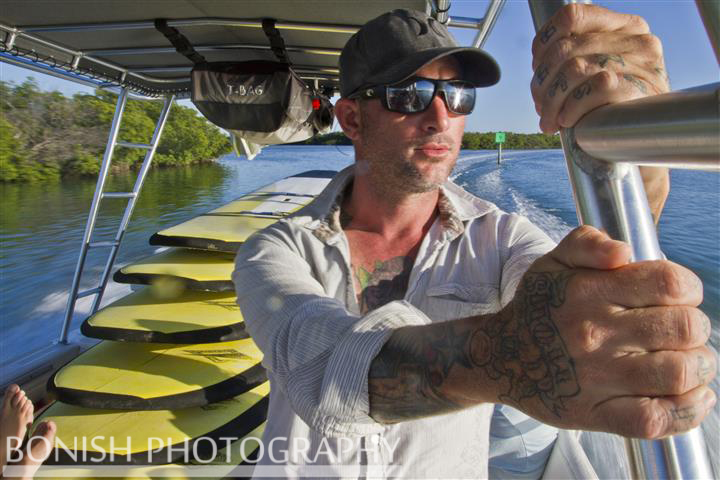 Our day with Mellow Ventures had drawn to a close, but something tells me this will happen again, and I'm hoping VERY soon!! If ever in Key West, be sure and look up Rob and Shane, and I know you'll be happy you did.