Last season, with Scott and Karen spending their winters here in Cedar Key, we picked Tuesdays to be our day off and tried to do something every Tuesday that would get us out of work. We specifically tried to either be on the water, or something that got us out of Cedar Key. If we're still around the motel, it's too hard, or too easy to just keep working right through the day since both Cindy and I are Work-Aholics.
Scott and Karen have been back in Cedar Key since New Years, but we've yet to be able to get the ball rolling with our 'Tuesday's Fun Days'. Each week it seems that something has come up with an employee calling in sick or Cindy and I just having too full of a schedule to take the day off. Actually, since we've returned from the cruise, we've yet to even have a day off.  Ron, our bartender that normally works on Tuesdays and Wednesdays at the Tiki Bar has been laid low with this crazy flu that has blanketed the country. Amber had a day or two off due to her son being sick and Sarah, our other employee needed some time off on the weekend, so the work schedule was back to 7 days a week from 9am when that office door opens till well after 9pm when we give last call at the Tiki Bar.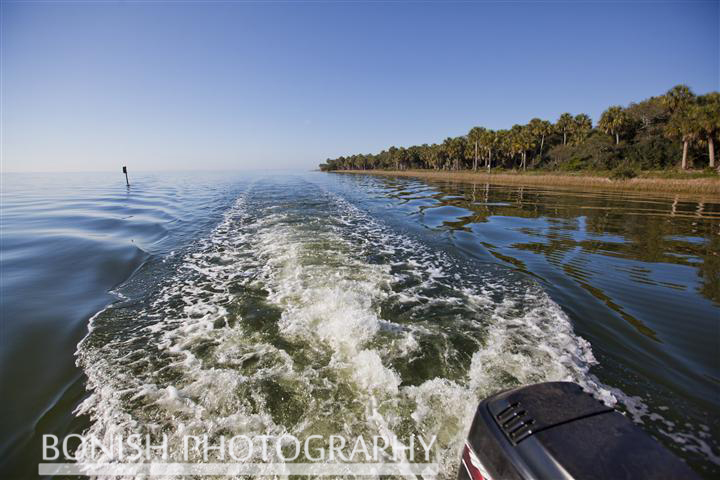 This Tuesday, Ron was back from the dead, Amber is 100% and nothing was stopping us from taking the boat out. We picked the boat up from having the motor completely tuned up and the carbs cleaned and adjusted after the Christmas Parade Incident and have yet to even take it out and use it. We picked it up before we left for the cruise and just put it beside the Travel Trailer in Storage. Cindy and I joked that it's now been over a month and watch, we'd take it out and it wouldn't run right and the mechanic at the Cedar Key Marina would be like "Yeah right, you've had the thing back for over a month!"
Luckily this wasn't the case as it started right up, idled fine and ran like a champ all day long. Kelly, the mechanic from the Cedar Key Marina had worked his magic when it came to adjusting the carbs and finally the 90hp motor was running like a champ.
Cindy and I almost broke our plans this morning twice while arguing over what needed to be done around here while we were getting things ready for a day on the water. I have no idea why it is so hard for us to take a day off, but we both battle with it till the second we leave the dock. Once that boat is untied, you can feel the weight leave your shoulders and 'It's All Good!'
This would also be our first time to really use the boat since we had Troy, from Williston Marine Metals wire it up with all the goodies. LED Lights, Night Time Running Lights so we could be out after dark, Dual Batteries and a radio that has Sirius Satellite built in.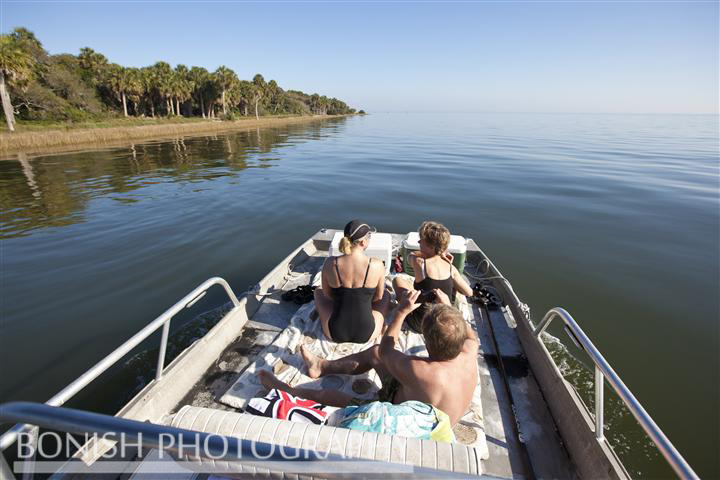 The day was picture perfect and we really couldn't have asked for better weather. I mean how can you go wrong when it's late January and the temps are in the 80's!  Not a cloud in the bright blue sky and a faint, cool breeze to keep you from sweating.
Once on the boat, shirts were tore off, the girls were in their bikinis and the day off was being enjoyed while we just spent the afternoon motoring around the islands and relaxing the entire time. No plans, nothing needing to be done other than sit around on our own little floating island and watch the Jellyfish swim by.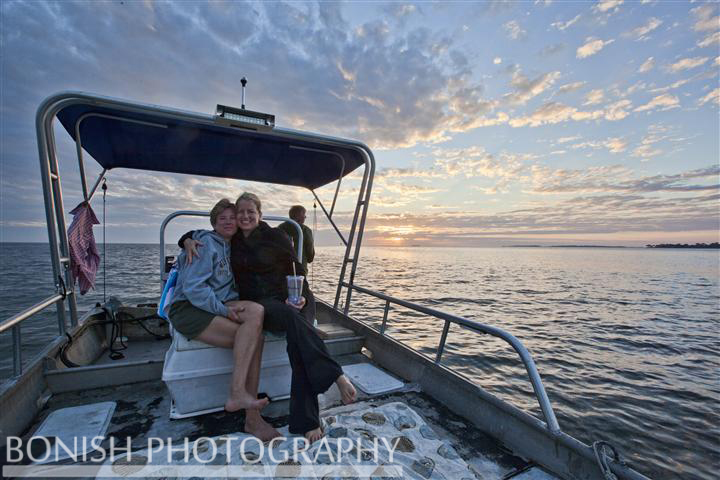 The water was loaded with various types of Jellyfish today so it was cool to just sit and watch their blob like features float past us. We spent the majority of the day just chillin' out and listening to some great tunes while we all sang along and did a whole-lotta-nothin'.
As we were sitting there watching the sun go down, Cindy started screaming and pointing in the opposite direction. We all looked to see a dolphin about 5′ out of the water jumping in the air. It continued to do this over and over. After about it's 5th jump, Cindy smacked me and said "What is wrong with you? Why aren't you taking a picture of this!?" I was was just standing there in awe of how far it was jumping out of the water and had never even reached down for my camera. We ended up missing the sunset that was going on behind us, but chances are, we'll see another thousand sunsets, watching dolphin leap straight out of the water isn't something you get to experience on a daily basis.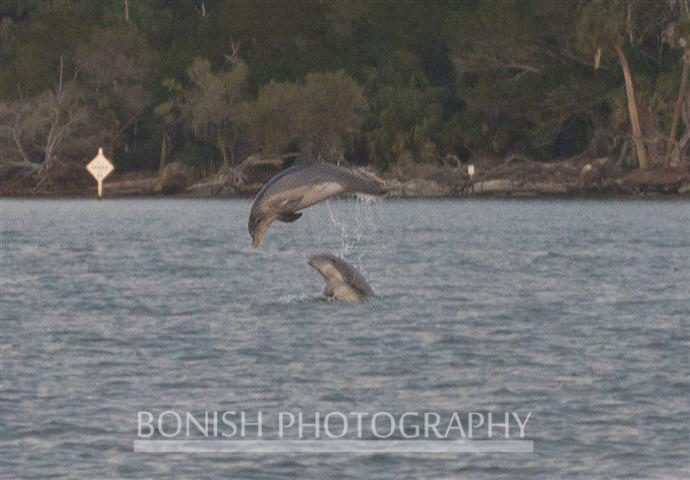 When I finally did come to and grab the camera, I zoomed the Sigma 50-500mm out all the way to 500mm and fired off a couple of frames on the Canon 7D. Unfortunately the photo is a bit grainy as that lens doesn't do well in low light situations and hand holding a 500mm lens while a boat is rocking isn't the best scenario for crystal clear shots.  But it is good to know that when put in a situation like this, my reaction time is almost instantaneous. I mean while I was picking up the camera from the Pelican Box at my feet, my fingers were automatically bumping the ISO up to 3200 and turning the drive onto its fastest setting so hopefully I'd get a few frames to pick from.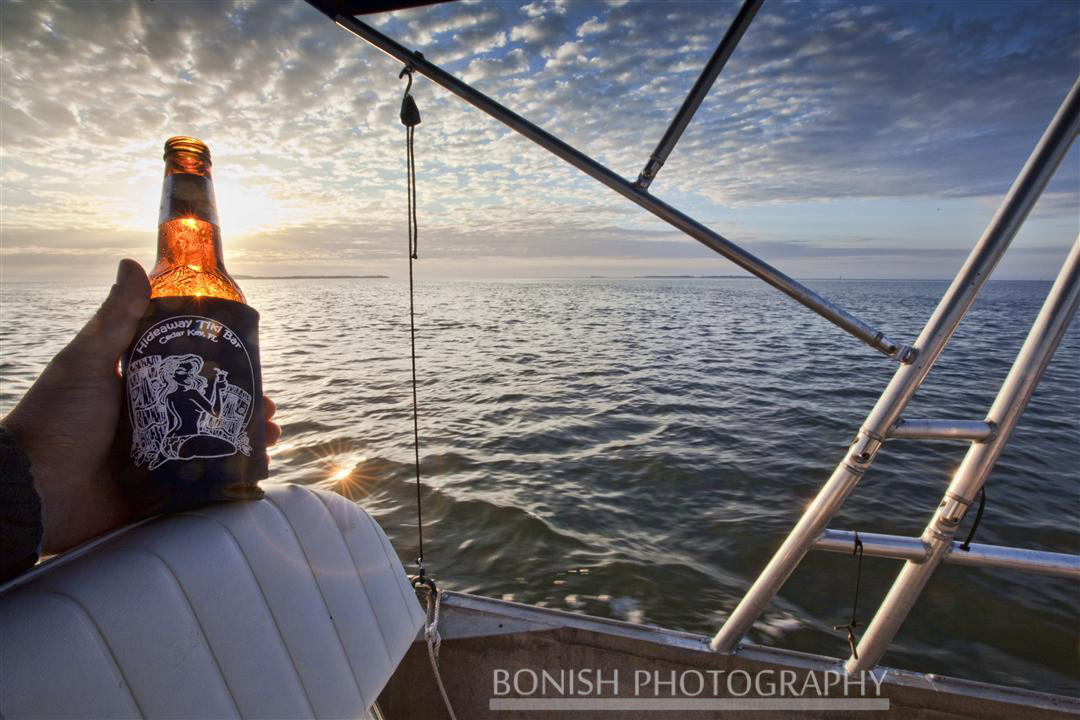 With the sun down and the evening drawing to a close, we took the inside channel back to the Low-Key Hideaway which is a much faster route rather than going all the way around the islands on the outside channels.  In order to do this, we had to lower the top while we went under one of the bridges, but that's the entire reason we had Troy build us that custom bimini. It's so cool to be able to use all the channels and not be restricted due to the bridge heights and tide levels like many boats are.
I had to apologize to Scott and Karen at the end of the day because I hadn't joined in on their little Pow-Wow at the front of the boat for most of the day while they all sat around talking. I explained that music is the one thing that takes my mind off of work. If I can blast the music, sing at the top of my lungs and just not think about anything else, it's like meditation for me. Especially if I can do this while the boat is just floating along with nothing but beautiful shorelines and quicksilver horizons surrounding us. I think my throat was horse at the end of the evening from singing so much, but they both said they understood and said my horrible voice hadn't bothered them one bit. I knew they had to be lying because I know I'm a horrible singer, but I thanked them for understanding.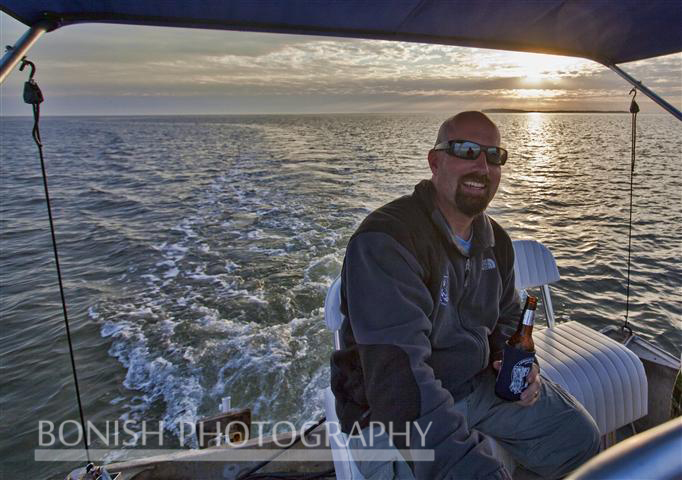 While we were pulling up to the Dock behind the LKH, we could see it loaded with people while a full tiki bar had just finished enjoying another beautiful Cedar Key sunset. Everyone greeted us and offered help while we unloaded gear and coolers from the boat.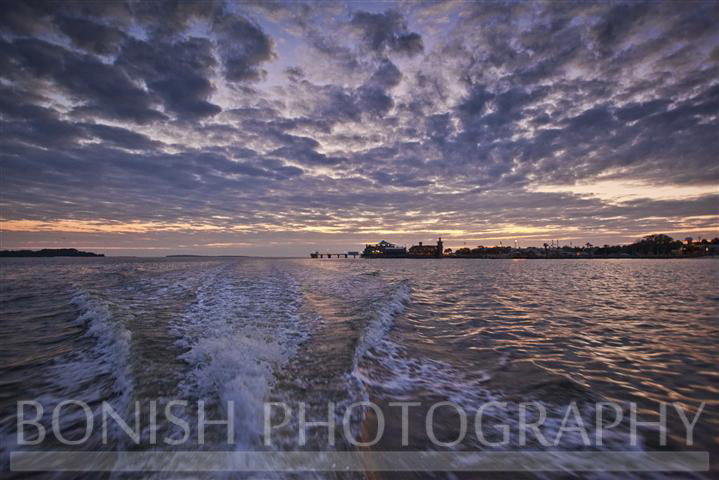 I knew that if we even walked into the tiki bar, it would mean going back to work. So Scott and I just walked past it while carrying a heavy cooler with the Pelican box balanced atop it.
Once in the house, we all flopped down on the couch talking about the dolphin, the beautiful sunset and finally getting the 1st 'Tuesday Fun Day' under our belts.
After a little while, Scott and Karen excused themselves as they had hungry dogs at home to go feed. For Cindy and I, the night had just begun. Cindy turned on some music on the stereo and taunted me with a Twerking Contest. This has been an on-going competition over the last few weeks. We danced for a few hours straight till the two of us were both so exhausted, it looked like we had just left the gym. We were both sweating so bad, you'd have thought it was 100 degrees inside the house. At one point we both had to go outside and just stand in the cool night air to cool off.
I can only imagine if someone would have been peeping in our windows. They probably would have left from embarassment…LOL