I've always believed that if you work your butt off, then you should treat yourself to something fun as a reward. That old motto of Work Hard, Play Hard
Last week, Cindy and I took a few days off before the 4th of July weekend knowing full well that when we returned, we'd be slammed busy. On Thursday when we returned from the Devils Den early in the morning, we pulled back into Cedar Key and went straight to work. The lawn needed tending to, the motel and RV Campground was 100% full and the tiki bar was rocking all weekend.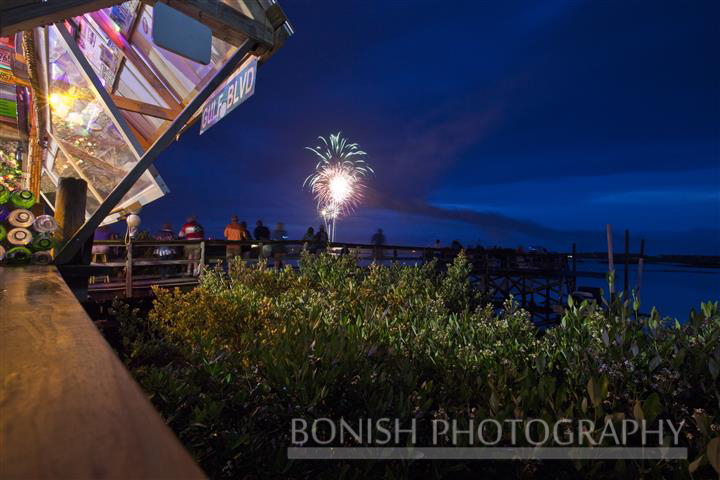 We don't have a weekend girl to help us out anymore, which means that Cindy and I tend to the rooms and the cleaning over and above the grounds maintenance and tiki bar. This means 12-16 hour days are the norm and neither of us complain or mind that style of work. But it means on our days off, we also play just as hard if not harder.
Tuesday after the 4th of July holiday was no exception. We were both ready to climb on the boat and test out our new Aqua Lily Pad. The day looked to be perfect for it too…Hot, Steamy and Big Fluffy Clouds for a focal backdrop.
We had the boat loaded with food and drinks and were trolling out of the dock just after breakfast. Cindy even said she was bringing the dogs with us this time, much to my discontent. I don't mind bringing Little, but Luca isn't all that thrilled with the boat, and he HATES the heat. Little is small enough that she can ride on your lap, or tuck in just about anywhere. Luca on the other hand is so big, he takes up quite a bit of space on a small boat and basically just lays at my feet so he can stay in the shade the entire time.
I'm not sure if Little was excited to go on the boat, but when Cindy opened up the back door and asked "Who wants to go for a boat ride?" Little sprinted the entire way down the dock and practically jumped on the boat by herself.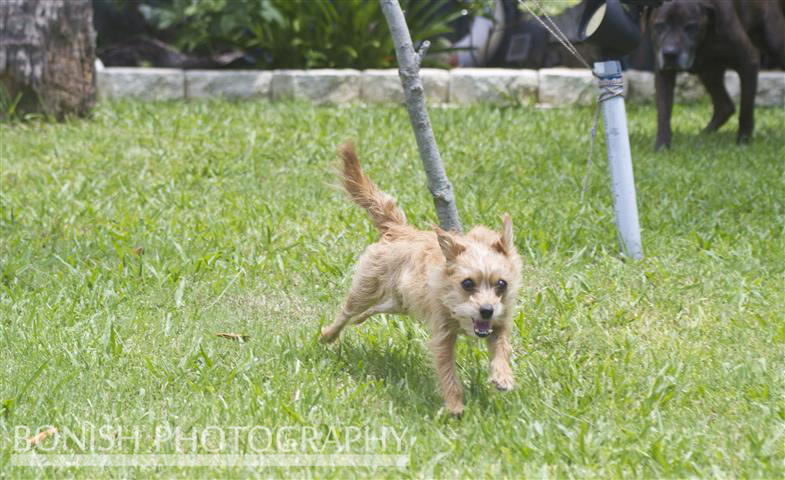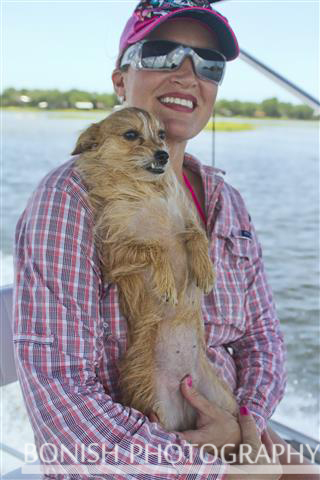 Within minutes of being out in the channel, we had a pod of dolphins playing in our wake. One had a bright pink belly which was unique and something we don't often see so that was a real treat. Cindy took the wheel and held onto Little who thought she was going to jump out of the boat to attack or maybe ride the dolphin. I sat against the transom of the boat with my Canon 7D hung inches above the Gulf of Mexico.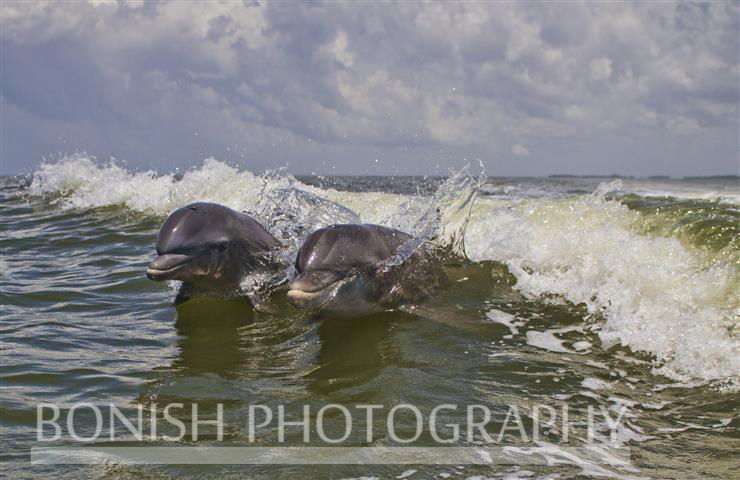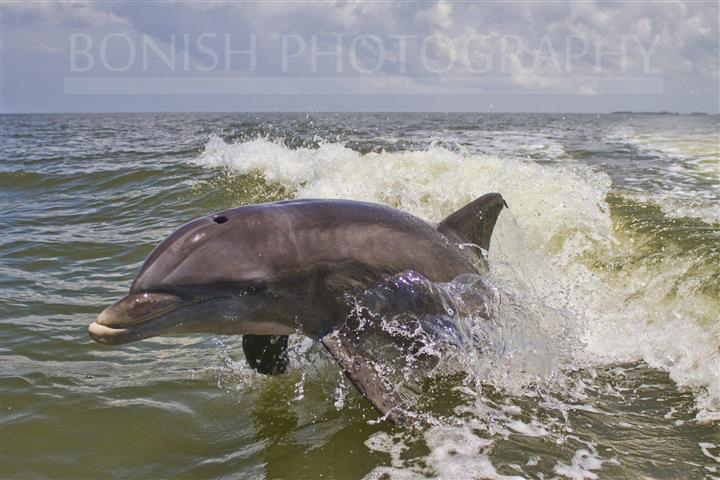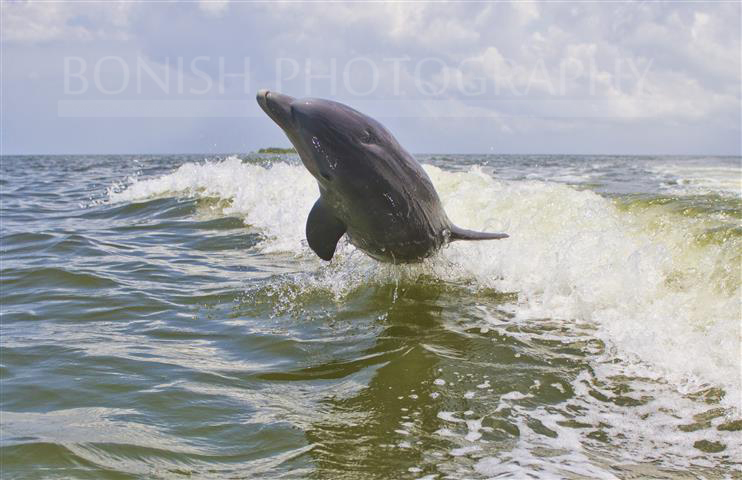 Numerous times would the dolphin leap out of the wake and land almost on the camera itself. One of the dolphins likes to jump and land on its side which creates a huge splash. The other dolphin would swim under the water and roll on its side looking up at me from under the surface like it was as interested in me as I was in it. We've seen these dolphin so many times that I've lost count, but the sight never gets old and I don't think it ever could. Seeing the Pink Bellied Dolphin was especially cool and I was ecstatic that I got a couple of good photos of it out of the water.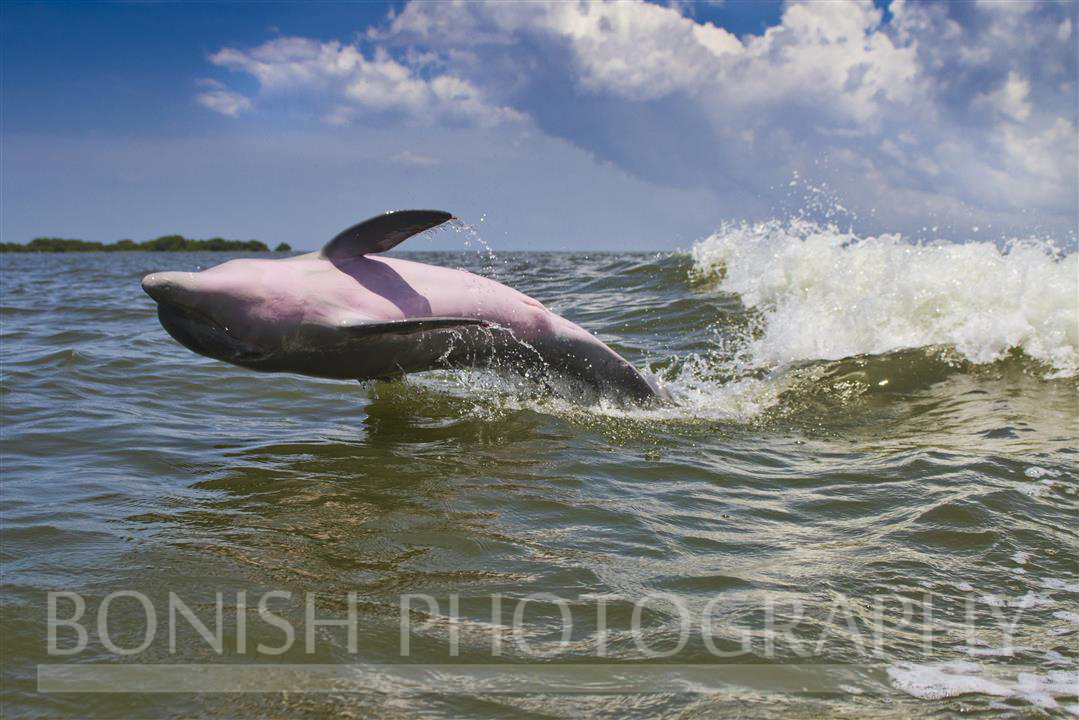 When my arms were too tired to hold the camera any longer, I took the helm from Cindy and we headed over towards North Key to hang out on a nice Sand Bar that it offers. While motoring over there, I pointed to the Starboard side yelling "OMG!! We almost just hit a manatee!"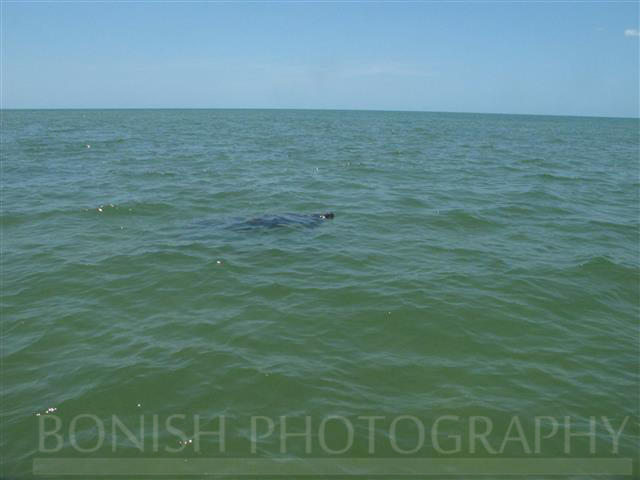 I was trying to point it out to Cindy as I throttled down and turned the boat around. As we were looking into the Turquoise water,  we saw two of the largest Stingrays we'd ever seen swim under us. Their wingspan had to be at least 5′ wide. Cindy said "I'm sure that's what you thought was the Manatee" trying to debunk my sighting. Just then, we saw it stick its nose out of the water to take in a breath of fresh air and we both knew it was a Sea Cow.
I grabbed my Canon G12 that I keep in a Underwater Housing and jumped overboard. Cindy was telling me to get in the water gently, but I have no idea how you gently jump off a boat? So I fell into the water as softly as I could, which spooked the manatee and made it swim in the opposite direction of me. The current was moving pretty fast, so I was trying to swim back to the boat while Cindy's yelling "It's right behind you! It's coming to check you out."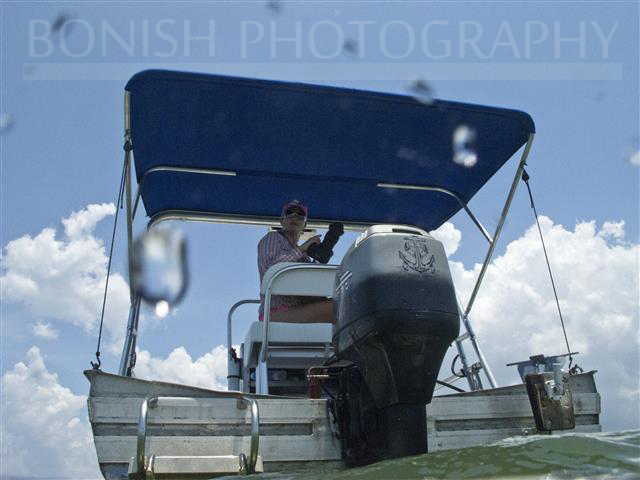 That is somewhat scary while looking behind you and seeing this HUGE creature swimming up on you, even if you know what it is. I turned around to try and get a photo of it, but our water doesn't have the clarity that Crystal Rivers does.
Once back in the boat, we watched it check us out before we headed over to the sand bar to drop anchor. At this point, if we were to have turned around and went home, I'd have been content. We'd only been in the boat for 20 minutes and we'd seen the biggest sting rays we'd ever seen, swam with a manatee and had pink bellied dolphin jumping within inches of our boat. Not a bad start to our day off.
Once the anchor was set, we unrolled the Aqua Lily Pad and launched it beside the boat. Cindy made me go first since I always have to be the test dummy. Laying on this thing is awesome, but trying to stand and walk on it is just downright funny. Once Cindy got on it, her Little sidekick was whining and crying till she finally got up the courage to jump over onto it with her. Little is NEVER far from her side and it doesn't matter if she has to be in salt water or sitting up at the helm station. As long as she's beside Cindy, she's content.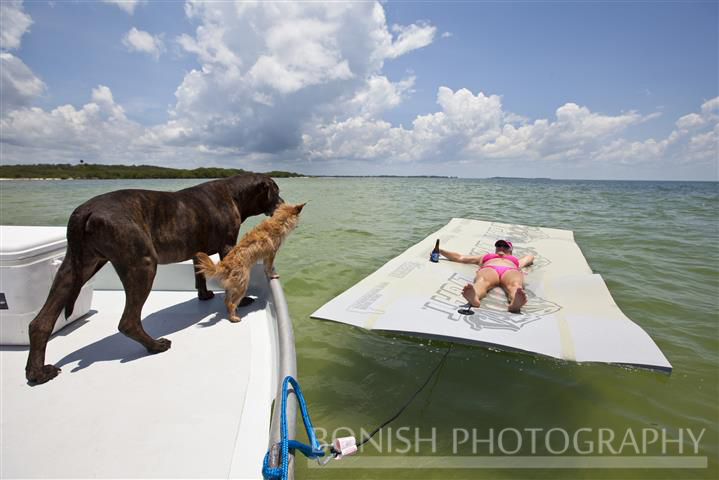 We laid around just relaxing and enjoying the bath like water and the cool summer breeze till we heard some rumbling coming towards us from the East. We looked over to see one of the typical afternoon thunderstorms rolling towards us.
You could see a wall of water coming down, so we packed up the Aqua Lily Pad and motored over towards Seahorse Key. These storm cells are usually small enough that you can just keep moving around them and you'll never actually get rained on.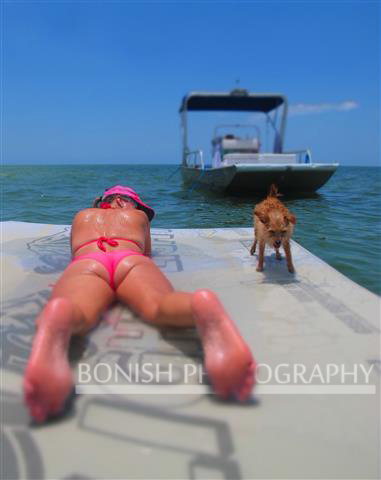 We spent the next hour floating around the storm till we could see the backside of it and could head into the Cedar Key Marina to top off our fuel tanks. Once they were full, we went by the Motel and dropped off the dogs. Luca was panting so bad from the heat, yet he fought to stay on the boat while Cindy was pulling him back into the house and his beloved A/C. She said once she got him in the house, he walked right up to the floor fan and just laid himself in front of it and was snoring within seconds.
Back on the water, we wanted to head over and check out a new boat that has been anchored in the main channel for a few weeks now. We met Phil and Sandy last week when they came into the Tiki Bar for a visit. I was talking to Phil about this and that when he mentioned that he lived on a Catamaran. I got all excited and asked if his catamaran happened to be the one anchored out in the main channel?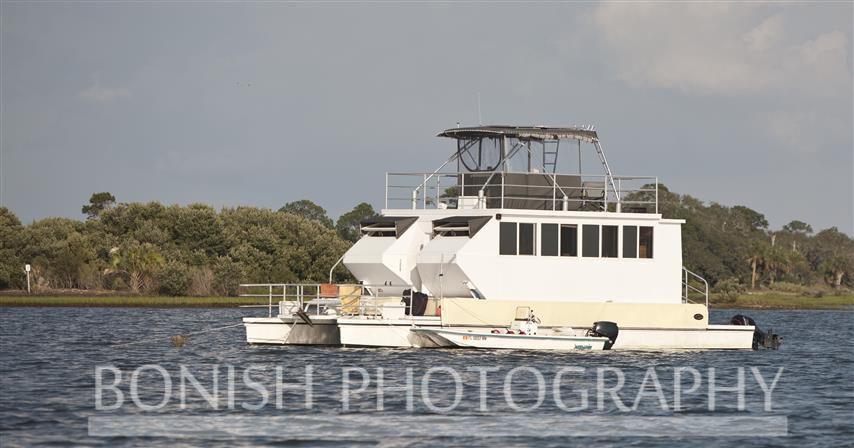 He said "Yep, that's mine!" I instantly attacked him with dozens upon dozens of questions and apologized for stalking his boat every time we pass by it. He questioned why I hadn't stopped to check it out yet, and made the offer that the next time we were out on our boat, we needed to come by and see it in person.
Heath and I have both been talking about this unique looking boat for weeks now, and I knew Heath wanted to see the inside as bad as I did. So I called him and told him to meet me down at the dock in a few minutes and we'd go check it out. I had already called Phil to make sure it would be ok if we came by. Phil's boat has a rain water catchment system to fill his fresh water tanks with rain water and we had been joking at the tiki bar that with all the rain we've been having, they've been able to take really long showers for once and not worry about conserving their water supply. Phil and Sandy live on the boat fulltime and try and live like Cindy and I did when we RV'ed.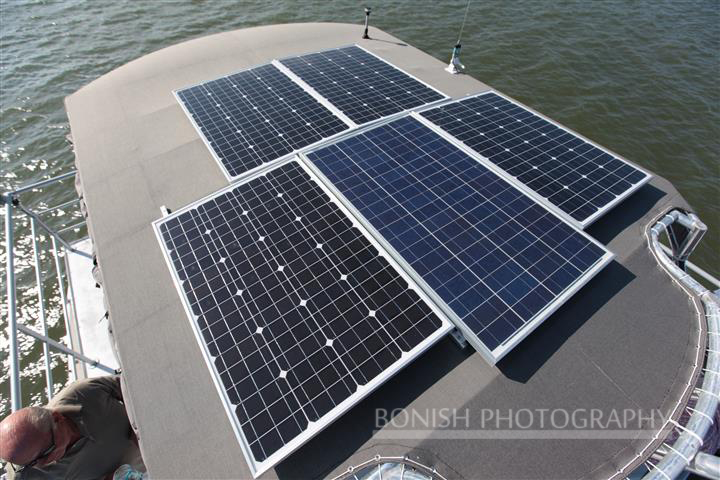 Their power comes from their 5 100watt solar panels and their water is collected from the rain. Their only expense is their fuel they use to go from anchorage to anchorage. Sounds like my idea of Good Living! When I was on the phone with him asking if we could come look at the boat, I said "Hey Phil, it's Pat from the Tiki Bar, do you care if we come by and take some showers on your boat?" The look Cindy gave me was of total disgust, but Phil laughed really hard and said "Sure, come on over!" He got my stupid humor as he's a total smart-ass like I am.
Heath calls me back and says "Hey, pick me up at the inside marina so we can pull my old wooden boat around to my dock after we visit the catamaran."
I argued that this would make it next to impossible to anchor or tie up beside the catamaran, but Heath is a stubborn guy, so he just replied "Lets not argue about this, just meet me at the inside marina ramp."
Heath has this old wooden boat, and by old, I mean decades upon decades old. It's been sitting out in the woods for years just rotting away. It's the last known wooden boat to be built here in Cedar Key and he's been trying to restore it for months now. These old wooden boats are supposed to stay in the water so the wood swells up and keeps it watertight. It had been out of the water for so long, that the wood slats had half inch gaps between them.
To solve this, he put it down at the city marina, out of the way and let it sink. He left it there for a few weeks (3 in case you're wondering how long it takes) allowing the wood to swell back up. Once the wood was good and swollen, he put in some pumps and removed the water from inside the boat till it floated up onto the top of the water where it should be.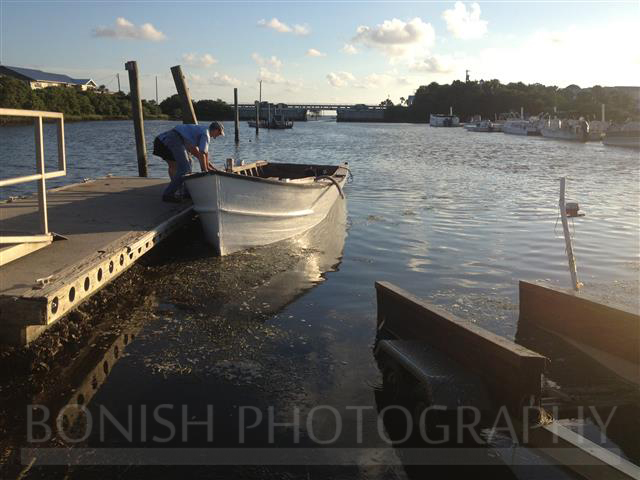 Now he needed to have it towed around to his dock where he'll start the rebuilding process on the inside. I'll be sure and keep you posted once this starts.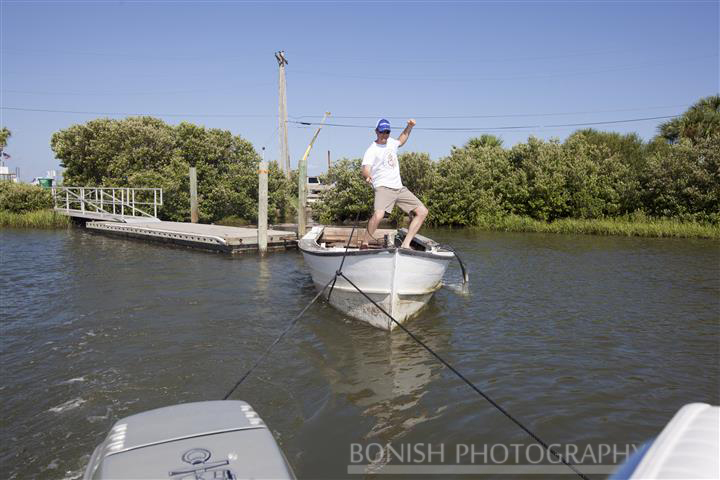 We tied onto the boat and pulled it out of the marina heading over towards the catamaran. I'm sure Phil was wondering why on earth I was towing a boat to come visit him by the look on his face when we came floating over. To make things more interesting, we attached one of my anchors to the wooden boat and anchored it down current from the catamaran. This allowed us to float over and tie up to the side of Phil's boat and go aboard for a visit.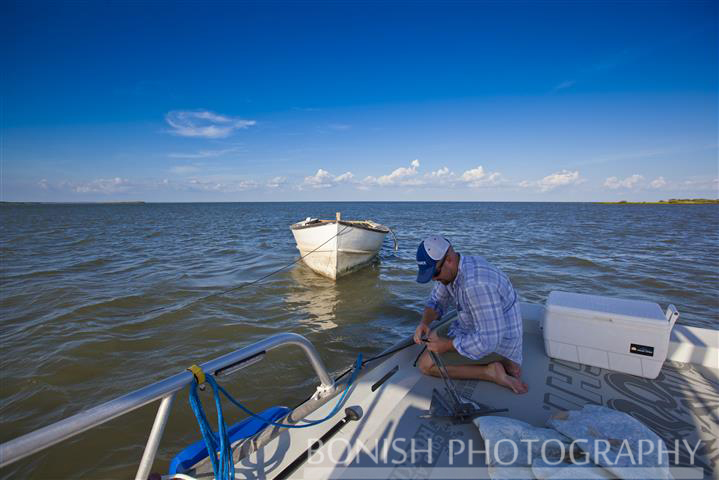 This catamaran was originally custom built by Sabalo Boats to be a shuttle from Miami to Cuba. The guy went bankrupt and the owner of Sabalo was stuck with the boat which was basically a shell sitting on top of some really big pontoons. Phil stumbled upon it by chance and spent over two years building it out to become a live-aboard houseboat that is one of the coolest boats I've ever been on. It's basically a huge studio apartment that floats.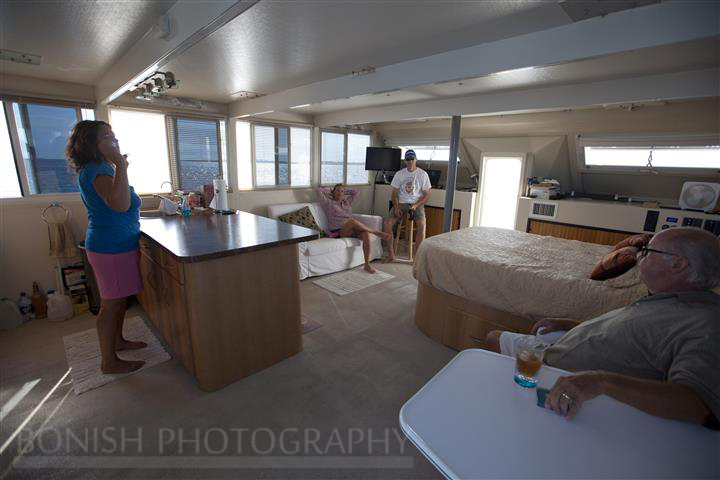 The kitchen inside Boxtop, which is the name of the boat, is larger than many we've had in our own homes. Phil said that Sandy is quite the chef, so they wanted to have ample cooking space while living on the water. The bed is a regular Queen mattress that sits high atop a pedestal with tons of storage options below. There is actually so much storage, that Sandy said some of it sits empty because they don't carry enough to fill everything up.
The view from the steering station atop the living quarters is priceless. This deck is where I'd spend 90% of my time. Unless the weather drove me down below, I think I'd be up there from sun up till sun down on a daily basis. I can only imagine the view from up there while underway, especially when traveling through tropical blue water.
Phil and Sandy were very gracious and answered our dozens of questions we all had for them. We spent over an hour just sitting around talking about their travels and staying in Cedar Key. Not wanting to take up their entire evening, we thanked them for their kindness and allowing us to see their beautiful boat. Be sure and follow along with their travels at their website http://boxtoptheboat.blogspot.com/ They're headed up the coast and hoping to get into the river system to head towards Tennessee. I told Phil to be sure and stay in touch if he ever wants to get rid of this boat or trade it for a small hotel in Cedar Key.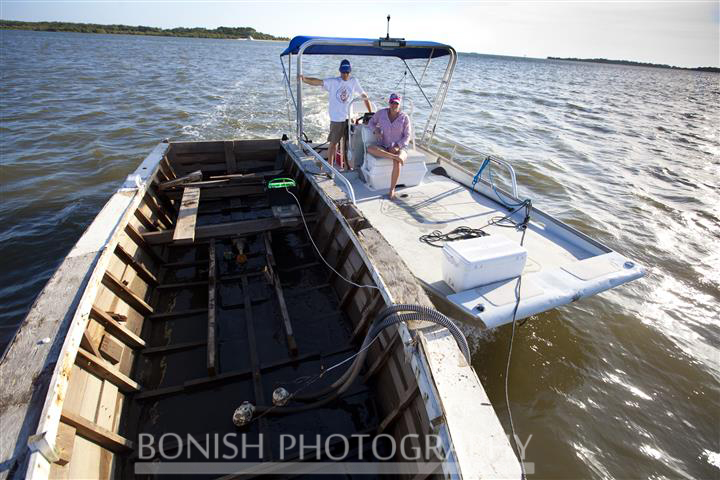 From Boxtop, we towed the wooden boat over to Heath's dock where it'll sit till it's completed. Once it was tied up, we headed back to the Low-Key Hideaway where Jolie and Allison were waiting for the 3 of us so we could all go out to eat. I was shocked when we pulled up to see Deer Island George sitting out on our dock. You might remember George from our numerous visits out to the island to visit him.
George told us he'd come into the main land to get some human interaction after being all alone out on the island for so long. I asked George where he was staying and he said "Where ever I can find an empty couch."
We checked the computer and we actually had an open room, so we gave him the key to the room and told him he could be our guest tonight. We asked if he wanted to go to dinner with us and everyone jumped in their trucks to head downtown. Dinner was spent at Steamer's which was awesome. Great conversation, lots of laughs and just good people.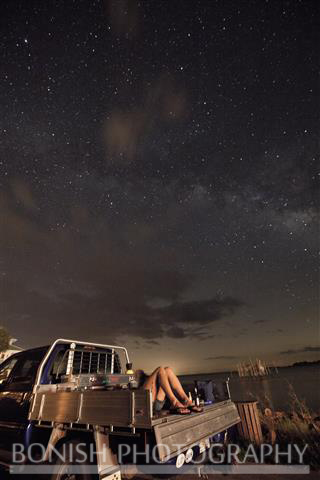 As we drove home, there was an amazing lightning storm going on out in the Gulf of Mexico. We gave George a stack of DVD's so he could have something to entertain himself  for the rest of the night and Cindy and I headed back downtown with the dogs to watch the lightning storm. It was the perfect ending to what had already been an Epic Day.