Busy Before Vacation Comes
The past few weeks have been non-stop busy before we leave for a weeks vacation to head up to Minnesota to visit Derrick and Tish and celebrate my 40th Birthday.
We had a ton of fun with the 4th of July weekend and stayed crazy busy here at the Motel and the Hideaway Tiki Bar. Once the festival weekend was over, it meant that Scalloping Season had begun here in Central Florida. Cindy and I headed out to go Scalloping with Heath, Jolie, Allison, Norm and Janice one afternoon when we had time off from the Tiki Bar.
Once out there, Cindy decided that Scalloping in waist deep sea grass wasn't her cup of tea, so this was the way Cindy spent the afternoon scalloping.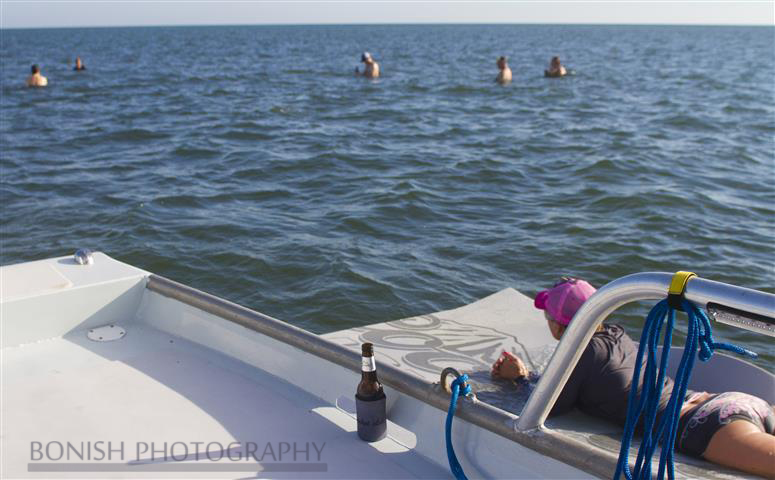 I cant lie, I wasn't too thrilled with getting in the sea grass either, so I stayed on the boat and put more stock into the Coors Company. Allison and the others kept swimming over to show us their finds which would include various sea urchins, star fish and other items that are interesting to photograph, but I'm not all that thrilled with finding them below my feet while stomping for scallops.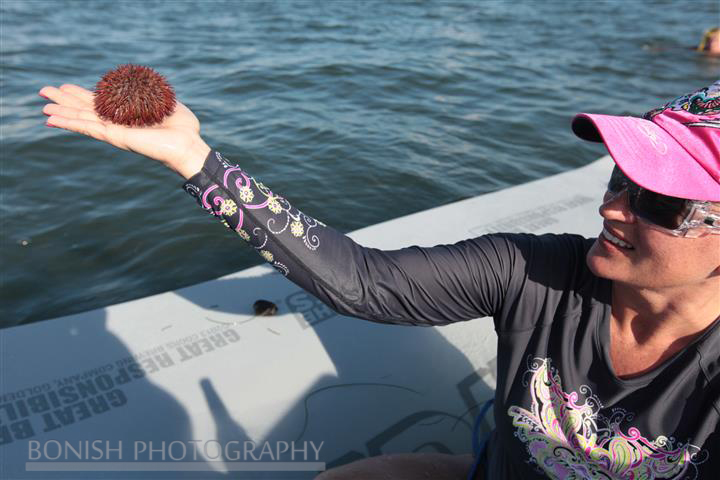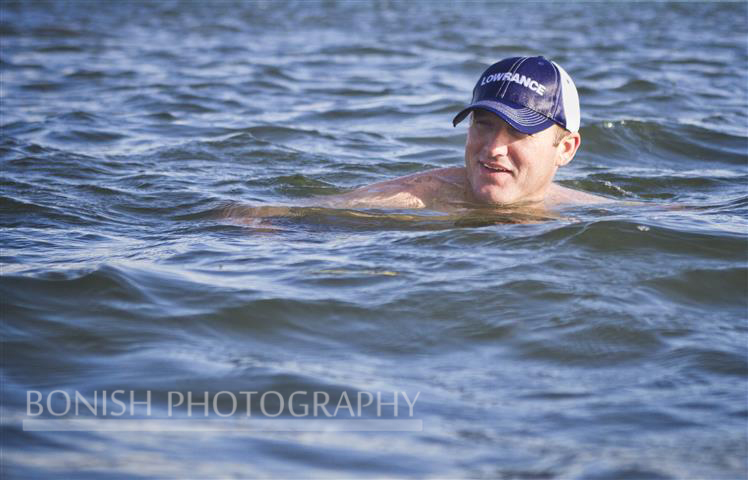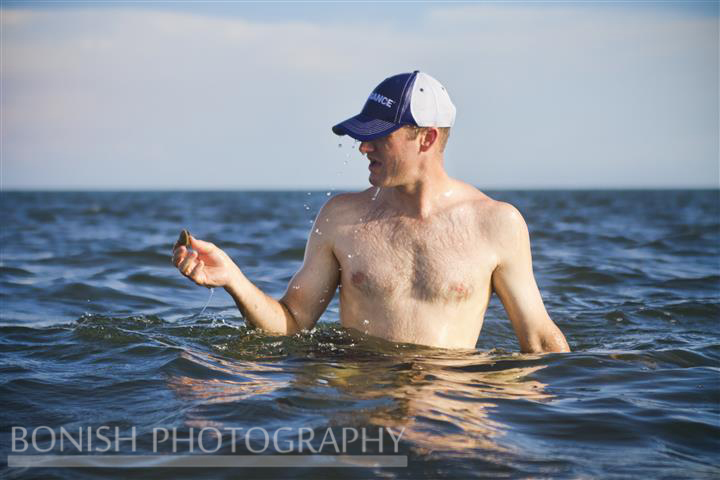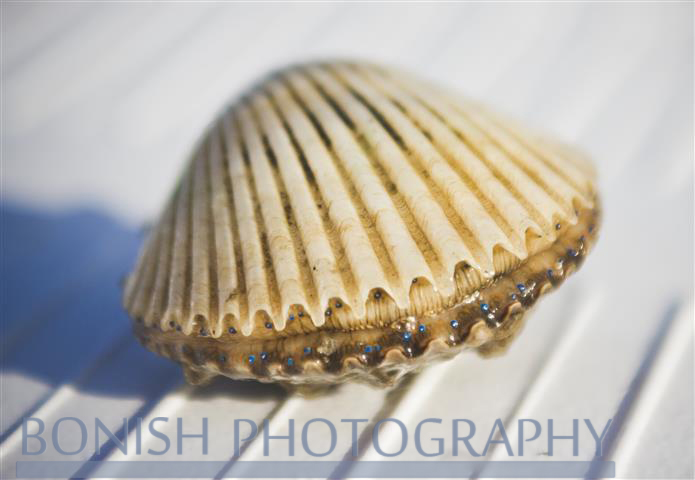 Once the group had reached their limit with scallops, we moved to a different area so they could clean and shuck them without getting the spoils in the same area they collect from. We all sat around with the two boats rafted up together just talking and listening to some music while Janice schooled everyone on how to shuck a scallop. She could shuck about 5 to everyone else's 1.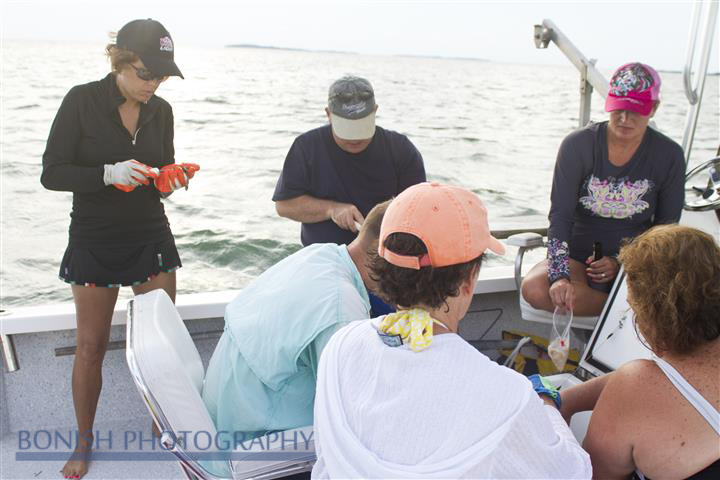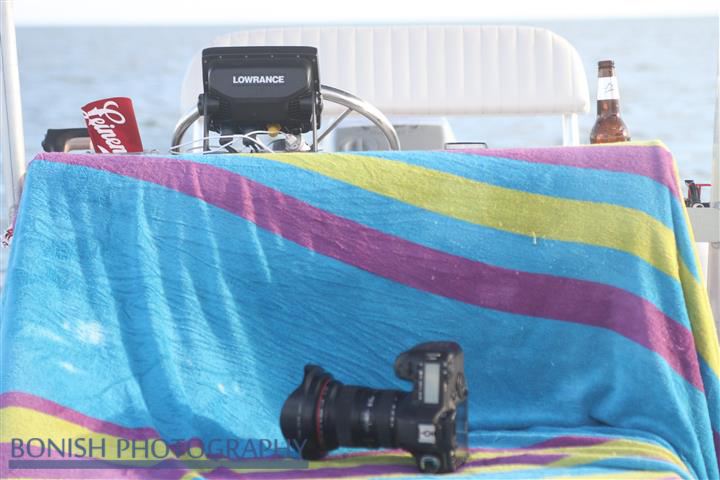 While they were still shucking, Cindy and I could see a storm coming in off the horizon and knew we were losing water at a fast rate due to the approaching Low Tide. We need to have a certain amount of water to be able to get back into the Low-Key Hideaway Dock, where Heath can get into his dock at any tide level. So we said our goodbyes and headed for home.
Racing back to shore, we hit bottom in a few different spots that we can normally skim over, which wasn't a good sign. Cindy was freaking out already telling me to just tie the boat off at the marina downtown rather than risk getting stuck in the mud trying to make it home. I told her I'd rather risk it than leave the boat downtown all night and we headed through the inside channel to save some time.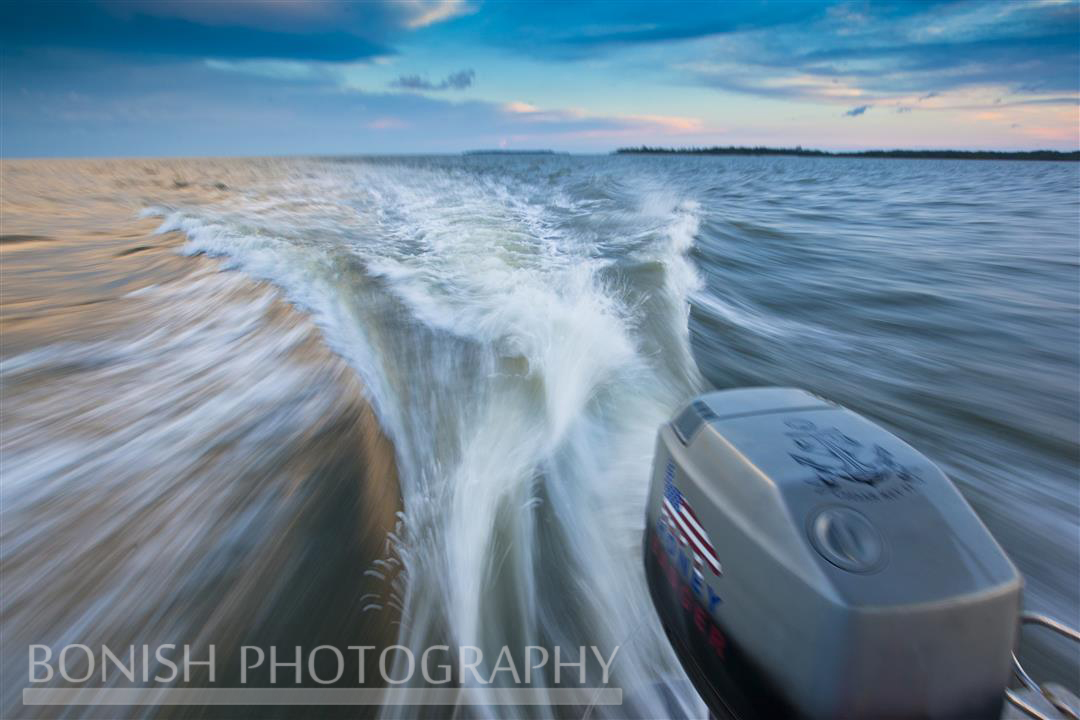 Pulling up behind the motel, but still out in the main channel, Cindy said "There is no way we're going to be able to make it in! We can see the bottom of the SS Minnow!" That is the indicator for us when we know the tide is out too far for us to make it back to the dock.
I sat there idling for a minute just looking at her when she finally said "Ok Fine, just go, but I'm pissed that you're going to make me walk in the mud!"
We made a big circle out in the channel to pick up speed before we entered the bay behind the motel WFO. At this point, there was no way to stop till we either hit the dock or made it as close as we could. I had the throttle pinned with a rooster tail of mud being thrown about 30′ behind the boat from the prop being so far down in the muck.
Once we were close to the dock, I was trying to turn the motor to steer us closer towards the dock, but the boat was simply skimming atop the mud at this point. In order to stop us without sliding right past the dock and closer to the neighbors up North of us, I just killed the motor with the prop still down in the bottom so it would act as an anchor. This brought us to an abrupt halt about 20′ from our dock.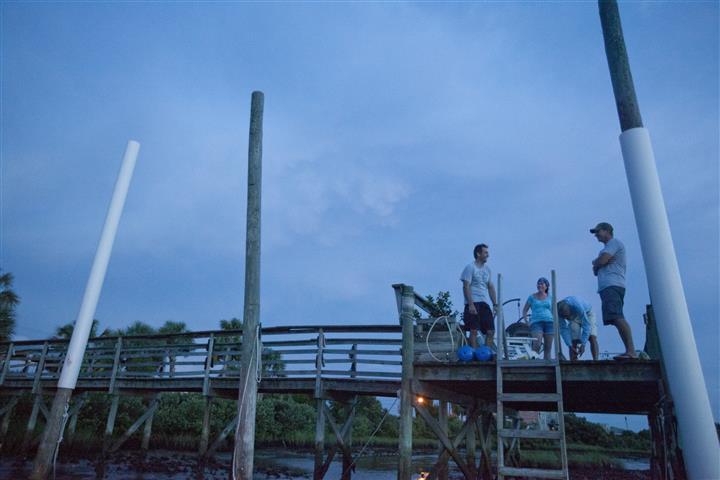 People came piling out of the tiki bar laughing and cheering about what they'd just witnessed. I put on a pair of mud boots we keep on the boat and slid off the front of the boat up past the top of the boots to about my mid-thigh in the thick, warm mud. Bruce ran and grabbed some straps out of the bed of his truck and tied them together. I walked them back to the boat and the group of guys on the dock pulled the boat the last 20′ up to the ladder. Cindy was able to walk off the boat without ever getting a drop of mud on her.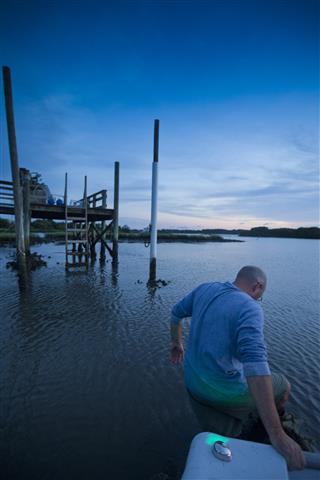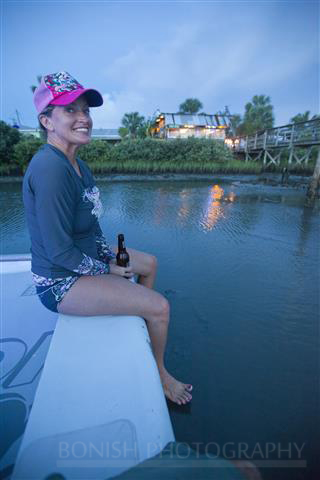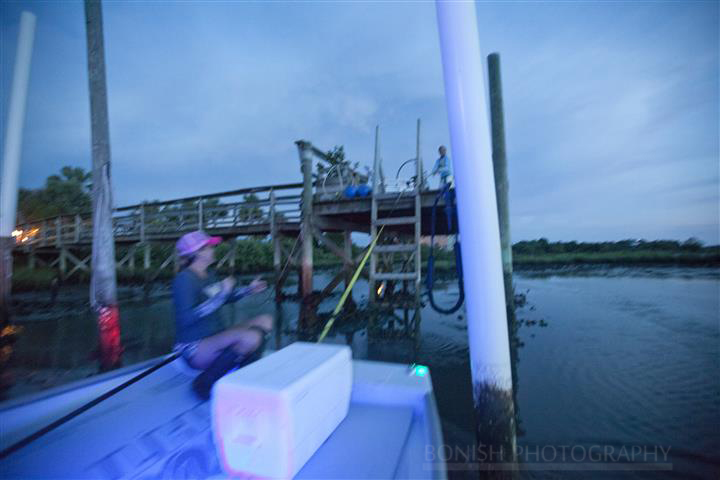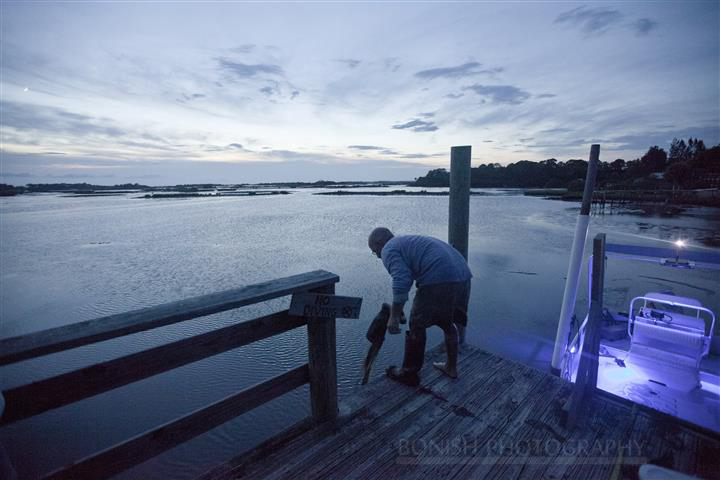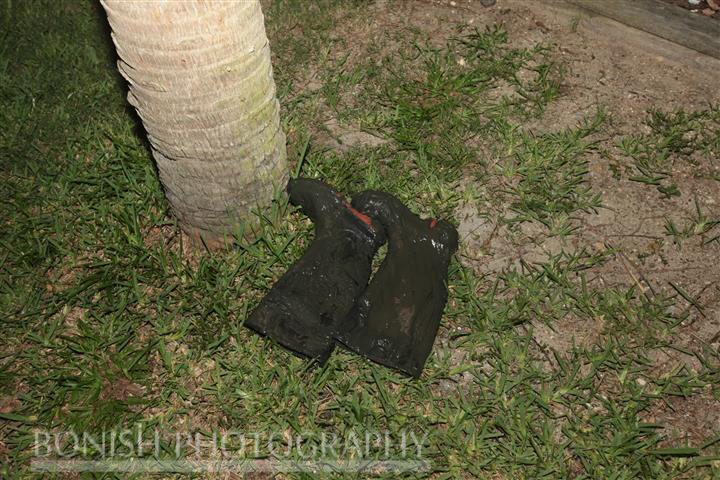 The rest of the night turned into one heck of a party when Bruce brought out his guitar and sang us songs while a huge lightning storm created the background light show. Cindy even joined in and sang a song that had everyone laughing hysterically at the words she made up off the top of her head as Bruce strummed his guitar.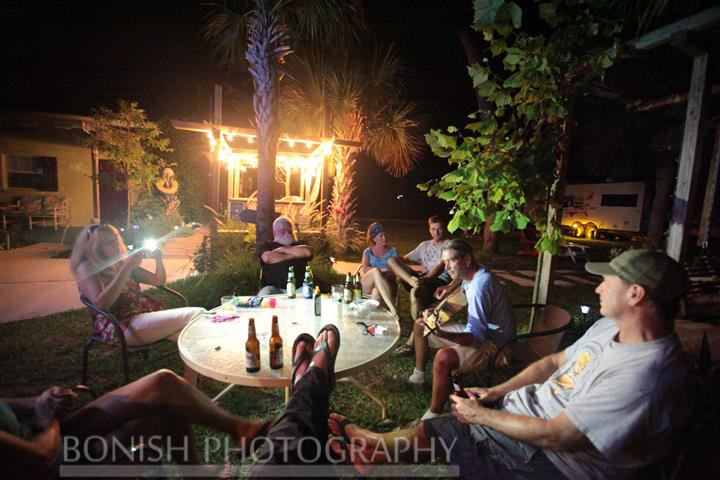 Another night at the Tiki Bar, Bruce and Matt, another local musician, stopped by while a few of us were just getting ready to close the doors. Bruce had his guitar and Matt had his harmonica. After a few songs, Cindy joined in and I caught this one on video.
Impromptu Jam Session at Hideaway Tiki Bar
A few nights later while working the Tiki Bar, we had one of the coolest sunsets I've seen in our time in Cedar Key, and that's too many sunsets to keep track of. This one in particular had some crazy clouds right on the horizon while the sun was going down behind them. This threw a shadow that stretched all the way across the horizon that I was able to capture with my phone. Not the best shot in the world, but one that is pretty dang neat.

The next night we had a storm blowing in during sunset that was throwing lightning all around the sky while the sun was going down. Most of us were out on the dock with cameras in hand trying to capture Mother Nature's beauty and 'Ohhhing & Ahhhing' the entire time. I was able to snag this shot that night. Another guest was able to capture a better shot than mine with his phone. Just to show you that it's not the camera you're using, but the fact that you have a camera with you is all that matters. I hope the guest will post it on our Facebook Page for more people to enjoy!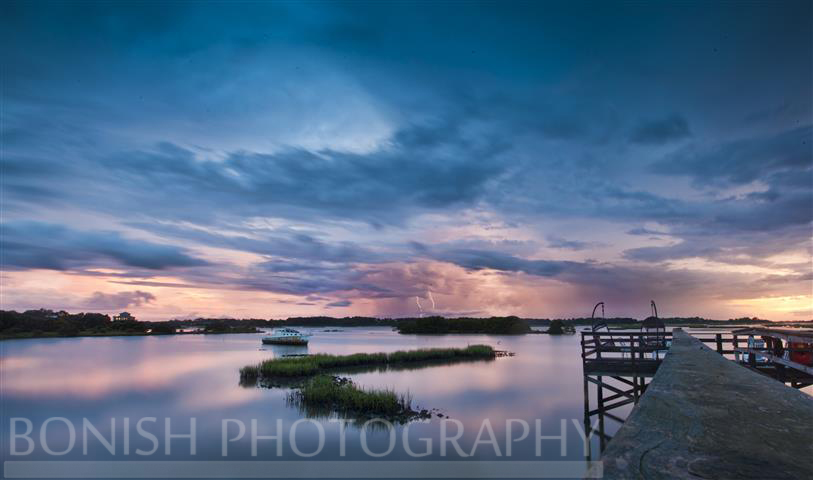 So we have all this fun stuff was going on and remember that the motel is 100% full and the Tiki Bar is open 7 nights per week, so we never seem to have a dull moment around here. Then Cindy's brother Ron and his two sons showed up for a visit bringing two of their buddies with them. That turned into quite the party and lets just say that we all agreed not to talk about the fun we had. Nothing like 5 guys away from their wives for a weekend of solid fun out on the boat with a captain and a tour guide to make sure they got home safe. I tried my hardest to stay sober to make sure they all made it back into our place from the tiki bar each night, but I think a few bottles of Tequila got washed down while they were here on my part.
One whole day was spent out on the boat despite the rainy weather
Saturday the weather was crappy in Cedar Key, so we loaded the boat onto the trailer and headed down to Crystal River to show the boys 3 Sisters Spring and the King's Bay area. The more we visit this area, the more we fall in love with it. This was my first time being down here on a Saturday afternoon during the summer Scalloping Season. WOW! The bay was packed as was the springs and any of the restaurants on the water. It was hard to pull up to the restaurants due to how busy they were and how stacked the boats were tied out to one another at the docks. If only the restaurants in Cedar Key could realize what they're missing out on.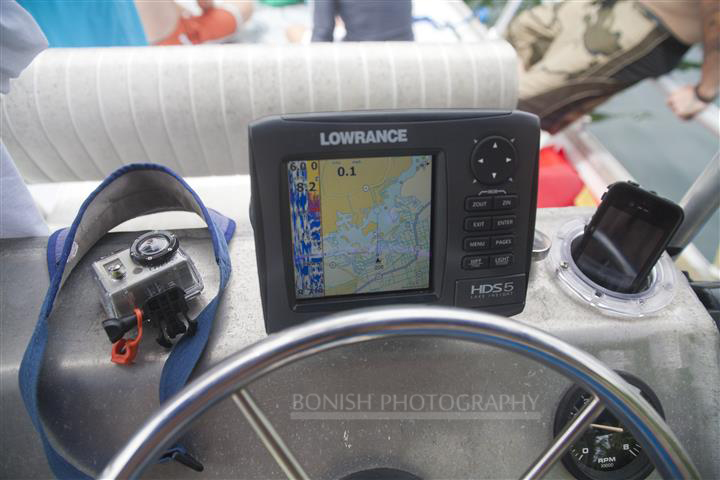 It was another awesome day on the water had by all of us! Avery is a fellow photographer and we had been talking about Underwater Photography all day while being out on the boat yesterday. A good friend had given me his older GoPro HERO2 camera awhile back to see what I could produce with it. I had yet to use it because I've been getting the hang of my Ikelite Housing every time we're in the water.
Talking about this, I told Avery I was going to bring my big housing and if he wanted, he could use the GoPro to see what he could get with it. In the hustle and confusion of trying to coordinate a bunch of guys into a river trip, we were half way to Crystal River when I slapped the steering wheel in disgust realizing I'd left my camera in the housing sitting on the kitchen table. THAT SUCKS! Each time I put it in the housing, it takes me some time, along with a fresh tube of silicone to make sure all the seals are good. So that was a total waste of an hour of my time and a brand new tube of silicone.
I told Avery he had just lost use of the GoPro and I guess I'd be using it on this trip. Now I've seen lots of GoPro videos and have always been super impressed with them. I couldn't remember ever seeing any photos taken with a GoPro. There is a reason for that. I spent most of the day shooting stills and only shot a few videos with the little camera. I love how small it is and how simple it is to cradle in your hand while swimming. Heck, it weighs next to nothing compared to the multiple pounds the Canon camera in the Ikelite housing tips the scales at.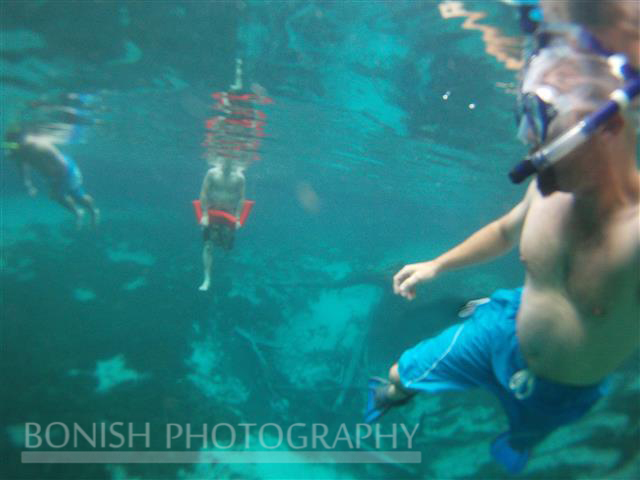 But the still images totally SUCK! That stinks too because I would have had some really cool shots, but they were either blurry or just too grainy to keep. So 99% of the days images got deleted. The few videos I shot did come out really clear, but I have no idea what I'm doing with video, so I'll have to practice with the software GoPro offers on their website to see what sort of editing I can do with them. I'll let you know when that happens.
With a late afternoon storm blowing in, we left the springs and loaded up the boat heading back to Cedar Key. We returned just after Sunset and spent the rest of the night in the Tiki Bar telling good stories and sharing lots of laughs with one another. Royce and Allison had just come in off the water after a day of Scalloping and brought them to the tiki bar. They spent the evening shucking the scallops before they put them on the BBQ Grill and steamed them in some white wine. That's good eating right there!!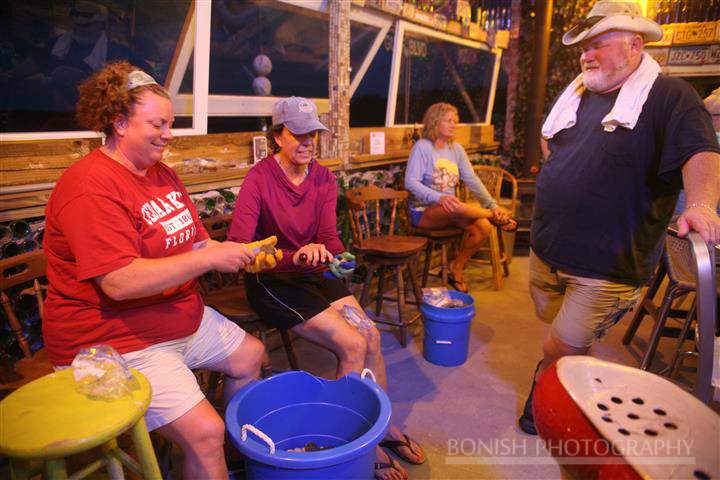 Royce had come over in his Airboat, and I talked him into taking the boys out on the water during Low-Tide. They all came back with smiles from ear to ear saying it was the coolest thing they'd ever done. They had mullet jumping all around the boat due to the big spot lights Royce has. They had dolphin jumping beside the boat while chasing the mullet and most of the guys had mud on them due to how close the dolphin were splashing.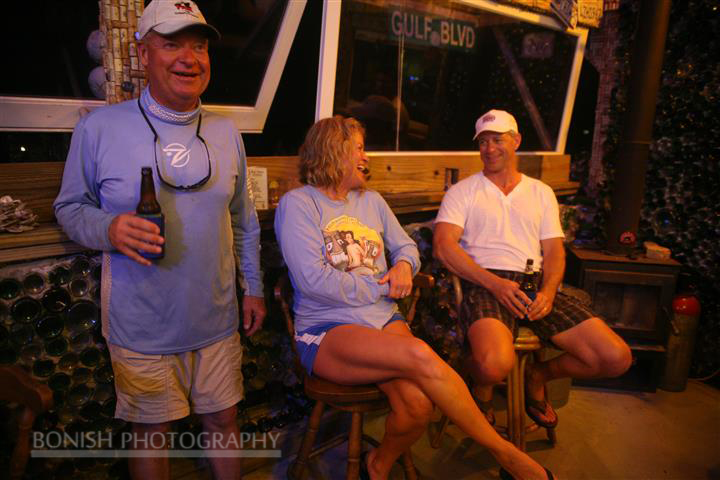 And that about concludes that last few weeks. Tomorrow we leave for Minnesota and a whole new party. I can only imagine how wild this is going to be. Derrick has promised he has a few surprises up his sleeve, and he never fails to amaze us with his parties he throws. I'm sure we'll have the time of our lives. I'll try and remember to take some photos and post them.