Crazy Day of Weather for Sailing
The forecast for today was much the same as it had been for the last few days….Fog and Rain.
I had left the keys to my truck with Katie and Jessie so they wouldn't have to walk the mile downtown just to check on the boat in the morning incase the weather was nice.  I had told them that if when they woke in the morning and if it was nice weather, to just drive the truck downtown and leave it in the marina and Cindy and I would walk down later and pick it up.
Instead, they drove down to check on the boat and carry their supplies down, then drove it back and left it in the driveway with a nice note left in the room for us.  I don't know why they'd want to jog back down to the boat, but I guess their energy levels are much higher than ours.
The morning was really nice weather wise.  Big fluffy clouds and bright blue skies so we hoped that the girls would have smooth sailing down south for today.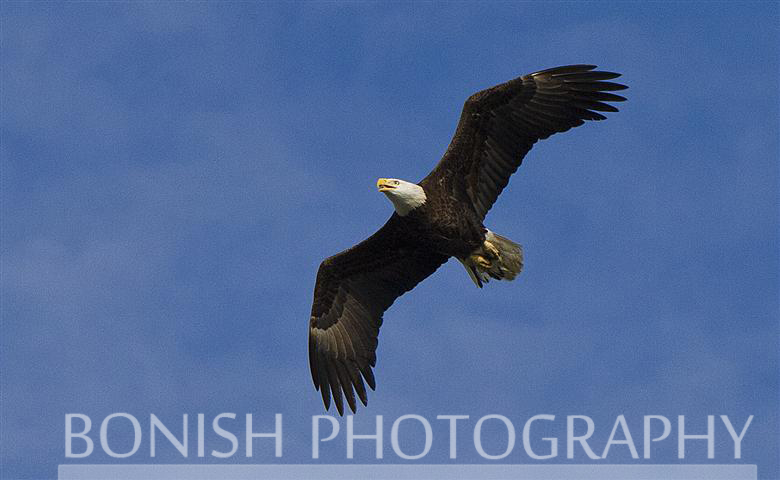 Bald Eagle Fly Over while I was out in the back yard
About an hour later, my phone rang and I heard Jessie on the line saying "Ok, I don't want to have to ask you this, but we were motoring out the channel and our motor is spraying water out of it."
She asked me if I knew if we had a diesel mechanic on the island or should they just try and limp on down to Crystal River where there was a Marina with proper anchorage for sailboats?
I told her to hold tight and I'd call Heath.  He'd know more about this than I would.
Heath told me that he didn't know of anyone who could work on a diesel motor and our issue was there was no way for them to pull the boat up to a dock, or out of the water here in Cedar Key due to our shallow marina.
I called Jessie back and explained that Crystal River would be their best bet and told her to give us a call if anything was to happen on the way.  For a motorboat, that's only a short drive via water.  So if they were to get stranded anywhere along the way, we'd be able to get to them pretty quickly.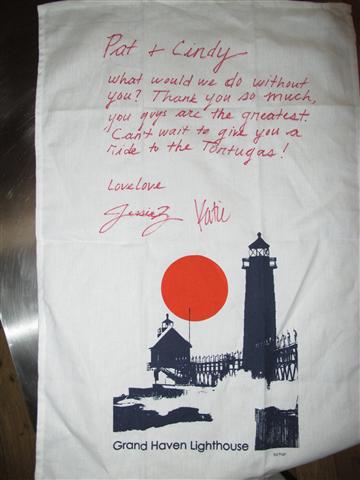 She said she'd keep me up to date on what the status was and I told her I'd call ahead and figure out which marina to pull into that would be able to help them out.
Crystal River has two marinas in Kings Bay which also has deep water anchorage available.  Kings Bay Marina told me they couldn't do any service and suggested that I call Twin Rivers Marina.
I called over to Twin Rivers Marina and talked with a nice woman asking if they could do service on a diesel motor in a sailboat.  She asked "Is this the same boat a woman just called her about?"
I questioned "Oh yes, has she already spoken with you?"
She goes on to say "Yes I've spoken with her, but we mostly have outboard mechanics and none of them are a diesel mechanic.  I suggested that they turn around and head up to Steinhatchee which has a diesel mechanic on site."
I stopped her and said "Hold up a second, let me explain their situation."  I then went on to tell this woman about Katie and Jessie's story.  After finishing up with a very quick draft of what they're going through, how young they are and what a HUGE task this is their accomplishing, there was a long pause with neither of us talking.
I interrupted the silence with "Are you still there?"
The woman's tone of voice had changed and she asked "Did you just tell me that these two girls are only 23 years old and they've sailed all the way from Michigan by themselves?"
I replied "Yes ma'am, that's what I said and for them to turn around and go back up to Steinhatchee which is about 90 miles in the opposite direction from where they're headed just isn't possible."
I could tell this woman was thinking seriously now and says "Holy cow, the girl I spoke to didn't tell me any of this.  You call them back and tell them to get their boat in here ASAP.  If they cant make it, we'll send a tow boat out to get them."
She goes on saying "I have a daughter this age and I wouldn't let her go to the mall on her own, let alone go out in a sailboat around the country!  The owner of this Marina used to race off-shore boats and knows just about every mechanic in the state.  If we cant fix their motor, then we'll do what ever is necessary to make sure it's fixed and they can stay right here while the boat is being fixed."
I thanked her profusely and said I'd relay the message to the girls and they should be seeing them later in the afternoon.  She hung up reassuring me that they would be taken care of as if they were her own daughters.
That made me feel better and I sent a text message onto Jessie telling her to head into Twin Rivers Marina and let us know if they needed any help along the way.  I'd also like to say 'THANK YOU' to Twin Rivers Marina and I know where I'll be sending my business from now on.
A few hours later, I was outside weed whipping the yard when I heard the ground shake and looked up to see a dark line of clouds moving across the bay towards the island.  Oh No!  This isn't good.
Within minutes the rain was coming down so hard that visibility was about 20′.  I put the weed whip away and walked in the house.  Cindy and I both looked at one another as if our own kid was out there in a small boat in the middle of a bad storm.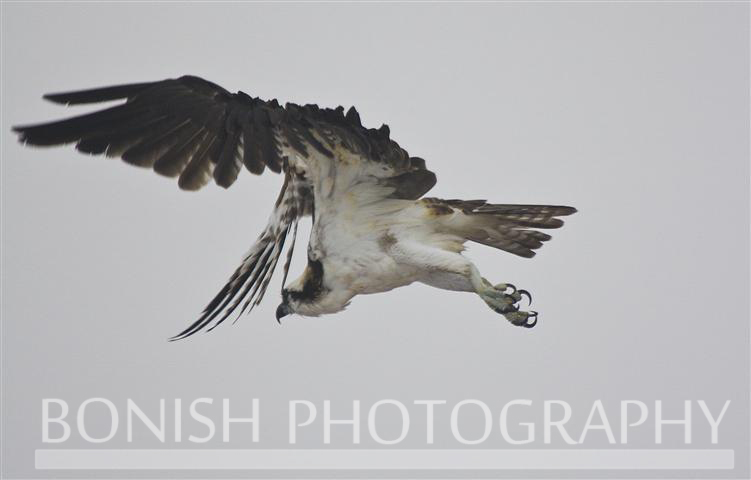 Osprey Fly Over later in the Day once the fog and rain had moved back in
Cindy asked if I had looked at the radar and I said "Yeah, it's all red just south of us where the girls are!" which means lightning and the strongest part of the storm was sitting right atop them.
We hoped they were doing well, but damn, that isn't a good feeling knowing that they're going to be out in this rain while trying to limp into a safe harbor.
There was no way to open the tiki bar tonight due to how hard it was raining and how wet everything was.  With an open air bar, it means if it's raining that hard outside, most of the inside of the bar is going to get wet.
Cindy and I were sitting out there with the wood burner stoked and all the lights off just having a date night by ourselves when we got a text from the girls.  They said they were finally anchored safely in the harbor and they'd be at the marina first thing in the morning.
I said I bet they had to look like two drowned rats at this point to which Jessie replied "Probably worse!"
We both felt better knowing they were safely anchored and we slept good tonight.  Hopefully the motor trouble will be fixed easily and they'll be on their way soon enough.