January 11th – Day 6 – Grand Cayman
Today was one of those days I had been waiting for since the first mention of the cruise had been planned months ago.
I've heard of Grand Cayman and it's sparkling waters for years now from friends who have visited and come back raving about the snorkeling and diving.  It's one of those areas divers dream of and it made me long for that coveted dive certificate I'm always putting off.
I forgot to mention that as we were sitting in the seaside bar after snorkeling in Roatan yesterday, we noticed a few water droplets on the inside the Ikelite Camera Housing.  I dismantled the housing while we were sitting there drinking beers to see if some water had gotten into the inside or if it was just droplets between two different pieces of the plastic.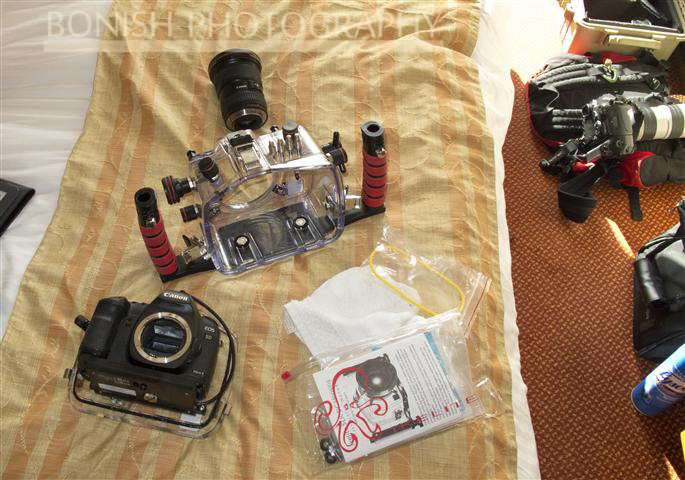 When it was all apart, we learned there were a few, and I mean a few drops that were on the inside of the housing.  Cindy was freaking out, but obviously by the amount of images I took and everyone of them turned out, nothing had happened to the camera itself.
I made sure to take extra care when putting it all together this morning and made sure to use EXTRA silicone while applying the gaskets.  I think I skimped on that part while putting it together for yesterdays time in the water.  Cindy was all worked up and kept telling me not to even bring it in the water today, but yesterday and today were the reasons I had lugged this giant piece of equipment with us the entire cruise.  There was no way I was going to go out today without this camera in my hand.
I just figured I'd continue to check the housing every few seconds and watch for any water intrusion while swimming with the Stingrays.  I mean we were in the water yesterday for over an hour and there were 4 droplets of water on the inside.  There were times that I had dove to the deepest sections of the reef we were snorkeling in which was maybe 25-30′ deep.  Today was only going to be chest deep for most of the day, so I figured there wouldn't be as much pressure on the housing.
We all ate a big breakfast on the boat knowing today was going to be a big day with lots of swimming and exercise involved.  Soon enough we were leaving the ship and boarding our Tender for Grand Cayman.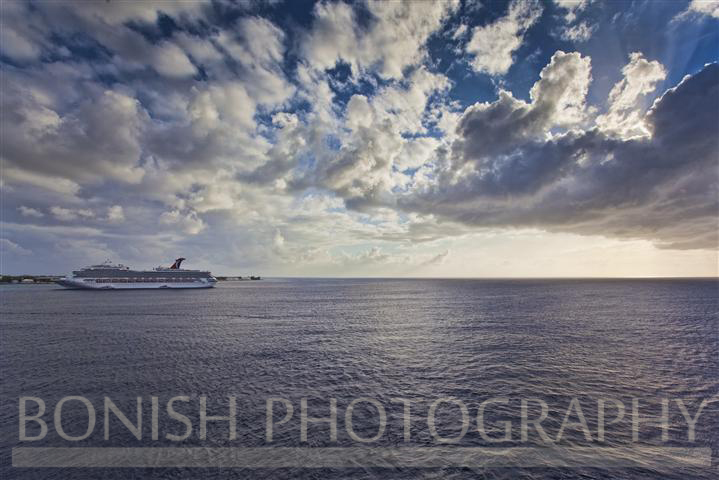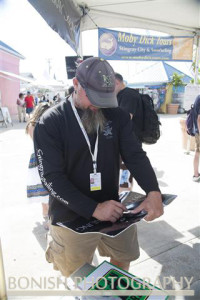 This would be the first time on the cruise that we'd have to tender into port.  It was a bit confusing at first and I think Carnival needs to work on their skills of communicating with their guests.  They make announcements each morning, but you cant hear them if you're in your room or out on the balcony which we usually are each morning.  A few times we have missed important announcements only to have them say "Didn't you hear this mornings announcement or watch the TV Channel this morning that explained the process?"  NO, I'm on vacation and on a cruise, I'm not sitting in my room watching television.
How about have the announcement that tells us important stuff come into the rooms so if it's important, you actually hear it?
Once on the tender and into the busy port, we found our guy from Stingray Sailing.  I was surprised to see a American looking dude with a big goatee resembling something you'd normally see on a biker.  Chip was born and raised in Grand Cayman, but went to Miami to go to college and actually graduated from Jolie's Alma matter 'Stetson' before he moved back to the islands and started his business.
Chip told us we had about 15 minutes to kill before he had everyone together that would be joining us on his catamaran.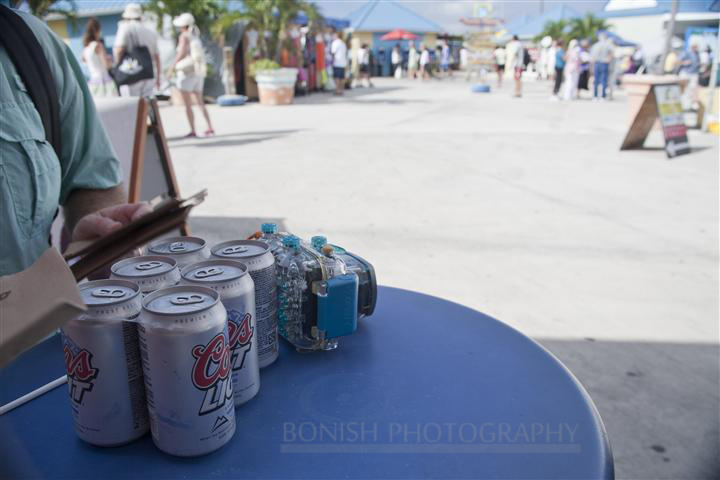 We killed some time by grabbing a sixer' and finding a shady spot while we did some people watching.  People watching is always fun in a busy Port with a cold beer.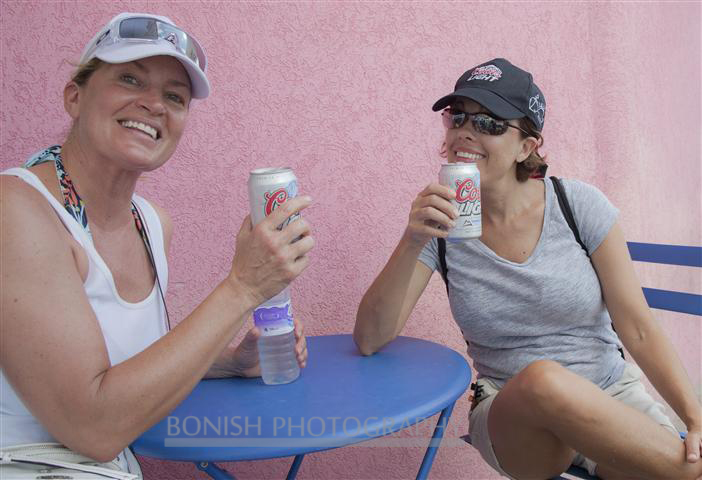 Soon enough, Chip was herding the 20 or so travelers together and loading us into his van.  You could feel the excitement as we drove across the small island to a marina where we piled out and loaded ourselves onto the Far Tortuga, Chips Catamaran.
Once everyone was situated, we untied the dock lines and motored out the canal and into open water.  This water is different than it was yesterday in Roatan.  That was a deeper blue where today's was a very bright turquoise.  We were headed for a big sandbar where you could see a few other boats anchored.  We were only in about 10′ of water and the clarity was like glass, so you could see big Stingrays swimming underneath us as we motored around the Sandbar.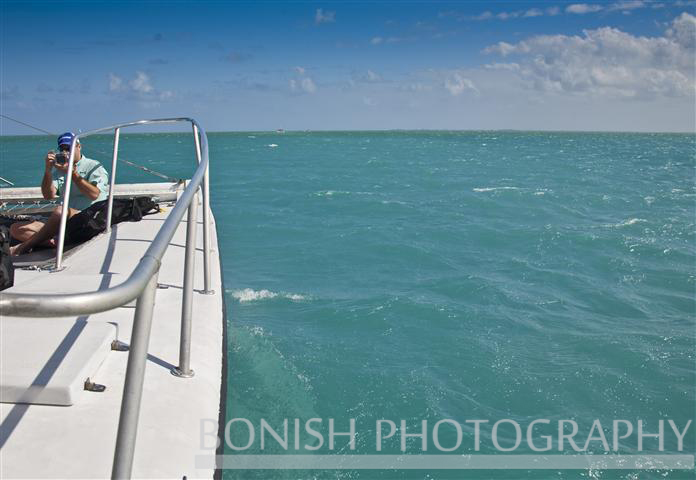 Chip must be doing something right, or Stingrays just love big catamarans.  As we pulled up to the sandbar away from the other boats, dozens of stingrays started circling the boat.  Heath and I were like two children waiting to open Christmas presents.  While everyone else on the boat was sitting around pulling out their snorkeling gear, Heath and I were already on the back of the boat with our masks on and I think we were both already breathing and talking to one another out of our snorkels.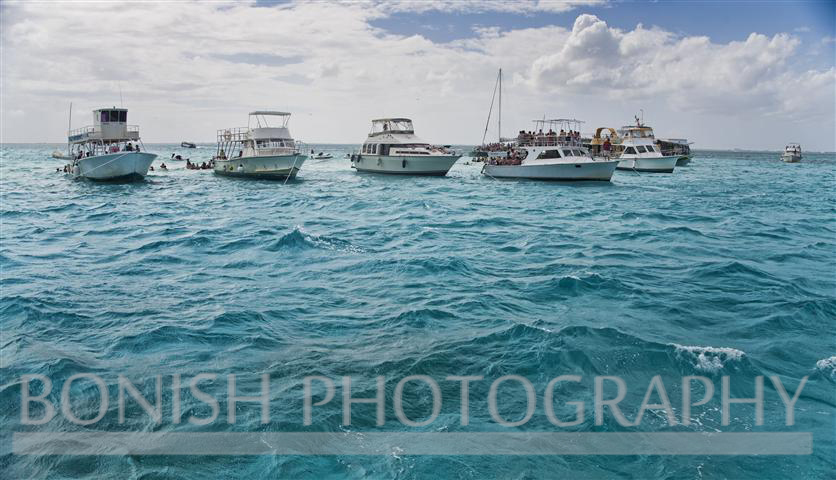 Chip and his assistant Mark were holding us back telling us we had to wait till we heard their brief description of rules before we could get in the water.  This lasted maybe a minute, but it felt like an eternity with all those big stingrays just swimming below us.  The water was so clear it was like we were floating on the edge of a big swimming pool with a bright, white sand bottom.
When the rules speech was finally done, Chip laughed and said "Ok you two, go ahead and get in!"
We both jumped in at the same time and I instantly heard Heath start screaming as giant Stingrays started circling and trying to swim up onto his back.  Cindy said they could hear us both screaming out the top of our snorkels and everyone was laughing as they watched from the edge of the boat.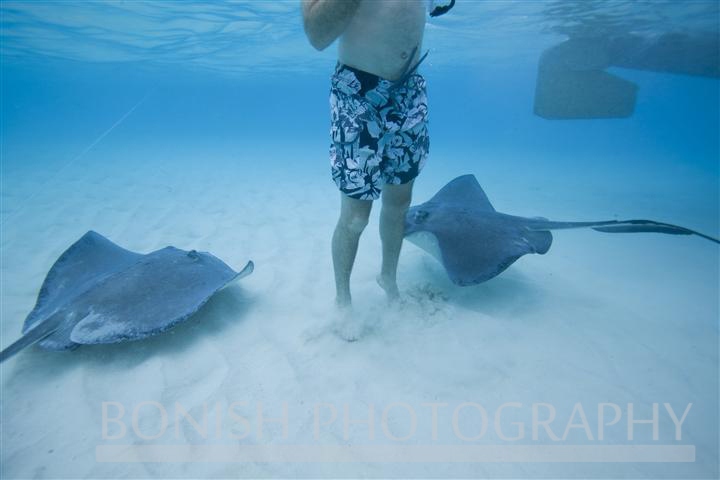 Talk about intimidating!!!  These things have a 3-4′ wingspan and they come swimming at you like you're best friends.  They feel all rubbery and slimy and the first few times, you're paralyzed as multiple stingrays circle you at the same time.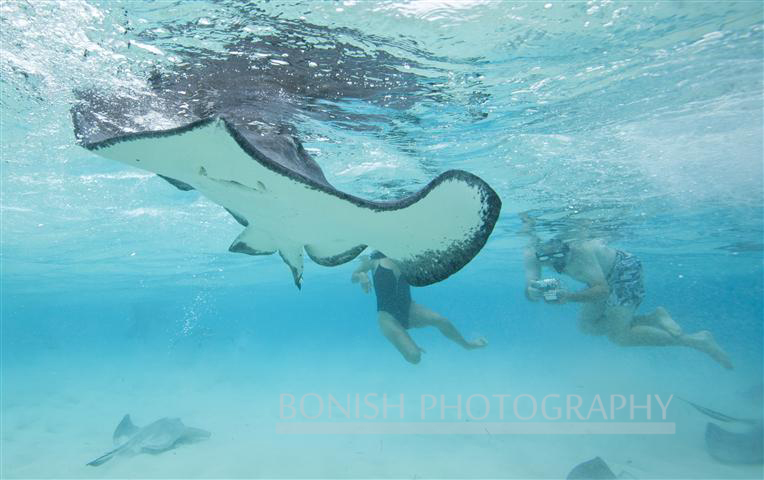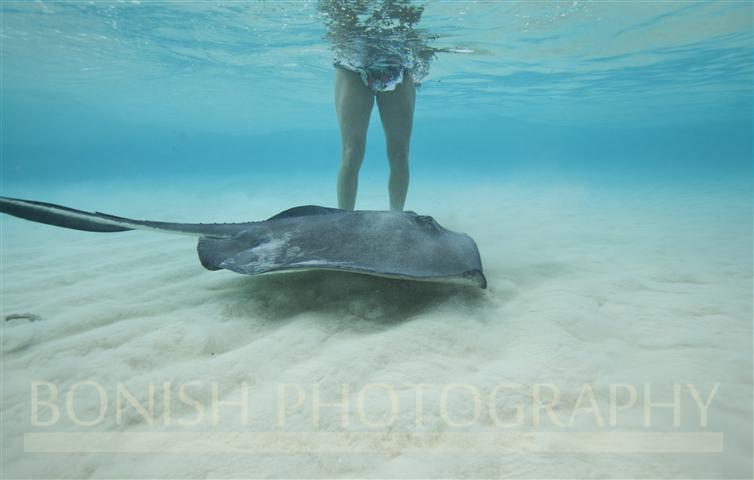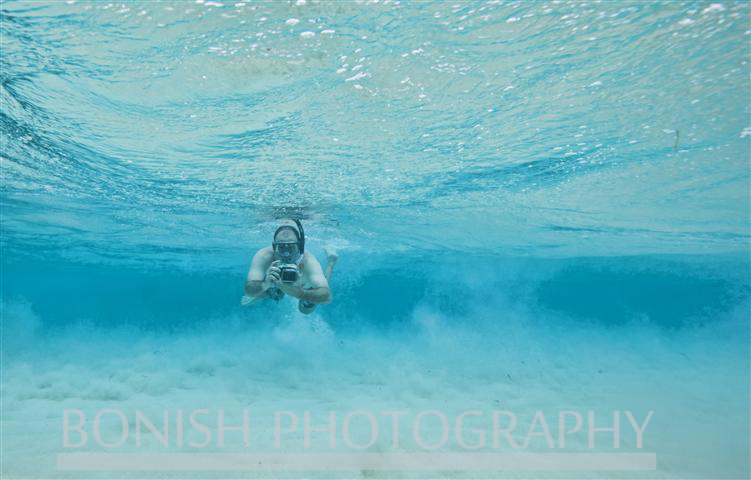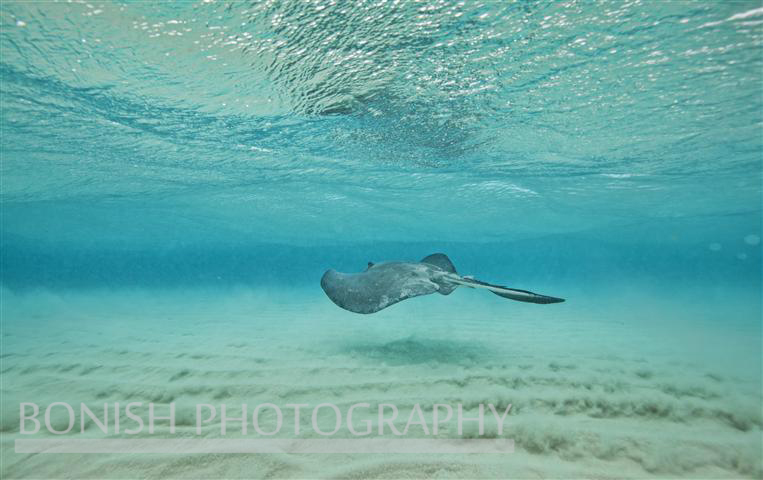 Pretty soon, Jolie was in the water with Cindy right behind her.  I was super surprised to see that Jolie wasn't scared at all with the stingrays all around her.  She just swam around them like she'd been doing it her entire life. Heath came up for air and said "This goes against everything I've been taught my entire life!  I cant believe I'm doing this!"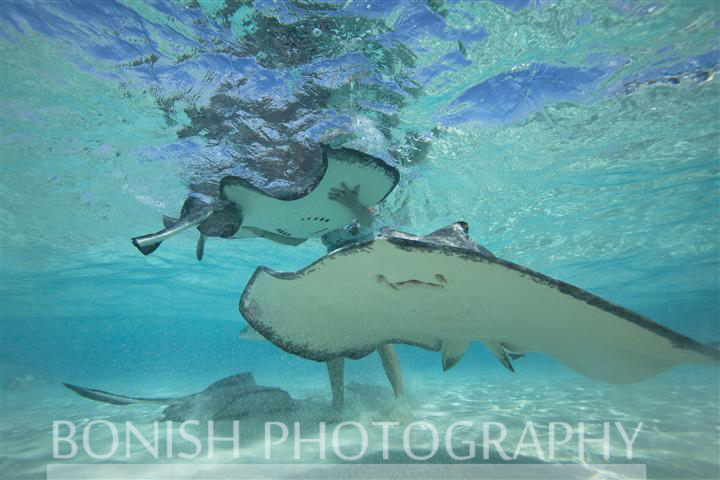 Mark, Chips assistant was in the water with everyone else from the boat.  He would sit there with his arms out and stingrays would swim right up to him and just lay in his arms.  Other members from the boat were petting and feeling the stingray and getting comfortable with it. I stayed under water as much as possible trying to get shots of them as they circled us like a pack of hungry sharks.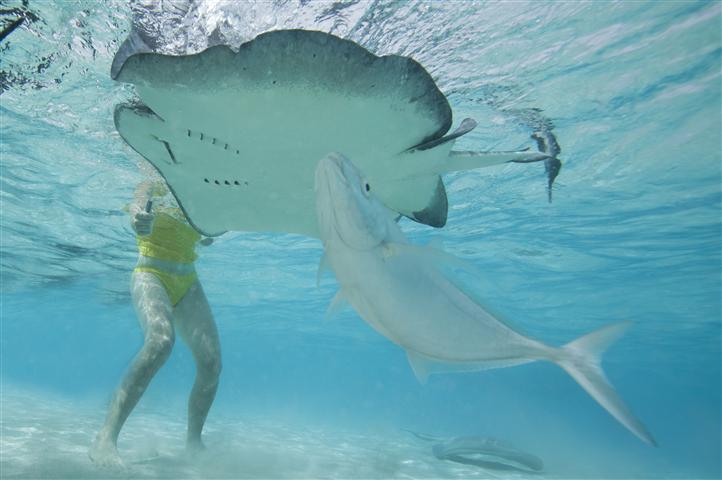 The hardest part about swimming with the stingrays was that they congregated under or around your feet.  Stepping on one is when they'll sting you with their venomous barbs.  From what I've heard from people that have been stung, is it's one of the most painful feelings a human can ever experience.  One Cedar Key local that has been stung told me that he's passed multiple gull stones, something that is also one of the most painful things a man can go through.  When I asked him about his stingray incident, he told me he'd rather pass a dozen gull stones than get stung by another stingray.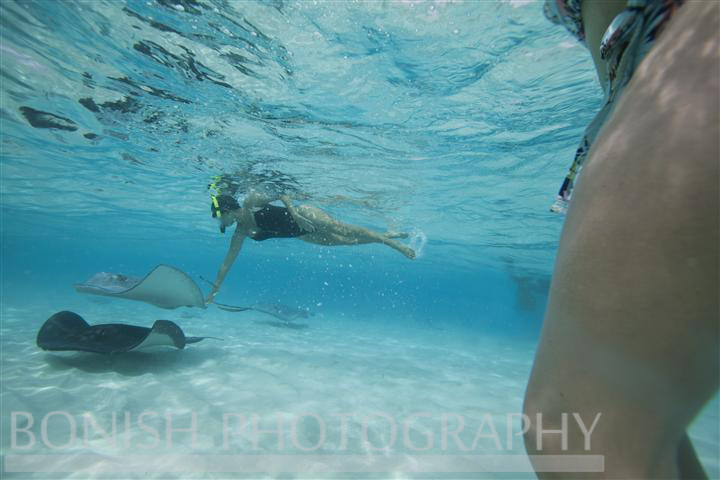 This what was going through my head the entire time as they circled us.  Luckily for me, I had the big camera in front of me which helped when they'd come swimming up on you I could push them away with the front of the lens.  The stingrays must be able to see their reflection in the front of the lens port as they would swim up to it and just stop. I don't know if they were looking at themselves or just mesmerized with the big globe.
I could talk about this for hours because of how cool it was. It's hard to describe, but it was one of those experiences I'll probably be annoying my grand kids with for the rest of my life.  I can see them now as they come to visit in the nursing home.  "What ever you do, don't let Grandpa get started with the Stingray story!"  I guess I'll let the photos speak for themselves so this doesn't end up being a 10,000 word count blog post.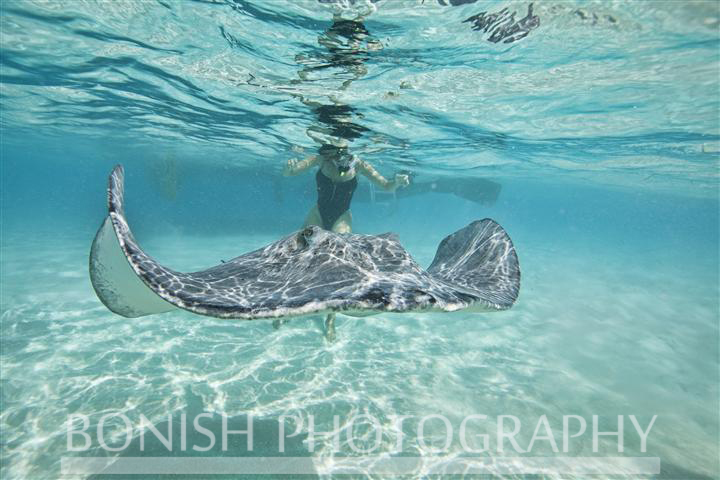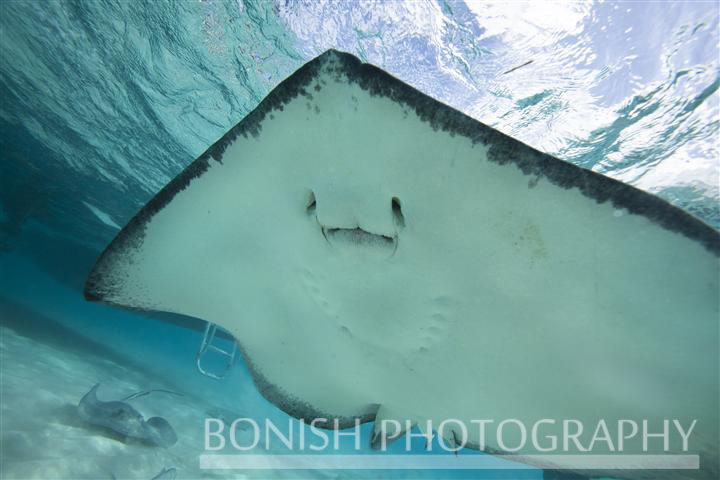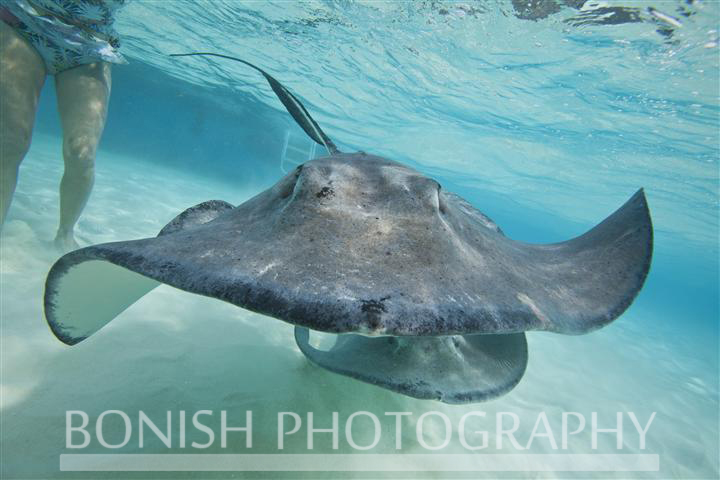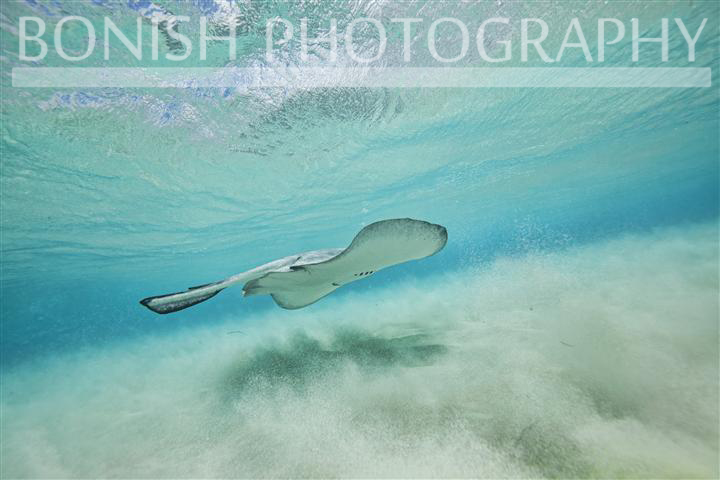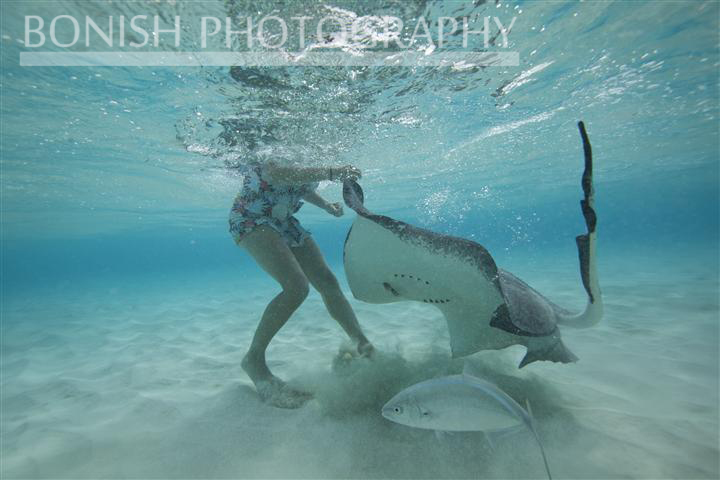 While we were motoring up to the sandbar, I had asked Chip about dolphin and if they ever had any swimming around the boat.  He told me a story of a dolphin they call Stinky, because it's such a pain in the ass.
He was telling me they have issues with the dolphin separating snorkelers and becoming aggressive with people.  It's never hurt anyone, but dolphins are very powerful, so people freak out when it starts nudging them or tugging at their limbs.  Chip was saying that he thinks its just trying to play with the people, but they usually have to bring everyone in the boat when it swims up to the sandbar.
Swimming around with the stingrays, I noticed fewer and fewer people in the water around us.  I came up and noticed everyone was on the catamaran and looking at the front of the boat.  A few were pointing towards the anchor which was one of the things that Chip told me they had issues with.  The dolphin likes to pull up the anchors to the tour boats so they'll go floating away while everyone is in the water with the stingrays.
The stinky dolphin had appeared and apparently was messing with a neighboring boats anchor.  Chip had asked everyone to get back in the boat so no one would be separated from the group.  Mark, the assistant and I were the only ones left in the water.
Mark said to me "You should get in the boat!"  I laughed and said "I'll take my chances.  I'd rather get a cool underwater shot of the dolphin!"  I smiled real big and said "Besides, you're a lot bigger than I am, which means he'll probably go after you and I can probably swim faster than you can!"
Mark busted out laughing and says "Sure, throw the black guy to the dolphin! I see how it is!"  We both busted out laughing at that comment and agreed that we'd both get in the boat rather than risk getting abducted by a playful dolphin.
Chip got the boat ready while Mark pulled up the anchor.  We motored away from the sandbar and over a ways to a reef.  Chip explained that one side of this reef was maybe 20'…."Stay on this shallower side!" he warned.  He told us that if we were to get pulled over the reef, it is a sheer drop off of a few hundred feet and the current on that side is stronger than ANY of us can swim against. That was warning enough for me.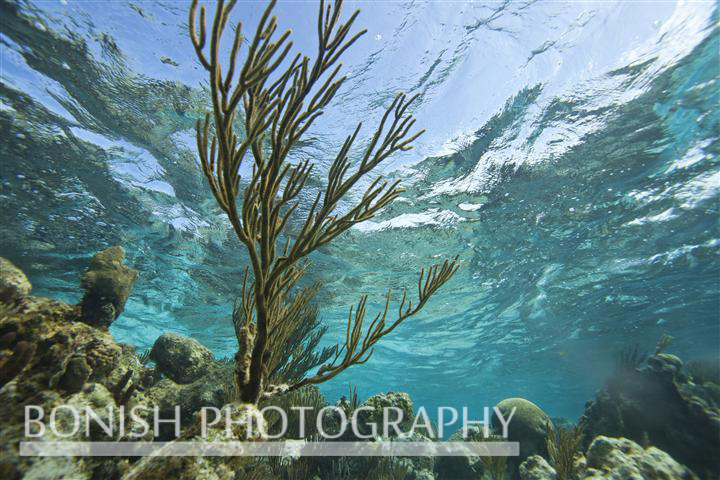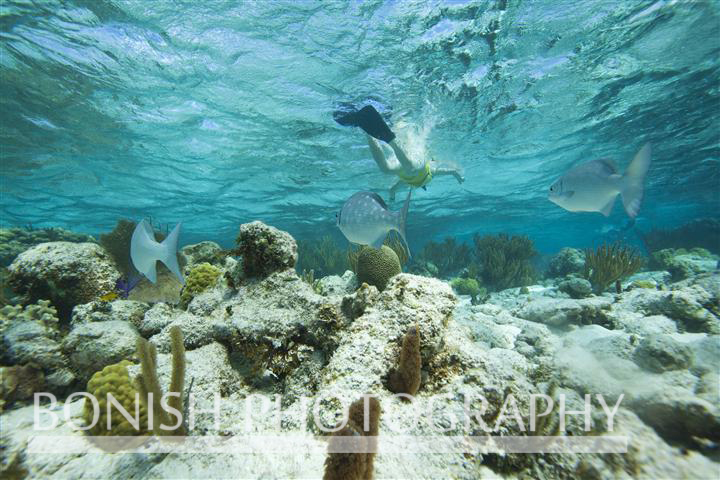 Heath, Mark and I were the first ones in the water again.  Right away Mark was pointing out big schools of fish as we chased after them.  We spotted a school of parrot fish that had Mark pointing and shaking his hand with massive excitement.  He popped his head up out of the water saying "Those are the largest parrot fish I've ever seen!"  They honestly were huge.
Swimming around in the coral, we were weaving in and out of various caverns and canals.  As we rounded one piece of coral, Mark was pointing towards the bottom as a giant eel came swimming out at him.  This huge eel was defending its territory and didn't want him getting too close. Mark was trying to point towards it to tell me to take a photo of it, but I was swimming backwards as fast as I could to try and get away from it.  This eel had to be 4′ long easily!!!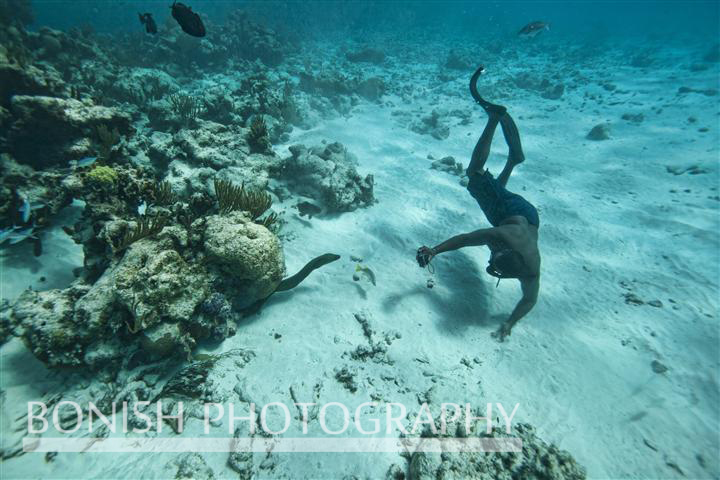 We both surfaced and were talking over one another excitedly as he said "Get ready and I'll swim down beside it again so you can get some shots of it!"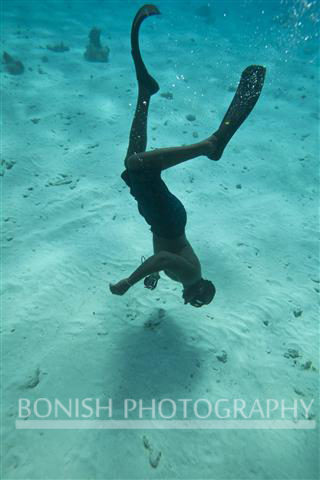 I swam over to the side of where the eels little den was as Mark swam down below the surface.  Right on cue, the eel came racing out at Mark to warn him he was was coming too close.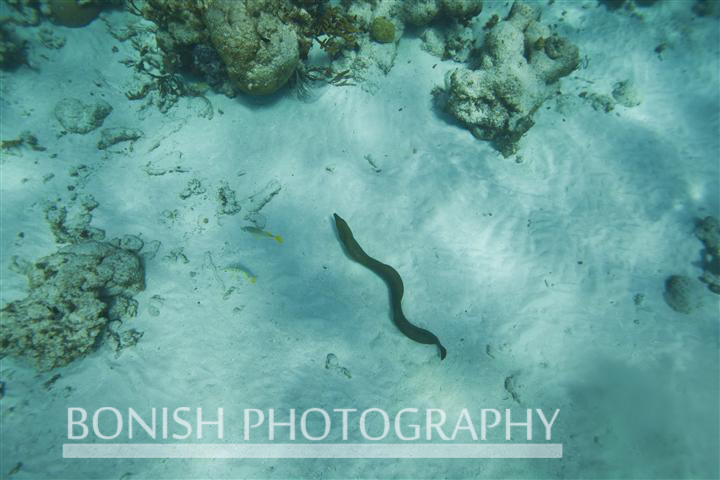 I fired off a couple of shots before I swam back to safety.  We were going to go in for another round when I noticed my camera wouldn't take any more photos.  I looked at the LCD screen on the top to see what it was telling me when I noticed it was saying "Card Full"  Holy Shit!  You've got to be kidding me.  I have a 16gig card in here that was fresh this morning.  With a freshly formatted 16gig card, I get roughly 600 shots.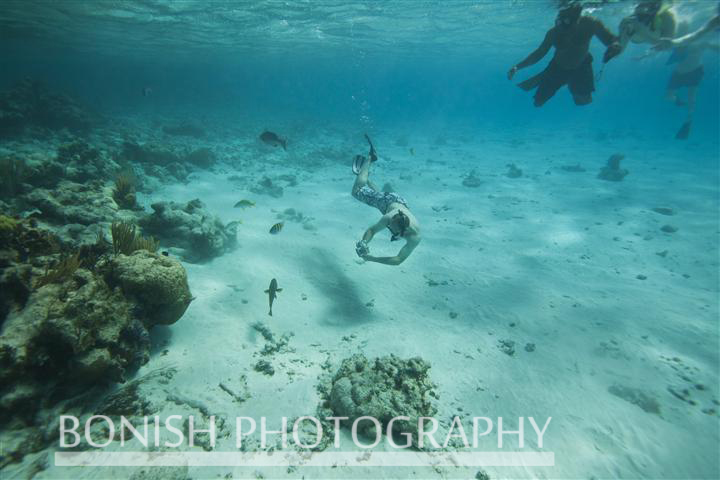 I guess my photo taking was done for today because it's not an easy process to go change out the card when the camera is mounted in the housing.  Especially when you're on a boat with a group of 20 people.  I watched as Heath and Mark played with the eel a few more times before I swam back to the boat.
I handed off my camera to Chip's dad and just snorkeled around for awhile enjoying the warm, crystal clear water.  It wasn't long before our time at the reef was up and everyone was loading back onto the catamaran.
What a day and what an experience.  Mark and Chip are super cool guides that know how to entertain and go over and above what any other guide service offered us.  While we were motoring back to the marina, Chip brought out some fresh cut up fruit that he said was to wash the salt water taste out of your mouth.  He joked and said "The fruit is free, and probably one of the only things on the island you're going to get for free, so enjoy it while it lasts."  Thanks for the memories guys!!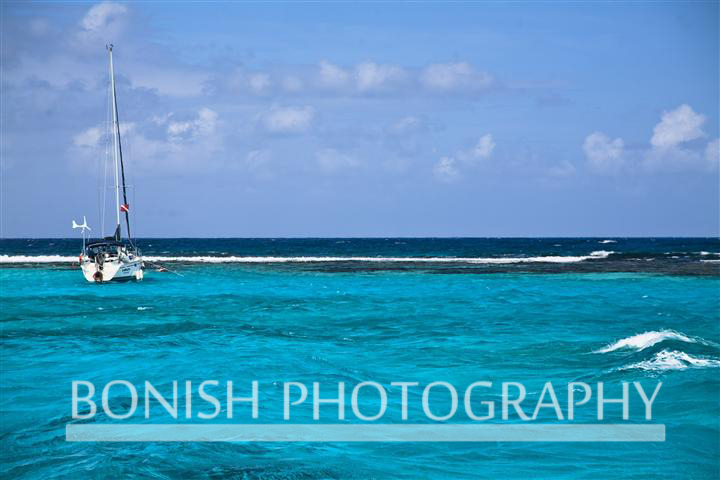 Chip also had some beers that you could buy, so I grabbed 4 Red Stripes for Cindy, Jolie, Heath and I.  While we sipped on ice cold beers and rode the waves back to the marina, I couldn't help but wonder what I did in life to deserve such an amazing ride? What ever or whom ever I had pleased, I thanked them and offered up a toast for allowing me to do the things I do!  Damn, life is good!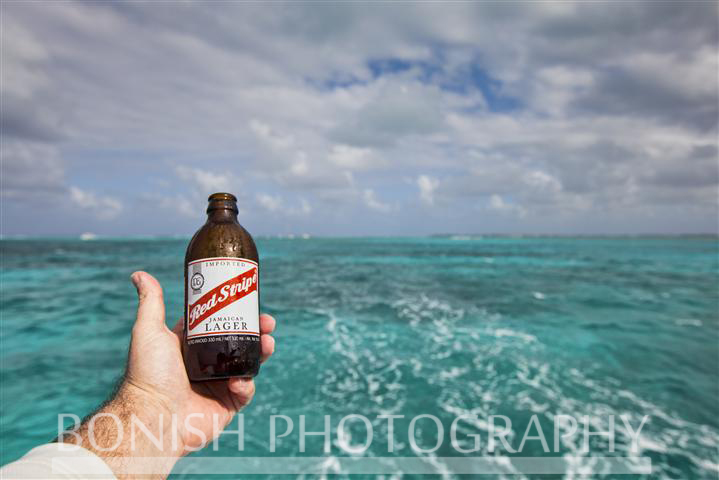 Once back at the marina, we loaded up our gear and climbed into the van to head back to the port.  This was sad because it meant the cruise was basically over.  Not that it was ending today, but tomorrow would simply be a cruise day as the ship headed back to Tampa and today would be our last excursion.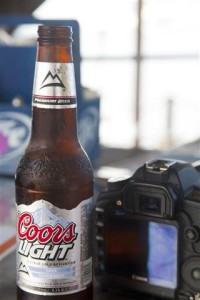 We thanked Chip and Mark as Chip dropped the 4 of us off at a bar that was close to the port he had suggested.  We toasted to what was a perfect day and sat around talking while we waited for the last tender to leave port to bring us back to our floating home.
Once back on the ship, we all showered up, before we met out on the balcony to watch the boat leave the port.  Once we were out in open water, the girls started going through their nightly rituals of getting themselves transformed from daytime beauties to nighttime lovelies.
As one would think, we had huge plans since tonight was our last night on the boat where we wouldn't have to do anything tomorrow, so everyone thought they were going to get wild and crazy.  That never happened.  I think an entire day of snorkeling, swimming and just pure excitement had whipped us clean of our partying vibe.  We walked the boat a few times bouncing from bar to bar, catching a stage show and eating a big dinner.  That dinner is what put us under.
With bellies full of good food, we all headed for bed around midnight.  I think I was asleep before my head hit the pillow and slept soundly all night long with the slow, rocking motion of the boat keeping my dreams as weird as ever.