About a month ago, our best friends Derrick and Tish made reservations to come stay with us for their yearly escape out of those cold Minnesota winters. They usually visit in April so we can celebrate both Cindy's and Derrick's birthdays, which are only two days apart. But this year, Derrick had to be in Orlando for a beer convention in March, where he had just won the Salesman of the Year award in his field of work, so there was much celebrating to do even though it wasn't his birthday.
During this same time, Heath and I had been trying to plan a multi-day boat trip where we would leave Cedar Key, head south and spend the night somewhere along the coast where they cater to boaters who are traveling the Florida shoreline. Doing a quick Google search, we found multiple hotels that have docks you can pull right up to so your boat is the only mode of transportation you need. This is something Cedar Key is lacking in a very bad way.
We decided that Derrick and Tish's visit would be the perfect excuse to plan this trip that Heath dubbed the 'EPIC Adventure'. After hitting 3 Sisters Spring with Scott & Karen a few weeks back, we knew that we wanted to include that attraction into our days adventure. Heath checked out a boater friendly restaurant while on another scouting trip with our good friends Jim & Niki in their boat. The girls joined in by making reservations at The Plantation after doing some research on "The Best place to stay in Crystal River". So between the 4 of us and some easy computer research, we had a fun-filled day planned for our Epic Adventure with Derrick and Tish.
When Heath says the word "Epic" with his Southern Slang, it sounds really funny. This meant that Jolie and Cindy are always teasing him and trying to mimic his voice when they say the word. This also meant that even though this was really only a one day boat trip, everything we did while planning it or talking about it was billed as "EPIC" which made all of us laugh really hard.
Prelude To the Adventure
Derrick and Tish actually arrived on Friday afternoon. We caught up on stories from the past year, wild and wacky stories about our families and the many things we've done over the course of our very busy lives since we've last seen one another. Heath brought over a few bushels of fresh clams, pounds upon pounds of Deer Sausage we grilled up along with a few dozen fresh oysters that he shucked at the Tiki Bar and everyone involved ate and drank like Kings and Queens.
Derrick and Heath both ate dozens upon dozens of oysters and clams along with everyone else in the tiki bar that were lucky enough to be visiting.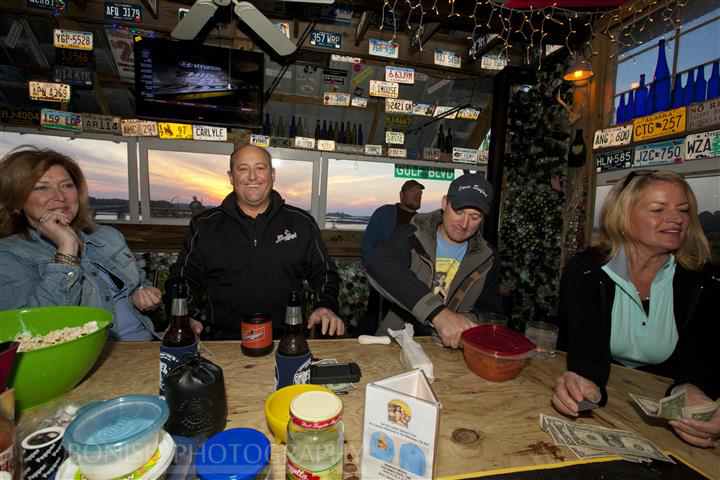 Epic Adventure Begins
Saturday morning came really early since my head felt like I had a marching band playing a chorus inside it. I think we had drank the entire island out of Coors Light last night, and Cindy woke up saying "My neck and cheeks are sore from laughing so hard all night long!" I cant remember the last time we saw Heath laugh that hard and if I could remember half the stories that were told to the crowd at the tiki bar, it would make for one excellent book of short tales.
Before sunrise, we packed up the camera gear, a duffle bag with a change of clothes and stocked the cooler with some munchies to keep us fed up throughout the day.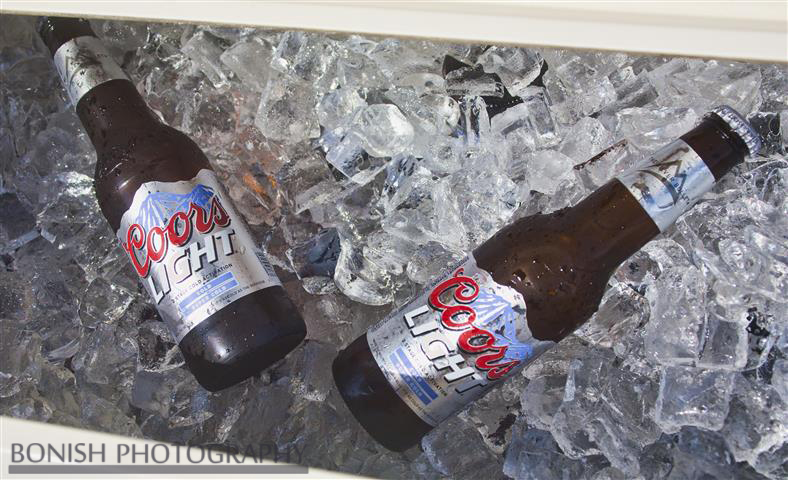 Our stomachs were filled with food at Ken's Diner so we'd have something to absorb the amount of Coors Light we were about to pour into them before we met Heath and Jolie down at the docks. It took a few minutes to load all the gear onto Heath's boat, but once it was packed away, everyone found a seat and we were ready to shove off.
Even though the weather forecast was saying we'd hit mid-70's today, it was only in the upper 50's around 10am while we were packing up the boat. To look at us, you'd think we getting ready to go out ice fishing.
To get to Crystal River and King's Bay, we'd have about 30 miles of open water to cross when leaving Cedar Key. Heath had explained that if we just hunkered down and hammered across the open water crossing, it would get the boring part out of the way and once in the protected Bay, we hoped it would warm up considerably. Luckily for us, the Gulf of Mexico was as flat as a pane of glass today, so we made it across in about an hours time.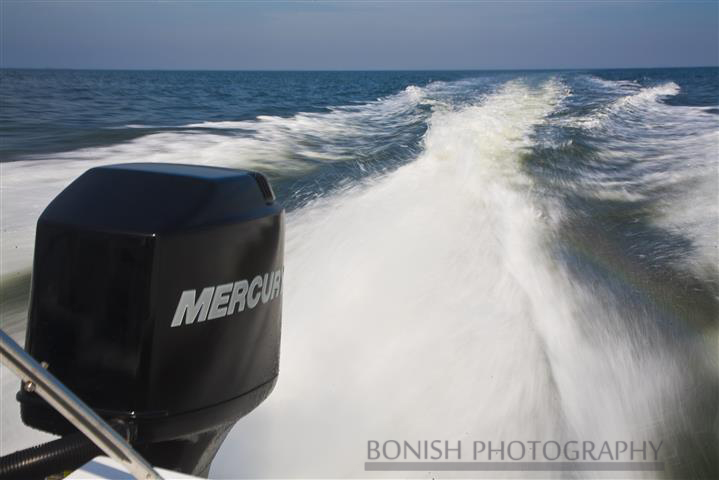 Once in King's Bay, the only thing that felt warmer was there was no strong winds from moving so fast. Heath switched to the Trolling Motor and we just idled around the canals talking, 'Ohhing and Ahhing' over the big homes, the beautiful boats and the boat lifts and emptying the cooler of those ice cold Coors Lights. Us guys have a thing for big boat lifts. For the girls, we joked that we could have cut the boat in half and none of them would have noticed. They were deep in conversation and could care less what the weather was or what our surroundings were, they just talked non-stop the entire time. I think it would be safe to bet they didn't even know they were on a boat for most of the morning.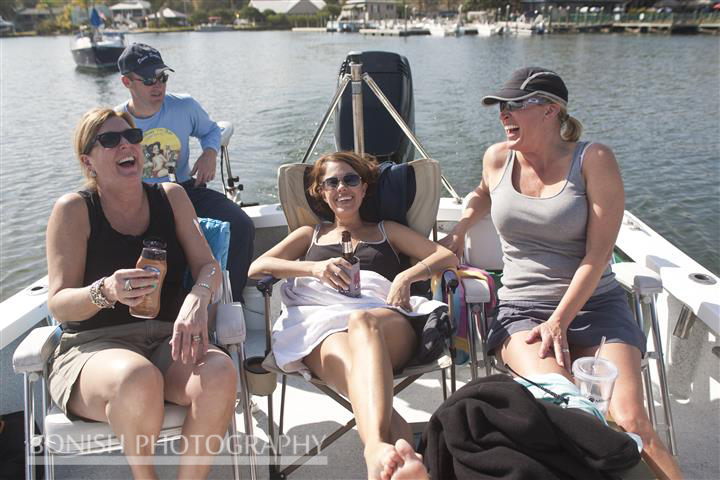 A few hours into the trip, it had warmed up considerably and most of us had peeled off numerous layers of clothing which meant for us guys aboard, the views were only getting better with each layer that was peeled off. We pulled up to the docks behind the restaurant 'Crackers' so we could use the bathroom and get some lunch. This place was packed and there were more kayaks tied off at the docks then there was powerboats. Paddling with the Manatee is a huge tourist draw down in Crystal River and many of the restaurants cater to the boaters with boat friendly docks so they have an easy entrance right from the water. We tied up the boat, found an outdoor picnic table and ordered some lunch.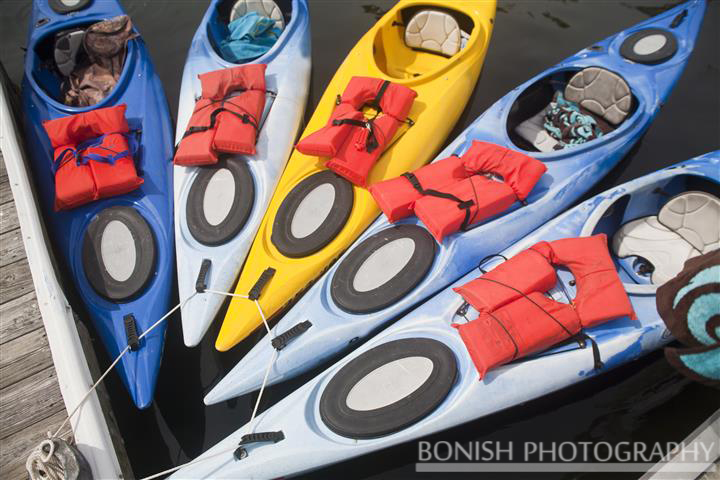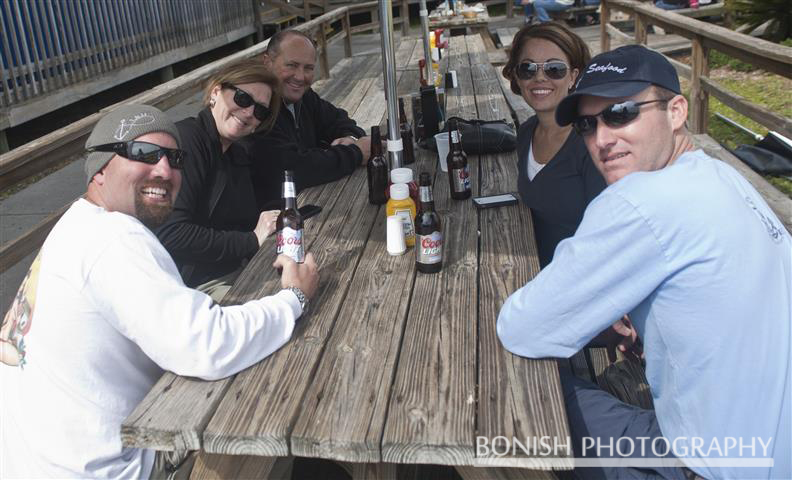 Derrick and Heath ordered more oysters which would later come back to haunt us, but our lunch was great and by the time we had finished eating, we were officially warmed up and ready to go swimming with the manatee.
From Crackers, we motored across King's Bay and barely Sneaked under the bridge which would lead us back to 3 Sisters Spring. Heath had made sure the tide was on its way out so once under the fairly low bridge we wouldn't get caught with a rising tide.
With the last weeks temperatures being on the cool side, the canals leading too and from the warm water springs were loaded with Manatee's. Every direction we looked they were swimming beside the boat. Numerous times did Heath have to shut the motor down because they'd swim right under the boat and we didn't want to risk hurting or hitting one with the prop. Where cause of death is known, watercraft collisions is the single largest category of manatee mortality in the United States. West Indian manatees can swim up to 20 miles per hour in short bursts, but they usually only swim about three to five miles per hour. Because manatees are slow moving creatures that need to surface frequently to breathe air, and prefer shallow water, they are vulnerable to boat hits. You can see why these huge, slow moving creatures are endangered from how stealthily they swim under the water just below the surface. They barely make any ripples while swimming and they're only a few inches below the surface.
This was our reason for going so slow and having everyone stand up to watch over the sides to make sure we could see everything around the boat while in the channels.
Once anchored up outside 3 Sisters Spring, we learned that it would only be Heath, Jolie and I who were brave enough to get into the water. Derrick, Tish and Cindy all claimed that it would be too cold for them……PUSSIES!!
Last time Scott, Karen, Cindy and I had come down on one of our Fun Tuesdays, it was much warmer, which meant there was only a few West Indian Manatee inside the springs. They congregate in the springs when the Gulf of Mexico cools down due to the springs flowing out at a constant 73 degrees. I was hoping with the air temperature being cooler, there would be more manatee's inside the springs. Wow was I shocked and so excited with the numbers we saw today. It clearly pays off to endure the cooler water temperatures to see so many more of them.
From the second I jumped in the cool water, I could see them swimming all around the entrance to the springs. The first thing I noticed was the water was much more cloudy than the last time we were here. I'm not sure if it was because it was later in the afternoon, so the sun wasn't directly above us, if it was because there was so many manatee which were stirring up the bottom or if it was due to the tides, but I had to make some quick adjustments with the settings of the camera to make sure I'd compensate for the dimmer light in the water.
As the 3 of us slowly swam into the narrow channel leading to the main spring area, you would have to move out of the way from the non-stop caravan of manatee's swimming in and out of the springs. In my first few minutes in the water, I had at least 10 manatee swim beside me. While in the narrow channel, which might only be 8-10′ wide at the most, it's almost impossible to get far enough away from them. Not that they care one bit about you.
Some don't even pay you any attention, where some will stop, check you out and move along once they realize you're not anything they can eat. Some will literally come up and nudge you with their big, hairy nose like a dog will if it is looking for a rub behind the ears.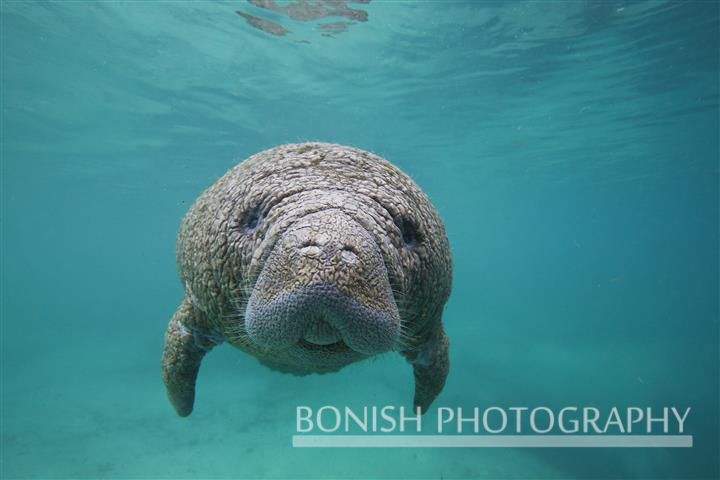 Once we got into the main spring area, I was utterly shocked by the amount of manatee we saw stacked up around the springs. It was like looking at an aerial view of a parking lot at the mall right before Christmas time. I couldn't count all the sea cows, and many of them were larger than I thought was possible. Some were just lying there doing nothing, while some were actively chasing you around trying to interact with you. The only bad part was due to the amount of manatee swimming around, our visibility wasn't all that great due to the sediment they were stirring up.
One small manatee must have never seen itself in a glass bubble before, because no matter which way I hung or tried to hide the front dome of my Ikelite Housing, it kept following the front of the lens around poking it with its nose like it was looking into a mirror. While I was paying attention to this energetic little guy, I wasn't paying attention to anything else when another spunky manatee came up and nudged me in the small of my back. I wasn't wearing a wet suit like Heath and Jolie were, so when I felt that prickly, elephant like skin hit my bare back, I lunged up and out of the water screaming like a 7 year old girl. As I came up out of the water choking and coughing due to the water I had just sucked in through my snorkel, a Stand Up Paddle Boarder that had watched all of this happen from the elevated view of his paddle board was laughing so hard, I thought he was going to fall off his perch.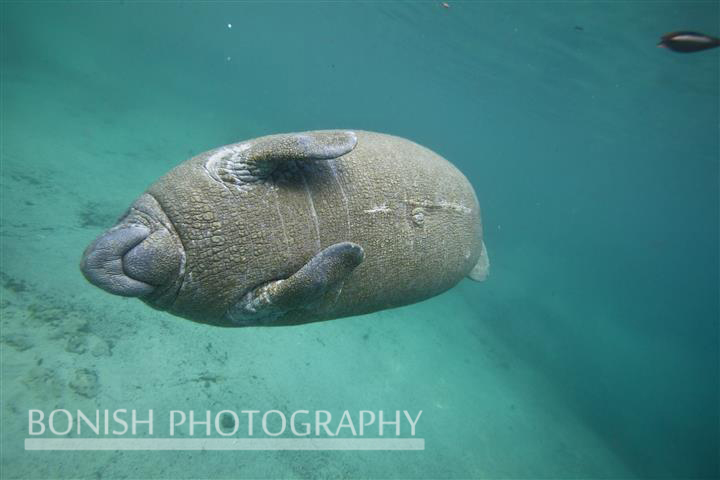 We both got a few good laughs out of that one, but I couldn't stay up for air too long because the little manatee in front of me was still trying to look at his reflection in the lens and this new manatee was still playing around the back of me. Remember that even a small manatee is still 8′-10′ feet in length and some of these full grown behemoths we were seeing were pushing the 14′ length. Not that they're harmful by any means, I was just trying my best to stay away from them. The little girl that was playing in front of my camera was literally putting on a show for me. She was rolling around and around, poking the front of the lens repeatedly and no matter where I tried to swim, she followed me trying her hardest to stay in front of the camera port.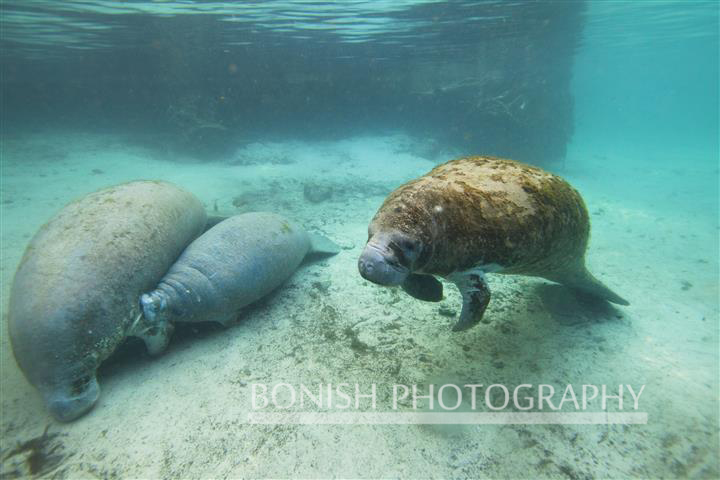 We watched one baby manatee nurse from its mother for some time. The females nipple is located behind their front flipper, so the baby will look like it is suckling on the mothers armpit. Sounds tasty doesn't it! It was also interesting to see the difference in the skin textures between the manatee. Some look almost smooth while some look very rough and textured. Some of the manatee that have spent long periods in the fresh water will have algae growing on them while others that go in and out of the salt water lack any growth on their bodies. I've read that some of the manatee that spend more time out in the salt water will actually have barnacles growing on them.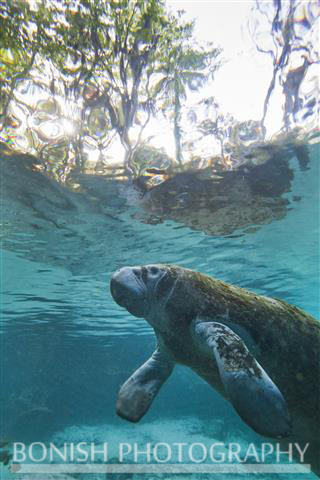 Heath and I both commented to one another that while being underwater, you could hear very high pitched sounds that almost sounded like distance sirens. Manatee are known to be vocal while in groups, so it was pretty amazing to be in the water and hearing these sounds from them. The coolest part was there were a bunch of kayakers up on the surface, but other than one other couple, us three were really the only ones under the water with them.
Jolie said she was getting cold and headed back for the boat. Heath and I surfaced and sat catching our breath and talking about how friggin' cool of an experience this was. I mean this is an animal that is prehistoric, endangered and we're getting a chance to see them up-close and have them chase us around the springs. As we headed out the narrow channel, we both skirted to the sides to let another photographer swim between us. It was funny to see him bolt up out of the water when a giant manatee came swimming right up under him while it was heading into the springs.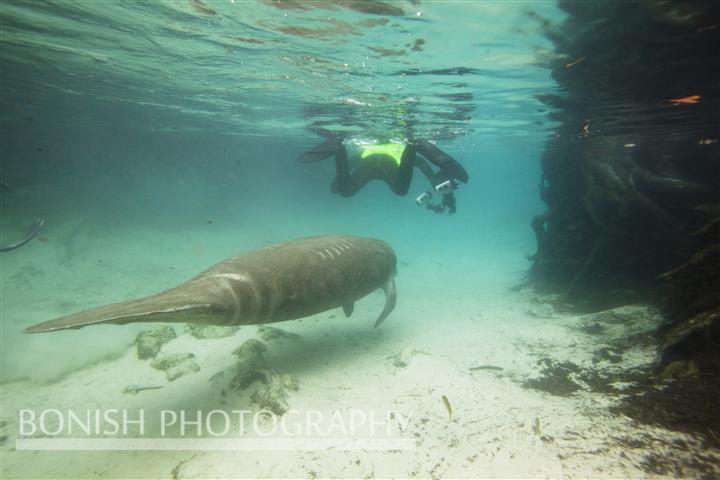 Then, the same thing happened to Heath just as we were swimming out into the channel where the boat was anchored. I motioned to him to swim down near the bottom so I could get a different shot. Neither of us knew that we had a giant manatee swimming behind us. We were probably holding him up because we swim so much slower than they do. As soon as Heath went towards the bottom, it made its move to pass and swam over top of him.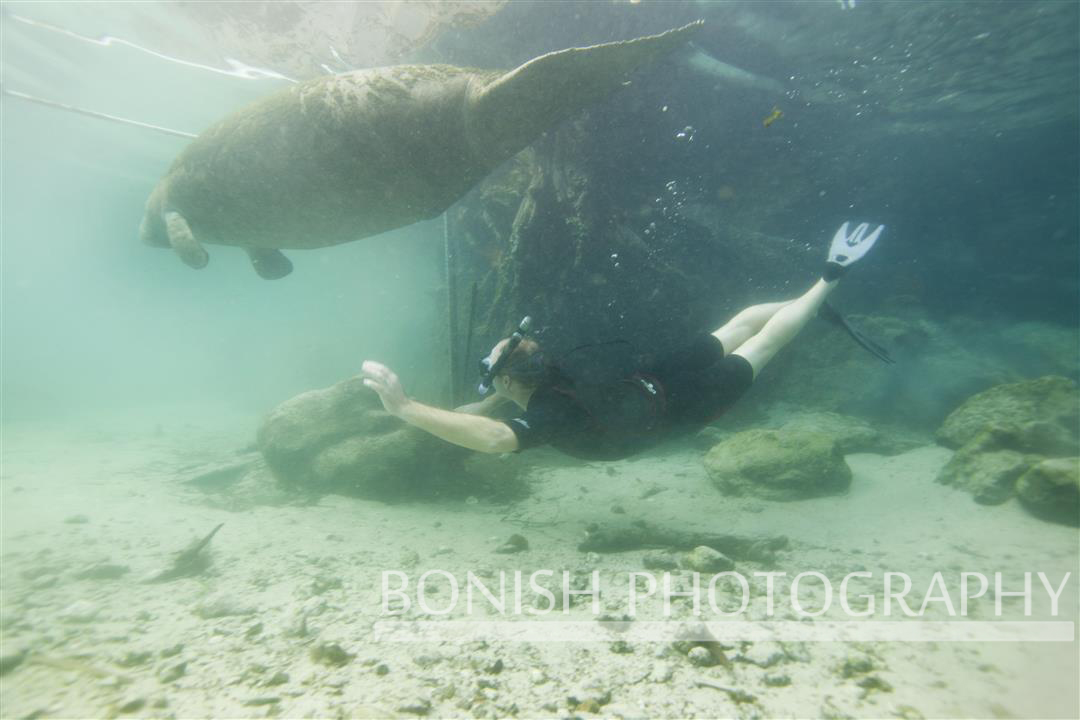 Once back in the boat, we changed out of our wet clothes and into warm, dry stuff. We cracked open some ice cold beers and made a toast to one super cool experience. While we stored all the gear away and got ready to head over to the Plantation, we all talked and shared our stories of what we had just experienced. I could do that every day for the rest of my life and not get bored with it.
Heading back through the canals, we had the music jamming on the boat while the afternoon heat brought us back to a current stage of comfort and life was good. Pulling up to the beautifully landscaped grounds of The Plantation Resort, we were all ready to take a hot shower, change into some different clothes and head down to dinner.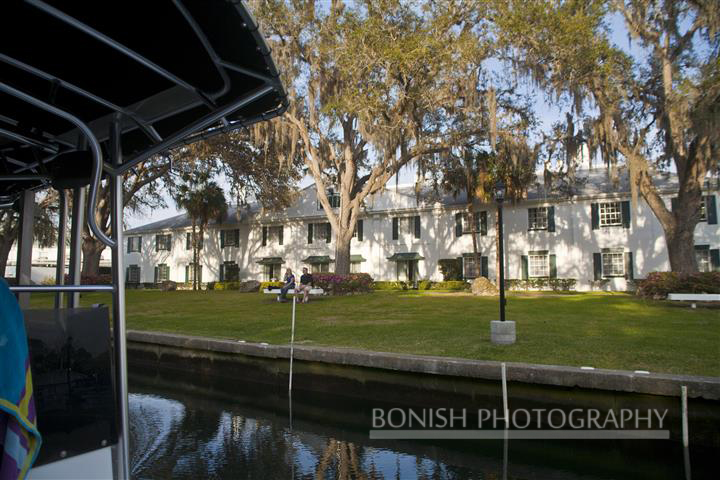 Cindy got us all checked in while Heath and I moved the boat over to where our room was located. If you ever come via boat, bring some bumpers or a good anchor. The grounds are rimmed by a concrete seawall, but it sits somewhat high out of the water and is affected by the tide. Heath only had small bumpers, so we had to unload the boat while it was against the wall, then throw an anchor out into the channel to keep us tied off the wall rather than risk bumping up against it. No big deal, but just a word of warning in case you want to visit.
Once all checked in and in our rooms, we sat out back on the manicured lawn just laughing, talking and watching the girls act like cheerleaders. They were all lit up by this point and giddy from the days fun. You'd have thought they were a bunch of Junior High Girls by how hard they were laughing and cutting up. Jolie even pulled off a cart wheel while showing us her skills.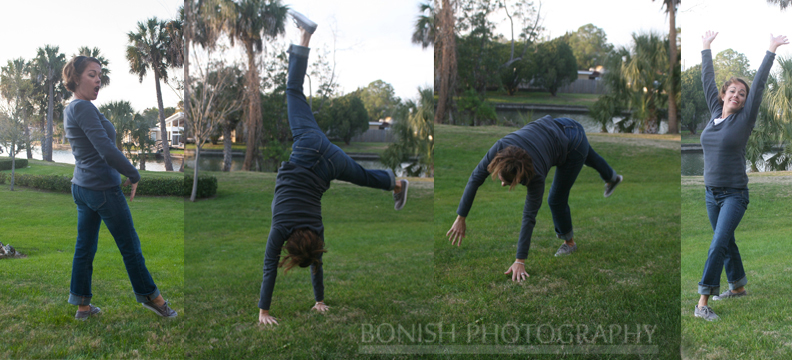 After the sun set, everyone retired to their rooms to change and get ready for dinner. The hotel has a dinning room along with multiple bars. Cindy had called to ask which place the front desk would recommend. The person at the front desk made several suggestions for restaurants that were off the resort grounds but never recommended their own restaurant. She thought that was weird, but we didn't want to get a cab and leave the motel, so we thought we'd just take our chances and try out the West 82 Grill that is in the Resort.
Once seated and in the dining room, Derrick complained that his stomach wasn't feeling too good. At first we sort of joked that maybe he had gotten a bad oyster at lunch, but he assured us he'd be fine. Toasts were made about how EPIC and fun today had been while we ordered food that sounded mouth watering off the menu. The waiter was great and the service was top notch.
At one point, Derrick got up and excused himself from the table. He came back a few minutes later and said his stomach was really hurting him now, but was trying to tough it out. All of a sudden he got up and bolted from the table making a beeline for the door. None of us knew what to do, so we thought we'd wait to see what the outcome was. A few minutes later, the hostess comes over to the table and asks "Is there a Miss Smigiel?"
When Tish raises her hand and says "Yes, that's me!" The hostess says "Ma'am, you have a phone call at the front desk."
Tish got up and went to the front desk while all of us knew this wouldn't be good for Derrick. When she came back, she let us know that he wouldn't be coming back as he was in the room getting sick. I guess one of the oysters in the two dozen he had eaten during lunch was bad and was now causing him some serious pain back in the room.
We all felt horrible but knew there was nothing we could do at this point. It would last for a few hours of violent stomach cramps, chills, fever and throwing up. Once it's out of your system, you basically are back to normal although you'll probably be very sore and tired from all the heaving and cramping going on. We knew he wasn't allergic because he loves Oysters and Clams, so it must have been a bad one in the bunch that slipped by.
What a shame for Derrick as the food was top notch. The service was 5 star and everyone of us ate every morsel on our plates.
Cindy and Tish were raring to go, but I was dead tired and ready for bed. I excused myself and headed back for the room while they stayed and ordered more drinks and desserts. Heath and Jolie were soon behind me but the two girls stayed up late partying and carrying on.
It sucked that Derrick had to have such a horrible ending to what had been an EPIC day. Hopefully he'll feel 100% better in the morning for the journey back to Cedar Key.