3 Sisters Spring, Crystal River
Another Tuesday Fun Day…What to do?
We had the camera gear loaded up early this morning, the truck packed and kayaks loaded onto Scott and Karen's motorcycle trailer. We can normal carry two kayaks on our Yakima Roof Racks if it's just Cindy and I, but we needed to haul another kayak so we chose to bring the trailer so all 3 could ride easily and be loaded effortlessly.
We had talked of going down to Crystal River to snorkel with the Manatee's for weeks now, but right after we got home from our cruise, I realized that in transit, I had gotten a scratch on the dome of my Ikelite Lens Port. I sent it back to Ikelite to see if they could buff it out of the glass. I was amazed when I got a call from a technician who told me they had attempted to buff it out, but it was too deep into the glass. I was thinking this was going to be a costly repair since the port alone cost $400, but was shocked when she told me they could get a new port installed for only $130. Once I had given her the OK to go ahead with the repair, she told me it would take a few weeks to get it back.
I explained that we had this snorkeling trip planned and she said "We don't have anything that is in the RUSH department, so we'll put yours priority and get it back to you within the next few days." That's some superior Customer Service right there! Thank You Ikelite!
Once down in Crystal River, we pulled into the Crystal River Kayak Company which is located right off of HWY 19. It doesn't look like much from the storefront and you'd never know that right behind them is a little canal that drops you within 10 minutes of the 3 Sisters Spring. Since we had our own kayaks, there would simply be a $5 launch fee per boat which is well worth it since your vehicle is parked inside a gate with someone right there watching over it and they have a very nice launch ramp to put your boats in the water.
Once everything was loaded up, we were in our boats and on our way towards the springs. Scott and Karen would be paddling the Wilderness Systems Tarpon 140 Kayaks while Cindy and I would be in our Native Watercraft Ultimate Tandem Kayak. This would be our first paddle in the Native. We've had it now for almost a year, but had yet to get a chance to get out on the water with it. It's a great boat that can be switched from a single to a double within seconds and has the super comfortable seats that Native Kayaks are known for.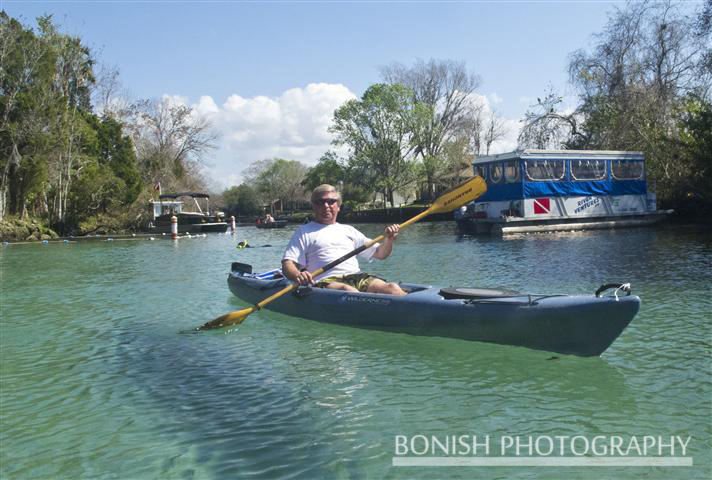 Paddling through the canals that meander through the Crystal River neighborhoods was beautiful. The crystal clear water, beautiful homes with jaw dropping boat houses is enough to make we want to move an hour south and have access to these canal systems that lead out to the Gulf of Mexico.
I was really surprised with how busy the canals were with it only being a Tuesday afternoon. Then again, it is mid-February, and the flocks of Snowbirds are here in full swing this time of year. Plus, it was a beautiful day with temps in the upper 70's and a clear, blue sky, so there were lots of boaters that had the same idea as we did.
Once outside the springs entrance, we tied the boats up to a metal pole along the shoreline and got out our snorkeling gear. You can paddle kayaks into the springs, but once inside, you are not allowed to get out of your kayak. I guess they're worried about you disturbing the manatee's if you were trying to get in and out of the boats around them. But if you were to tie up your boats outside the entrance, then you can snorkel into the springs and be able to view them up-close and underwater while they warm up in the 73 degree spring water.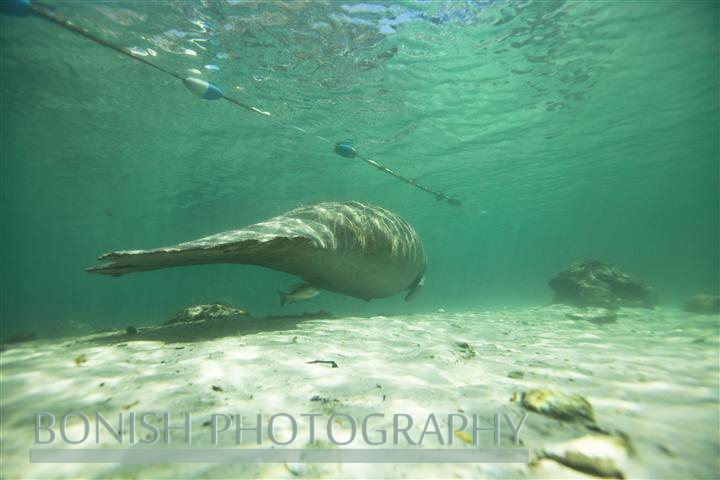 It didn't take but a few feet of swimming away from our kayaks when I spotted the first big manatee. It was a monster moving towards the springs and I followed a safe distance behind it just swimming at the same slow, meandering speed they move around with. The Warning Signs said we had to stay a minimum of 10′ away, so I made sure to keep a safe distance to not disturb the animals.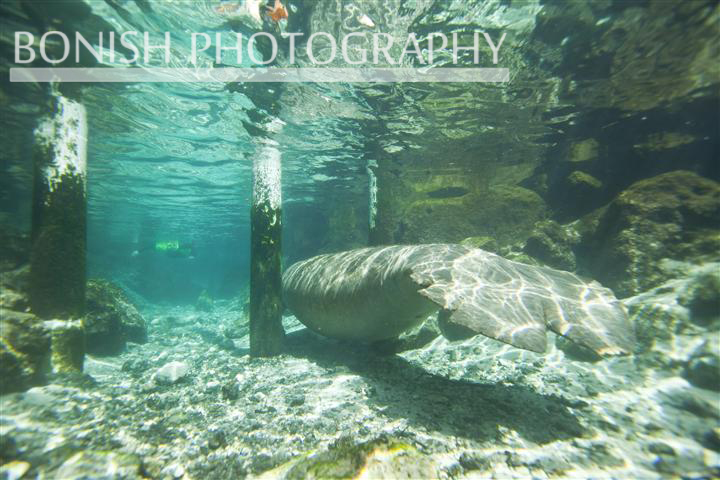 Where the spring exits into the canals, the slots gets pretty narrow and you have to watch for manatee, the poles that keep motor boats out, kayakers and other snorkelers who are all funneling through this narrow slot. This was somewhat of a bottle neck as there were two snorkelers trying to come out, multiple kayakers trying to paddle into the springs and a big manatee below all of them that could careless what they were doing up on the surface.
Once inside the spring, it's like you've entered a whole new world. No more homes, canals, noise or anything other to bother you. You just float there in the crystal clear water and hear the sound of your own breath through the snorkel.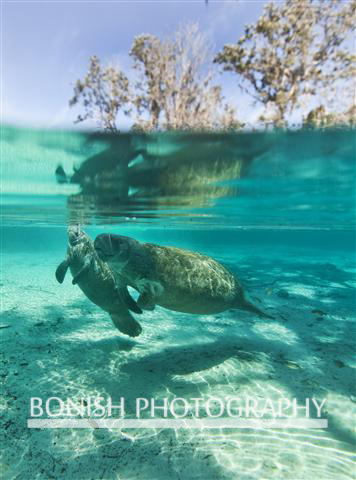 There was a mother manatee with its baby just hanging out in about 8′ of water. We all floated there just watching them sit on the sandy bottom. Every now and then, they'd surface to take in a breath of fresh air before they'd just sink back to the bottom. The baby swam under the mother to nurse for a little while which was a cool sight to see.
I was busy taking pictures when some guy swims up to me and says "Hey man, you cant get that close to the manatees!" I spit out my snorkel and asked "I thought the rule was you have to be a minimum of 10′ away from them?"
He says "Well the rule is at least a human body length MINIMUM!" I laughed out loud and said "I've never known a human to be more than 10′ tall!!!" He just looked at me and swam away while Cindy, Scott and Karen all busted out laughing. I had no idea what he was talking about because I was making sure to keep my distance from them. If there was anyone he should have been talking to or scolding, he should have been yelling at the guy that was petting them, looking right in their face and practically riding one of them while Cindy and Karen yelled at him the whole time.
Floating in the spring was a heavenly experience. Being able to take pictures with my underwater housing was so awesome. I told Cindy when we got home later that night that I thought the housing was the best present she's ever bought me! It gives me a whole new realm of possibilities when it comes to my photography.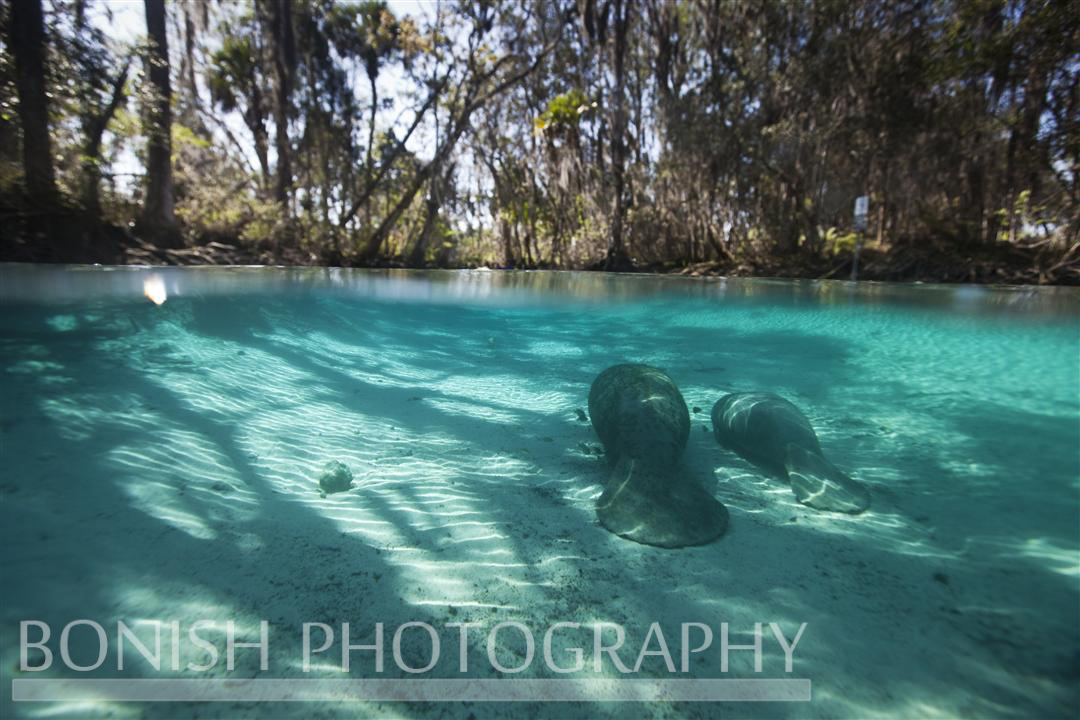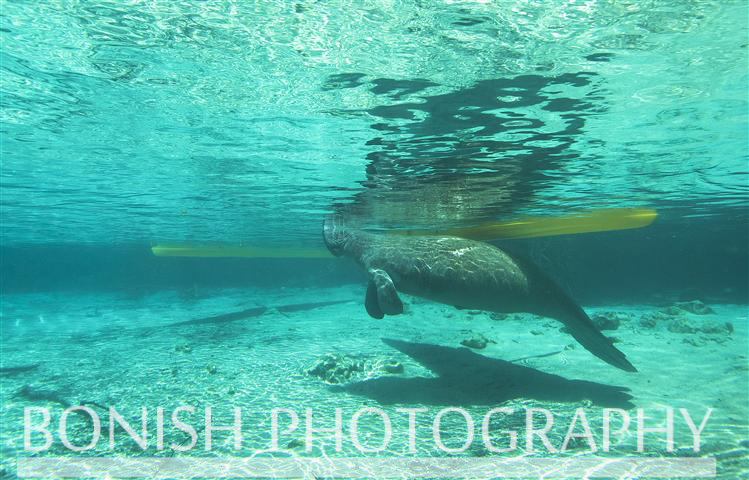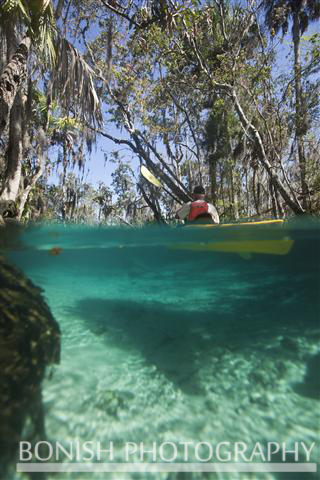 Scott, Karen and Cindy let me know they were getting cold, so they headed back to the kayaks. I stuck around in the springs just practicing different shots and taking in as much as I could of this experience. I'm in awe of seeing other photographers Split Shots, where they have half the camera under the surface and half above the water, so I was trying to nail a few shots like that. It's much harder than you think it is and something I'll have to practice more to perfect.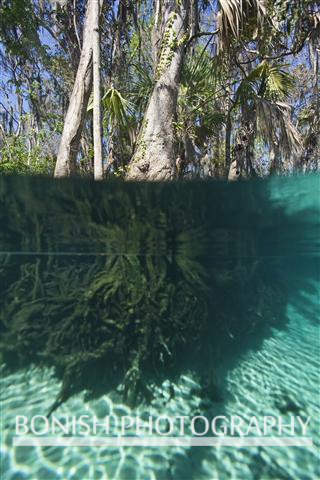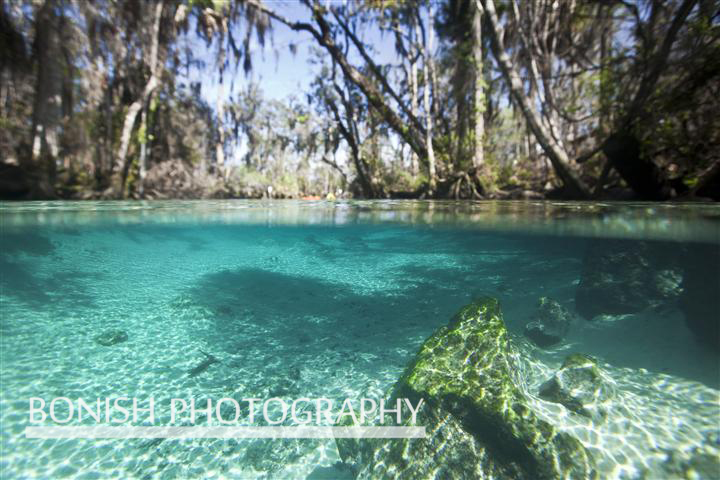 Once I noticed I was shivering, I swam back to the kayaks where the rest of the group was waiting. So we could warm up, we paddled for another hour around the canals just taking in the beautifully landscaped yards and all dreaming of living on a tropical canal. We spotted numerous manatee swimming through the canals and more birds than we could count. It was a glorious afternoon with smells wafting off the Confederate Jasmine that is starting to bloom along the shoreline and the wispy Fox Tail Palms blowing in the afternoon breeze. While paddling, I thought to myself, "My Life is Pretty Friggin' Cool Right About Now!" I've got good friends in kayaks beside me, a beautiful woman in front of me and I'm sitting here in nothing but a pair of shorts and it's February!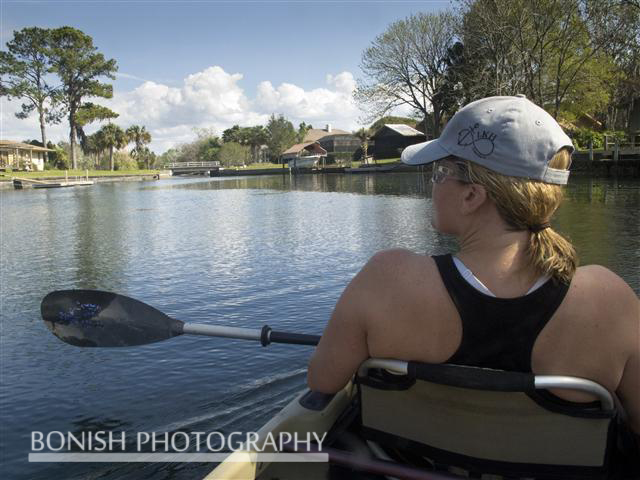 Once we were back at the dock behind Crystal River Kayak Company, we unloaded the boats of our gear, loaded them up onto the trailer and changed out of our wet clothes in the provided changing rooms.
From here, we headed over to The Shed which was a little ways further in Homosassa Springs. This is just a big deck right on the Homosassa River that serves beer and light food. The place was rustic and cool, just the way we like our establishments. We sat for awhile watching the pelicans dive into the water in front of us, the dolphins swim around the busy bay pontoon boat after pontoon boat motor past with grossly overweight people on them. At one point, Scott looked at me and said "I think there must be a 350lb weight minimum to be on a pontoon boat down here!?!" We both got a good laugh out of that one, but it was true. We hadn't seen one pontoon boat pass by that a person wasn't just massive! I guess it's a sign of our times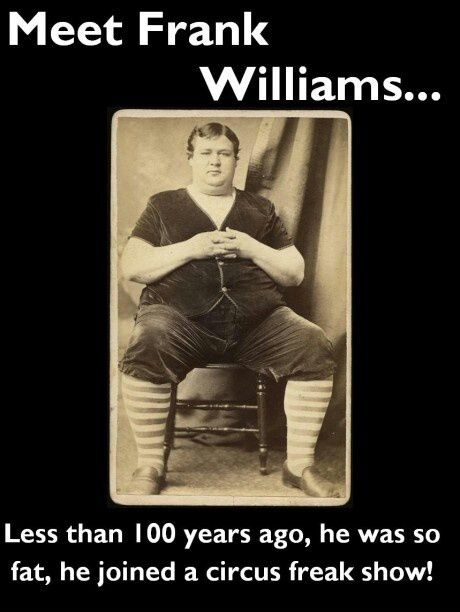 Cindy was being a little baby and pouting something awful because she wanted a margarita and The Shed only served Beer & Wine. So we left there and went further inland to Neon Leon's Restaurant that had a full liquor bar. Plus, we were all hungry and The Shed didn't look like the type of place you'd want to eat your dinner. It would probably be great for an appetizer or a snack, but after snorkeling and paddling, we had worked up a hunger.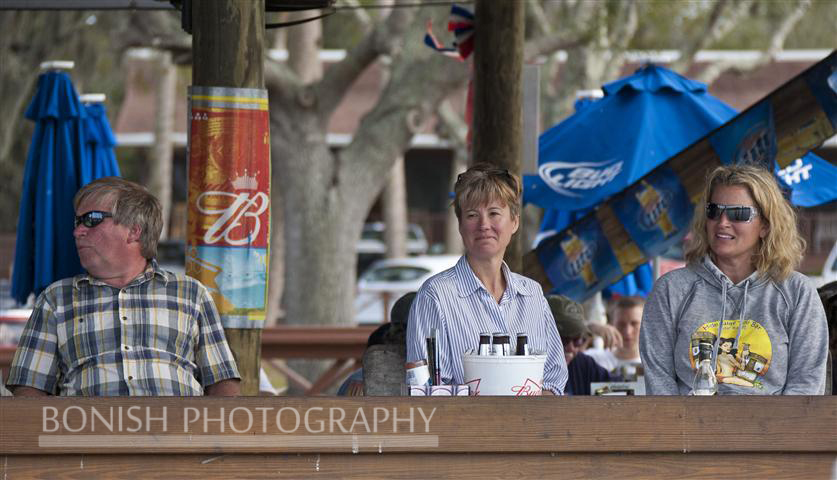 It was Fat Tuesday and Neon Leon's is a Zydeco Steak House that is themed around Louisiana food. So we just happened to fall into a Mardi Gras Party that was in full swing. Luckily we got there when we did, because just after we got seated and put in our food order, the place filled up to capacity with what looked like a bus load of people. They all walked in at the same time and before you knew it, ever seat in the place was full.
The food was great and this would be a fun place to come back to on our next trip to Crystal River or Homosassa. Our ride home was uneventful and before you knew it we were dropping Scott and Karen off at their house. When we got home, it was all I could do to unpack the gear from the truck. The tiki bar was full, but I was way too tired to go out there. I think we were both in bed by 9:30pm! What a great day it was!
One last photo. This shot cracked me up because the fish has such a shocked look on it's face. I guess if you had suddenly been plucked out of the water and knew you were about to be eaten, you'd have an 'OH SHIT!' look on your face too!